The transformation of inputs into outputs.

Processes & Procedures ("P2") are intimately tied to Roles & Responsibilties ("R2") and Authorities & Accountabilities ("A2") and Structures and Systems ("S2").


---
Some of the primary processes in asset management:

Capital Investment Planning (CIP)

Examples of inputs

Examples of outputs



---
Process vs. Procedure vs. Work instruction


Included below is some information to clarify the distinctions between these concepts:
Policies constrain processes


Examples of the distinctions

Process

- Accounts payable

Procedures

- Review invoices, pay invoices, bookeeping of invoices
---
Classification of Processes


There are three types of business processes contemplated within an organization:

Primary Processes

– These are cross functional and deliver value to the organization's customers. They are the essential activities that the organization performs to accomplish its mission. Eg. Handling of customer complaint/service requests.

Support Processes

– These processes are designed to provide support to the organization's primary processes. Support processes do not generate direct value to the organization's customers but they are still critical to the organization. Eg. Human resources management.

Management Processes

– These processes are used to monitor measure and control the organizations's business activities. These ensure that the organization's primary and support processes meet operational goals. Management processes do not directly add value to customers but are integral to the organization's policies and objectives.
The following table provides an overview of a classification scheme that may be used to identify and arrange the many different types of processes within an organization.

Human-centric processes (Human-to-human) - These types of processes include a lot of interaction and involvement of people in each step. They require human judgement and intuitions for decision making. They deal predominantly with routing work from one individual to another. These require significant interpersonal skills. Examples
Handle a customer service requests in person and/or by phone
Conduct a staff brainstorming session
Makea purchase requests
Enforce rules of order at meetings
Etcetera…
System-centric processes (Human-to-system or system-to-system) - These types of processes are generally computer intensive, usually transactional in nature.

Manage a supply chain
Prepare a financial statement
Distribute an electronic eNewsletter
Write an email to a stakeholder
Etcetera…
Document-centric processes (Human-to system) - These types of processes require users to interact with documented information, such as forms and checklists, and to enter data onto these documents.

Accounts Payable (Review invoices, pay invoices)
Complete a checklists of maintenance tasks and record the maintenance logs
Issue a tender for services
File a contract agreement
Prepare minutes of a meeting
Etcetera…
Decision-centric processes (Human-to-system) - These processes require users to review information (from documents or systems) and to make interpretations and judgement required for approval.

Evaluate and judge a service proposal/quotation
Establish work schedules for staff
Approve an invoice for payment
Etcetera…
---
The Life Cycle of Processes


Listed below are the primary steps in the life cycle of processes:

Design

- The identification of existing processes and visualization of "To-be" processes. At this stage the process is identified as human-to-human, human-to-system, or system-to-system

Modeling

- This takes the theoretical design and introduces variables which determine how the process might operate under different circumstances, It involves some measure of "What-if" analysis.

Execution

- This involves either the in-house development of the process or the purchase of a 3rd party application to automate the process or a combination of software and human intervention.

Monitoring

- This is either done in real-time, near real time or adhoc. It involves the tracking and measuring of individual processes so that data can be observed and statistical analysis conducted. Process mining provides a collection of methods and tools to assist with process monitoring.

Optimization

- This involves adjustments to process, such as elimination of bottlenecks, to optimize some specified set of parameters without violating some constraints. The most common goals are minimizing cost and maximizing throughput and/or efficiency.
---
Attributes of Process-centric organization


Some of the attributes of a process-centric organization are included below:

The organization's leadership must be committed to leveraging processes for organizational results
The organization's employees are each aware of the value that they bring through their involvement in the organization's processes
The organization's processes have well-defined ownership
The organization invests in improving it processes that make a difference to its organizational and asset management objectives
The organization does not just focus on the outcomes but on the processes that were used to achieve the results
---
The Benefits


Listed below are some of the primary benefits of this initiative regarding the development of a business processes master plan.

Awareness & Culture of the Organization – Business processes are one of the organization's import strategic assets and should be treated as such. The organization will improve organizational performance through optimization of its business processes.
Strategic Alignment – Clearly articulated business processes will provide the organization's staff with clarity on the strategic direction of the organization.
Efficient use of Resources – Business processes facilitate the integration of the organizations's resources
Risk Management – Structured and formalized business processed will bring increased discipline to the organization's daily operations at all levels of the organization.
---
IS0 55001 Requirements
55000, 2.4.2b) - Alignment includes "…the integration of the asset management processes with the functional management processes of the organization, such as finance, human resources, information systems, logistics and operations;…"
55000, 2.5.1 - An asset management system is a set of interrelated and interacting elements of an organization, whose function is to establish the asset management policy and asset management objectives, and the

processes

, needed to achieve those objectives"
55001, 4.4 - "The organization shall establish, implement, maintain and continually improve an asset management system, including the

processes

needed and their interactions, in accordance with the requirements of this International Standard."
55001, 5.1 - "Top management shall demonstrate leadership and commitment with respect to the asset management system by: …— ensuring the integration of the asset management system requirements into the organization's business processes;
55001, 6.1 - "The organization shall plan: … how to: integrate and implement the actions into its asset management system processes…"
55001, 6.2.2 - "When planning how to achieve its asset management objectives, the organization shall determine and document … the processes and methods to be employed in managing its assets over their life cycles…"
55001, 7.5 - "…the organization shall include consideration of … the asset management processes, procedures and activities…"
55001, 7.5c) - "…the organization shall specify, implement and maintain processes for managing its information…"
55001, 8.1 - "The organization shall plan, implement and control the processes needed to meet requirements, and to implement the actions determined in 6.1, the asset management plan(s)"
55001, 8.3 - "The organization shall determine: a) the processes and activities that are to be outsourced (including the scope and boundaries of the outsourced processes and activities and their interfaces with the organization's own processes and activities); … c) the processes and scope for the sharing of knowledge and information between the organization and its contracted service provider(s)…"
55002, 5.2 - "There should be processes in place to review and update the asset management policy, and to ensure that if the organization's external or internal context changes, the actions necessary to update the policy are also triggered"
---
The Register of Processes
Financial Processes
Prepare a financial statement
Prepare a budget
Prepare an estimate
Other

Administrative Processes
Record minutes of a meeting
Other

Technical Processes
Maintain a piece of equipment (asset)
Other

Refer to roles and responsibilites for detailed lists of tasks associated with different staff members in an organization




---
Process within the Hierarchy of Organizational Purpose


The organization's processes occupy one of the levels of the aspirational-transactional hierarchy.



A. Aspirational Elements




B. Transactional Elements
Processes
Work Instructions

---
Strategy vs Plans vs. Processes


There is often confusion between these three concepts.


Risk has been defined as "the effect of uncertainty on the organization's objectives". Strategies, plans and processes each provide the organization with some tools to reduce "uncertainty" and thereby to help the organization manage risk.

It is essential that the organization understand the subtle differences between these three concepts and the appropriate sequence in which they should be developed.
Strategy (the Roadmap) – This is a high level map of the landscape to reveal where the organization is located now ("A") relative to where it wants to get to ("B").

A strategy does consider the different potential routes between "A" and "B" but is primarily focused on the destination rather than the journey.

It offers a roadmap to provide navigational context and some guidelines to consider the multiple alternative routes but no details on which specific route to use for getting to the destination -- that is where the plans and processes comes into the story. For example, Amiable Housing Society has captured its strategy in a short document that provides a "lay of the land" and the milestones that will be encountered and serve to confirm progress along the journey to the destination.

Plans (the Route) – This is a documented series of steps on how to move the organization from where its is now ("A") to where it wants to be ("B").

A plan tackles questions like how, when, where, who, and what. As such it supports the strategy by providing a way to reach ("B") that provides an acceptable balance of risk, cost and performance. A plan will inevitably need to make some trade-offs – it will have to pick one route over another. Good plans recognize that no route is perfect and that there are always contingencies along way. A plan works out how to deal with roadblocks and traffic jams along the way from "A" to "B".

Processes (the Vehicle & the Fuel)

– These are the clearly defined ways of doing specific tasks. A process is much more rigid sequence than a plan. A process is typically applied to a very specific task that is well defined with little chance of contingencies or need for flexibility. Processes are the powerhouses that do all the heavy lifting. They are the fuel that moves the organization forward along the route to the destination.
One of the key difference between strategies, plans and processes is the level of uncertainty that is involved.
The responsibilities for developing strategy, plans and processes are therefore usually separated within the organization. This is summarized in the following table.
Activities to reduce uncertainty

Questions answered

Staff assigned to the role

Frequency

Strategy

(roadmap)

Why? What if?

Top management –

(Board of Directors, Executive)

Yearly or longer

Plans

(route)

Who? When? Where?

Middle management -

Department manager

Monthly, quarterly yearly

Processes

(vehicle/fuel)

How?

Frontline staff

Every day
---
Artifacts/Tools


Listed below are some examples of process artificats:

Gantt Chart
Flow Chart
Checklist
RACI Chart

Fig. The Aspirational-Transactional Hierarchy, with processes occuping one of the transactional layers.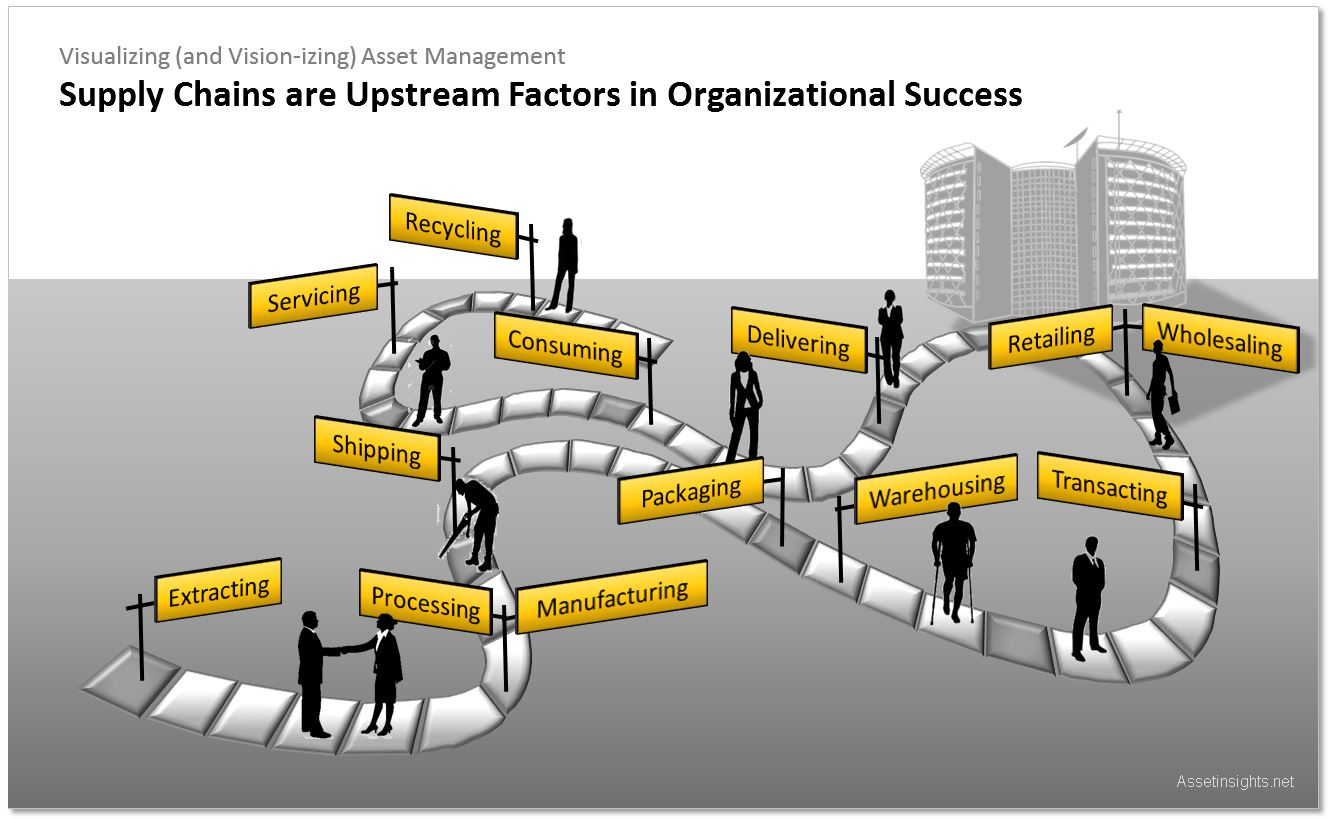 Fig. Supply chains are a key upstream factor in organizational success and must therefore be carefully managed.

Failure to do so will result in procurement delays, downtime and business interruption

.