A policy is the "intentions and direction of an organization as formally expressed by its top management" (ISO 55000)

A statement to guide future decision making.

One of the 39 subject areas of Asset Management.

---
Policies within the Hierarchical Context


The organization's policies occupy one of the base layers of the aspirational-transactional hierarchy.



A. Aspirational Elements

B. Transactional Elements





---
Relationship between Policy & Goals
---
Attributes of a Policy


Listed below are some of the key attributes of a policy document:


Good Policy Practice

Bad Policy Practice

Clear and concise

Too detailed

Strongly linked the organization's vision and purpose

Vague or unstructured

Commitment to delivery of organizational strategic plan

Commitment to compliance with legislation, regulation and other policies

Irrelevant to development of strategy and plans

Long term focus

Short term focus

Considers sustainable development

Sets out unambiguous principles at high level for asset management

Unclear in purpose – e.g. used as a 'how to' guide

Approved by top executive

Not clearly endorsed from the top – e.g. signed by department head

Not reviewed when organizational strategy updated

Widely communicated

Not communicated widely

Buried in documentation – not widely visible

Parochial – e.g. only for one department

Regularly reviewed

Not constructive – i.e. allows continuous improvement and appropriate flexibility

Too internally focused missing customer perspective

Commitment to workforce and supplier capability development
---
Types/Examples of Policies
Included below are different types of organizational policies:
---
Outsourcing Policy


Included below are some examples of

Outsourcing/Contract Policy

:

All contracts shall be

written

All contracts shall be supported by a

business case

All contracts must/shall be

recorded

in a schedule of contracts
Every signing officer who has signed a Contract pursuant to this Policy shall keep an original of such Contract or, when not available, a

true copy

thereof, as well as the necessary supporting documents, in his/her office or a place under his/her control.
No individual may

sign

any contract that creates an obligation or undertaking on behalf of the University unless that individual has signing authority in accordance and in compliance with this Policy.
There shall be a

contract manager

to ensure oversight of all contracts
---
Process




Included below are the key steps in development of a policy document

:

Conduct a PESTLE Analysis (political context, economic context, social context, technological context, legal context, environmental context)
Conduct a SWOT Analysis
Conduct a Stakeholder Needs Assessment
Conduct a Risk Assessment
Write the draft policy(ies)
Correlate the policies to the goals and objectives

Revew the draft policy(ies)
Approval of the policy(ies)
Communication of the policy(ies) to internal and external stakeholders
Periodic review and continual improvement of the policy(ies) to reflect changing circumstances

---
Elements/Structure of a Policy
Policies are generally written in the following format:
The Title

– A short name for the policy, which may sometimes also include an identification number. Example: Safety Policy.

The Purpose

– A short statement on the reason why the policy exists. The purpose is usually connected to one or more goals of the organization. For example, "This policy is intended to keep the organization's staff, guests and customers from harm".

The Scope

– An indication of which members of staff or which departments or which assets are affected by the policy. For example, "This safety policy applies to all members of staff who work in the field. A separate safety policy applies to the office workers".

The Effective Date

– The time from which the policy came into effect. For example, "This policy came into force on January 1, 2015".

The Revision History

– A summary of the earlier versions of the policy and the changes that were made at each revision.

Definitions

– The meaning of certain key terms so that there is less room for misinterpretation and misunderstanding. For example, "Safety means the condition of being protected from danger or injury".

The Principles/Rules

– The itemized (and numbered) list of the specific regulations that pertain to the policy. For example: "#3 – All staff shall be appropriated trained on safety procedures related to workplace hazards; #7 – No persons shall enter into any confined spaces without a safety plan being developed and approved by the safety manager".

The Authority/Signatures

– This policy was adopted by the Board of Directors at its meeting on November 4, 2014 and is hereby undersigned by each member of the Board.

Other Related Policies

The Framework in which it sits
---
Assessment/Reflection
Ask yourself the following questions: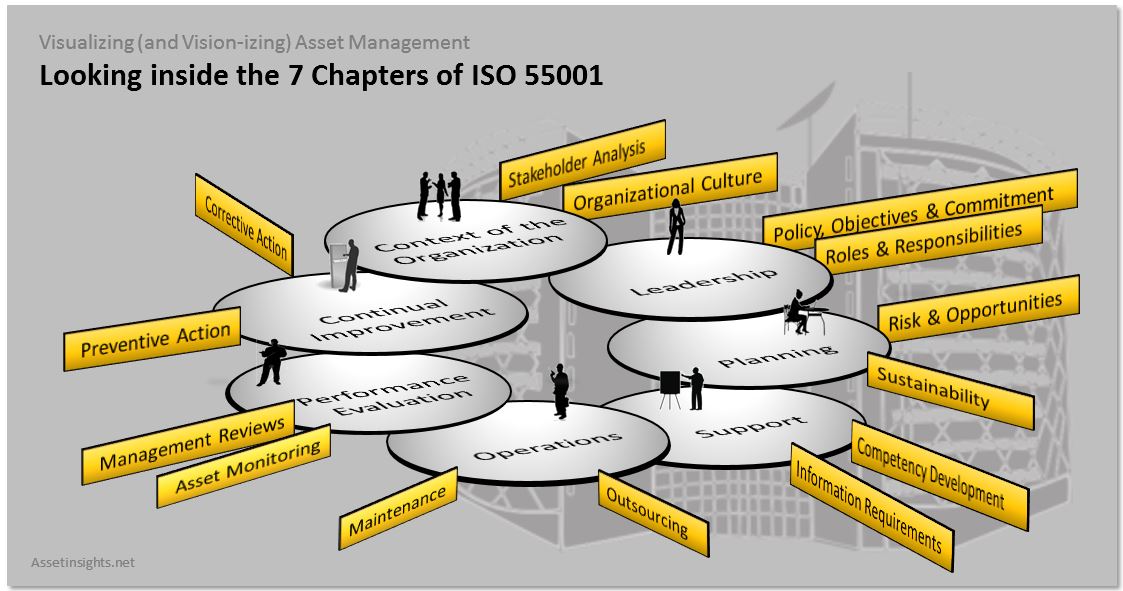 Fig. As we dig deeper into ISO 55001 we find the rich fabric of concepts woven into the seven chapters. This is where the nuances and complexities of asset management start to reveal themselves.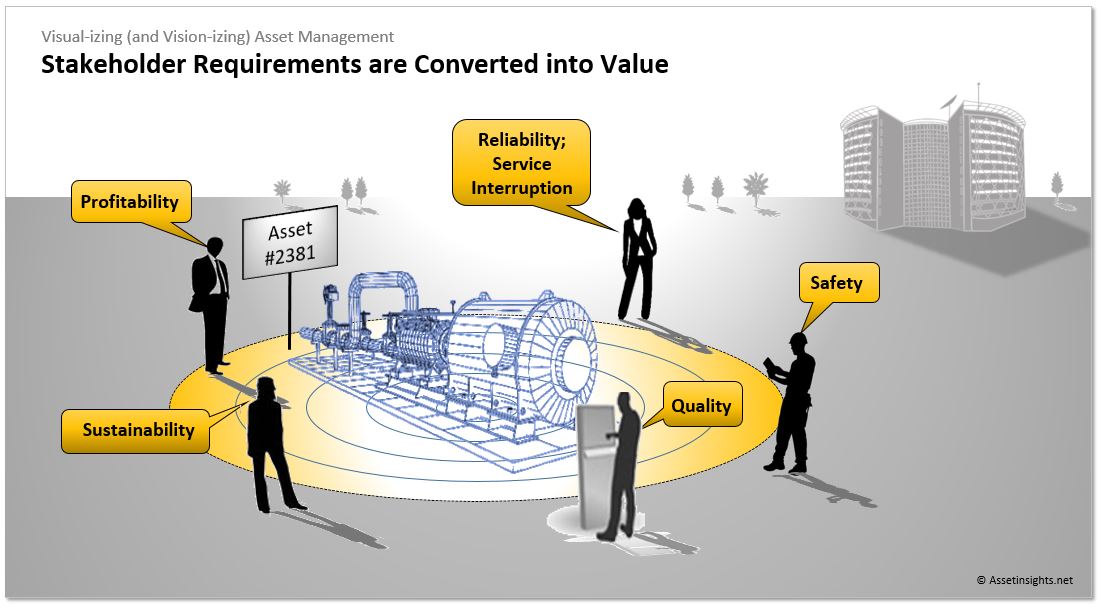 Fig. Stakeholder requirements converted into value.



Fig. Alignment is required between all levels of the organization - such as, from top management to line staff
Fig. The Aspirational-Transactional Hierarchy with policy represented as one of the aspirational layers.
Fig. The journey to asset management maturity (including the development of appropriate policy) may sometimes feel like a maze.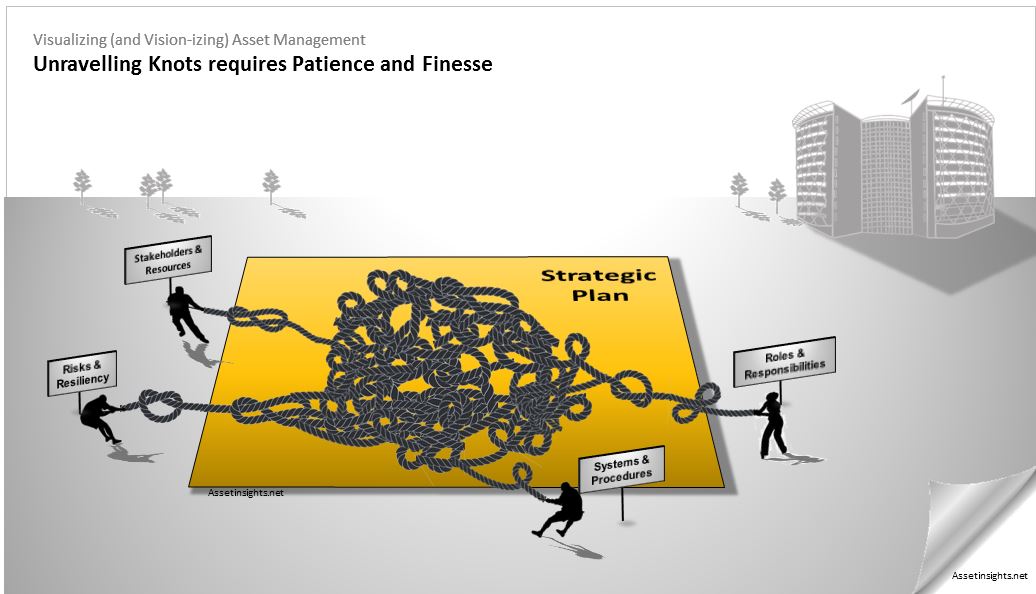 Fig. The journey to asset management maturity (Including the development of appropriate policy) may sometimes feel like a knot that needs to be untied.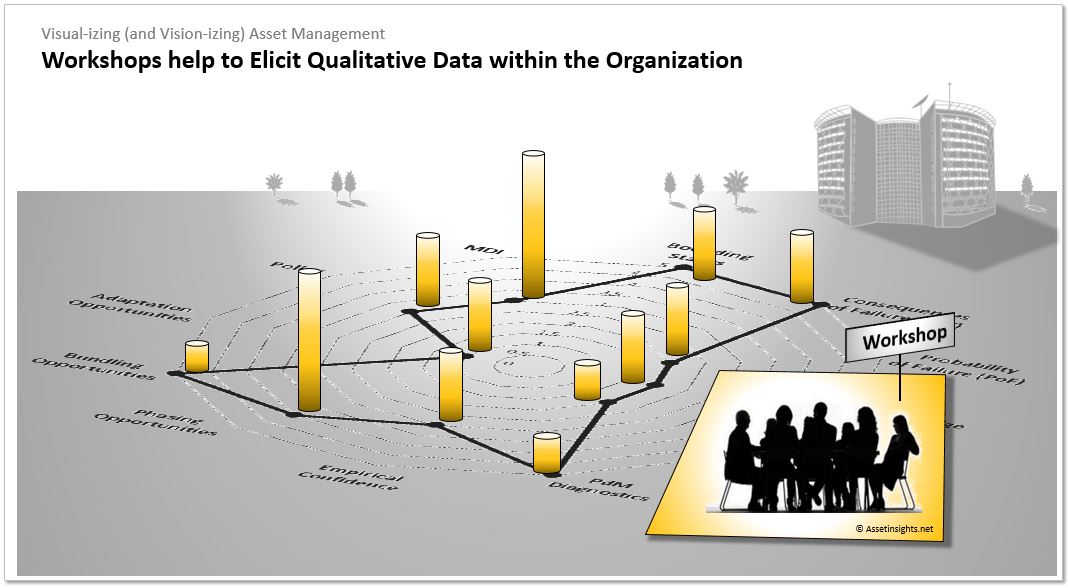 Fig. Workshops are a useful method to gather the organization's knowledge resources to help develop policy

.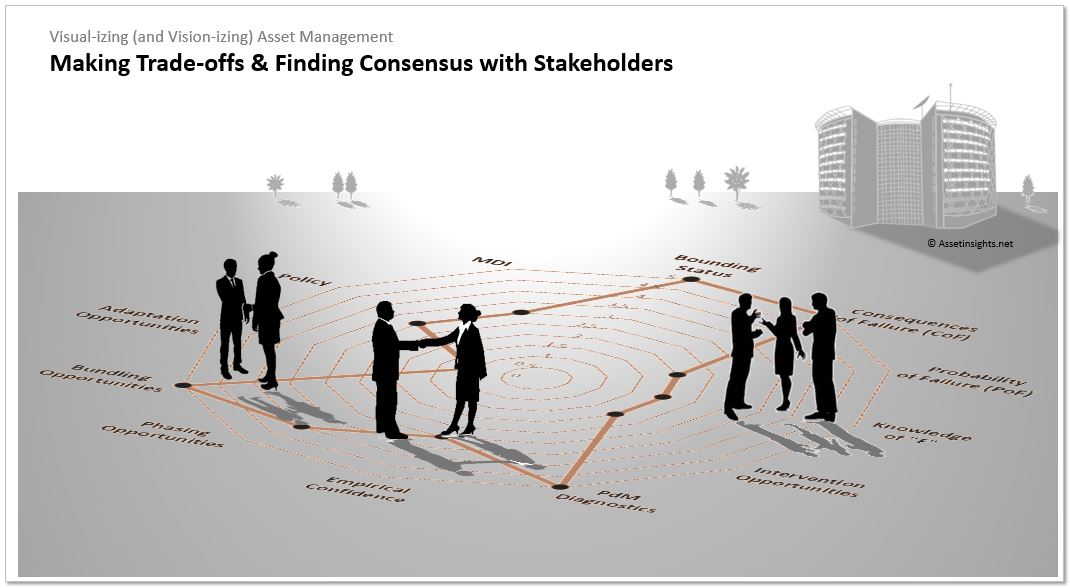 Fig. Making inevitable trade-offs and finding consensus with different stakeholder groups.