Also referred to as "horizontal assets".
One of three primary classes of assets, forming the L-V-P triad of built assets.
An asset class, within a asset classification scheme.
Linear assets have the sole purpose of

moving people, water, air, and power from one place to another.
There are two broad levels of linear assets.
---
1. Multi site Level
Infrastructure asset management
---
2. Single Site Level
Assets that either traverse a single site or several facilities, such as:
Assets that traverse horizontal space, usually in narrow corridors and often form part of a network of corridors.
---
Examples
Linear assets can be organized into two broad groups, as follows.
Group 1: Passage of People
Roadways, including bridges and tunnels


Transit lines

Rail networks

Airlines

Shipping

Pathways/trails

Perimeter fencing, retaining walls

Group 2: Movement of Services
Group 3: Fields
Sports fields
Agricultural fields
---
Attributes


Linear assets have the following general attributes:

Segmented

- They comprise segments of repetitive elements

Traversability

- The linear assets cross over multiple properties through statutory rights of way and easements. They often interface with neighbouring jurisdictions.

Networked

- they form a network of transmission or distribution (as distinct from vertical assets that have a hierarchical arrangement)

Multiple GIS addresses

- each segment may have its own unique GIS addresss

Low Human Interaction

- generally humans do not interact directly with these assets (as they are often buried or elevated)


Visibility

- They are often concealed from view or kept at a safe distance from people (such as overhead powerlines).

Ownership

- They may be owned by several entities and therefore have complicated rights of ways and reciprocal cost sharing arrangements.

Multiple Baselines

- Different portions of the linear asset may have different placed in service dates, resulting in multiple baselines.

Configuration

- Linear assets consist of runs rather than terminal and packaged devices.

Interoperability

- Generally upstream of vertical and portable assets as they are intended as support infrastructure.

Intra-Dynamics

- For the passage/movement/transfer of fluids, air, fuels, power, and people.

Technical Domains

- Principally part of the mechanical and electrical domains.

Not People Friendly

- Not always ergonomically designed and not safe for people.

Capital Load

- Linear assets often have the highest capital cost of the three asset classes.

Durability

- Longest life.

For assessment purposes, it is important to recognize that each segment (although a repetitive element) may have varied exposure and loading conditions.
---
Management Principles
For inventory management purposes, these types of assets may need to either be segmented with each facility or addressed as an entity that is separate from the individual facilities.

Fig. Examples of three types of linear (horizontal) assets.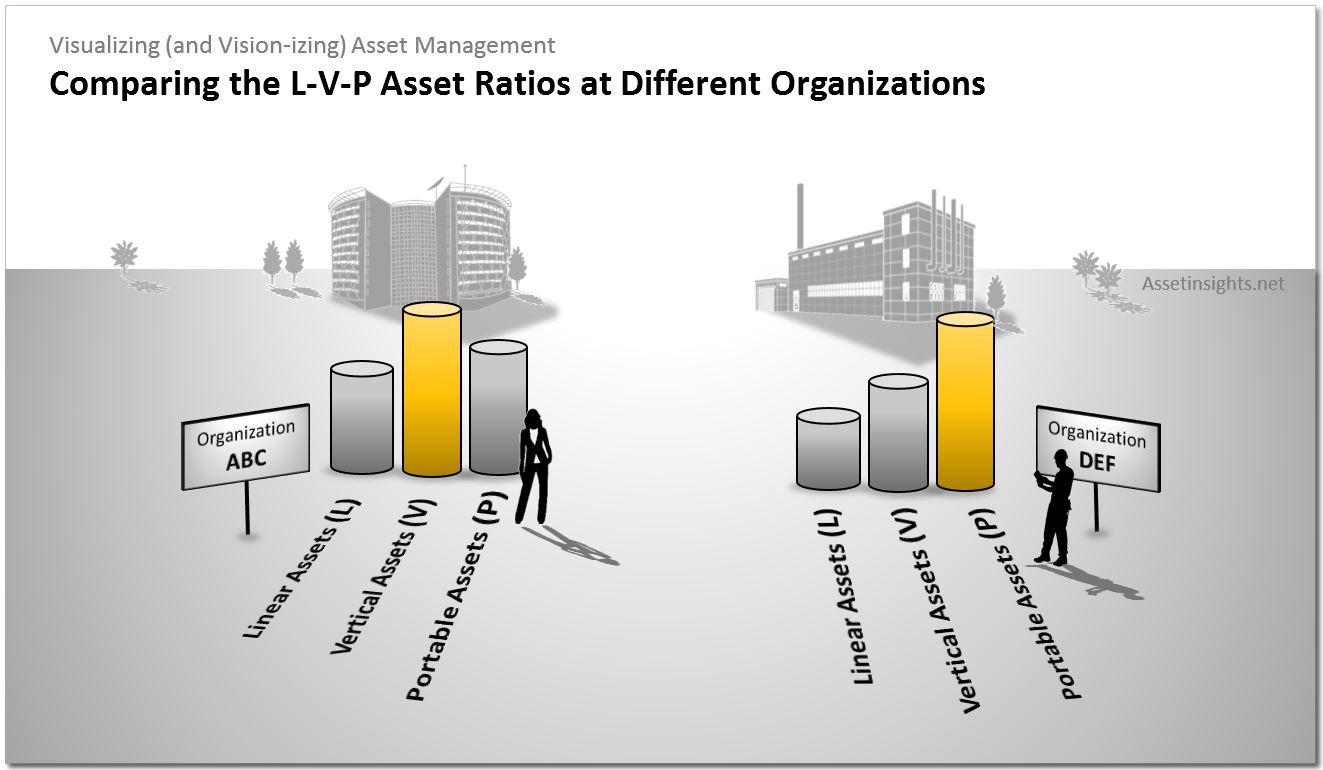 Fig. Comparison of the LVP asset ratios at different organizations.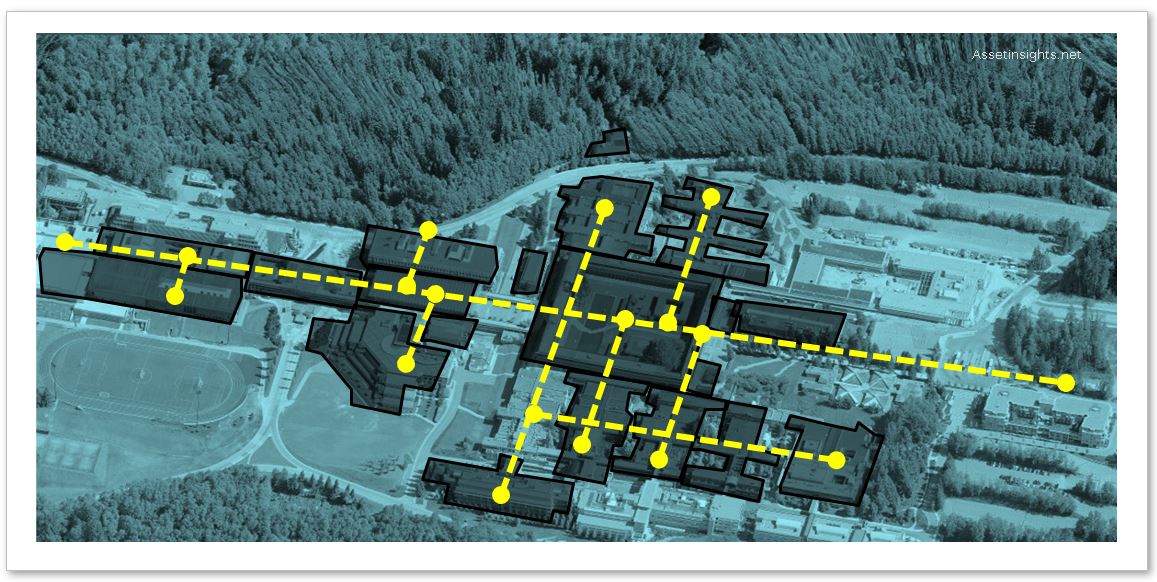 Fig. Linear assets (infrastructure) connecting a campus of vertical assets (facilities).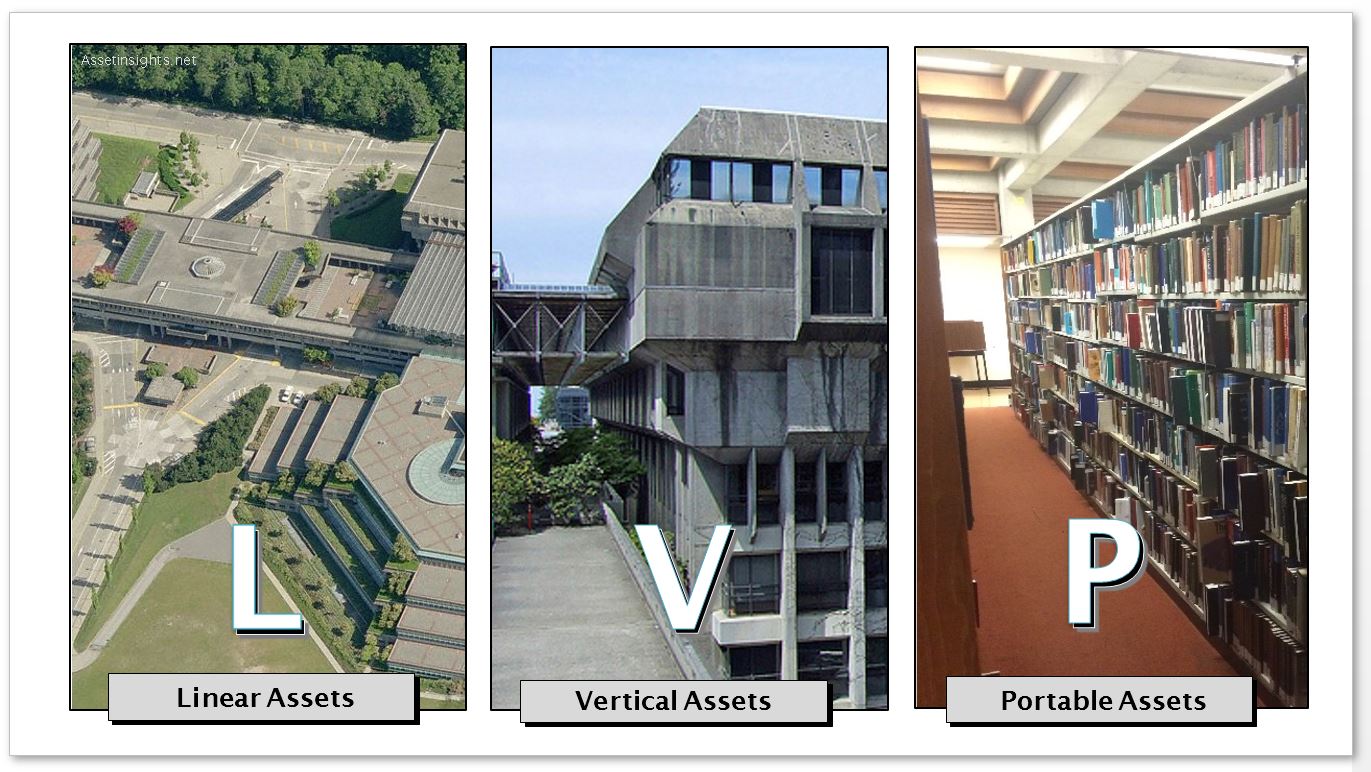 Fig. The triad of L-V-P asset: Linear (L), Vertical (V) and Portable (P).



Fig. The hierarchy of assets as contemplated in the ISO 55001 standard for asset management. The detailed asset classification scheme and granularity is determined by the organization's objectives and nature of the assets.
Fig. Comparison of the L-V-P Ratios across different real estate sectors.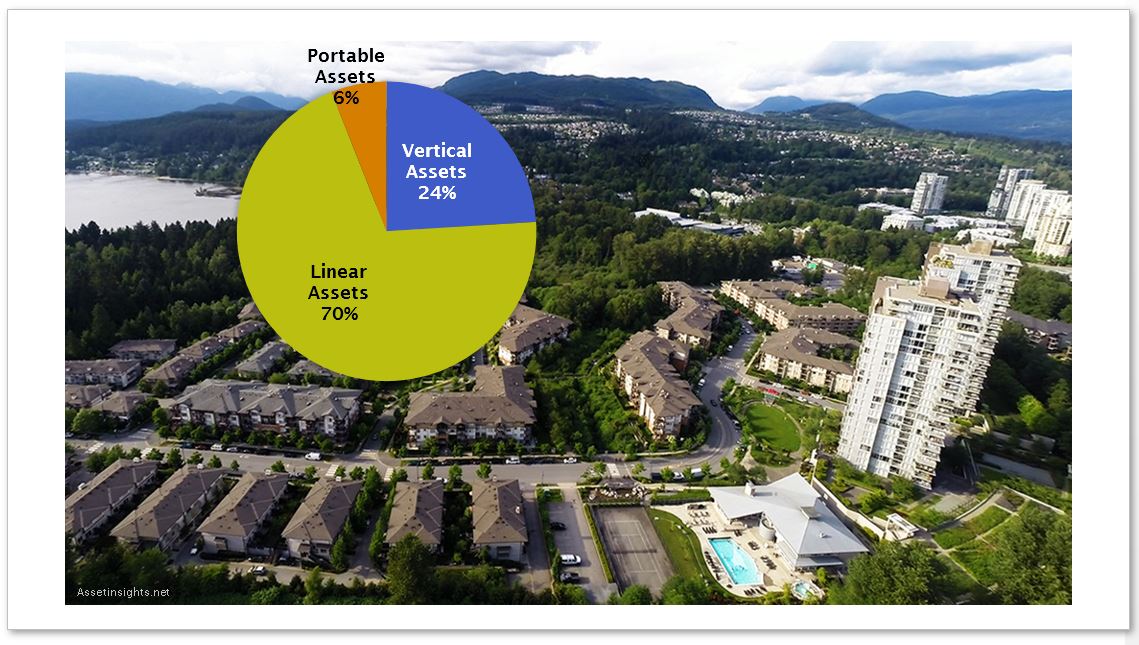 Fig. Linear assets as part of the L-V-P distribution for a sample municipal portfolio.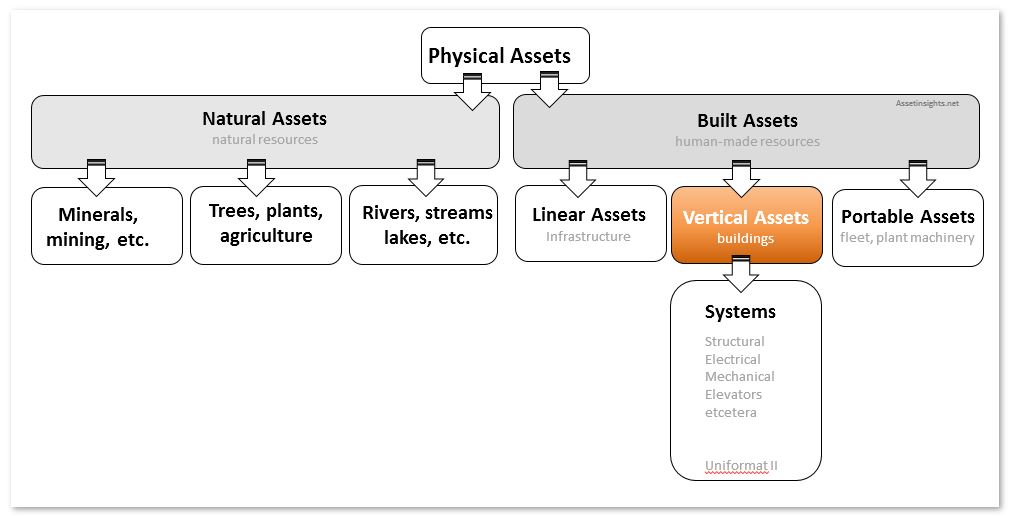 Fig. Asset hierarchy extending across all asset classes

.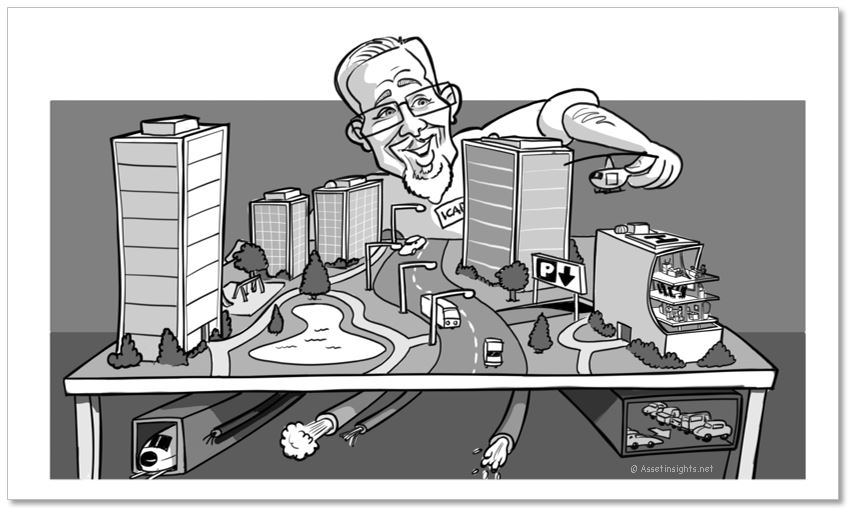 Fig. I. Care trying to integrate the linear assets, vertical assets and portable assets in his portfolio.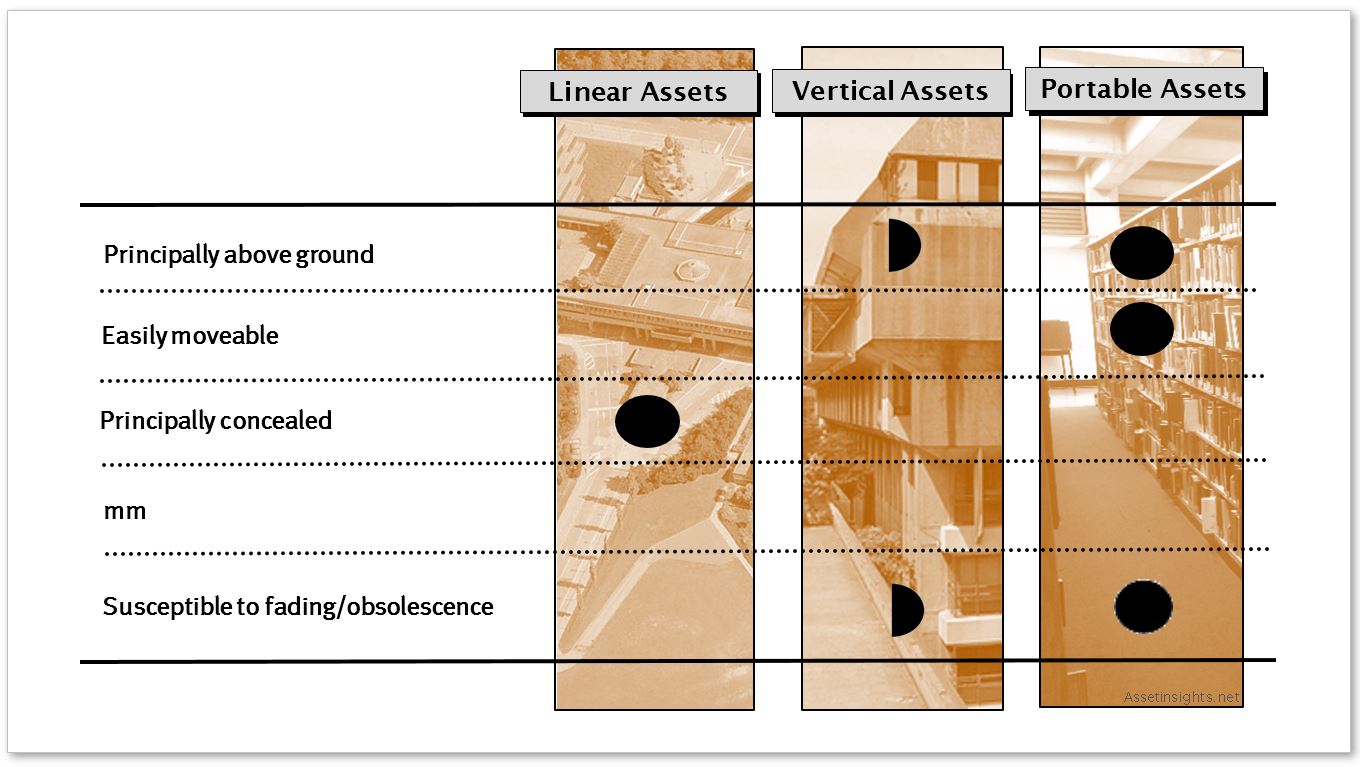 Fig. Matrix of the different attributes of vertical assets, linear assets and portable assets.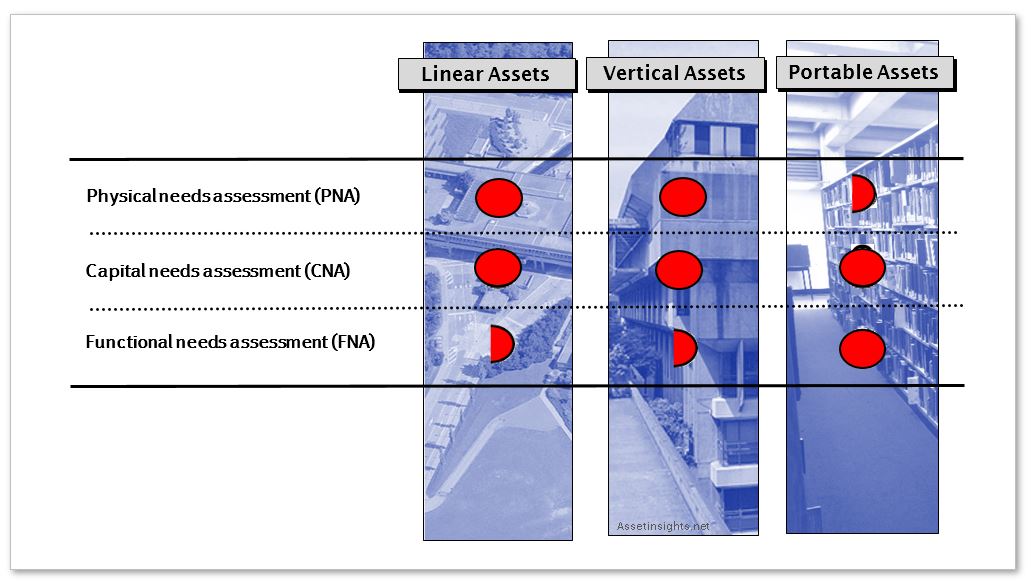 Fig. Matrix of assessment tools for vertical assets, linear assets and portable assets.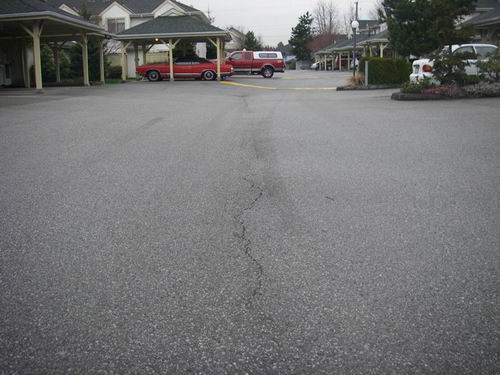 Fig. Roadways are an example of a linear asset

either on a single site or multi-site level.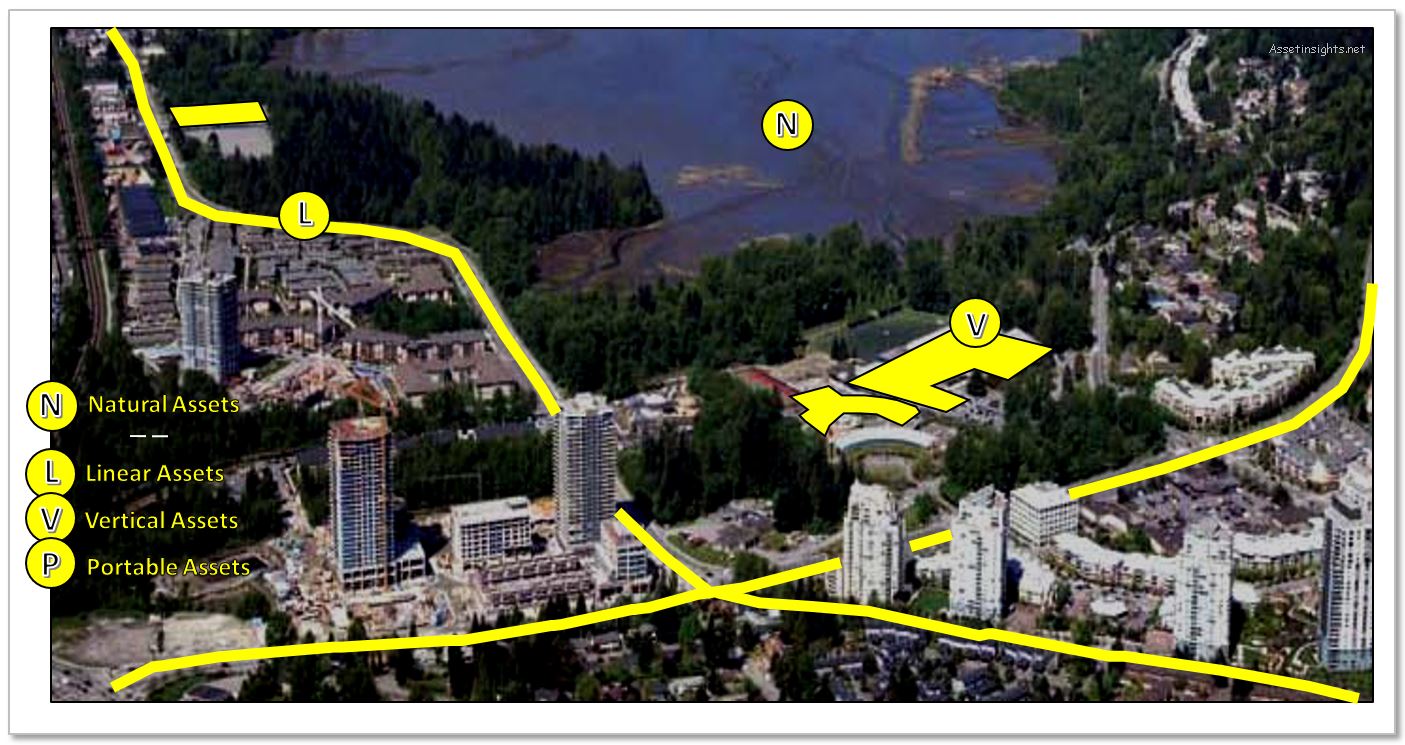 Fig. Example of the N-L-V-P asset classification scheme in a municipal setting.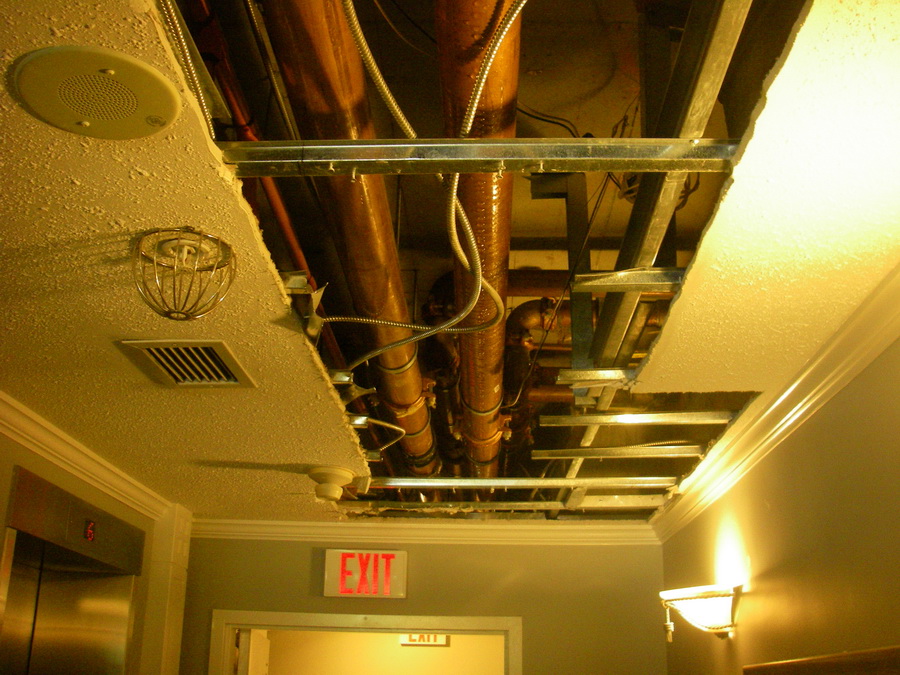 Fig. Plumbing pipes are an example of a linear asset.