A select number of key measures that enable performance to be monitored against targets.


---
Purpose of KPIs



The KPI will indicate how well the facility or an asset is doing at attaining its goals, design intent or standards. KPIs help establish quality standards by reporting on variances.


---
Classification of KPIs


Listed below are examples of KPIs organized into four broad categories that have relevance to asset management.



Group 1 - Condition




Group 2 - Finances




Group 3 - Operations




Group 4 - Maintenance



LOS can be arranged into a hierarchy to assist in tracing the relationship along the aspirational- transactional hierarchy:

---
Examples of KPIs


Listed below are examples of KPS from different asset classes:

A. Transportation

Bridge Condition Index (BCI)

-

Riding Comfort Index (RCI)

, which represents the surface roughness on a scale of zero (0) to 100, where 100 indicates a very smooth surface.

Surface Distress Index (SDI)

, which represents the presence, severity, and extent of various surface defects on a scale of zero (0) to 100, where 100 indicates a pavement with no distress.

Pavement Quality Index (PQI)

, which represents the overall performance of the pavement through a combination of the individual indices described above. This index is also evaluated on a scale of zero (0) to 100, where 100 indicates a "perfect" pavement.
B. Solid waste

Composite Performance Index (CPI)
Zero Waste Index (ZWI)
C. Facilities


D. Water




E. Information Technology




F. Parks & Open Space



Parks Star Rating System
two
G. Fleet
---
Programs
MPMP - Municipal Peformance Measurement Program
CIRC
---
Design of KPIs





A. Leading and lagging indicators






B. Numerical and Linguistic scales






C. Qualitative and Quantiative scales






3.4 Binary Assessment
3.4.1 Some aspects of a service can be assessed in a binary way. These aspects are either adequate or inadequate, with nothing to be gained by improving them beyond the level of adequacy.

3.4.2 An example would be compliance with standards - if the service complies with the relevant standards, then it is satisfactory in that respect: no additional work need be done in that area. Similarly, many IT applications are either "off" or "on".

3.5 Numerical Assessment
3.5.1 Some service aspects are measurable numerically; they can be counted and measured in a simple, mathematical way. Examples would be capacity, throughput, transaction volumes and accuracy.

3.5.2 It is relatively simple to create KPIs for numerical aspects; quality is expressed numerically, and there is a set numerical value, or proportion, that is deemed acceptable. The KPI scoring section provides an example.

3.5.3 It may be desirable to stipulate a desired rate of change in a metric - for example, to process 100 licences a week for the first month and to seek a 2% increase on that figure in each following month. This would be a requirement for continuous improvement.
3.6 Subjective Assessment
3.6.1 Some aspects of a service will be hard to measure because they involve subjectivity - usability and flexibility, for example. However, it is still important to agree what is to be measured and how the information will be acquired - through user surveys, perhaps.
3.6.2 Subjective aspects should not be neglected simply because mathematical techniques cannot be applied to them; it is a question of gathering information and analysing it with as much objectivity as possible.

3.6.3 It may be that something that is quantifiable can provide a 'handle' on a much less tangible aspect. Such a measure is known as a proxy measure, since it acts as a substitute for a measure that cannot easily be created. For example, an indication of "staff morale" may be provided by a measure of staff turnover rate.



---
Monitoring & Measuring KPIs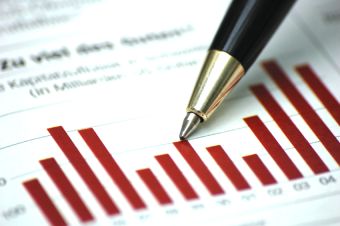 Fig. Graphical representation of a key performance indicator.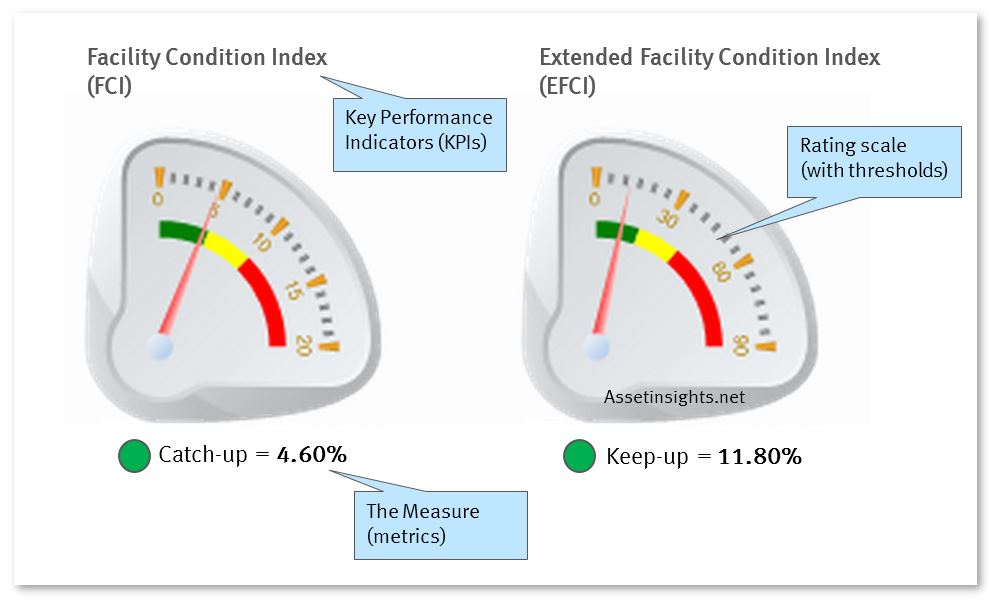 Fig. Distinction between a Key Performance Indicator (KPI), a measure, a rating scale and a threshold.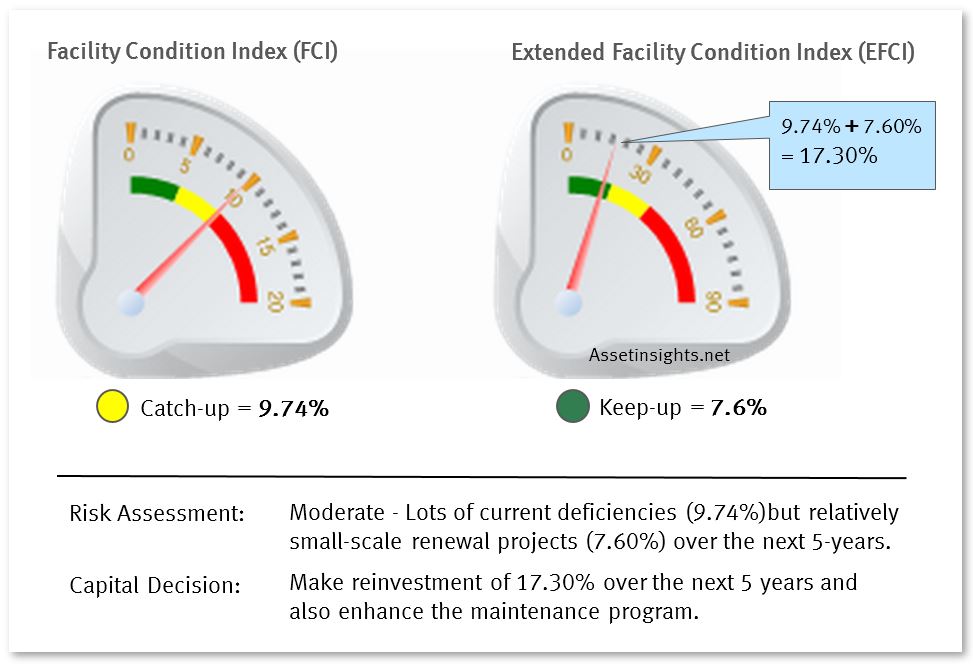 Fig. Correlation of the Facility Condition Index (FCI) and the Extended Facility Condition Index (EFCI) to establish levels of risk and to make reinvestment decisions.