An objective is "a result to be achieved" (ISO 55000)

Objectives set the context and direction for an organization's activities. They are established through the strategic level planning activities of the organization.
---
Forms of Goals/Objectives


The ISO 55000 standard attaches four notes to the definition of an objective, as follows:
They can be strategic, tactical or operational.
They can relate to different disciplines (such as financial, health and safety, and environmental goals)
They can apply at different levels (such as organization-wide, project, product and process.
They can be expressed in other ways, e.g. as an intended outcome, a purpose, an operational criterion, an asset management objective or by the use of other words with similar meaning (e.g. aim, goal, or target).
In the context of asset management systems, asset management objectives are set by the organization, consistent with the organizational objectives and asset management policy, to achieve specific measurable results.
---
Types of Goals
There are many different types of goals that will need to be established by rganizations. These can be arranged in a variety of ways. The broadest method is to organize the goals into those that are financial and non-financial in nature.

Financial Goals

– These goals have a specific financial measurement, typically related to operating or capital expenses. An example of a financial goal at Amiable Housing Society: "To increase the replacement reserve fund by 20% over the next three years."

Non-Financial Goals

– These goals are focused on measurements that do not directly translate into financial data. An example of a non-financial goal at Amiable Housing Society: "To enhance the organization's reputation in the local community."
Goals can be established along themes, such as:
Listed below are some of the key types of goals:
Listed below are goals organized into the triple bottom of sustainability.

A. Planet
- environmental
To reduce carbon
To reduce waste
To reduce water use
To maintain healthy ecosystems
To increase biodiversity and and natural capital
To reduce energy cosumption

To promote stewardship

B. People - Social and Cultural
To develop liveable and vibrant communitiies
To celebrate our heritage
To protect our people and properties
To provice adn support community based leisure opportunities
To nurture a mindset of sustainability

C. Profit - Economic
To achieve fiscal stability and fiscal health
To develop livable and vibrant communities

To strenghen the economy
To invest in effective infrastructure
Listed below are some examples of goals organized into themes

.



A. To achieve positive effects


B. To avoid negative effects:




---
Example of muniucipal goals
To provide a more complete community
To foster an environmentally aware community
To realize a community of economic opportunity
To provide a community with increased transportation choice
To facilitate an involved community
To realize a community within a liveable region
Organizational Excellence
Provide effective service delivery and improved efficiencies;
Develop a Succession Planning Strategy to retain and attract a skilled and high performing staff team, minimizing risk of leadership vacuum and ensuring transfer of organizational knowledge.
Economic Growth
Implement strategic initiatives to support economic growth
Financial Sustainability
Long range planning processes and the annual budget process should encourage decisions that support sustainability goals, including costs for full lifecycle of assets (short, medium and long term from initial acquisition to disposal), and preventative maintenance requirements, in making investment decisions;
Regularly update long-range financial plans and forecasts.
Vibrant and Connected Community
Coordinated, multi-modal Transportation Plan working with all levels of government;
Work with partners to provide a range of quality programs and services that engage with, and respond to, the needs and expectations of our changing community;
Safe, effective and efficient transportation options for the community;
Work with surrounding municipalities and the Region to integrate and connect municipal transit systems and address transit requirements.
---
Attributes of Goals & Objectives


Included below is a summary of the S.M.A.R.T.E.R. acronym for writing appropriate goals:

Specific

– The goals are precise and clear, rather than overly broad or ambiguous. They answer questions like: who is involved, what does the organization/team want to accomplish, where must this be done, when should it be performed

Measurable

– The goals are quantifiable: in other words, the organization can establish concrete criteria for measuring your progress toward the attainment of each goal you set. Be able to answer questions such as: how much, how many, how will I know when it is accomplished? For example, Amiable Housing Society (AHS) has a set of decision-making criteria that align with each of its goals.

Assignable

– Achievement of the goal can be designated/delegated to a specific person or team. For example, Amiable Housing Society has a goals matrix that identifies how each goal is assigned to certain individuals in the organization who serve as the champions for the goal.

Realistic

–The goals meet the common sense test that they require a change in current practices or behavior to be achievable. The organization must accomplish its goals by developing the attitudes, abilities, skills and financial capacity to reach them. For example, Amiable Housing Society has ensured that its top management is committed to achievement of its goals but providing the necessary resources.

Time-bound

- The goals have an end point that can be found on a calendar. Time frames tied to the organizations deadlines.

Ethical

– The goals can be traced back to the values (moral principles) of the organization. Inspirational and aspirational factors can only be achieved if the goal is meaningful to the people in the organization. For example, Amiable Housing Society ____

Reviewed & Recorded

–The goals are reviewed periodically and adjusted as needed to account for changes in the organization's responsibilities or availability of resources. For example, Amiable Housing Society, has a policy that all goals must be reviewed once a year at the same time that the operating budget is being developed for the next fiscal year.
Listed below are some quotations to help illustrate that goals must be carefully written:
"A goal without a deadline is just a dream" (Antoine de Saint-Exupery)

"Keep your goals out of reach but not out of sight"
---
The Process of Establishing Goals
Included below is a summary of the key steps in establishing the organization's goals and objectives
Conduct a PESTLE Analysis (political context, economic context, social context, technological context, legal context, environmental context)
Review the inspirational-aspirational hierarchy that precedes goals (values, mission, vision)
Conduct a stakeholder Needs Assessment
Understand the Context of the Organization
Establish S.M.A.R.T.E.R goals (see below)
Review and evaluate the goals periodically
The following table provides a summary of some of the factors (external and internal) that may be considered in conducting a PESTLE analysis associated with the development of goals and policies.
P.E.S.T.L.E.

External Factors

Internal Factors

Political

· Labour laws

· Environmental laws

· Community influence over municipal decision making

· etcetera…

· Reputation in the community

· City zoning regulations around the community

· Developer influence around the community

· etcetera…

Economic

· Interest rates

· Inflation rates

· Taxation rates

· Unemployment trends

· Economic growth

· Workforce education/training

· Fuel costs (gas, hydro)

· etcetera…

· Staff efficiencies

· Staff productivity

· Reserve fund status

· Capital projects

· Energy efficient equipment

· Energy consumption

· etcetera…

Social

· Population growth rates

· Demographic trends

· Language barriers

· Community drug use

· etcetera…

· Age of staff/workforce

· Retirement of staff

· Motivation of staff

· etcetera…

Technological

· Software products

· Rate of technological change

· High speed internet access

· Multi-modal transit

· etcetera…

· Hardware for staff

· Software used by staff

· Direct digital controls on HVAC equipment

· Car/vehicle ownership

· etcetera…

Legal

· Labour/Employment laws
Discrimination laws
Environmental laws
Health & safety laws
Consumer Protection laws
etcetera…

· Contracts with 3rd parties

· Lease agreements

· Right of way agreements

· Easement agreements

· Bylaws, rules and regulations

· Active warranties on assets

· etcetera…

Environmental

· Weather conditions

· Climate change

· Local industry pollutants

· Environmental laws

· Proximity to ocean/lakes

· etcetera…

· On site streams

· On site catch basins

· Asbestos in buildings

· Water table

· Hydrology on the site

· Topography of the site

· Endangered species (fauna/flora)

· etcetera…
A PESTLE analysis can sometimes be supplemented with a SWOT Analysis. The following table provides an example of a correlation of the organization's strengths, weaknesses, opportunities and threats.
Amiable Housing Society (AHS)

Strengths

Weaknesses

Opportunities

Threats

Political

· AHS has a poor reputation in the community from an incident that occurred a few years ago

· Four new developments under construction on neighbouring properties

Economic

· The AHS team is well educated and trained



· The reserve fund is low and not adequate for some upcoming projects

· High energy consumption of some assets



· Staff efficiencies/ productivity can be improved

· New energy efficient equipment can be installed to lower gas and electricity costs

· Large capital projects need to be funded over the next few years

· Increased fuel costs are hard on the operating budget

Social

· AHS has well defined job descriptions

· Low motivation of some staff

· Hire a 2nd maintenance manager

· Ageing workforce

Technological

· High speed internet access



· Not all staff is computer savvy

· Direct digital controls on HVAC equipment can be enhanced to reduce operating costs

Legal

· Not all assets covered under service contracts

Environmental





· On site streams and catch basins are not protected

· Neighbouring industry is causing pollutants

3

7

4

4
In the preceding table, Amiable Housing Society has identified three (3) strengths, seven (7) weaknesses, four (4) opportunities and four (4) threats. These need to be converted into a series of goals and policies. The following table provides an example of the relationships between certain goals and policies.
Amiable Housing Society (AHS)

Goals

Policies

Political

To enhance the organization's reputation in the local community.

All contracts shall be reviewed by senior management staff

Economic

To maximize interest income in the organization's reserve fund and to ensure adequate cash flow by purchasing the appropriate investment vehicles

All savings shall be deposited into Guaranteed Investment Certificates (GICs) with maturity timeframes that match the remaining useful life of the assets identified in the capital plan.

Social

To develop a succession plan for senior members of staff who may retire over the next five years."

All new hires shall undergo the safety training program

Technological

To equip all staff with appropriate technology supported by a central database of all the organization's asset records

Legal

To ensure that the organization is not exposed to undue risk and complies with all regulatory authorities

The organization shall only hire suitably qualified maintenance contractors who have been pre-qualified to demonstrate their competence

Environmental

To protect all onsite water sources from pollution from resident's vehicles.

All catch basins shall be inspected annually
---
Goals within the Hierarchical Context


The organization's goals and objectives occupy one of the base layers of the inspirational-and-aspirational hierarchy






---
Relationship between Policy & Goals
---
Management of Goals
Listed below are some techniques to help manage the organization's goals:
---
Contract Objectives

(Example)
Some of the key outcomes of a contracting policy are as follows:

To mitigate risk to the organization
To help the organization balance supply and demand
To help the organization supplements its competencies and capacities.

To unlock/create value for the organization
To ensure quality in the delivery of services for which the organization is not qualified to deliver itself
To manage productivity
To ensure compliance with regulatory authorities
Fig. The aspirational-transactional hierachy with goals represented as one of the aspirational layers.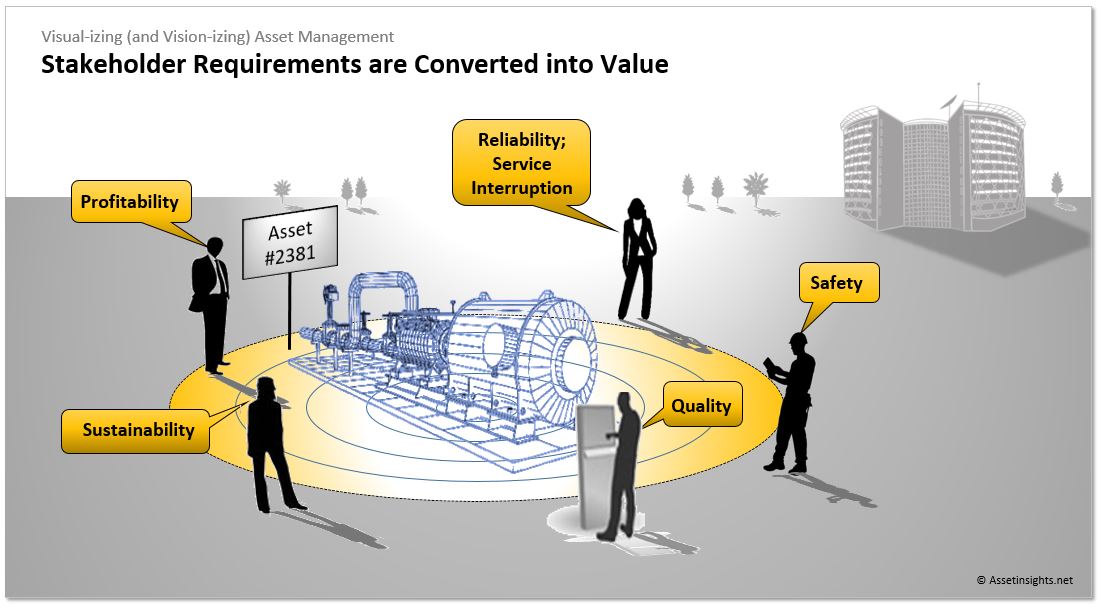 Fig. Stakeholder requirements converted into value.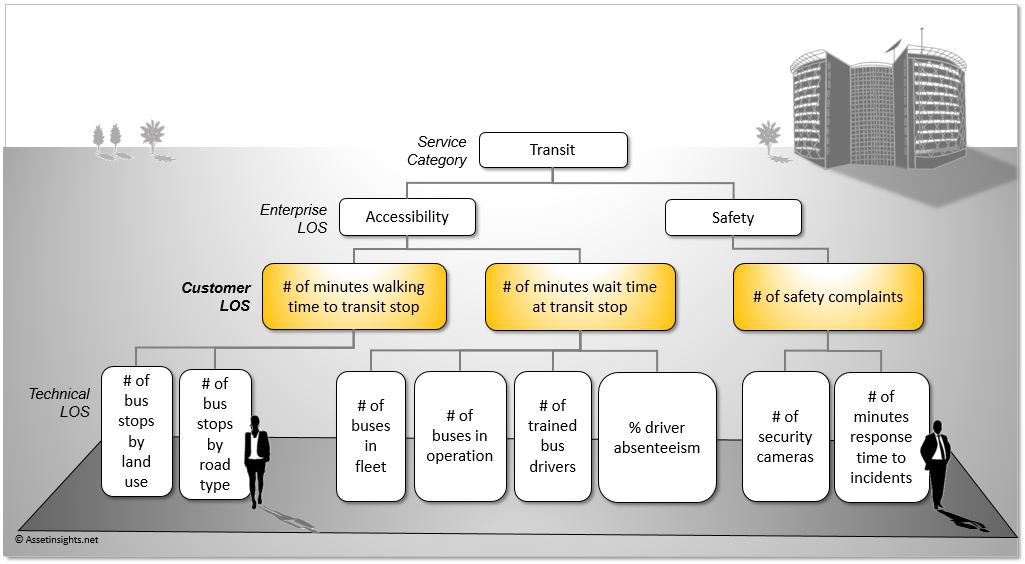 Fig. Goals and objectives translated into Customer LOS and then, finally into Technical LOS -- using transit service as an example.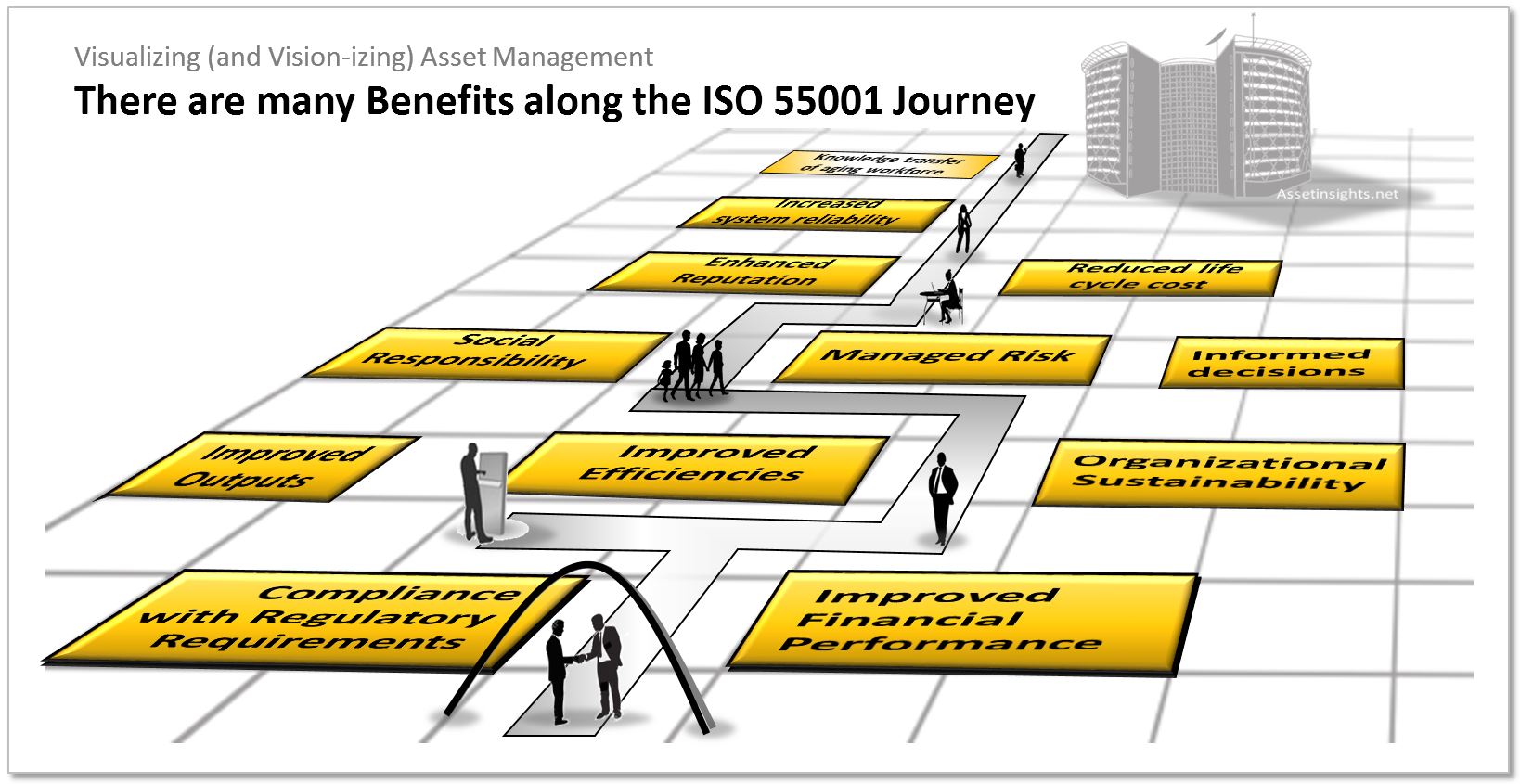 Fig. There are many benefits to implementing an asset management system in accordance with the requirements of ISO 55001.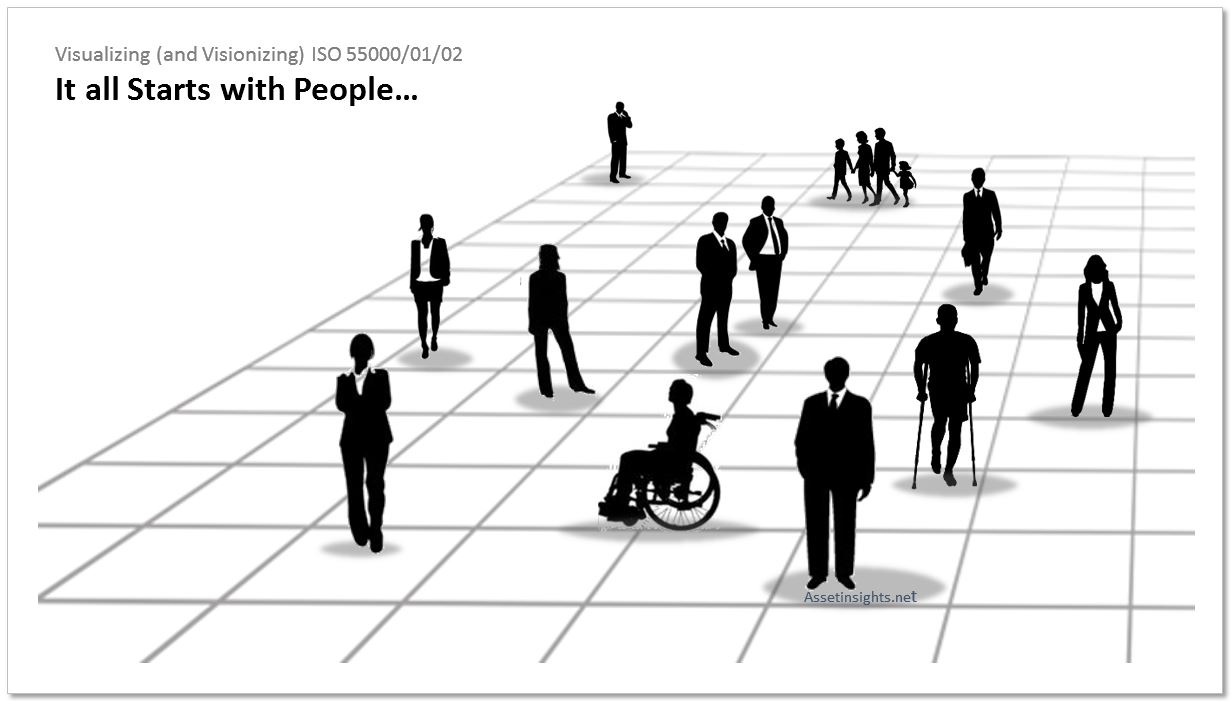 Fig. Goal setting starts with people.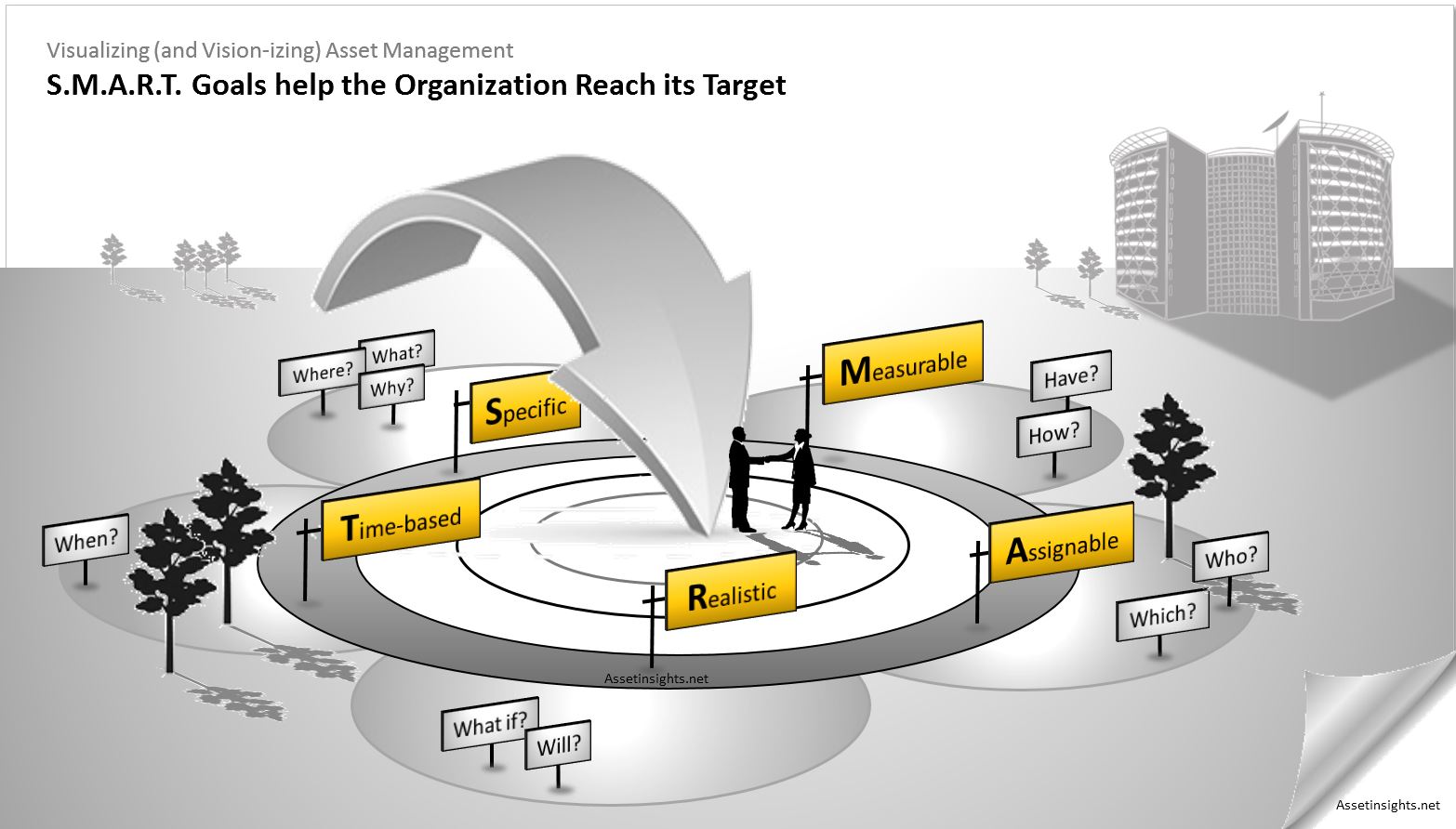 Fig. SMART goals help the organization to meet its targets.




Fig. Analyzing the approximate 27,0000 words inside ISO 55000/55001 to reveal patterns in the requirements. A word cloud indicating the prevalence of the word "objective".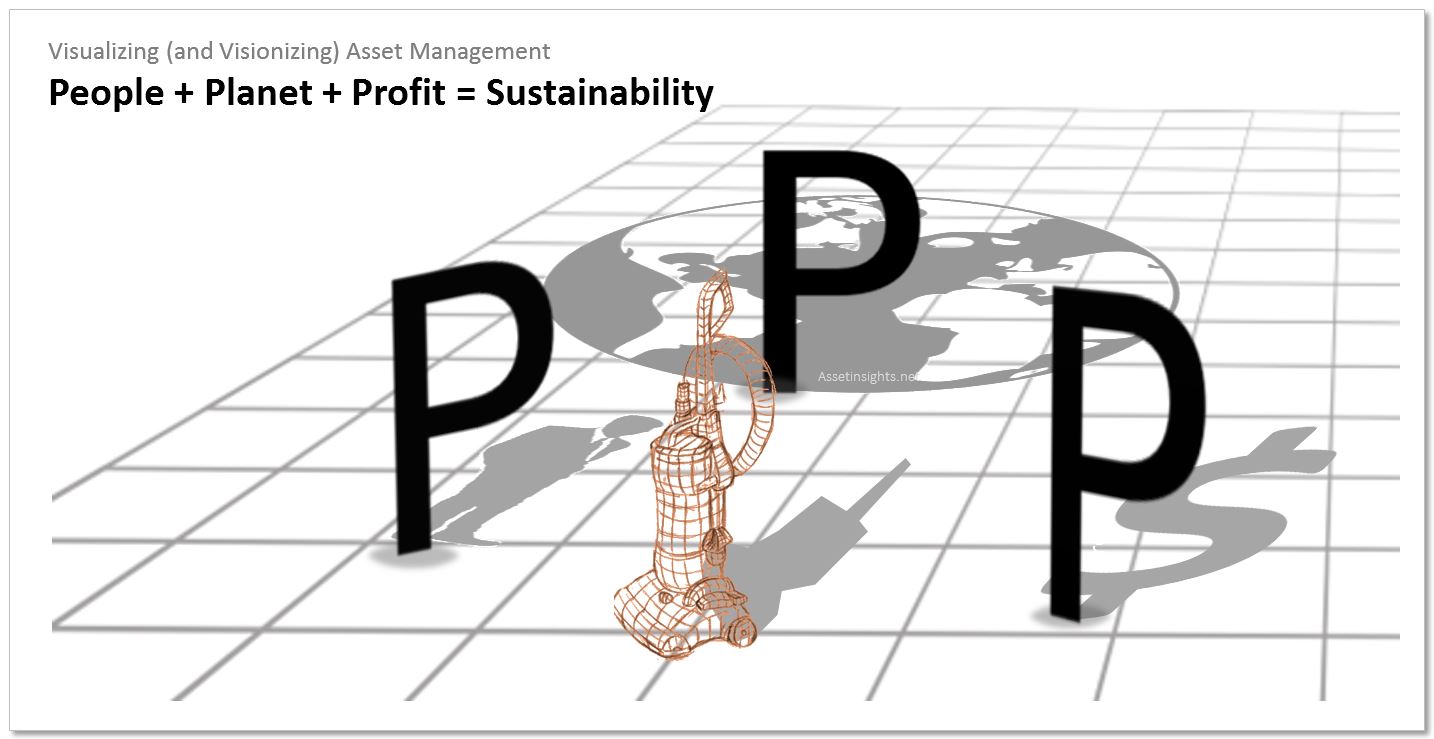 Fig. People + Planet + Profit is the triple bottom line of sustainability.
Fig. Alignment is required between all levels of the organization - such as, from top management to line staff
Fig. The journey to asset management maturity (including the development of appropriate goals and objectives) may sometimes feel like a maze.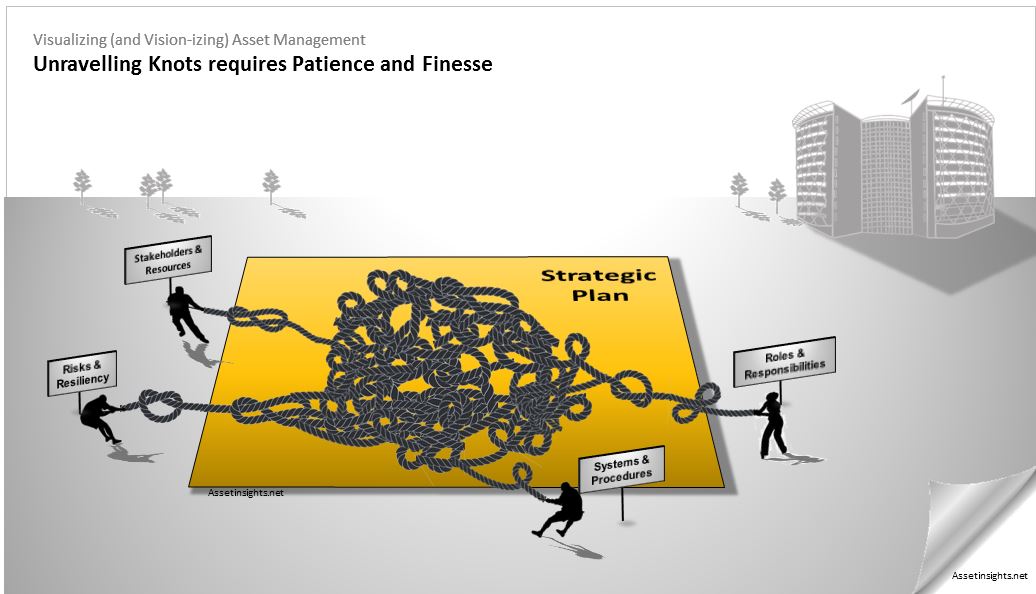 Fig. The journey to asset management maturity (Including the development of appropriate goals and objectives) may sometimes feel like a knot that needs to be untied.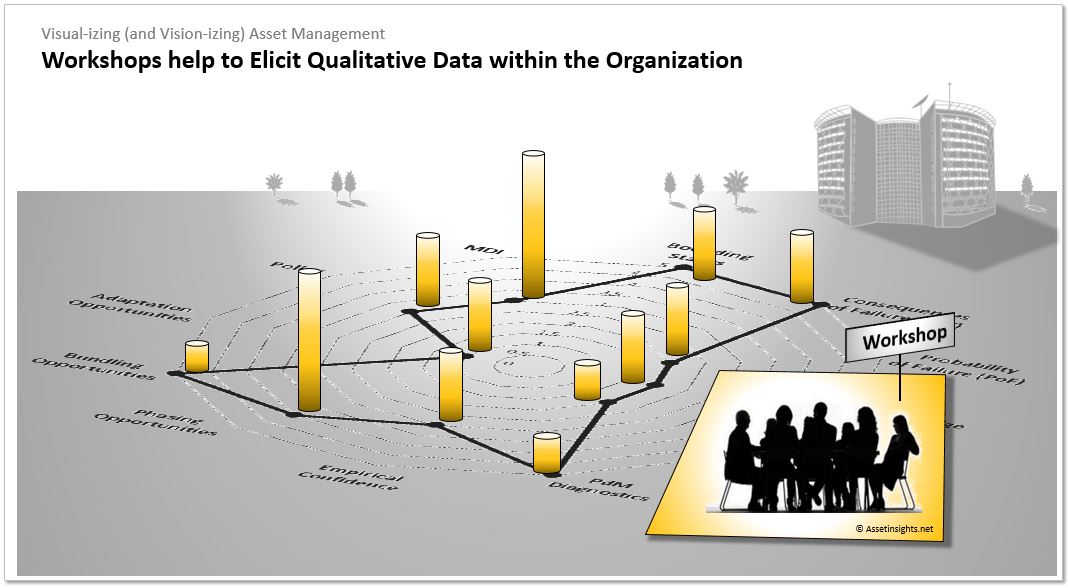 Fig. Workshops are a useful method to gather the organization's knowledge resources to help develop goals and objectives

.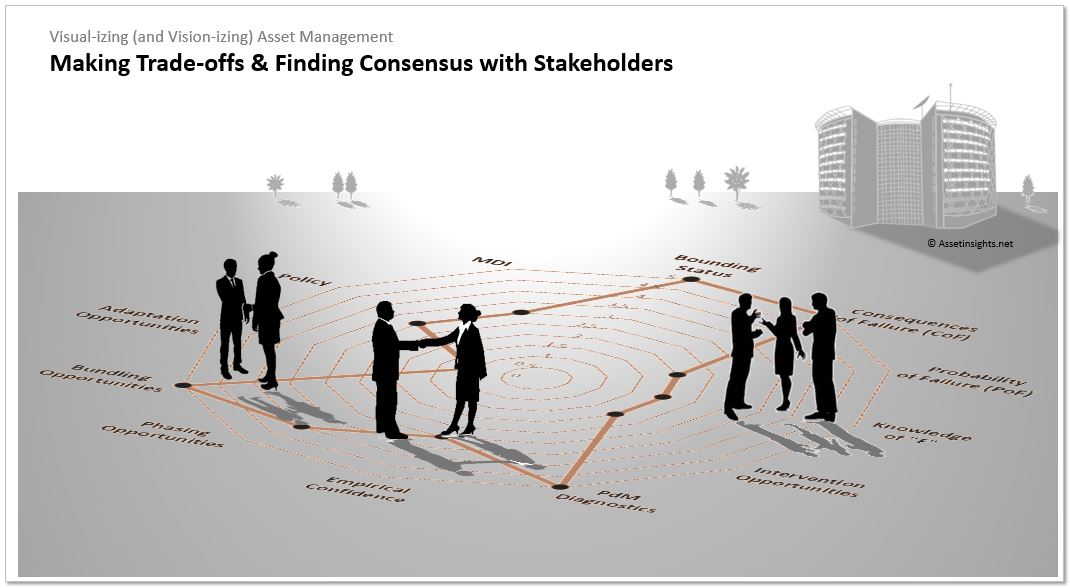 Fig. Making inevitable trade-offs and finding consensus with different stakeholder groups.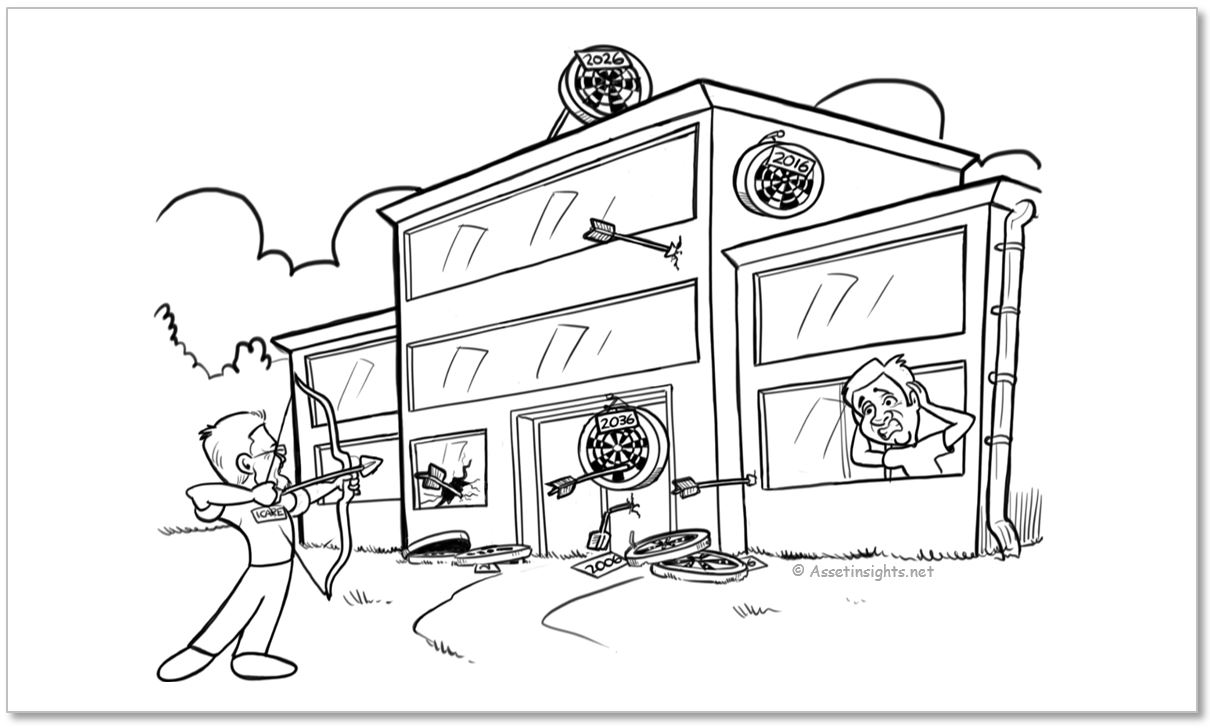 Fig. I. Care is attempting to target certain projects / goals on the facility but must be careful of the "collateral damage" from missing the target.