A method for prioritizing activities for the design, maintenance and renewal of assets.
Criticality is the combined measure of the relationship between the probability of failure (PoF) and consequence of failure (CoF) of an asset.

---
Process
Listed below are the key steps in the completion of a criticality analysis:
It is a process of decomposing product or process into hierarchical components, followed by study of their failure modes and effects, and (where appropriate) their causes.
ID
Tasks
Level of Effort
1
Validate the asset inventory
Low
2
Prepare a consequence matrix against each asset class


Financial consequences
Enviironmental consequences
Social consequences
Operational consequences

Medium
3
Prepare a spreadsheet containing


Asset class
Consequence of Failure (CoF) scoring system

Low
4
Generate Excel table of all source criticalityi data
5
Generate analytics with pivot tables of source data, such:


No of critical asset by building type
etc.

6
Migrate criticality assessment data into central data platform
6
7
---
Evaluation
Listed below are some of the merits of the criticality (risk) analysis:
Listed below are some of the limitations of the criticality (risk) analysis:
---
Criticality vs. Priority


Simplest possible definition

Criticality – the level of "importance" (to meet the stakeholders objectives)
Priority – the level of "urgency" (to satisfy the stakeholders changing needs and changing circumstances)
Adding layers:

Criticality applies to objects with intrinsic value: a building, a system, an asset, a component
Priority applies to activities to realize the value in the objects: a project (to correct/address/meet a need/issue)
Priority has a shelf life based on contextual circumstances and proximity to a need. Criticality has a shelf life based on organizational vision/ mission/ values/ goals/ objectives.

Consequences of failure – measured by criticality
Probability of failure – measured by priority (Ie. proximity to a changing circumstances, such as physical degradation)
There are correlations:

We may have a "critical" asset (eg. roof) that is in good condition and therefore not a "priority" at this time.
We may have a non-critical building (eg. a storage shed) that is in very poor condition and also not a priority
Two examples:

An asset

A fire extinguisher is deemed a "critical asset" because it is regulated by safety standards (external stakeholder)
The fire extinguisher becomes a "high-priority asset" when the annual inspection comes due. Once the inspection is done and the FX is certified, it is no longer high priority (the project is over)

A building

The academic quadrangle is a "critical building" due to factors such as heritage status, institutional function, etc. (primarily internal stakeholders)
The academic quadrangle becomes a "high-priority" building (for a certain period of time) when a bunch of projects come due (filter to the top of the priority list).
Application of the analysis:

"How much money will we need over time period x?" – A criticality analysis to identify the projects that should occur in period n. ie, the unfunded liability
• "We have $x, what should we responsibly do with it?" – A criticality analysis to help identify the projects that float to the top of a rank list. However, we can only pick the right projects if we know how they ranked against projects that do not fit into the funding envelope. Otherwise, we are simply grabbing a bunch of "priority projects" without consideration of overall criticality.
In a nutshell: Criticality is the backdrop for priority. Defensible priorities cannot be established without an understanding of criticality.

There are certainly other ways to interpret criticality-priority. "Critical" is often used to mean that something has become very "important". But it has really become a priority because the probability of failure is now very close and the consequences of the failure are significant (the criticality backdrop).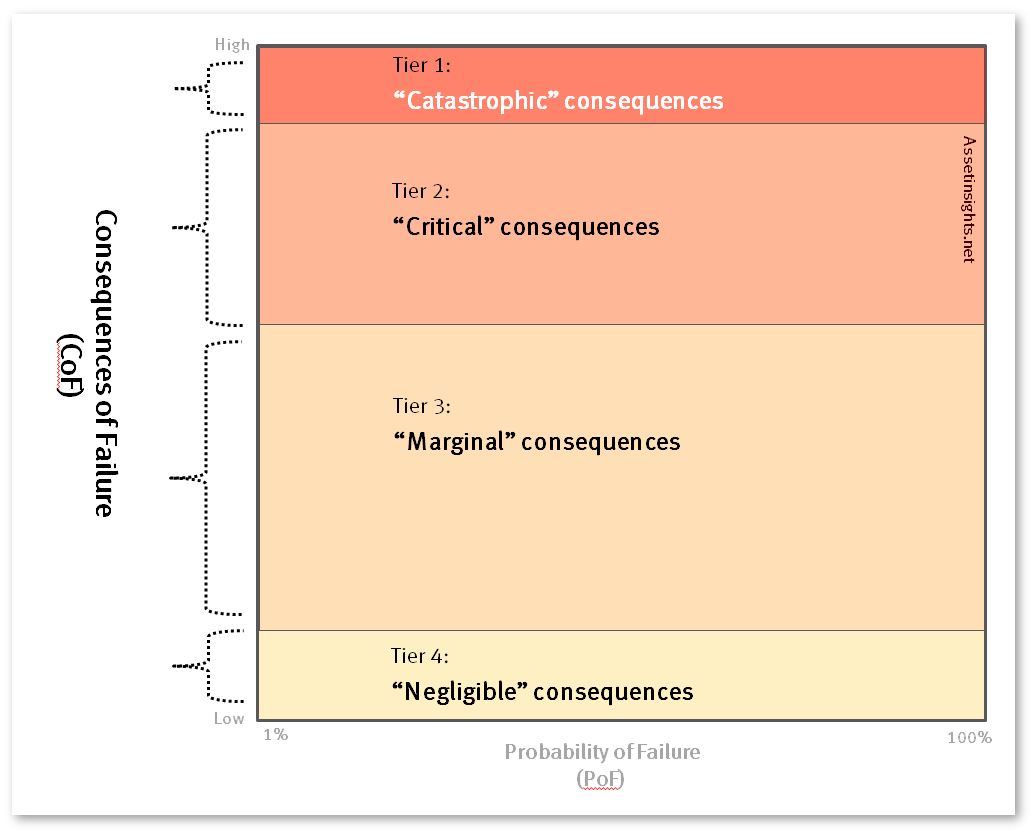 Fig. Consequences of Failure (CoF) represented on the vertical (y-axis) of a criticality matrix (risk matrix).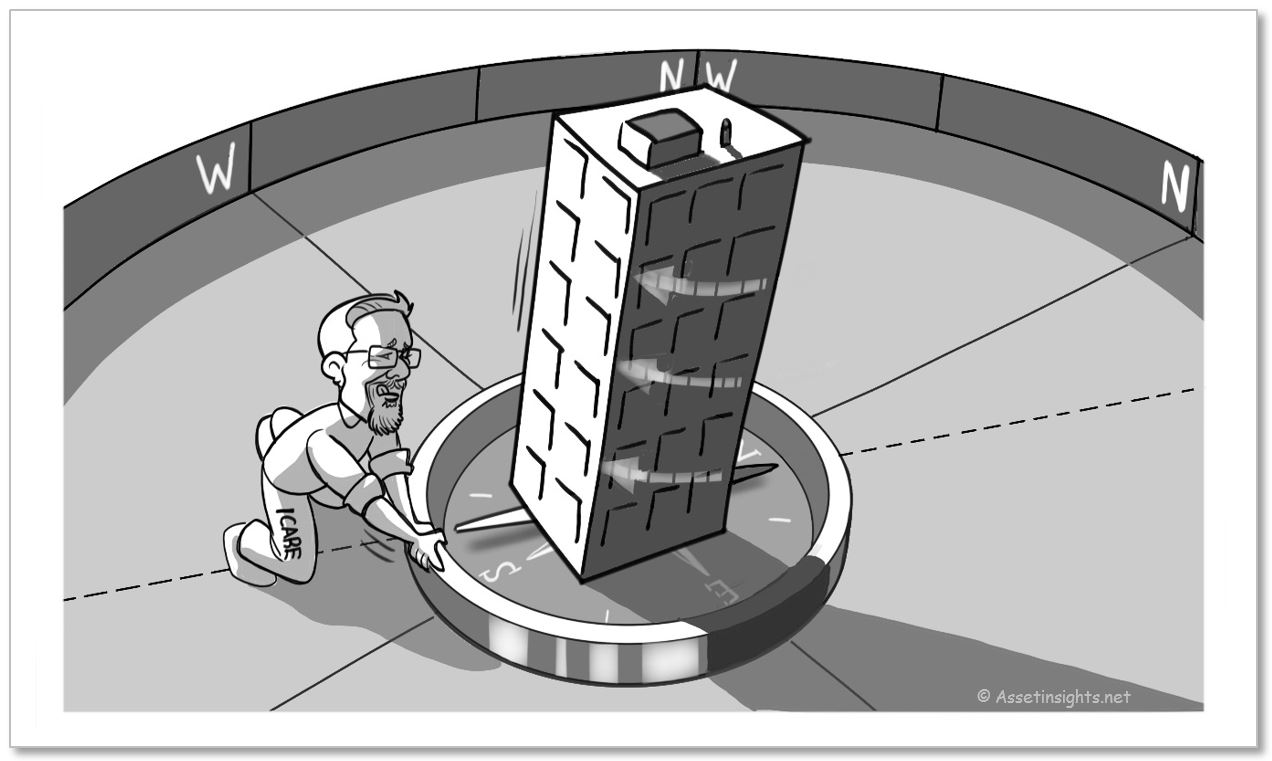 Fig. I. Care is trying to re-align his building's magnetic north to geodetic true north and thereby use his building as a sundial to cast a shadow that identifes all the critical assets

.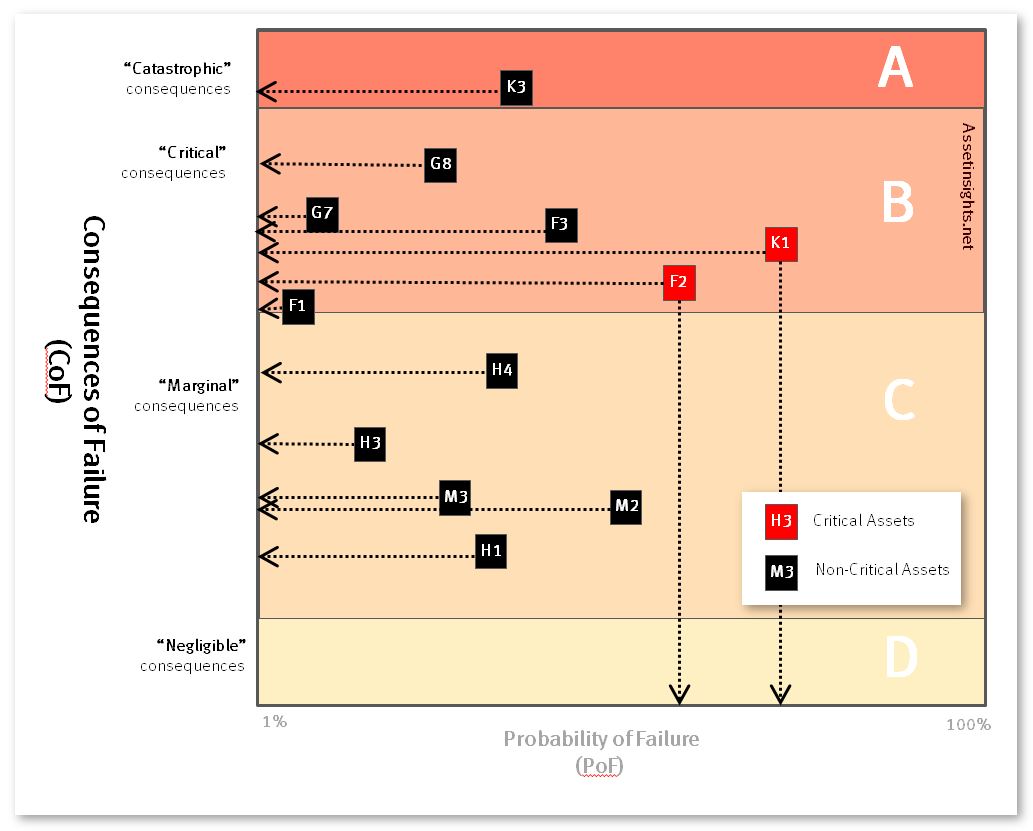 Fig. Risk matrix with tiered consequences of failure.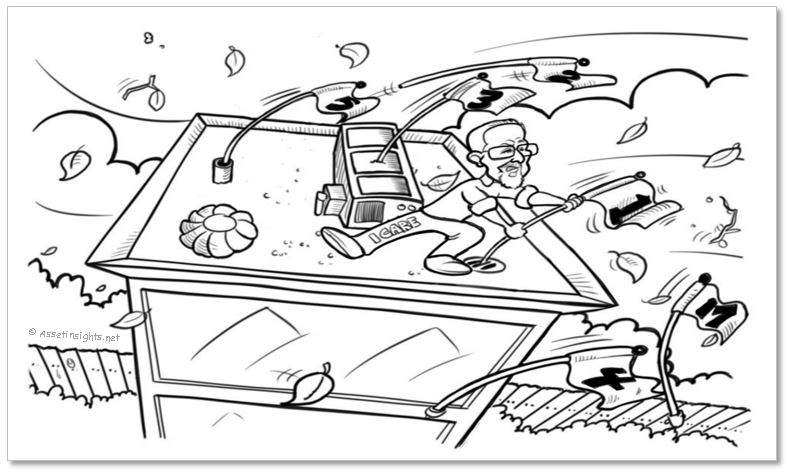 Fig. I. Care is establishing priorities for the different assets but is fighting the "forces" that necessitate periodic re-evaluation and re-prioritization.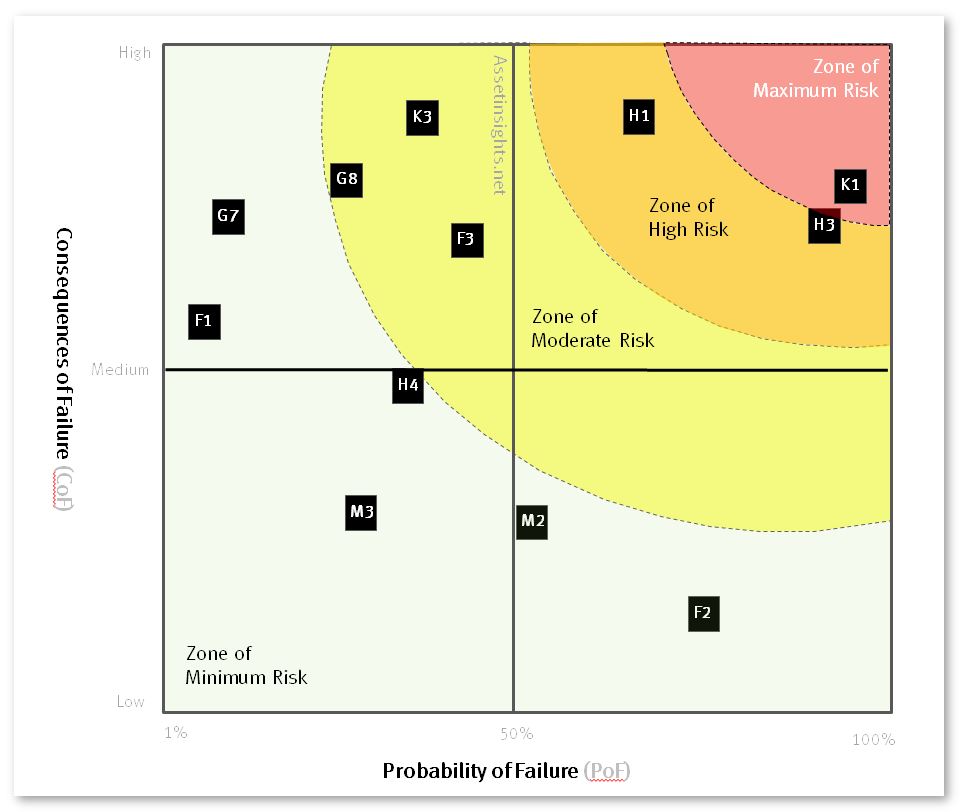 Fig. The relationship between Consequences of Failure (CoF) represented on the vertical (y-axis) and Probability of Failure (PoF) on the horizontal (x-axis) of a criticality/risk matrix.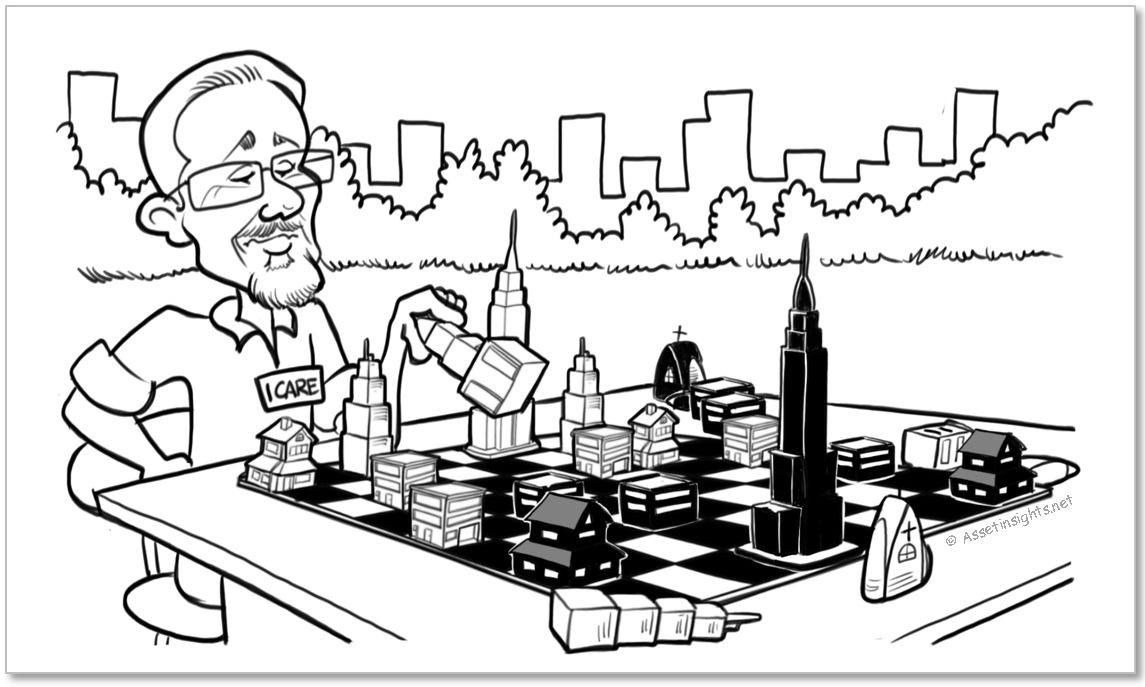 Fig. Based upon the results of a criticality analysis, I. Care is allocating the limited resources across a portfolio of buildings