The second highest level of care (operating standard) given to a facility on a scale comprising 5 levels, as developed by APPA.
Average FCI.

5-15%


Maintenance Mix. A well-developed preventative maintenance (PM) program: most required PMs are done at a frequency slightly less than per defined schedule. Appreciable reactive maintenance required due to systems wearing out prematurely and high number of lamps burning out. Occasional emergencies caused by pump failures, cooling system failures, etc.
Service Efficiency

. Maintenance activities appear organized with direction. Equipment and building components are usually functional and in operating condition. Service and maintenance calls are responded to in a timely manner. Buildings and equipment are regularly upgraded keeping them current with modern standards and usage.
Housekeeping

. Ordinary Tidiness: Floors and base moldings shine and/or are bright and clean. There is no buildup in corners or along walls, but there can be up to two days worth of dust, dirt, stains, or streaks. All vertical and horizontal surfaces are clean, but marks, dust, smudges, and fingerprints are noticeable upon close observation. Light all work and fixtures are clean. Washroom and shower fixtures and tile gleam and are odor-free. Supplies are adequate. Trash containers hold only daily waste, are clean and odor-free.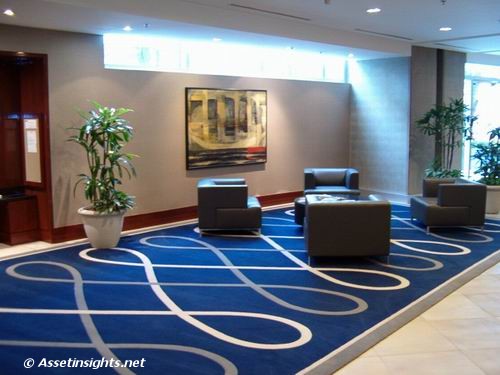 Fig. Ordinary tidiness of the interior finishes at a facility managed to the comprehensive stewardship level.
Fig. Relationship between FCI, funding levels and facility operating standards.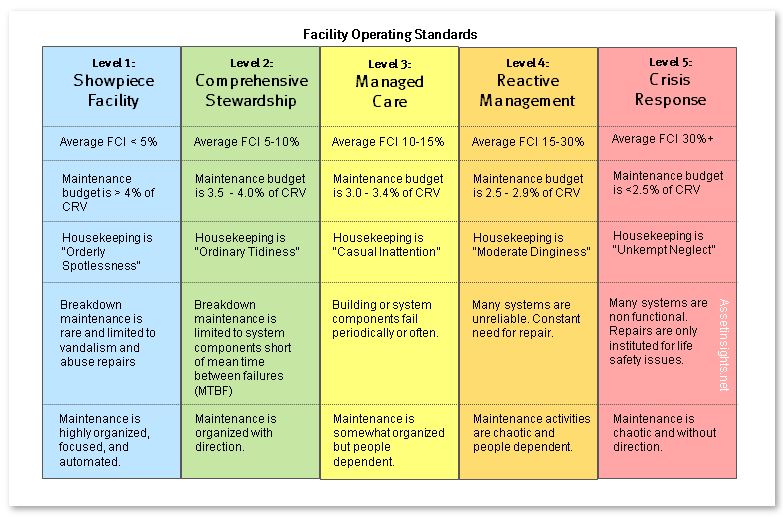 Fig. Summary of the key attributes attached to each of the 5-tiers of the operating standard.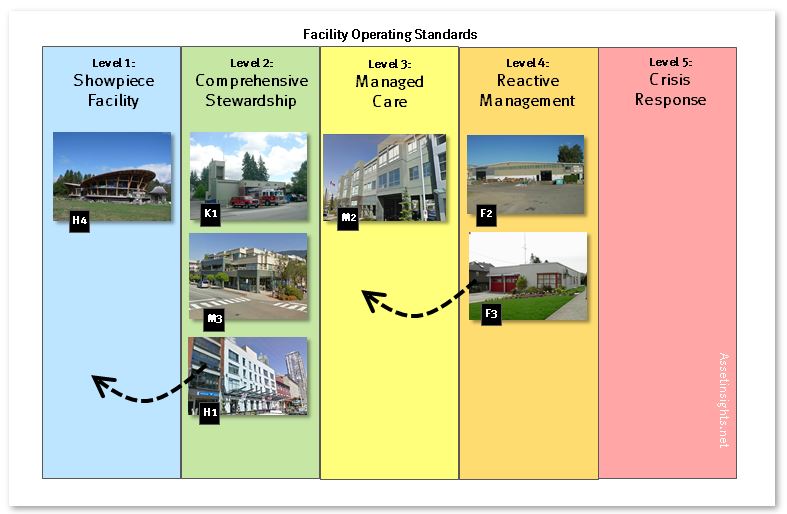 Fig. A sample portfolio of facilities being governed at different levels of the 5-tiered operating standard with plans to move some facilities to a different tier.