Alignment is one of the four core principles of ISO 55000, which is the international standard for asset management.


---
Definition


Alignment is defined in the dictionary as arrangement in a straight line, or in correct or appropriate relative positions; a position of agreement or alliance.

It is also referred to as "line of sight".


---
Attributes


Listed below are some of the key attributes of alignment within the realm of asset management:

Integration
Coordination
Cooperation
Harmony
Agreement

---
Types/Examples of Alignment


Listed below are some the many different types of alignment that are required within an organization:



General classes



Between levels of the organization
Between types of activities
Across decision-making criteria
Over the fiscal cycle
Over time horizons
Granular classes
From values to mission to vision
From policy to goals to strategy to plans
Across the triple-net bottom line of people, planet and profit

Between short term, medium-term and long-range needs and forecasts
From operational plan to tactical plan to strategic plan
Between decision-making criteria, such as risk, cost and performance
Between high-priority, medium-priority and low-priority

From maintenance to repairs to renewals of assets

Between levels of the organization, such as board room (Board) to plant floor (eg. City Council, City Departments and City Staff)
From internal stakeholders to external stakeholders
Between union staff and non union staff
Between linear assets, vertical assets and portable assets
Between the Organizational Corporate Plan (OCP), Strategic Asset Management Plan (SAMP) and Asset Management Plans (AMPs)
From estimating to budgeting to financing
Between the different types of functional plans (risk management plan, sustainability plan, resourcing plan, etc)
The eight W-s" of how, what, who, where, when, how much

Other
---
Deeper examples of alignment


Included below is further information on a few examples of alignment.

City Council - policies
City Executives/departments - plans, decision-making
City Staff - governance, operations
---
Management of Alignment
Conduct a stakeholder needs analysis
Understand the context of the organization

Set clear goals and objectives
Develop strategies and plans
Continually communicatet the goals and objectives

"Don't wear rollerskates to a tug-of-war" -- Larry Wall.

As I continue my journey through Asset Management I have come across a number of organizational tensions that require mindfulness and critical thinking to result in a win-win rather than a win-lose scenario.

1. PUSH or PULL on a Rope?

Is your department pushing on a rope or caught in a tug-of-war? All kinds of rope wars are futile. Once we put the ropes away we can focus on integration, collaboration and alignment.

Play a Game of CHESS or CHECKERS?

A chess grandmaster is thinking ahead five moves and carefully leveraging the value of each piece - and that's where the strategic advantage lies. If we play asset management like checkers, we will not overcome the powerful players on the other side of the board.

Focus on MAINTENANCE or REPAIRS?

As maintenance quality and effort increases so does the frequency and scope of repairs decrease -- however, there is a point of diminishing returns. How do you know when you have found your optimal M-R-R balance?

Ask WHY or WHAT-IF?

It seems to me that all our challenges can be traced back to nine questions --starting with the all-powerful "Why?" and ending with the all-knowing "What if?"

Be REACTIVE or PROACTIVE?

Asset replacement policies must align to asset risk profiles in order to achieve optimization and satisfy ISO 55001 requirements. The replacement mix that results across the asset portfolio is our risk management strategy.

Have CULTURE or STRATEGY for Breakfast?

Asset management is hard work and requires sustenance. Two essential ingredients of a nutritious asset management recipe are strategy and culture.
7. Look UPSTREAM or DOWNSTREAM? Supply chains are a key factor in an organization's success. Failure to manage the risks associated with some of these upstream processes may result in procurement delays, downtime and business interruption. How far upstream does your organization try to plan?
8. Rely on INSOURCING or OUTSOURCING?
All organizations must find their optimal resource mix, which is the appropriate balance between internal competency development of its staff and contracting with external 3rd parties.
9. Plan for TODAY or TOMORROW? The "old fashioned" calendar view still represents one of the best tools to visualize work distributions and to manage the many tasks in the Asset Management Plan (AMP). We need our history to inform our future, all of which takes place in decisions that are occuring today.
10. Manage the PROBABILITIES or the CONSEQUENCES of Failure Risk-based decision making is at the heart of asset management and this requires mindful consideration of the relationship between the probability of failure (PoF) and the consequences of failure (CoF). The complexities of these correlations can sometimes be captured on a risk matrix.



***************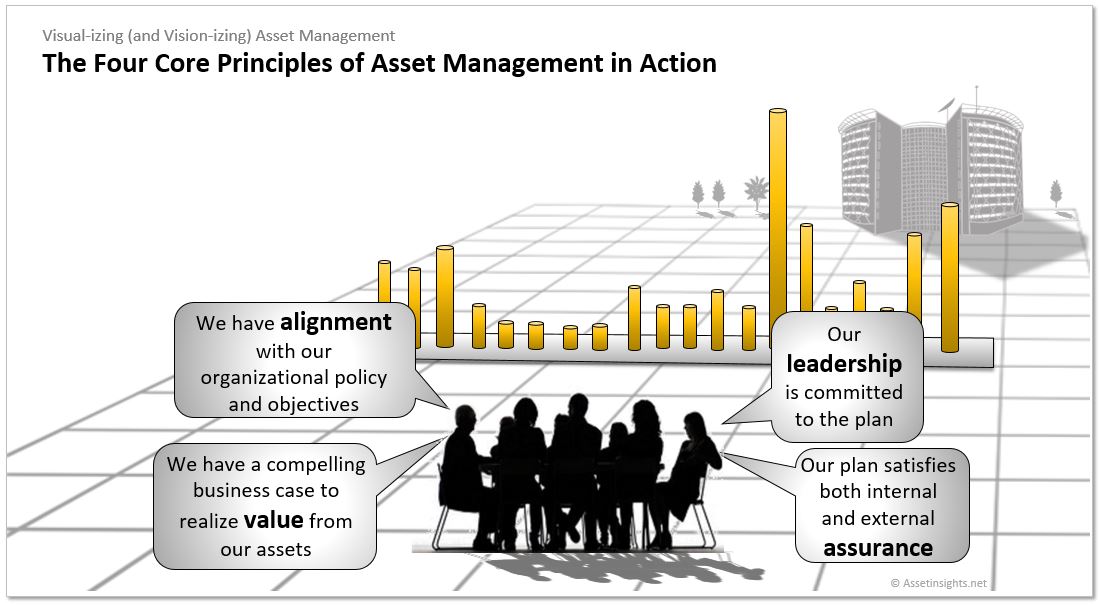 Fig. The four core principles of ISO 55000 (value, alignment, leadership and assurance) in action.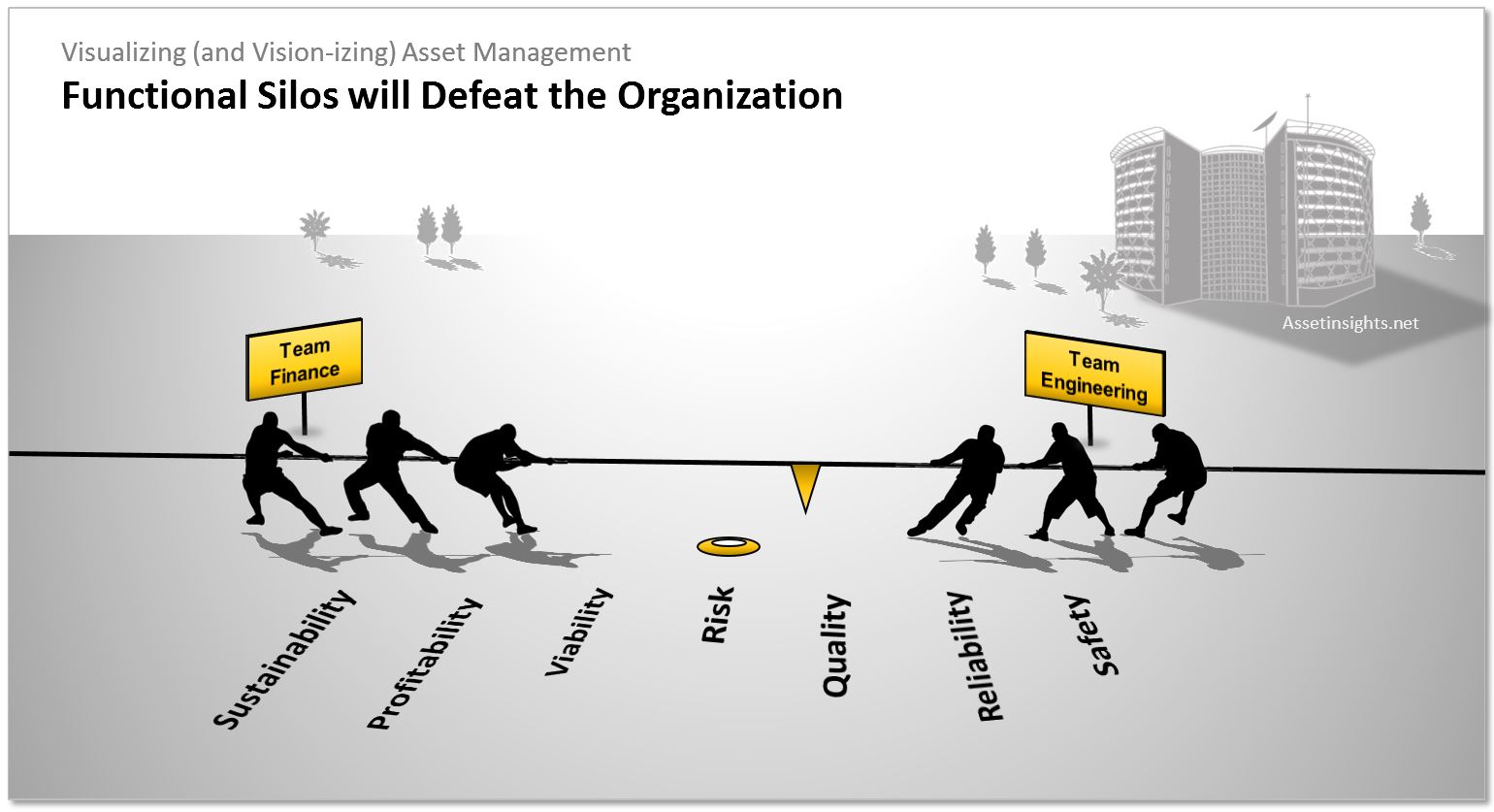 Fig. Functional silos will defeat the organization. Instead: integration, collaboration and alignment are some of the critical success factors.



Fig. Alignment is required between all levels of the organization - such as, from top management to line staff

.



Fig. Alignment between Maintenance, Repairs and Renewals will help the organization find the optimal MRR ratio.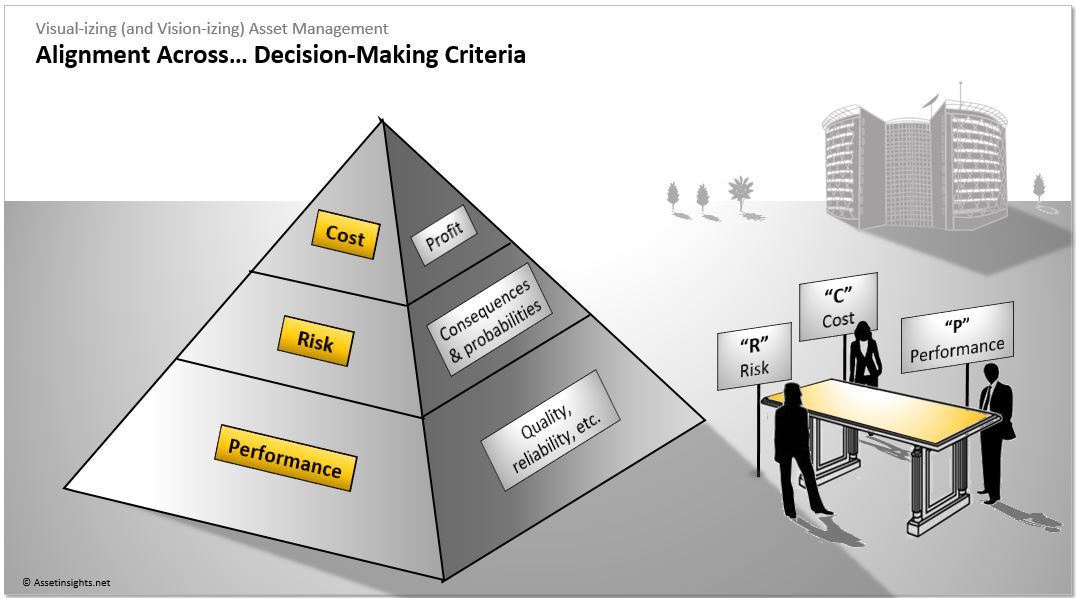 Fig. Alignment across different decision-making criteria
(such as risk, cost and performance)
is required for ISO 55000 conformity.
Fig. The journey to asset management maturity may sometimes feel like a maze.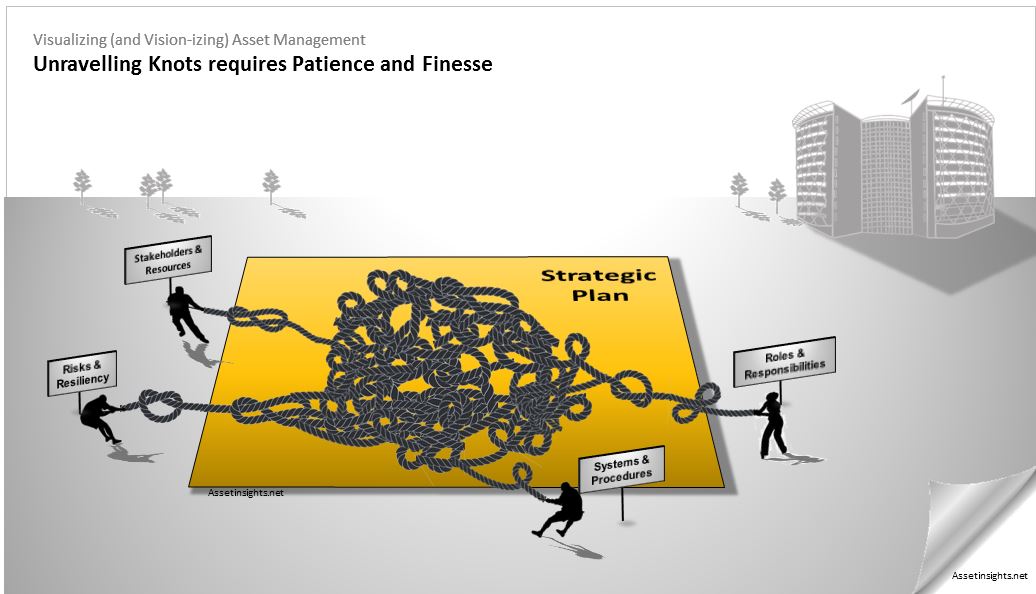 Fig. The journey to asset management maturity may sometimes feel like a knot that needs to be untied.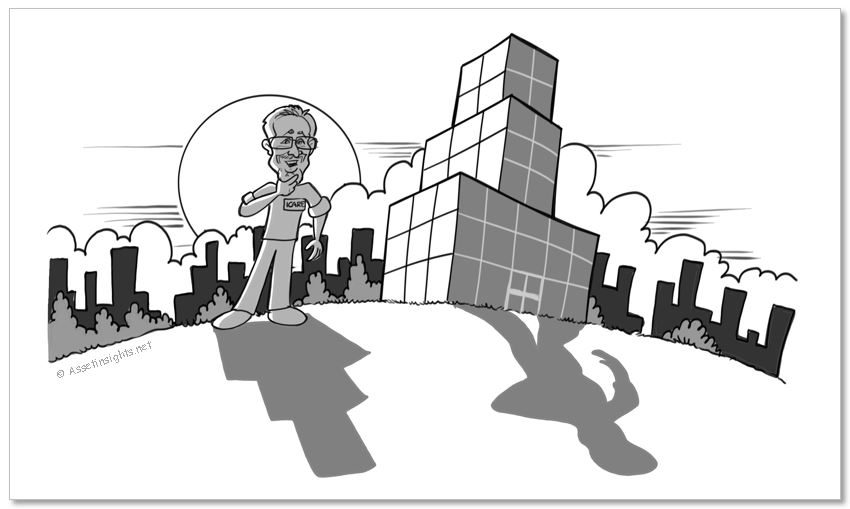 Fig. After years of careful planning and stewardship, I. Care and his facility are now aligned.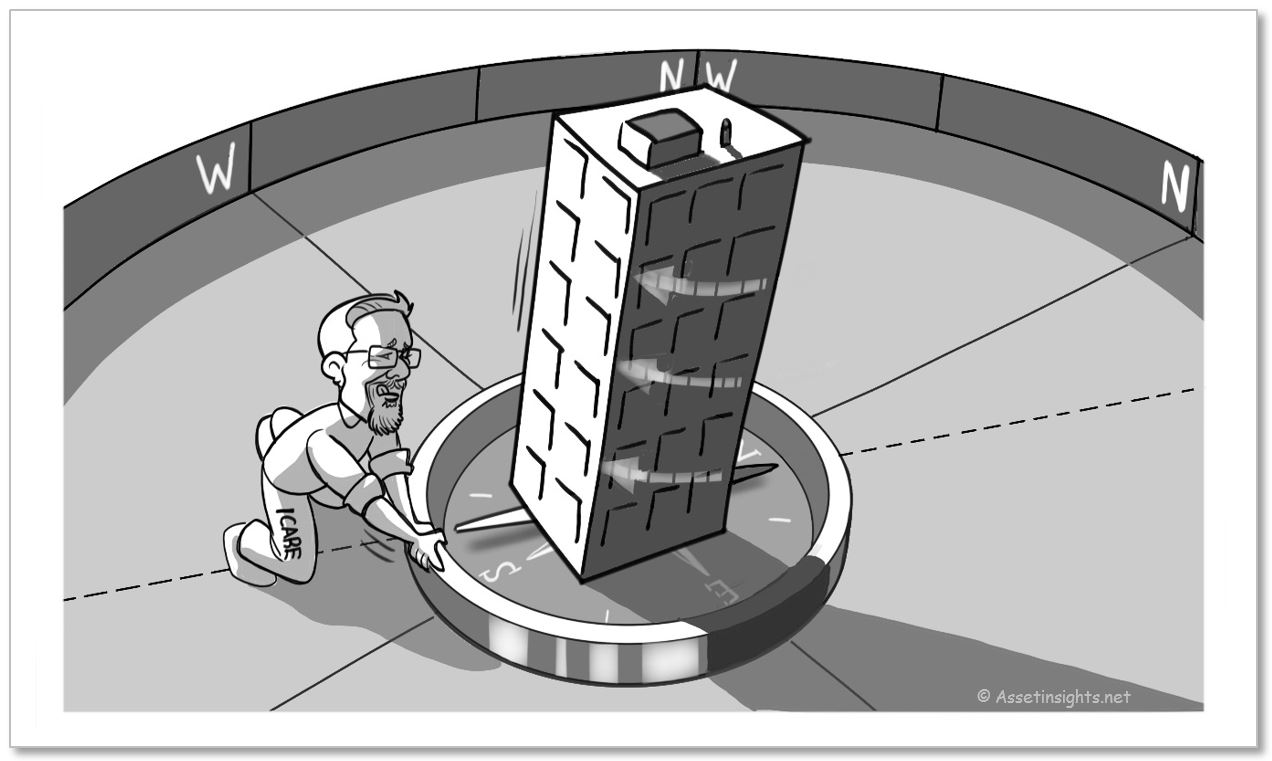 Fig. I. Care is aligning his assets to organizational goals and objectives.