A form of governance structure that simplifies the sharing of costs for common assets..

A "parcel" is typically a portion of a building which is designated as a self contained legal entity within the larger building. The balance of the building, outside the parcel, is referred to as the remainder (ie., the Non-Parcel).


---
Attributes


Listed below are some of the key attributes of an air space parcel:

A "parcel" is legally distinct from a "

section

" in that the latter is part of the same legal entity along with the other sections.

An air space parcel typically occupies the top floors of a building.
---
Examples


Listed below are some examples of air space parcel configurations:
A residential condo air space parcel on the 30-40th floors of a high-rise above a 29 storey hotel.
A residential air space parcel on levels 2, 3 and 4 of a low-rise building, with retail below.
The cost sharing arrangements in an air space parcel are governed by an ASP Agreement and reciprocal easements.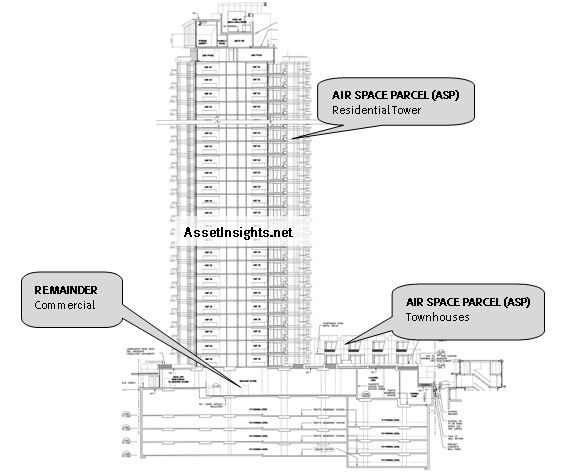 Fig. Residential ASP above Commercial Strip