Also called a "Winter Maintenance Checklist"
A form of maintenance checklist that includes seasonal requirements for winterization, such as:
1. Enclosure System -[ Roofs, Canopies and Other Projections
Check for missing, damaged or loose components.
Check that flashings and appurtenance (such as antennas and signage) are properly fastened.
Check seals around chimneys, drain vents, and other service penetrations through the roof.
Clean gutters, eaves troughs, downspouts, and area drains.
Check that drain screens are properly secure.
Remove any debris and summer storage from the roof surface.
Clearance prune tree limbs and other foliage that may interfere with the roof system.
2. Terraces/Decks, Balconies, & Patios
Cover and fasten all seasonal furniture or move it to indoor storage.
Check membranes for damage and carry out necessary repairs.
Check planters for proper drainage.
Advise residents regarding care and maintenance of traffic membranes under ice and snow conditions and policies regarding hanging of Christmas lights, etc.
3. Windows, Doors & Walls
Check around doors and windows for gaps and seal/caulk as required.
Check for worn or missing weather-stripping.
Replace worn door stops.
Adjust door closers for proper tension.
Lubricate locks and hinges to ensure proper operation during colder temperatures.
Clearance prune shrubs and trees that may interfere with walls and windows.
Check wall cladding for any missing, damaged or loose components. Repair as required.
Replace sealed glazing units where the thermal seals have failed.
---
5

.

Mechanical System

- Heating and Ventilation



Service central heating equipment.
Check requirements of heat pumps, air handlers and other heating systems for freeze protection and winterization procedures.
Replace/clean filters on equipment, as required
Inspect flue pipes and seams for proper support, any holes and cracks. Repair as required.
Clean chimneys and flues as required.
Vacuum vents and terminal/packaged heating devices, as may be required.
Clean laundry dryer vent runs and lint traps
Clear any obstacles from heating vents so air can flow freely.
Test operation of HVAC controls and instrumentation such as thermostats and humidistats.
Check for any carbon monoxide leaks.
Check that air intake vents are not blocked.
Check that there is adequate clearance around central heating equipment and terminal devices.
Check operation of dampers on exterior walls, such as those at rooftop mechanical rooms.
5. Plumbing & Drainage
Know the location of all catch basins, trench drains and clean outs. Place flags to help identify locations that may become concealed in heavy snowfalls.
Check operation of sump pumps.
Shut off outdoor hose bibs, as required.
Drain garden hoses, roll them up and store inside.
Check operation of heat trace cable on exposed plumbing lines.
Drain water fountains and unplug circulation pumps, as required.
Cycle important shut-off valves through full operating range to test for proper closure and water isolation.
Ensure that valve shut-off charts are posted in a conspicuous location for emergency purposes.
Check integrity of insulation on p-traps in exposed parking garages.
---
6. Fire Safety System
Check operation of any heat tracing cables on fire sprinkler lines.
Check weatherproofing on any fire detection and fire alarm devices that are mounted on exterior walls or may otherwise be exposed to changing weather conditions.
---
7. Electrical
System
Check operation of heat tracing cable and deicing equipment on exposed piping.
Check operation of any ramp heating systems, as required.
Check fuel level for emergency generator and top-up as required.
Check operation of engine block heater on emergency generator.
Check emergency generator cooling system includes adequate antifreeze for local service conditions.
Replace lamps in exterior light fixtures, as required.
Check for any exposed wiring and electrical components and carry out necessary repairs.
Turn off breakers for outdoor receptacles and equipment that is not required during the winter.
Check for any corrosion or other damage on exterior conduits, junction boxes and panels.
Check operation of all photocells and/or timers to ensure proper lighting control for reduced daylight hours.
---
8. Elevators
Check for any leakage into the elevator pit. Repair as required.
---
9. Sitework System - Roadways, Walkways, Stairs
Check hard landscaping surfaces for damage (such as crack, potholes and differential settlement) that may present a trip and fall hazard or deteriorate the sub-grade. Carry out repairs as required.
Check operation of snow clearing equipment and/or ensure that arrangements are made for snow clearing services.
Arrange for adequate stock on site of snow clearing supplies, such as shovels and ice melt.
Check that stair handrails and guardrails are properly fastened.
Check that stair tread markings are legible and intact.
Clear debris from trench drains, catch basins, sumps, and other collection points.
Demarcate drains for easy identification during heavy snowfalls.
Check that catch basin covers and trench drain covers are properly fastened.
Stake driveways to mark for snow plows (if required).
Check operation of any ramp heating systems.
10. Landscaping, Retaining Walls
Prune tree limbs and foliage that may interfere with roof drains, perimeter drains and lines of sight to exterior signage.
Apply winter fertilizer to lawns and winter landscape protection, as required (check with landscape contractor for advice).
Blow compressed air through irrigation sprinkler lines to purge them of water.
---
11. Housekeeping & Miscellaneous
Install appropriate mats/runners at perimeter doorways to minimize transfer of snow ice to interior floor surfaces and to protect against slip and fall hazards.
Cover outdoor furniture or store it inside.
Reconfirm policies for Christmas light installation and removal.
Check that outdoor signage is legible and will not be obstructed by snow accumulations or other winter conditions.
Check with service contractors to confirm their availability and support during the winter months.
Prepare list of emergency contact numbers and provide this to staff and stakeholders.
Replenish stock of winter supplies, as required
Storage of summer furniture.
Purchase of ice melt supplies and snow clearing equipment.
See article on preparing for winter.



Fig. Snow clearing.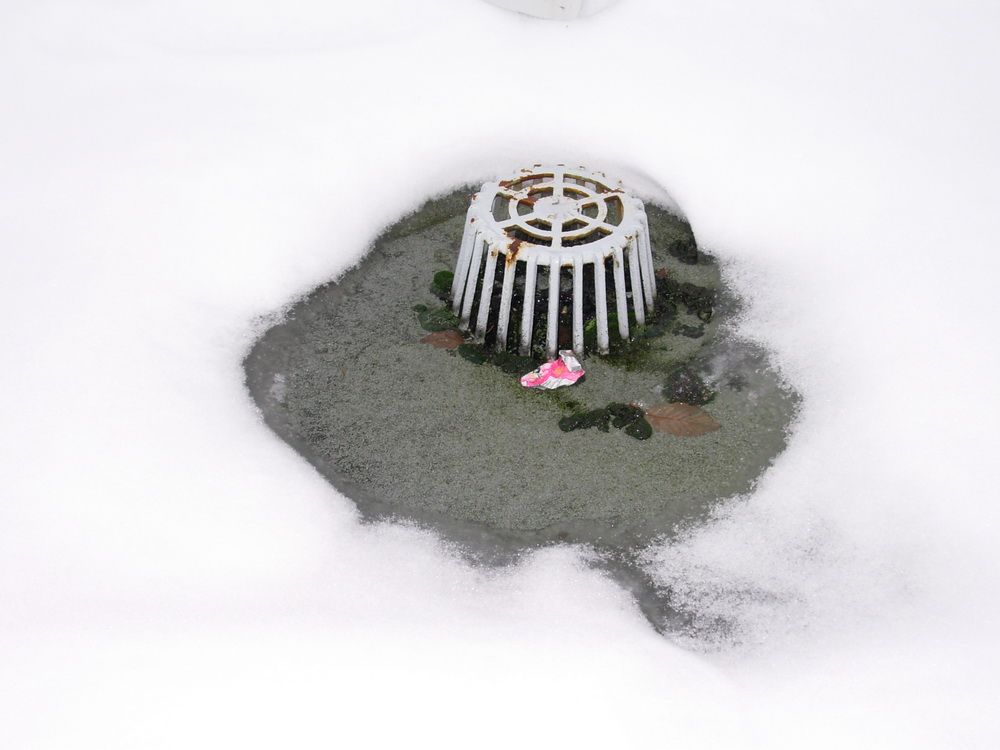 Fig. Roof drain surrounded by snow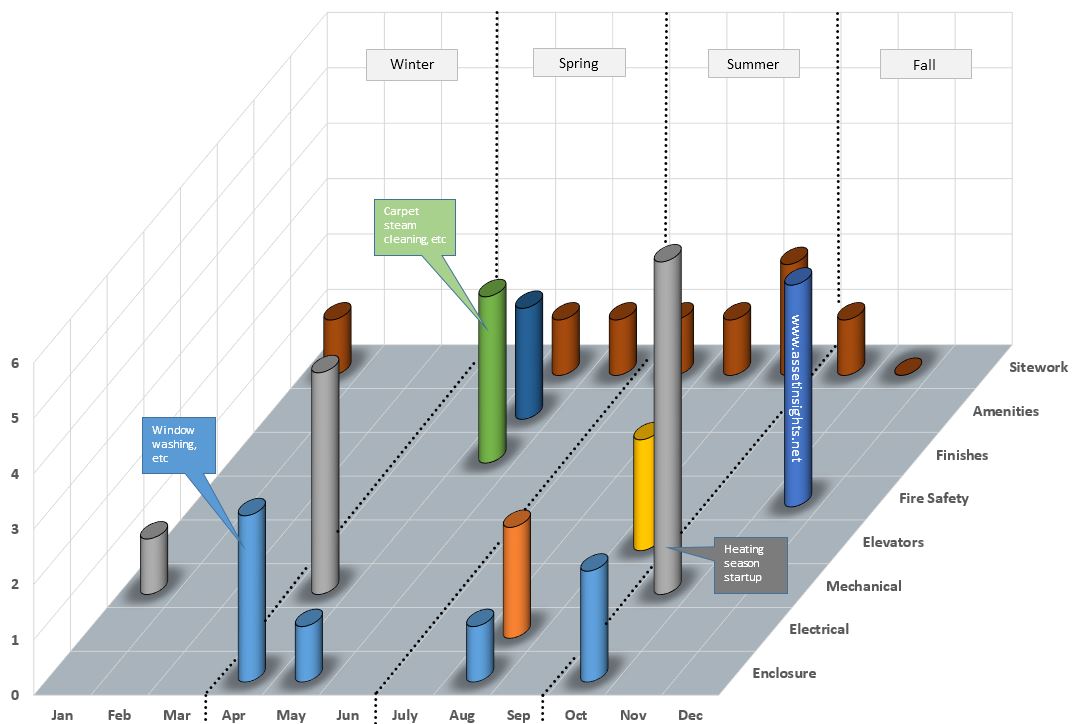 Fig. Seasonal maintenance program represented by system.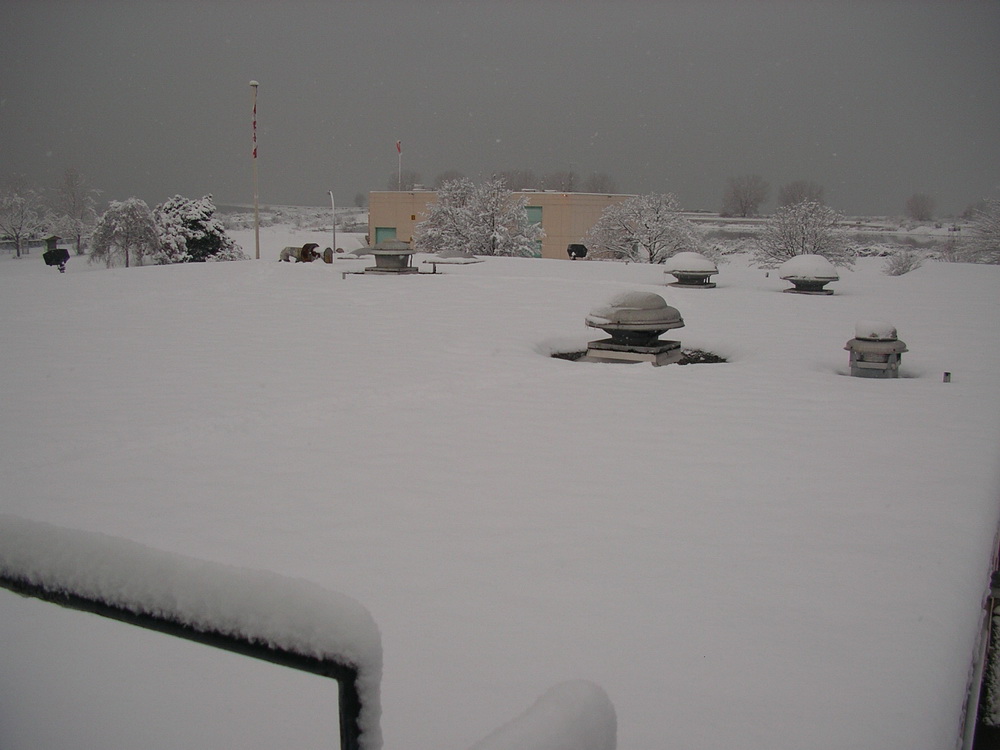 Fig. Roof covered with snow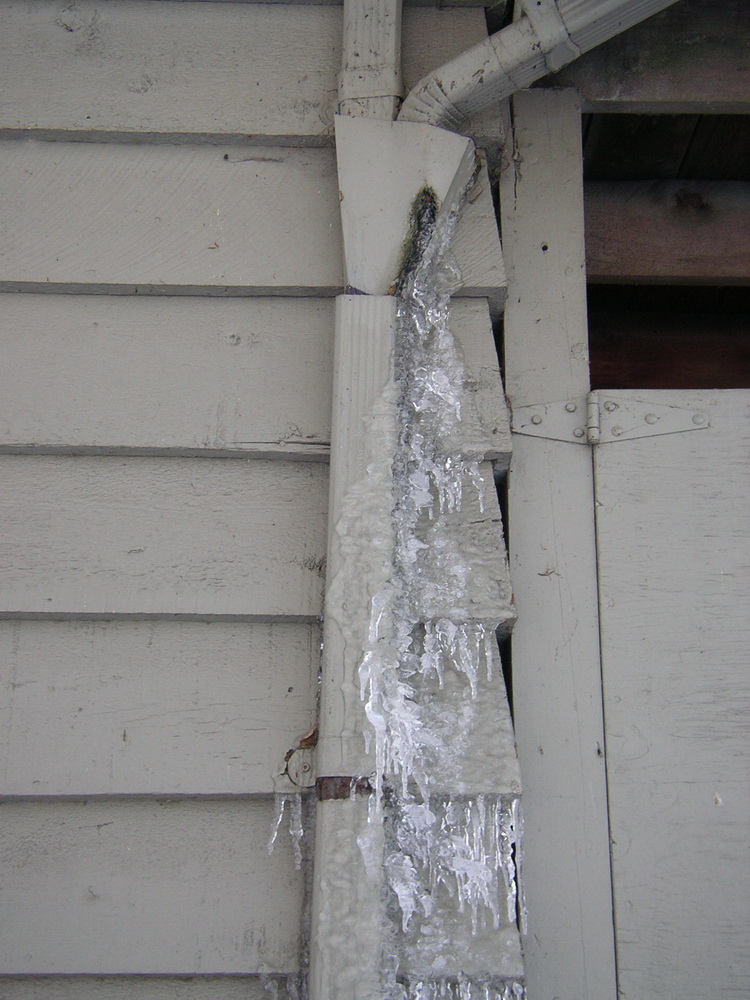 Fig. Ice accumulation on rainwater leader.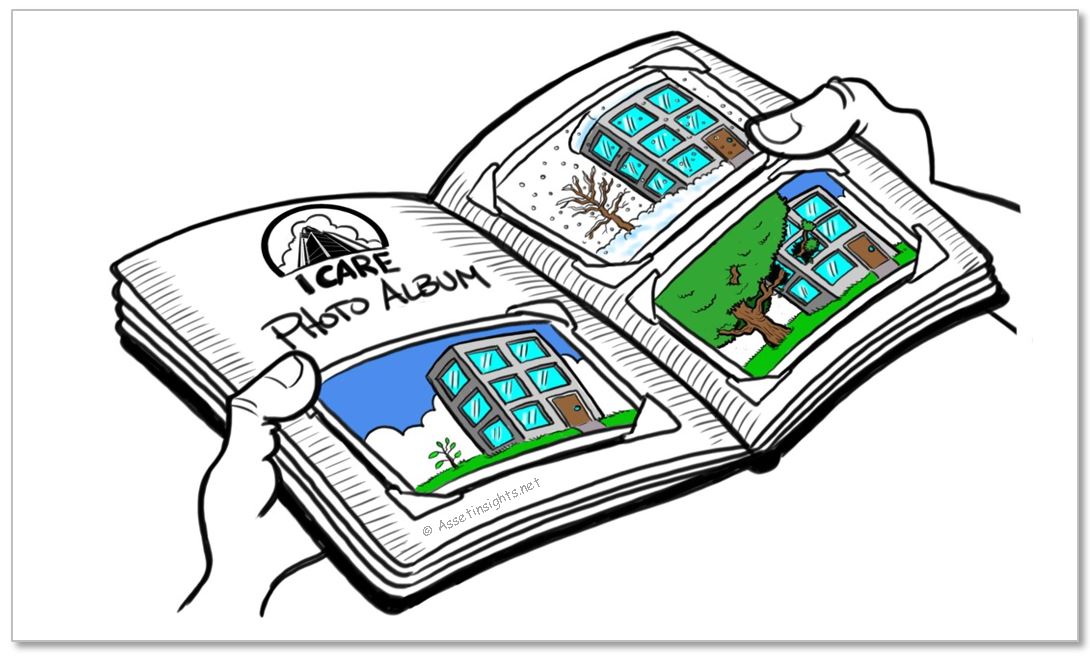 Fig. Seasonal maintenance including winterizations and summerization activities.


Fig. Pipe burst from failure to winterize the pipe.