Definition

s



Contract management includes negotiating the terms and conditions in contracts and ensuring compliance with the terms and conditions, as well as documenting and agreeing on any changes or amendments that may arise during its implementation or execution.


contracts as assets


---
A. Designing


Downstream vs. upstream
Inputs vs. outputs
Supply vs. Demand
Competency vs. Capacity

---
B. Procuring


Specifications
Contract language vetting

Tendering
Awarding
Create supplier selection criteria and follow a structured approach to short-listing and selecting suppliers
---
C. Contracting

Scope of


Outsourcing
Contracts



Machinery
Tools
Consumables
Types of Contracts

a) Leases

Capital lease
Operating lease
b) Service Agreements

Sales invoices




---
Types of Service Contracts


Preventive
Full comprehensive
Guaranteed

Full-Labor Service Contract

A full-labor service contract covers 100% of the labor to repair, replace, and maintain most mechanical equipment. The owner is required to purchase all equipment and parts. Although preventive maintenance and operation may be part of the agreement, actual installation of major plant equipment such as a centrifugal chillers, boilers, and large air compressors is typically excluded from the contract. Risk and warranty issues usually preclude anyone but the manufacturer installing these types of equipment. Methods of dealing with emergency calls may also vary. The cost of emergency calls may be factored into the original contract, or the contractor may agree to respond to an emergency within a set number of hours with the owner paying for the emergency labor as a separate item. Some preventive maintenance services are often included in the agreement along with minor materials such as belts, grease, and filters. This is the second most expensive contract regarding short-term impact on the maintenance budget. This type of contract is usually advantageous only for owners of very large buildings or multiple properties who can buy in bulk and therefore obtain equipment, parts, and materials at reduced cost. For owners of small to medium-size buildings, cost control and budgeting becomes more complicated with this type of contract, in which labor is the only constant. Because they are responsible only for providing labor, the contractor's risk is less with this type of contract than with a full-coverage contract.

Preventive-Maintenance Service Contract

The preventive-maintenance (PM) contract is generally purchased for a fixed fee and includes a number of scheduled and rigorous activities such as changing belts and filters, cleaning indoor and outdoor coils, lubricating motors and bearings, cleaning and maintaining cooling towers, testing control functions and calibration, and painting for corrosion control. Generally the contractor provides the materials as part of the contract. This type contract is popular with owners and is widely sold. The contract may or may not include arrangements regarding repairs or emergency calls. The main advantage of this type of contract is that it is initially less expensive than either the full-service or full-labor contract and provides the owner with an agreement that focuses on quality preventive maintenance. However, budgeting and cost control regarding emergencies, repairs, and replacements is more difficult because these activities are often done on a time-and-materials basis. With this type of contract the owner takes on most of the risk. Without a clear understanding of PM requirements, an owner could end up with a contract that provides either too much or too little. For example, if the building is in a particularly dirty environment, the outdoor cooling coils may need to be cleaned two or three times during the cooling season instead of just once at the beginning of the season. It is important to understand how much preventive maintenance is enough to realize the full benefit of this type of contract.
End-Results Contracting

End-results or end-use contracting is the newest concept in service contracting and is not yet widely available. The outside contractor takes over all of the operational risk for a particular end result, such as comfort. In this case, comfort is the product being bought and sold. The owner and contractor agree on a definition for comfort and a way to measure the results. For example, comfort might be defined as maintaining the space temperature throughout the building from 72o to 74o F for 95% of the annual occupied hours. The contract payment schedule is based on how well the contractor achieves the agreed-upon objectives.This type of contract may be appropriate for owners who have sensitive customers or critical operational needs that depend on maintaining a certain level of comfort or environmental quality for optimum productivity. How risk is shared between the owner and contractor depends on the type or number of end results purchased. If comfort defined by dry-bulb temperature is the only end result required, then the owner takes on the risk for ameliorating other problems such as indoor air quality, humidity, and energy use issues. Maximum contract price is tied to the amount and complexity of the end results purchased.
Maintain productive working relationships with suppliers
Reduce the potential for disputes and legal action
---
D. Control

Risk of contract management:


Inventory

spares holdings

critical spares -

Logistics



---
e. Measurement and Review


MIlestones
Invoices
Quality
---
Contracts - Risks


ISO section ___

which of the following contractor risks do you feel protected against

insolvency
non performance
dispute
HSE risks
regulatory non compliance
reputation risk- damage to business
authority limit risk - ill informed buying
---
Contracts - Objectives




An objective is "a result to be achieved" (ISO 55000)



The outcomes of the contracting policy are as follows:

To mitigate risk to the organization
To help the organization balance supply and demand
To help the organization supplement its competencies and capacities.

To unlock/create value for the organization
To ensure quality in the delivery of services for which the organization is not qualified to deliver itself
To manage productivity
To ensure compliance with regulatory authorities
---
Measurement


Goals/Success Factors
There are no disputes
There are no surprises
the expected business benefits and value for money are being achieved
the organization understands its obligations under the contract
the supplier is cooperative and responsive
professional and objective debate over change can be had

supplier insolvency/bankruptcy
supplier non performance
---
Kraljics procurement positioning model - bottleneck,strategic, routine, leverage
Procurement - positioning model (supp;ly market complexity vs. expenditure
supplier positioning model - development, core, nuisance, exploit
power dependency model - buyer dominance, independence, interdependency, supplier dominance cox 2003 (buyer power relative to suppl;ier power)
Telgens box 2004 - commodity catagories vs. contract compliance
---
Risk threat responses
reduction (treatr)
removal
transfer
retention
share
---
relationship management
Mutual trust
Mutual respect
mutual understanding
open and construcrive environment
contributing to joint management of contract deliery



KPIs should be

proportionate
fit for purpose
easy to suipport by evidende
accepted by stakeholders
performance measures


---
Contracts - Policy
A policy is the "intentions and direction of an organization as formally expressed by its top management" (ISO 55000)

Examples:

All contracts shall be written
All contracts shall be supported by a business case
All contracts must/shall be recorded in a schedule of contracts
Every signing officer who has signed a Contract pursuant to this Policy shall keep an original of such Contract or, when not available, a true copy thereof, as well as the necessary supporting documents, in his/her office or a place under his/her control.
No individual may sign any contract that creates an obligation or undertaking on behalf of the University unless that individual has signing authority in accordance and in compliance with this Policy.
There shall be a contract manager to ensure oversight of all contracts

---
Contract Controls


ISO Section __

which of th following controls/treatments have you used?

Schedule of types of contracts
Stages of award
Risk controls
Risk controls

indemnification/hiold harmless
limitation of liability
waiver of subrogation
---
Control - Stages of contract/Flow Charts



A. Pre-award (upstream)
Identify need
Prepare the business case
Secure management approval
Assemble the team

Author
Define the procurement apporach
Establish the form of contract
Develop contract management plan
Develop contract exit strategy

Drafting specifications and requirements

Establish pre-qualification, qualification and tendering procedures

Appraise suppliers
evaluate tenders

Negotiate
Approve, execute
B. Post award (downstream

)

Obligation management
Assessment of risk

Revisions and amendments
Contract administration
Relationship management

Auditing and reporting
Renewal
Contract closure


Preparing the business case

the outcomes of the contract
critical success factors
the possible alternatives
the risks, including the extent and where they may fall
identification of any contingent needs and ramifiations of proceeding
timescale
---
Controls - Schedule of Contracts

Types of contracts

Insert





---
Contracting - Roles


Some of the key responsibilities of a "contract manager" include the following:

Contracts (various: including formal, short form, and annual contracts)—Drafting, Evaluation, Negotiation and Execution:

Non Disclosure Agreements, Sales / Purchasing Agreements, Sub-contracts, Consulting Agreements, Licensing Agreements, Master Agreements, review of customer proposed terms and conditions

Distribution Agreements (resellers, agents, joint marketing etc.)

Commercial and Public (Federal, State and Local Municipalities) Contracting

Serve as the point of contact for customers on contractual matters. Act as contractual "middleman" between company employees and customers, ensuring timely review and approval / reconciliation of variations.
On all standard and nonstandard contracts, provide redlined recommendations and often negotiate directly with customer attorneys or purchasing staff until consensus has been reached
Maintain contractual records and documentation such as receipt and control of all contract correspondence, customer contact information sheets, contractual changes, status reports and other documents for all projects.
As needed, provide guidance on contract matters to project managers or other operational staff, including training to new project managers and other employees in contracting practices and procedures.
Develop and implement procedures for contract management and administration in compliance with company policy. As appropriate, contribute to or influence company policies.
Monitor compliance by company employees with established procedures. Identify areas of recurrent pressure.
Work with Risk Management Department / Finance to coordinate contractual insurance requirements.
Work with Finance to ensure adherence to broader finance and risk requirements such as revenue recognition, pricing and discounting policies,, export controls etc. May include 'financial engineering' and understanding / evaluating economic impact of terms and term options.
Support Product Management / Marketing to ensure company products and services are offered with appropriate, competitive terms and conditions
Monitor competitive terms. Monitor customer satisfaction with our terms and conditions and contracting practices. Recommend changes.
Ensure that signed contracts are communicated to all relevant parties to provide contract visibility and awareness, interpretation to support implementation.
Handle on-going issue and change management
Monitor transaction compliance (milestones, deliverables, invoicing etc.)
Oversee Service Level Agreement Compliance
Ensure contract close-out, extension or renewal.
---
Contracts - Measurement




3.3.3 Performance measures can be either generic or bespoke in nature. Typical KPI categories include:
Delivery
Product/Service Quality
Service
Best Practice & Continuous Improvement;
Asset/ Service Availability
Customer Focus
Environmental factors (e.g reduction in energy consumption)
Ethical and Social Issues (e.g checking the supply chain)
or regarding equalities, considering the inclusiveness and accessibility of the service and catering for the needs of all customers).

3.4 Binary Assessment
3.4.1 Some aspects of a service can be assessed in a binary way. These aspects are either adequate or inadequate, with nothing to be gained by improving them beyond the level of adequacy.

3.4.2 An example would be compliance with standards - if the service complies with the relevant standards, then it is satisfactory in that respect: no additional work need be done in that area. Similarly, many IT applications are either "off" or "on".
3.5 Numerical Assessment
3.5.1 Some service aspects are measurable numerically; they can be counted and measured in a simple, mathematical way. Examples would be capacity, throughput, transaction volumes and accuracy.

3.5.2 It is relatively simple to create KPIs for numerical aspects; quality is expressed numerically, and there is a set numerical value, or proportion, that is deemed acceptable. The KPI scoring section provides an example.

3.5.3 It may be desirable to stipulate a desired rate of change in a metric - for example, to process 100 licences a week for the first month and to seek a 2% increase on that figure in each following month. This would be a requirement for continuous improvement.
3.6 Subjective Assessment
3.6.1 Some aspects of a service will be hard to measure because they involve subjectivity - usability and flexibility, for example. However, it is still important to agree what is to be measured and how the information will be acquired - through user surveys, perhaps.
3.6.2 Subjective aspects should not be neglected simply because mathematical techniques cannot be applied to them; it is a question of gathering information and analysing it with as much objectivity as possible.

3.6.3 It may be that something that is quantifiable can provide a 'handle' on a much less tangible aspect. Such a measure is known as a proxy measure, since it acts as a substitute for a measure that cannot easily be created. For example, an indication of "staff morale" may be provided by a measure of staff turnover rate.
Contracting Cycle Length
Efficiency is crucial to improving profit margins. Unfortunately, the contracting process is often anything but efficient. Negotiations frequently stall, drafting can become a seemingly never ending back and forth, and things often break down during the performance phase, which creates a whole bunch of other problems and delays. As a result, companies should pay close attention to the length of its contracting cycles to determine where improvements can be made, as well as which contracting partners may need to be cut out altogether.

If a company notices that it runs into similar problems with one particular vendor or at a certain step in the process, it has to figure out how to adjust to avoid repeating the same mistakes over and over again. As a company's contracting volume increases, it should get easier and easier for each contracting cycle to be completed in a timely fashion, as experience breeds wisdom.
Consistent Quality
Contracting relationships that add value are those that involve parties who perform in a timely manner and do so exactly as stipulated by the contract. It doesn't matter if the contracting relationship relates to the provision of different types of goods or services, there must be consistent quality every time. Companies should not have to scramble to make changes or push back its deadlines to accommodate for any inconsistencies.

If a company cannot rely on a particular contracting partner's ability to perform properly, this will obviously cause problems in the short-term, likely delaying any anticipated output. However, it will also interfere with a company's long-term objectives since problems at any point in the contracting process will end up diverting resources. Thus, companies must make its expectations with respect to quality clear and ensure that these are met every single time.
Schedule Adherence
In addition to receiving quality goods and services from every contractual relationship, timeframes must be established for deliverables, and timeliness should be monitored. Full performance is irrelevant if it occurs months after the fact. Consistent and timely performance over the course of a contracting relationship will make it easier to assess whether long-term goals will be met, and if issues are anticipated far enough in advance, the appropriate adjustments can be made.
Cost Effectiveness
This is probably the most important piece to monitor. And, cost effectiveness is obviously about a lot more than just a contract's price terms. Every phase of the contracting process has to make sense financially. The length of the contracting cycle impacts costs, performance or a lack thereof impacts costs, and the quality of the good or service delivered impacts costs.

Any contractual relationship that ends up requiring the investment of time and resources that were not planned for ahead of time is not cost effective. Therefore, companies must pay attention to the amount of time and money it is spending for each contract to ensure it is getting maximum value.




---
Questions
Before contract
Blend of work force management (WFM) vs. supply chain management (SCM)?
How do you identify/approve supplier sources?
Do you have a model of all the inputs and outputs for your supply chain?
How do you tender?
Do you ever consider the "point of origin" when choosing supplies/services?
Who writes your contract specifications (eg. roof renewal)?

How do you synchronize supply with demand?

During contract (inventory)

How many active contracts do you have?
What are all the different types of agreements that you have - consulting, contracting, suppliers, employer/employee, leases, etc?

How many active capital leases and operating leases do you have?

Do you have a schedule of contracts?

Who supplies parts for maintenance?
Who owns the equipment (owner or contractor)?
What types of ownership (cap lease or op lease)?
How many of your contracts are full coverage, full labour and PM
Optimization
Do you coordinate suppliers with other airport stakeholders to secure volume based pricing?
How do you determine appropriate spares/inventory holdings? Do you know your critical spares?
Who holds spares/inventory - contractors or owner?
How do you improve trust and collaboration between supply chain partners?
How do you assess the productivity of your supply chain?
Do you know all the risks associated with contract management?
Which of the risks have you identified and the mitigation measures?

Reviews
How do you identify supplier contract milestones. Do you record these in a master calendar?
How do you review supplier performance against contracts
How do you resolve supplier performance issues?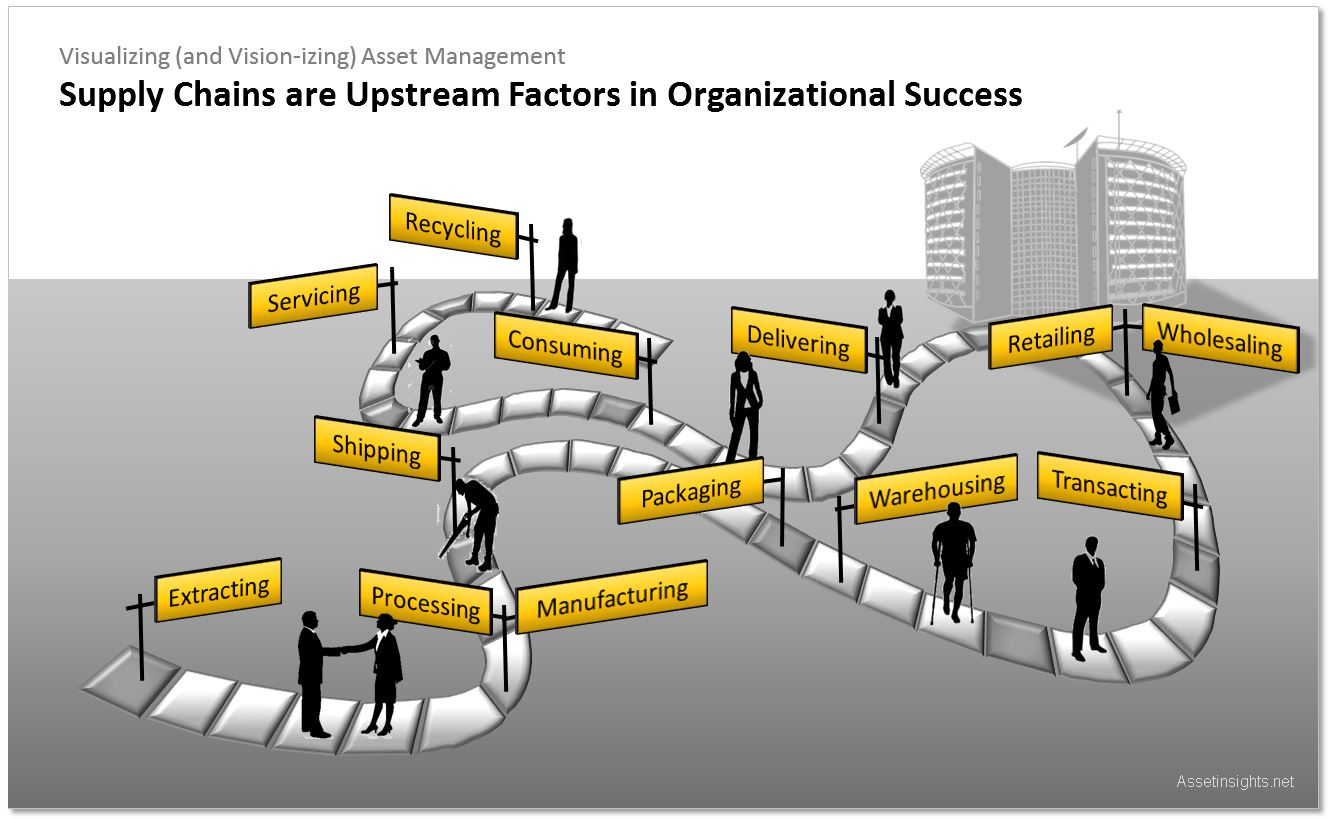 Fig. Supply chains are a key upstream factor in organizational success and must therefore be carefully managed.

Failure to do so will result in procurement delays, downtime and business interruption

.