A stakeholder is "a person or organization that can affect, be affected by, or perceive themselves to be affected by a decision or activity" (ISO 55000)
The entities, persons or groups of persons who have an interest in a facility, or, sometimes, one or more systems or one or more assets, including but not limited to:
Maintenance

Repairs

Renewal

Risks
This section is arranged into the following:

A. Classification of Stakeholders
B. Internal Stakeholders
C. External Stakeholders
D. Management Principles

---
A. Classification of Stakeholders

Internal vs. external

Other

The following table provide and example of a stakeholder register from a particular assset class.

Category
ID
Stakeholder Groups
Internal
Senior
I.1
Top Management
Council/Board of Directors

I.2
Executive management
I.3
Other
Middle
I.4
Functional management
I.5
Union
I.6
Other
Staff
I.7
Operations staff
I.8
Maintenance Staff
I.9
Other
External
Public
E.1
Authorities having jurisdiction

E.2
Safety regulators
E.3
Ministry of Transport
E.4
Motor Vehicle Insurers
E.5
Environmental regulators
E.6
Transit Authorities
E.8
Other

Private
E.9
General public
E.10
Pedestrians
E.11
Cyclists
E.12
Vehicle drivers
E.13
Transit Users
E.14
Neighbouring property owners
E.15
Contractors
E.16
Consultants
E.17
Suppliers
E.18
Lessors
- capital leases
- operating leases
E.19
Financial institution
E.20
Insurer(s)
E.21
Other
---
B. Internal Stakeholders ("I")



Included below is a summary on on some of the key internal stakeholders.

ID
Stakeholder Groups

Description

I.1
Top Management
Council/Board of Directors

The leadership team plays a critical role is setting maintenance policy, maintenance standards and ensuring commitment to the maintenance goals and objectives.
I.2
Executive management
I.3
Functional management
I.4
Union
I.5
Operations
Staff
Any and all staff of the organization that either enter onto the premises or who are involved remotely in the operations of the property.
I.6
Maintenance Staff
I.7
Property Manager
The person of firm charged with operating a building for a fee, where the owner is unable to personally attend to these services. The property manager will usually be involved in the following: Procure quotations for services; Prepare agendas for Board meetings, Annual General Meetings and Special General Meetings; Take minutes of meetings; Assist the Board in preparing the annual operating budget; Administration of accounts payable and accounts receivable.
I.8
Accounts Payable
The organization's accounting staff that pay the bills for maintenance services and equipment purchases.
I.9
Owners
The occupant of the building play a crucial role in the overall maintenance program. In an earlier topic we illustrated how care of the assets falls in large part to the residents who must be careful not to inadvertently damage an assets in and around their suites.
I.10
Tenants / Space Users
Any persons who enter onto the premises as invitees of staff or guests of any residents. Under the Occupiers Liability Act, the organization owes a duty of care to all these people while they are on the premises.
I.11
Other
---
C. External Stakeholders ("E")

Included below is a summary on on some of the key internal stakeholders.

ID
Stakeholder Groups

Description

E.1
Authorities having jurisdiction

These are external agencies that set standards for the safe operations in/around assets and the performance of assets, such as the Workers Compensation Board and the Elevating Devices Safety Branch.
E.2
Safety regulator(s)
E.3
Environmental regulator(s)
E.4
General public
E.5
Special interest groups
Cyclist, pedestrians, transit users, etc
E.6
Neighbouring property owners
Other properties in the neighbourhood, particularly those that are immediately adjacent, can be adversely affected by any changes in the appearance of the property and any insurable losses such as fires.
E.7
Contractors
An individual or company engaged to carry out services on the assets, such as maintenance and repair activities required by the maintenance plan or associated with a renewal or rehabilitation project.
E.8
Consultants
Subject matter experts who are engaged periodically to give professional and expert advice regarding the assets, but not as an employee of the organization. For example: accountants, lawyers, and engineers.
E.9
Suppliers
Companies that sell equipment (such as ladder) and spares (such as fan filters) to the organization have an interest in the effective performance of their products. Any company on the organization's supply chain fits into this category.
E.10
Warranty providers
These are external organizations that have expectations that the organization will not misuse and abuse any assets, that are still in their in-warranty period, which could void warranties.
E.11
Insurers
These are the organizations that are underwriting the risks on the different assets (fire, flood, etc) and they have expectations that the organization will meet its duty of care to avoid and mitigate certain types of insurable losses.
E.12
Lessors
- capital leases
- operating leases
E.13
Financial institution
E.14
Industry associationss
These are organizations that publish guides on how to perform maintenance and provide community outreach and empowerment services.
E.15
Testing / inspection agencies
E.16
Third Parties
E17
Municipality (depending on perspecttive)
The local government has bylaws and manages the support infrastructure that is both upstream and downstream of the organization's premises.
E.19
Utility companies
The gas an electrical utilities have an interest in the efficient use of energy on the premises.
E.19
Other
---
D. Management of Stakeholders



Included below are some of the principles and procedures for stakeholder management:

Self Assessment Questions

Are tenants more appropriately idenified as an internal or external stakeholder?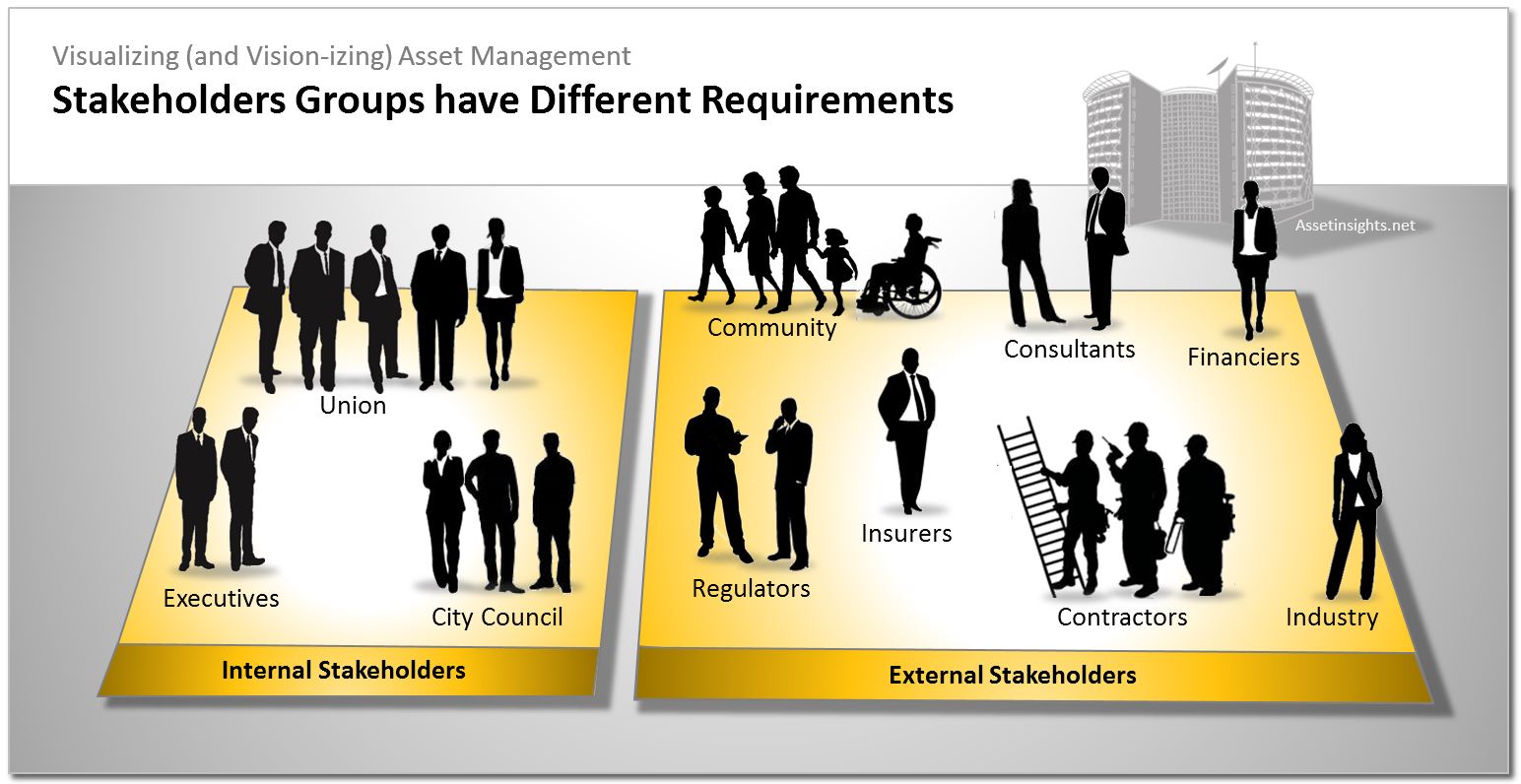 Fig. The organization must identify each of its stakeholder groups and understand their respective requirements. Optimization of stakeholder relations will sometimes include difficult trade-offs, which should be revisited regularly and recalibrated over time to reflect changing circumstances. An example of some of the key stakeholders associated with a municipality is used to illustrate.




Fig. Every stakeholder has a perspective. ISO 55000 (ISO 55001) helps to align these with corporate and asset management objectives.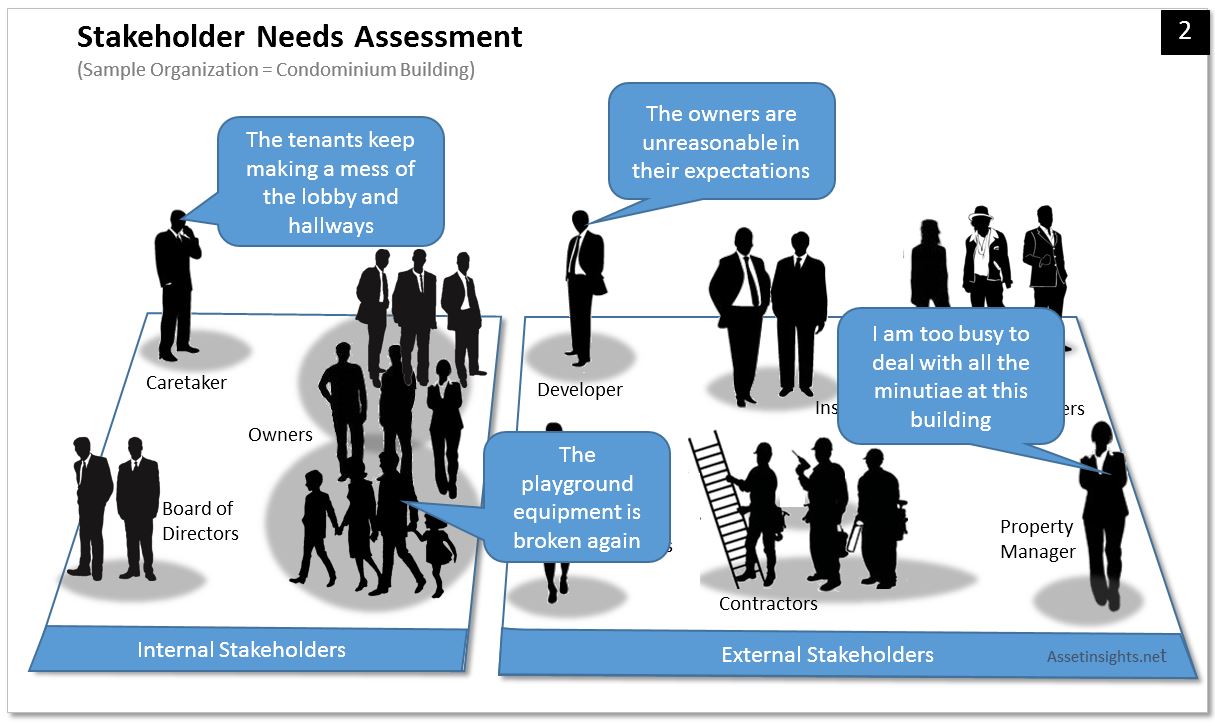 Fig. An example of a stakeholder needs assessment as part of an overall stakeholder analysis.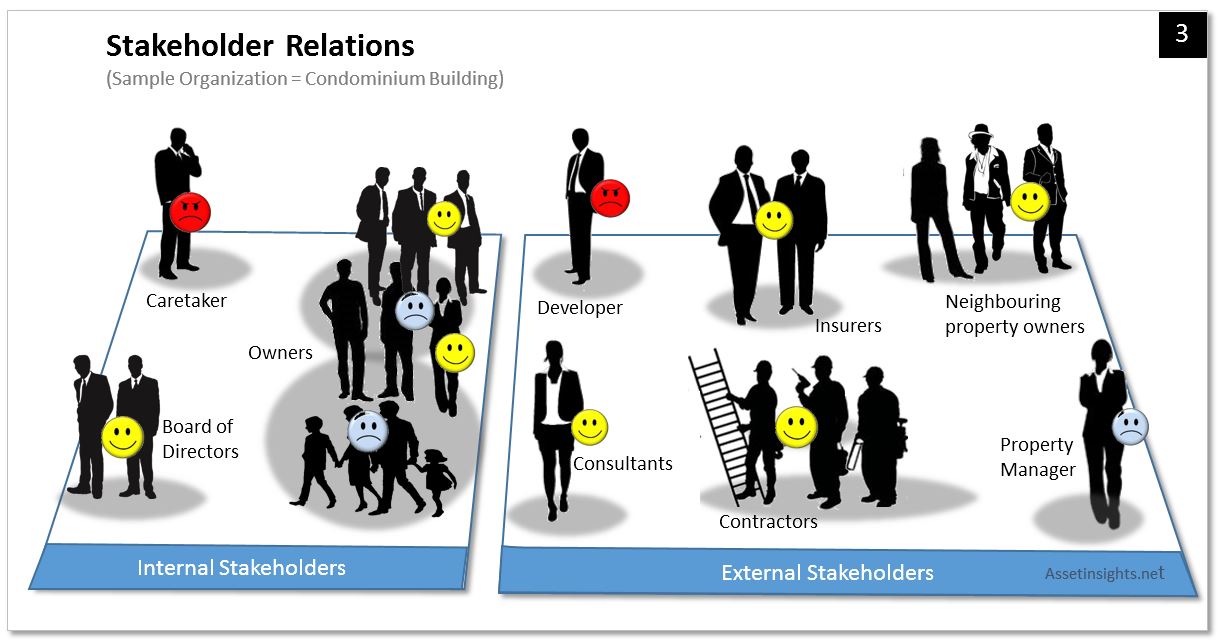 Fig. An example of a stakeholder relations profile (heat map) that forms part of an overall stakeholder analysis.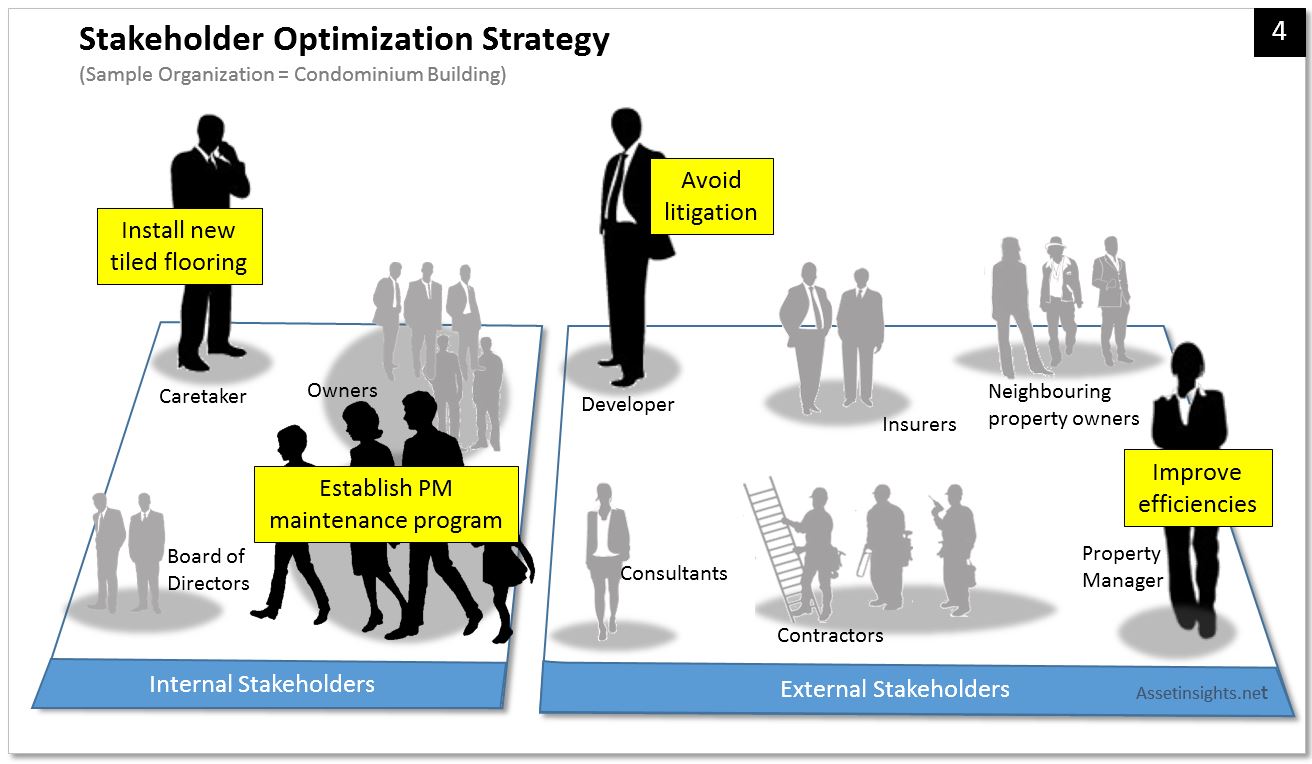 Fig. Example of a stakeholder optimization strategy where some a trade-off is occuring between the needs of different stakeholders.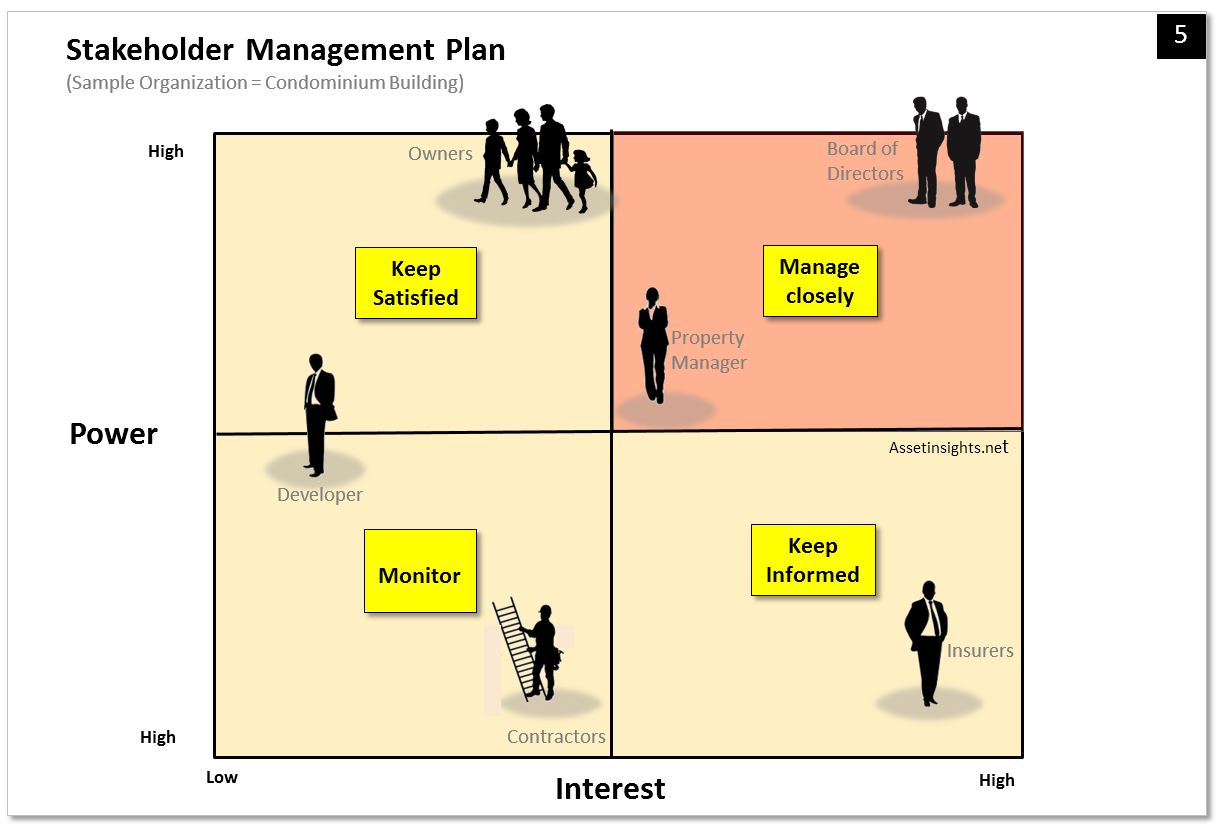 Fig. A stakeholder alignment matrix that correlated stakeholders in terms of their relative influence over and interest in the organization.






Fig. Alignment is required between all levels of the organization - such as, from top management to line staff

.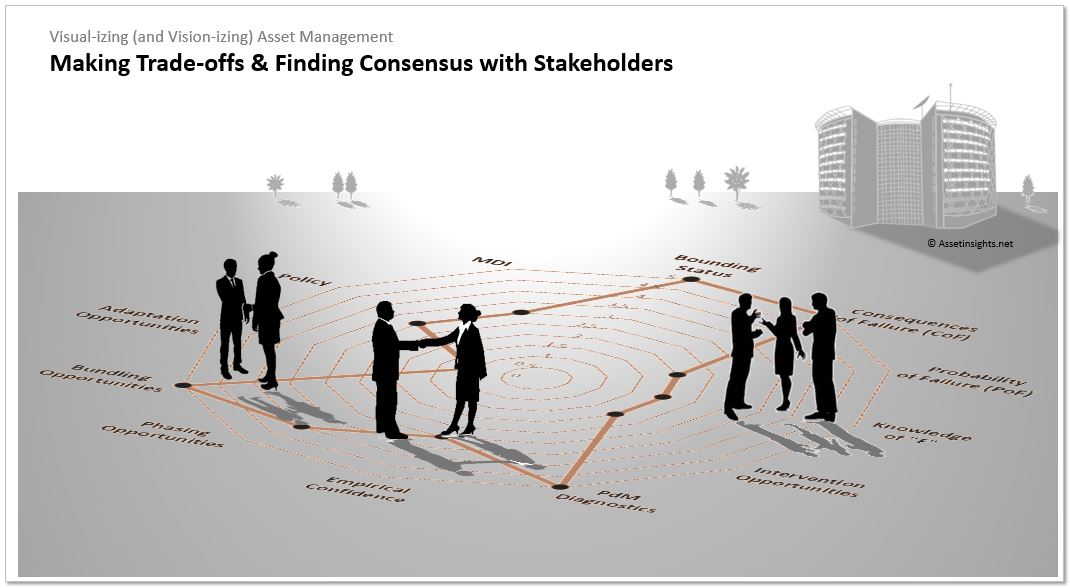 Fig. Making inevitable trade-offs and finding consensus with different stakeholder groups.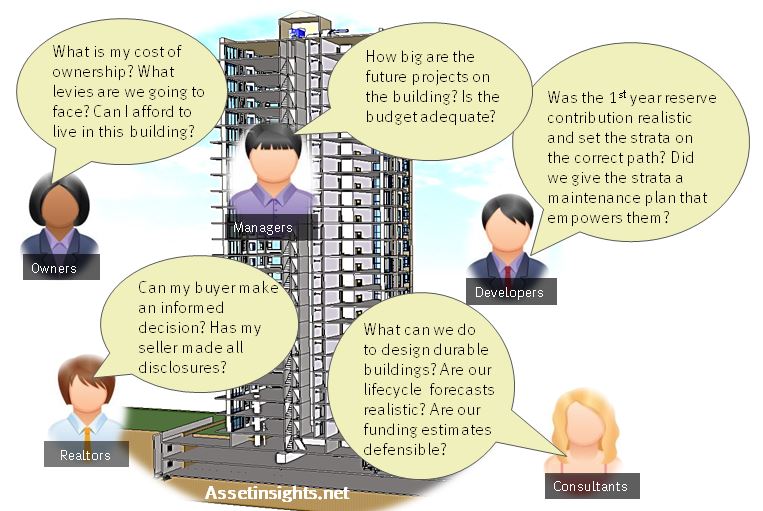 Fig. Some of the key stakeholders associated with a building.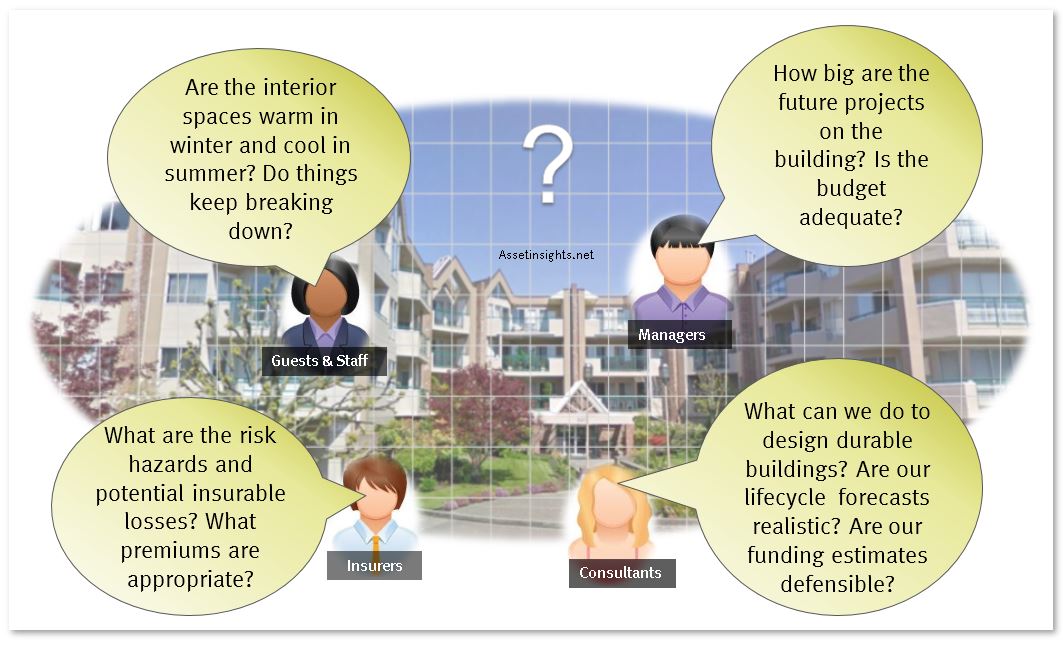 Fig. Some of the key stakeholders of a commercial facility and their statements of need.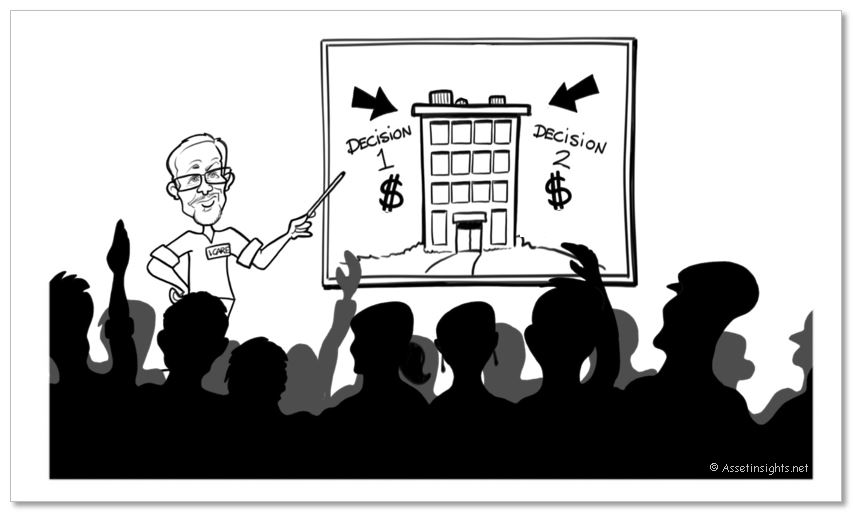 Fig.
I. Care is trying to get the stakeholders to review alternative and to reach a decision at their general meeting.