The highest level of care
(operating standard)
given to a
facility
on a scale comprising five levels, as developed by APPA.
At this level of care, the facility has the following general attributes.
Customer Service.

Able to respond to virtually any type of service with immediate response.



Customer Satisfaction.

Staff are proud of the facility and have a high level of trust for the facility organization.


Maintenance Mix. All recommended preventative maintenance work is scheduled and performed on time. Reactive maintenance (e.g., spot re-lamping and adjusting door closers) is minimized to the unavoidable or economical. Emergencies (e.g., storms or power outages) are very infrequent and handled efficiently.



Service Efficiency

. Maintenance activities appear highly organized and focused. Typically, equipment and building components are fully functional and in excellent operating condition. Service and maintenance calls are responded to immediately. Buildings and equipment are routinely and regularly upgraded keeping them current with modern standards and usage.


Building Systems Reliability. Breakdown maintenance is rare and limited to vandalism and abuse repairs.



Housekeeping.

Orderly spotlessness. Floors and base moldings shine and/or are bright and clean; colours are fresh. There is no buildup in corners or along walls. All vertical and horizontal surfaces have a freshly cleaned or polished appearance and have no accumulation of dust, dirt, marks, streaks, smudges, or fingerprints. Light all work and fixtures are clean. Washroom and shower fixtures and tile gleam and are odour-free. Supplies are adequate. Trash containers hold only daily waste, are clean and odour-free.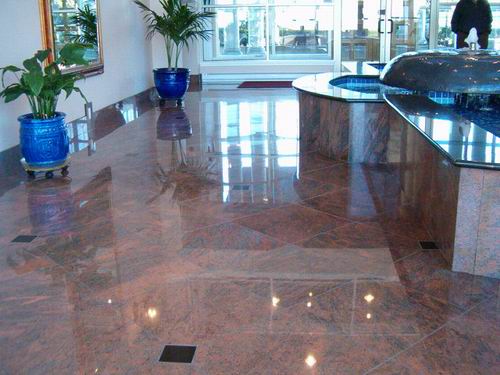 Fig. Orderly spotlessness of the interior finishes at a showpiece facility.


Fig. Relationship between FCI, funding levels and facility operating standards.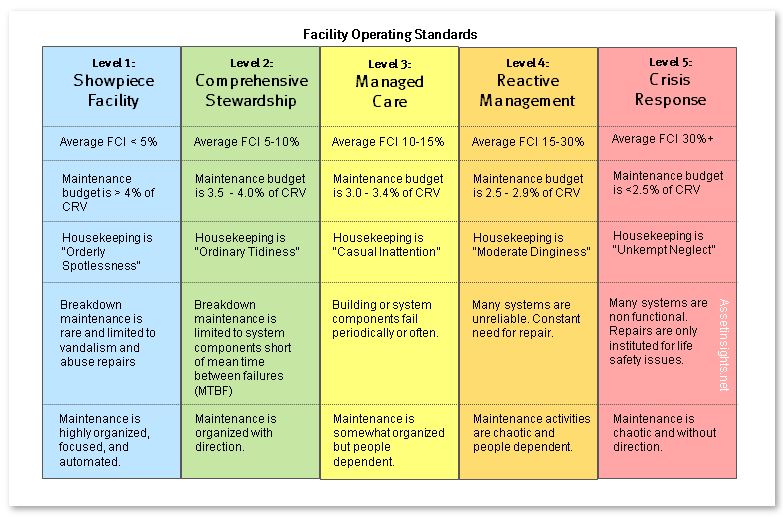 Fig. Summary of the key attributes attached to each of the 5-tiers of the operating standard.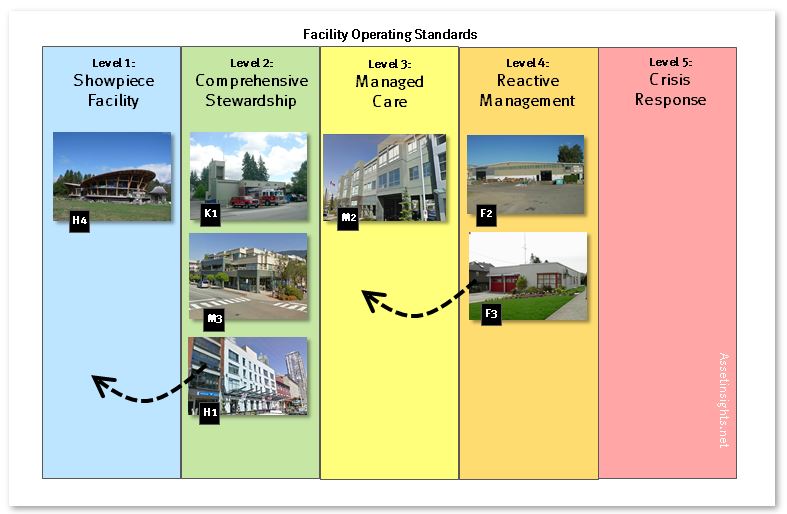 Fig. A sample portfolio of facilities being governed at different levels of the 5-tiered operating standard with plans to move some facilities to a different tier.