This is a maintenance strategy or replacement policy, which is sometimes also called "Fit and Forget".
An intentional strategy whereby no maintenance tasks are performed on an asset. The only "planned maintenance" on the asset is corrective maintenance after the asset has suffered a failure.

A conscious decision is made by the owner to neglect the asset, regardless of any signs of Potential Failure ("P") and to wait until the point at which Functional Failure ("F") occurs.

It is therefore not an unintentional result of an inadequate program, lack of will, inadequate budget, etc. RTF should not be confused with Unintended Failure Replacement (UFR) where the owner did not intend to run the asset to failure.
---
Attributes


This is a very common approach to the maintenance of components which have the following attributes:
No repair is feasible.

Short Life Asset

- Sometimes short life assets.

Disposable Assets

- Assets with disposable parts.

Low-Materiality Assets

- Small assets without significant financial value - low capitalization assets

Non-Critical Assets

- Assets that are not critical or are inconsequential.

Durable Assets

- Assets that are not subject to wear or assets that are unlikely to fail

Redundant Assets

- Redundant assets.

Assets that exhibit Random Failure Patterns

- Some assets have random failure patterns that cannot be easily anticipated. These assets are stochastic in nature in that their behaviour is non-deterministic, sporadic and random.

Non-Maintainable Assets

- Some assets are unmaintainable or can be allowed to run to failure with minimal risk to the owner.

Discretionary Maintenance

- Assets that are not subject to statutory maintenance requirements.

Assets with a low utilization index

- Asset utilization index.
---
Variations


Listed below are some of the variations on RTF:

---
Examples
Some assets may be valid candidates for an RTF strategy, particularly if the asset is:
The owner has formally adopted a throw-away strategy.
The following assets may sometimes fall into this category:
Sealed insulated glazing units (IGUs)

Batteries

Baseboard heaters

Ceiling tiles

Small fractional horsepower recirculating pumps

Fences made of pressure treated timber

Metal roofs
Baseboard heaters
Cadet heaters
Sealed IGUs
Exterior sealant on rain-screen
CCTV equipment
VFDs
Some valves
FACP, FAAP
Concrete paving
Ceiling tiles
Raw cedar fencing
Interior paintwork
The RTF approach is not to be confused with:
---
Evaluation and Management Principles


This approach is best suited to an owner group with the following attributes:
RTF is most appropriate when it is combined with a larger maintenance strategy that seeks an optimal maintenance mix for the different assets.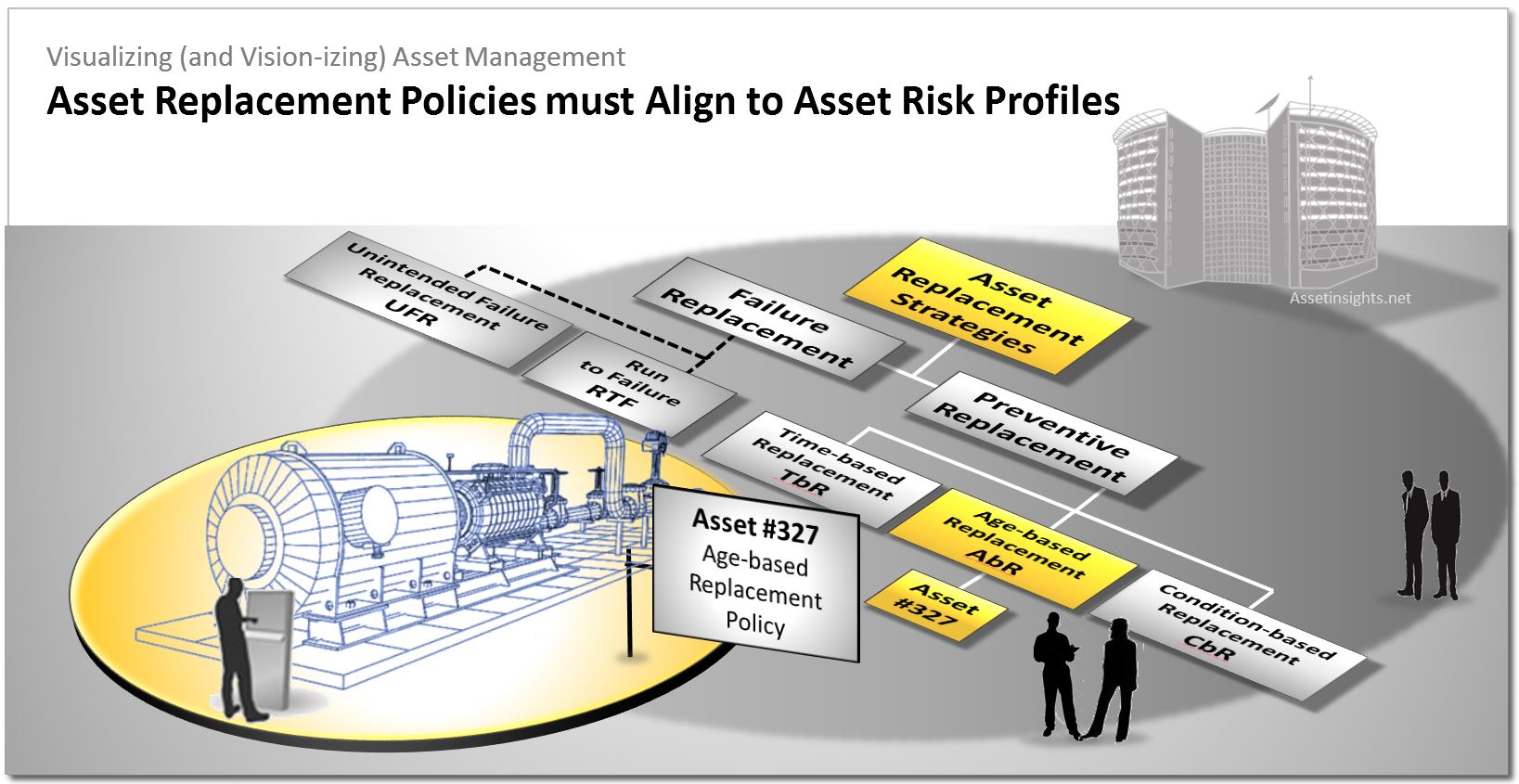 Fig. Asset replacement policies must align to asset risk profiles in order to achieve optimization and satisfy ISO 55001 requirements.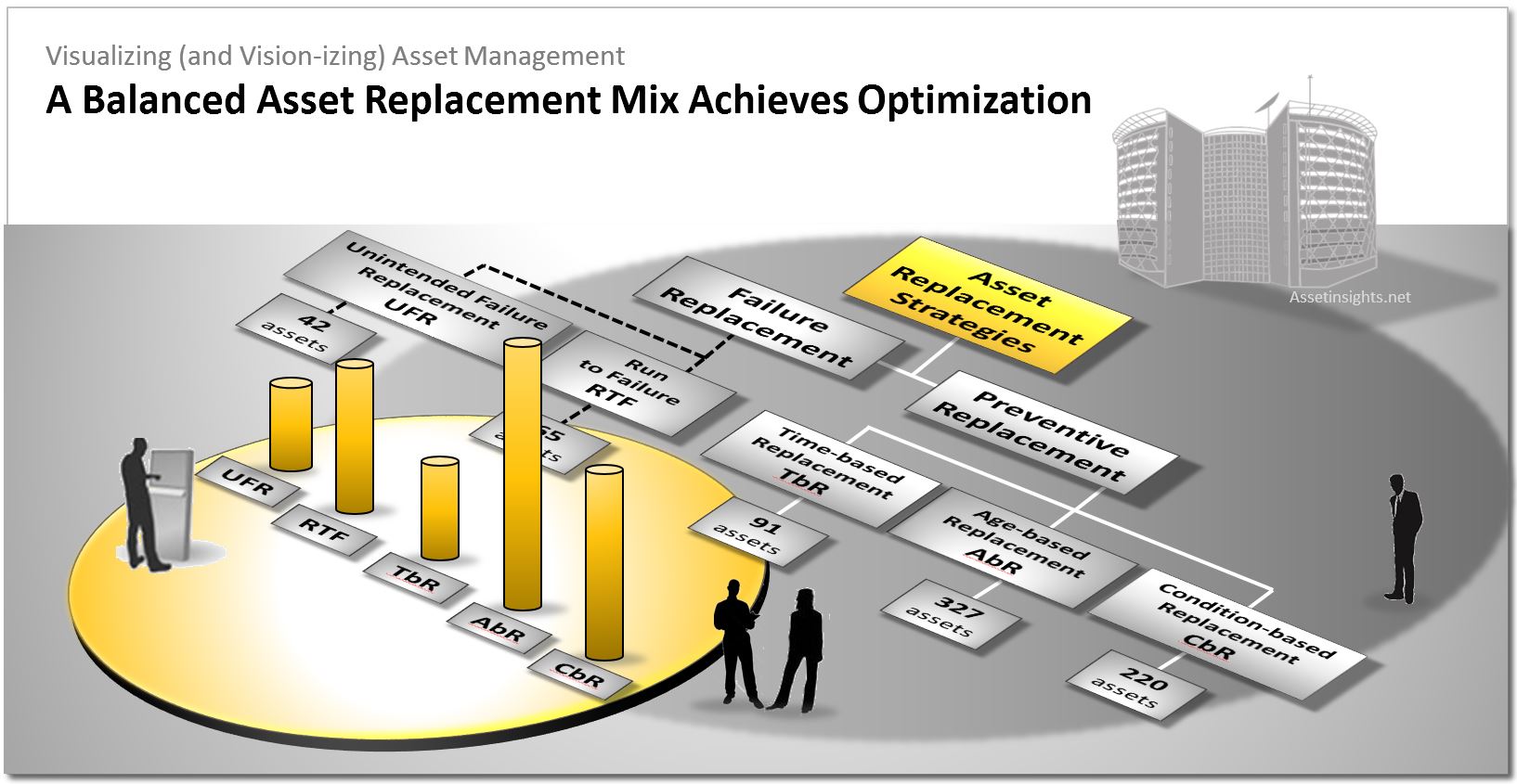 Fig. A balanced asset replacement mix helps the organization to achieve optimization in conformity with ISO 55001 principles.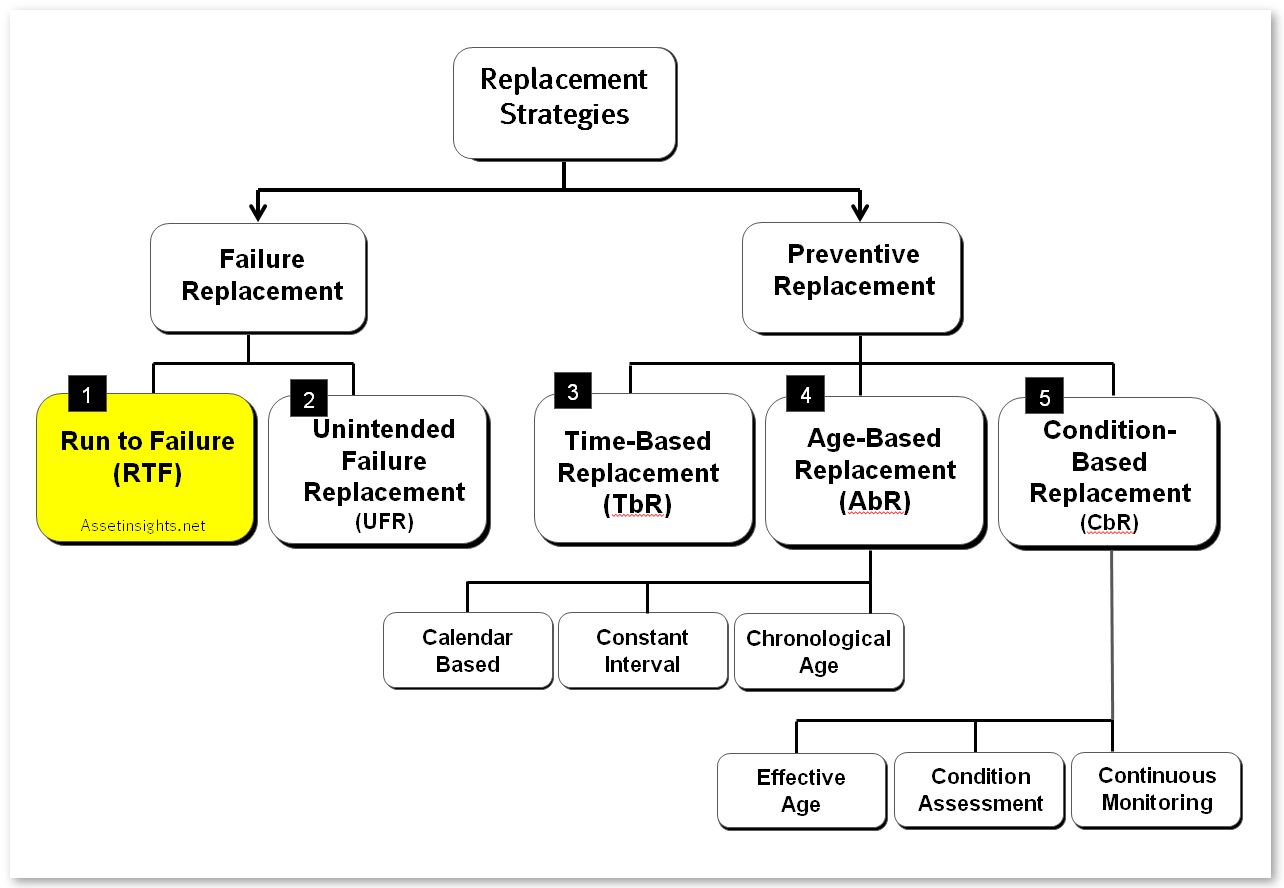 Fig. Run to Failure (RTF) amongst the network of alternative asset replacement policies.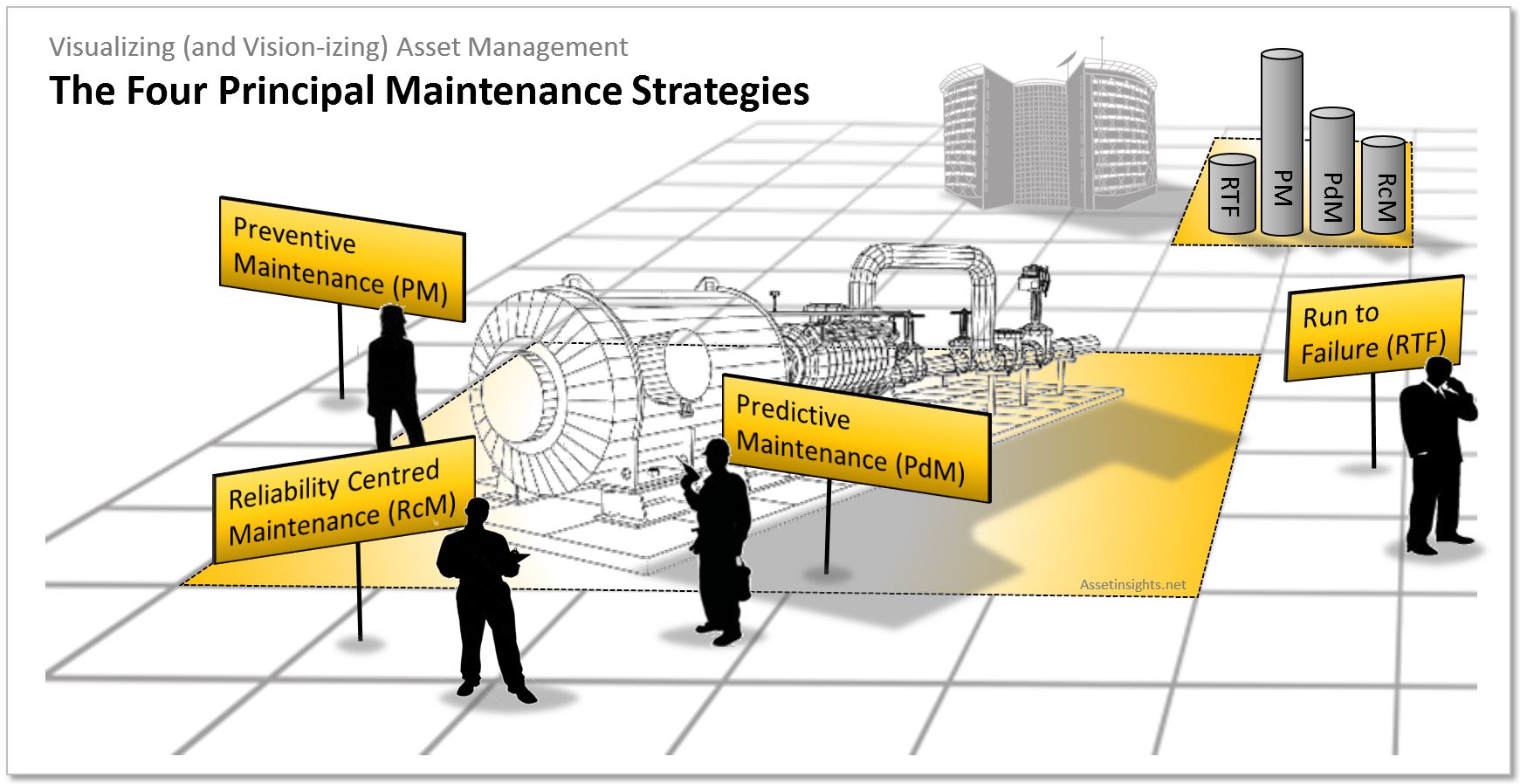 Fig. Run to Failure (RTF) is one of the four principal maintenance philosophies.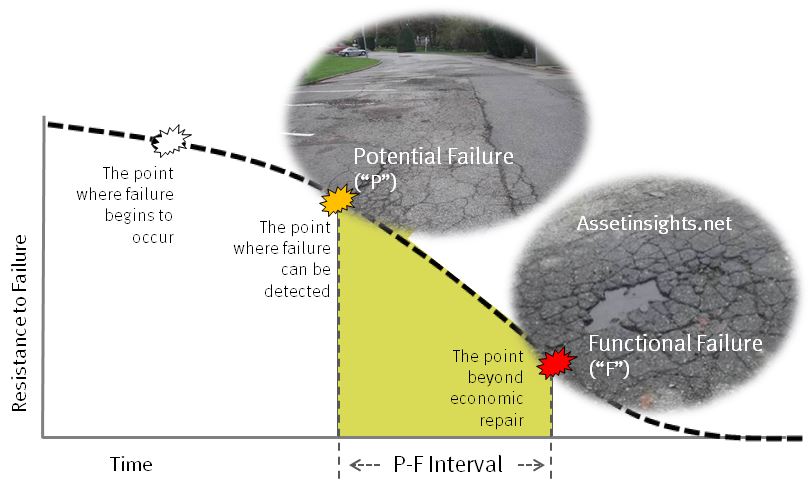 Fig. The P-F interval illustrated with asphalt paving along the curve.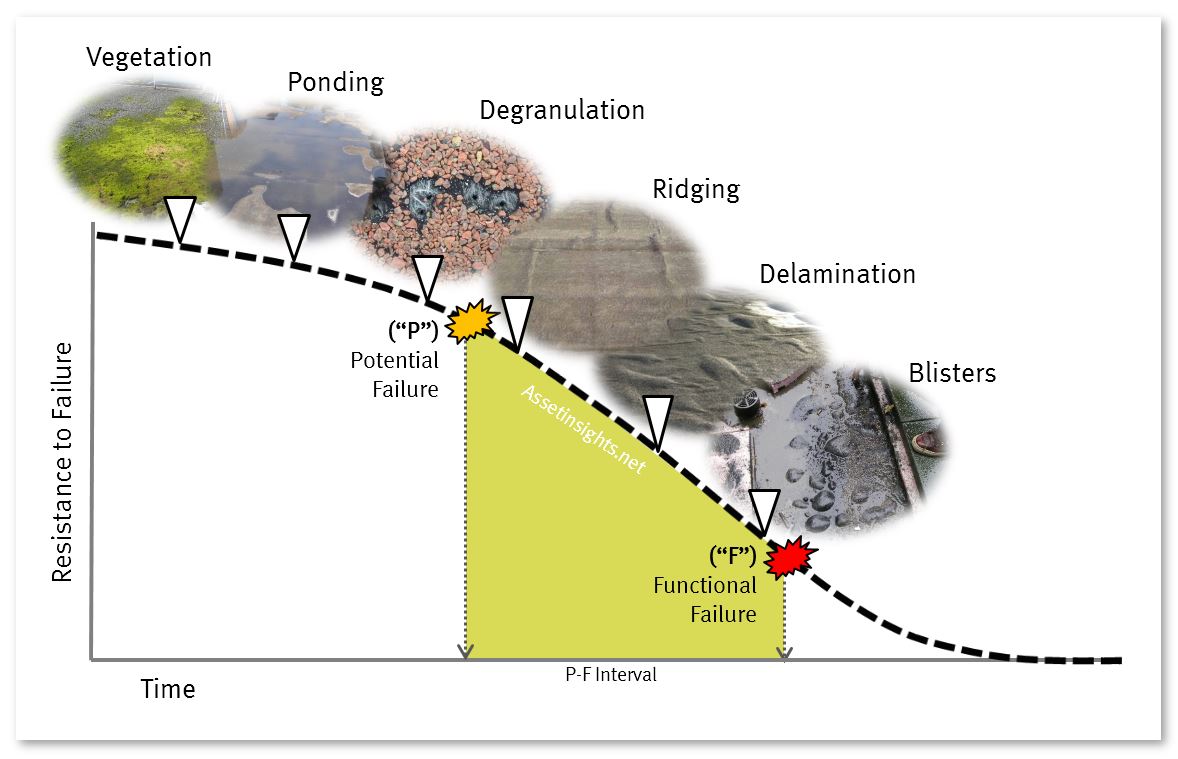 Fig. Illustration of a deterioration model for a roof system with distress metrics at different life stages.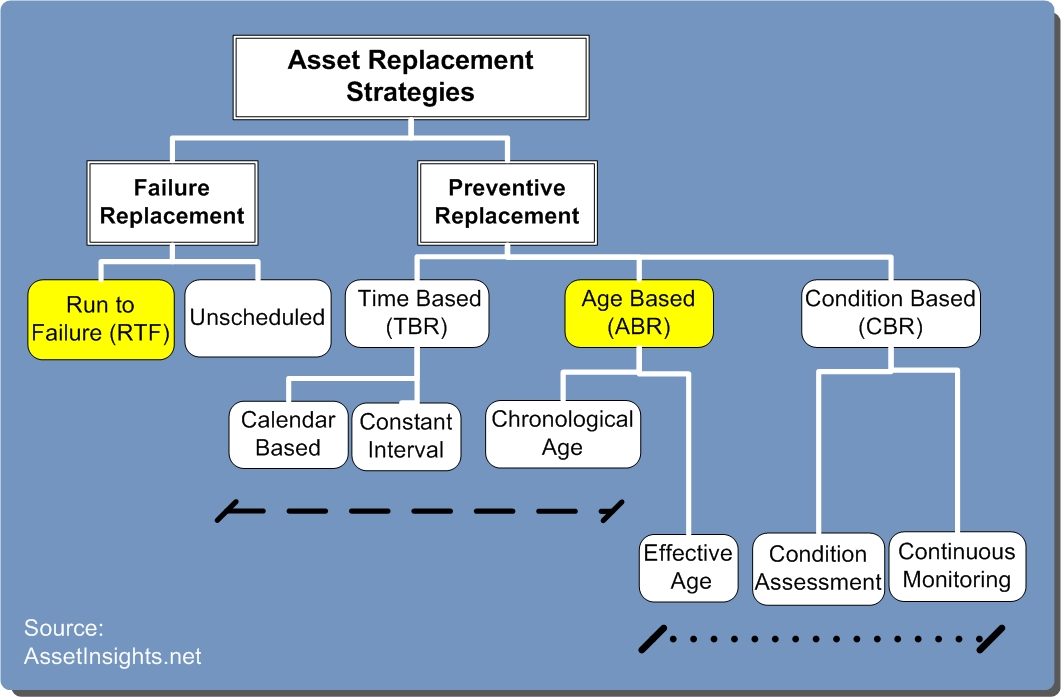 Fig. Map of various asset replacement strategies.




Fig. I. Care is attempting to slow down or reserve the sands of time so that he can undo the deferred maintenance. A futile but valiant attempt.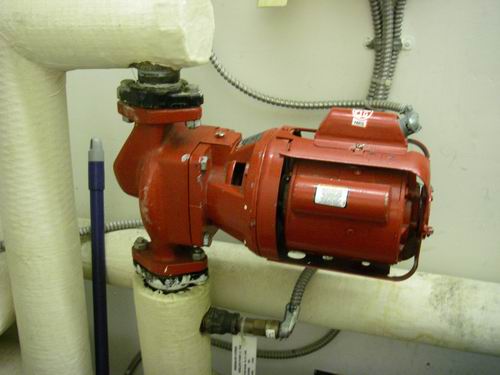 Fig. Recirculating pumps are sometimes a suitable candidate for a run to failure approach.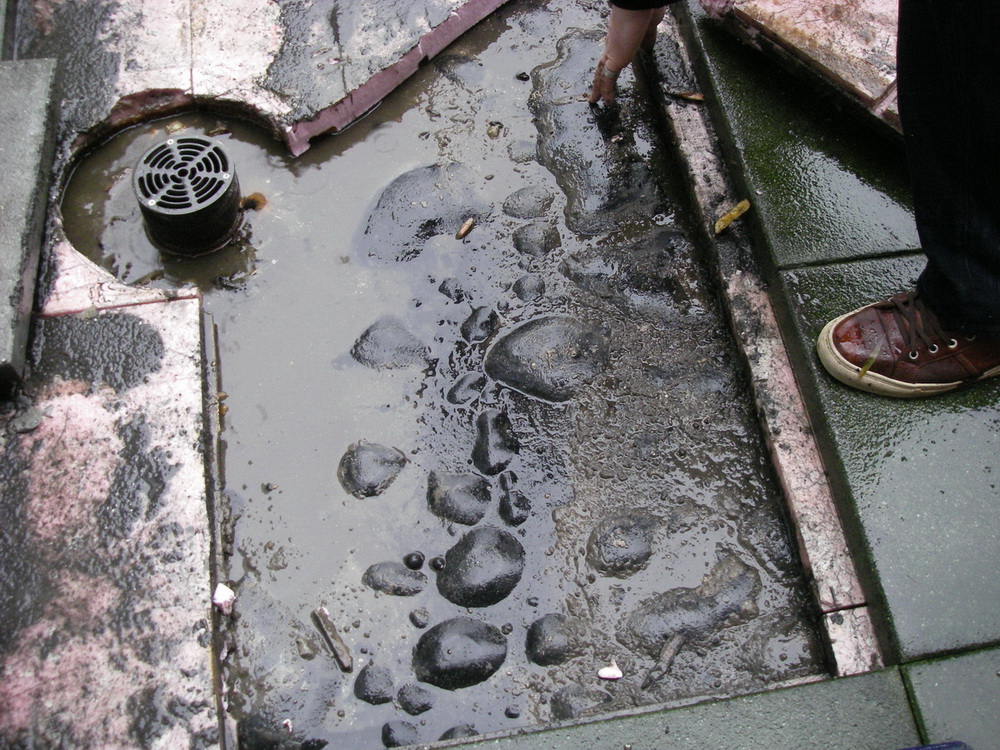 F

ig. Blistering in a polyurethane roof assembly.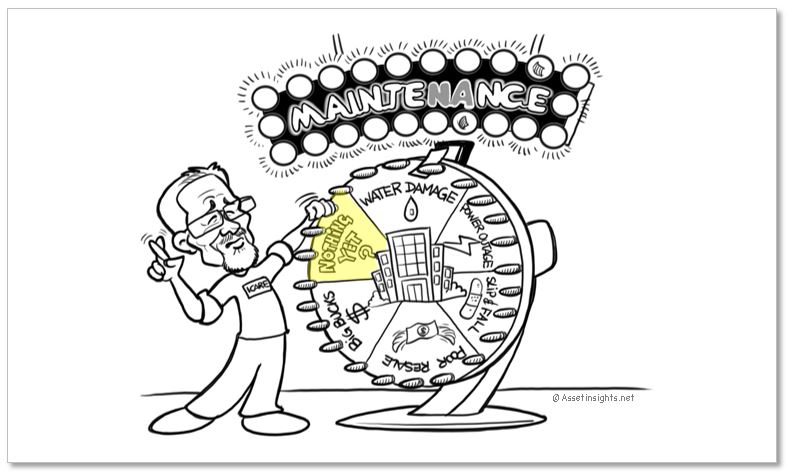 Fig. I. Care spins the wheel of misfortune to determine the consequences of deferred maintenance.

Fig. Decision tree on RTF.