The application of risk management principles to individual maintenance tasks and/or blocks of maintenance tasks utilizing a risk matrix that evaluates the impact of the maintenance task on the following:
Maintenance is essentially treated as a risk control process where the owners and managers decide whether to spend more time on managing each side of the "risk bow-tie":
Prevention

-- the probability of failure (through preservation and prevention) or

Recovery

-- the consequences of failure (through recovery, repairs and renewals).
The primary reason we conduct maintenance is that we perceive it will cost us more, or the consequences will be dire, if we don't do it.
Maintenance optimization is about understanding the application of risk principles to maintenance and using practices and systems necessary to support decision making.
This is a financial analysis technique that focused on establishing the relative worth of individual maintenance task.


---
RbM Strategies


Risk events are arranged into the following four categories.

---
Attributes
Listed below are some of the key attributes of risk-based maintenance:
Risk Assessment

- A maintenance strategy whereby the maintenance processes are planned based on failure risks, effects, and calculated costs.
Risk-based maintenance attempts to balance the Probability of Failure (PoF) and Consequences of Failure (CoF) of each asset.

Learning Curve

- It was originally developed as a means of reviewing existing maintenance programs, and in this mode it works well as a continuous improvement tool
RBM tends to focus initially on maintenance tasks that are essential for the following:
---
RbM Process
Listed below are the key steps in the development of a risk-based maintenance program:
---
RbM Techniques
Some of the techniques of risk-based maintenance are listed below:
Reliability Centred Maintenance

Failure Modes and Effects Analysis (FMEA)

Fault Tree Analysis

Event Tree Analysis (ETA)

Failure Characteristic Analysis (FCA)
risk-aversion

The strategy requires understanding of the following concepts:
maintenance mix that employs both:
RbM utilizes the following types of intervals:

---
Variations
Listed below are some of the variations on risk-based maintenance or other maintenance strategies with some similar attributes:
---
Evaluation
Listed below are some of the potential benefits of risk-based maintenance:

Listed below are some of the potential limitations and downsides of risk-based maintenance:

It requires a highly sophisticated team that can quantify the risks of different tasks.

Fig. Risk-based decision making is at the heart of asset management and this requires mindful consideration of the relationship between the probability of failure (PoF) and the consequences of failure (CoF). The complexities of these correlations can sometimes be captured on a risk matrix.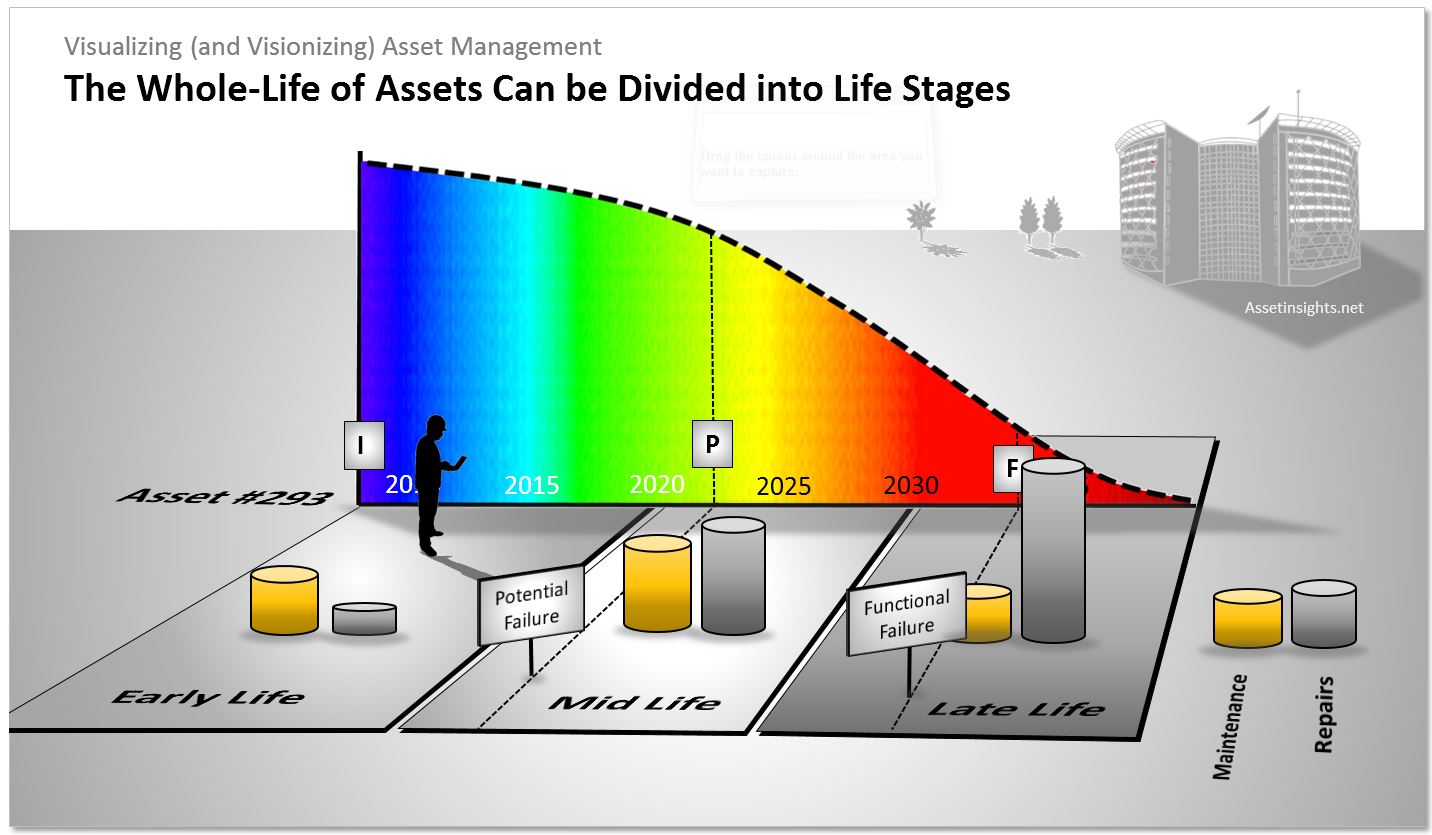 Fig. The whole life of assets can be divided into life stages - early life, mid-life and late-life, with different maintenance strategies at each life stage.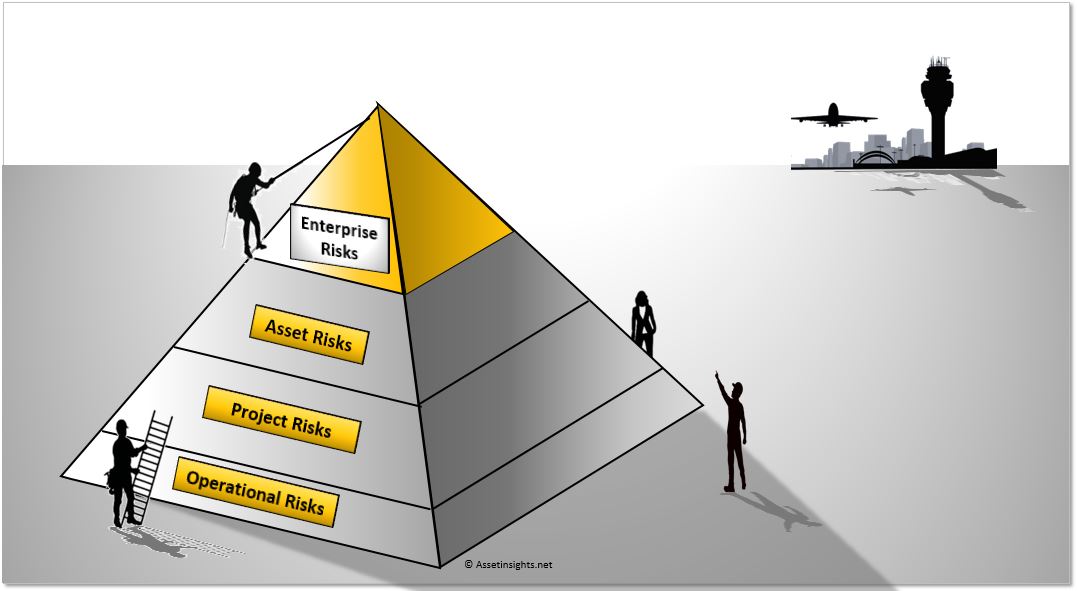 Fig. Four type of risk management: Enterprise, Asset, Project and Operations

.

RbM is generally applied to the asset risk and operational risk categories.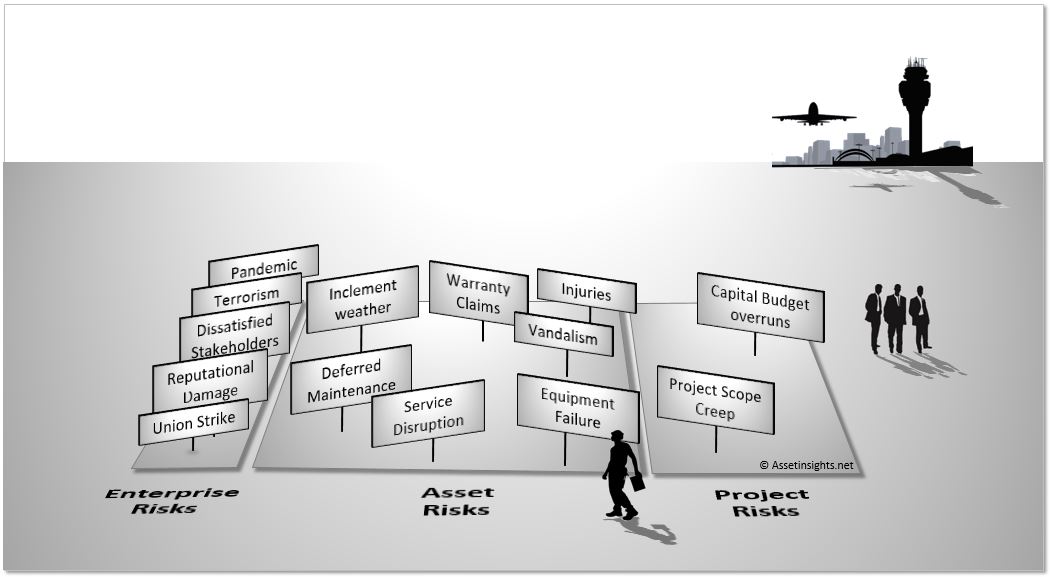 Fig. Different types of risk registers

to

capture enterprise risk, asset risk, project risk and operational risk

.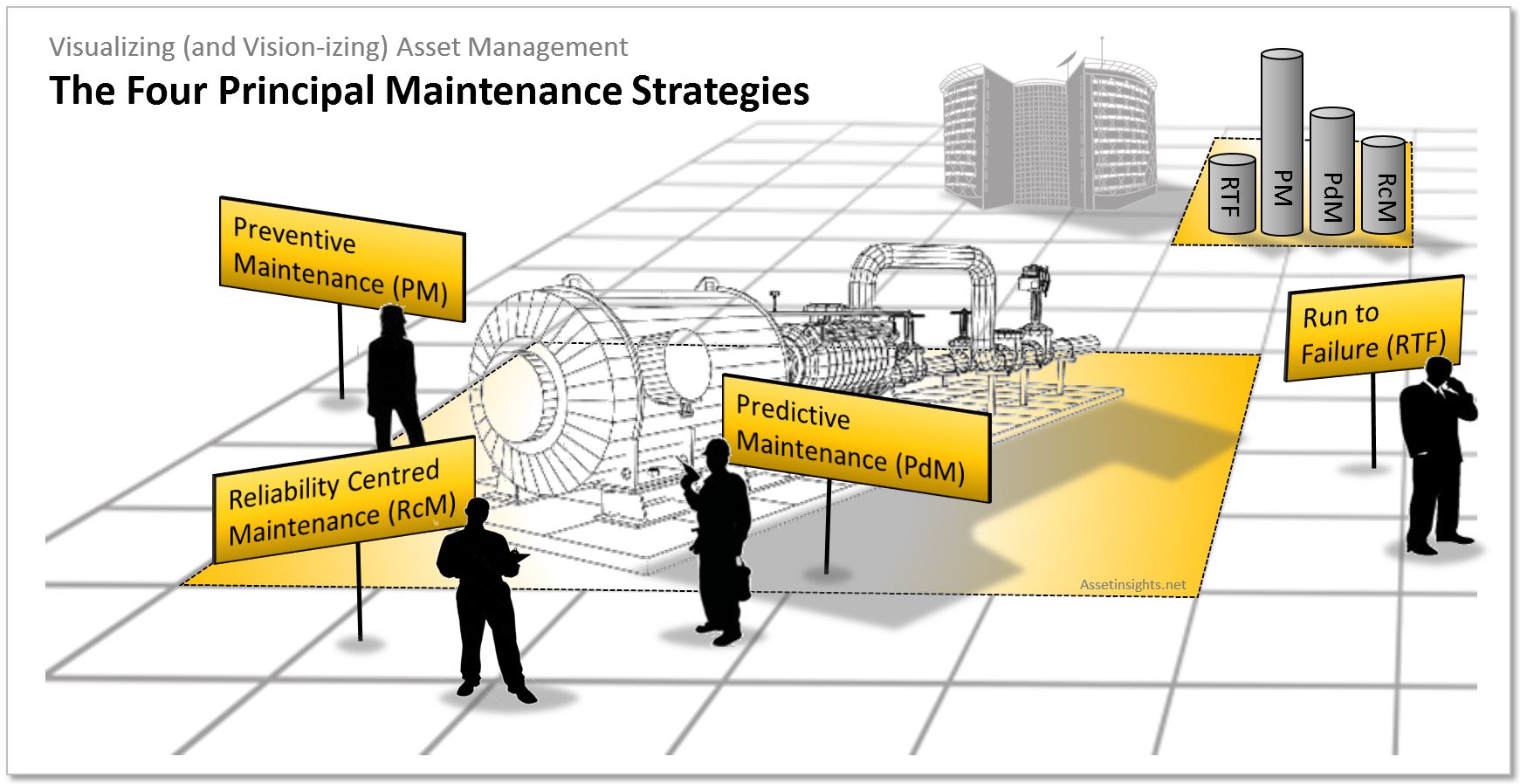 Fig. Alignment of the four different types of maintenance strategies across the asset portfolio on decisions that are risk-based and consider the whole-life of assets will result in a maintenance mix that is in conformity with ISO 55001 standards

.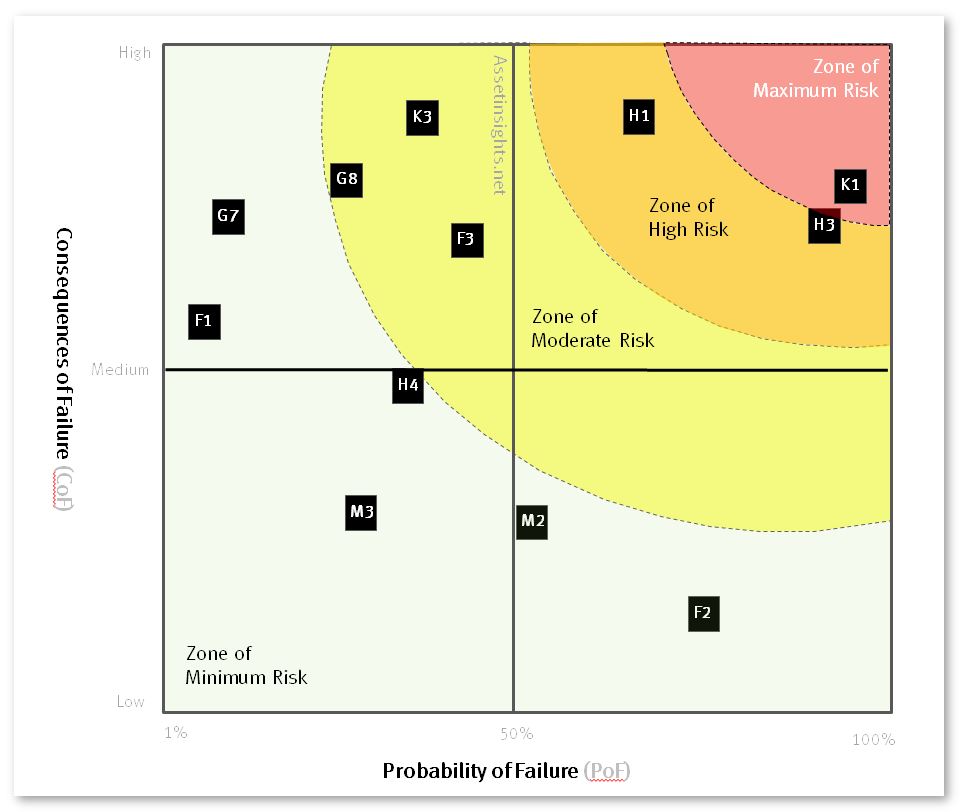 Fig. The relationship between Consequences of Failure (CoF) represented on the vertical (y-axis) and Probability of Failure (PoF) on the horizontal (x-axis) of a criticality/risk matrix.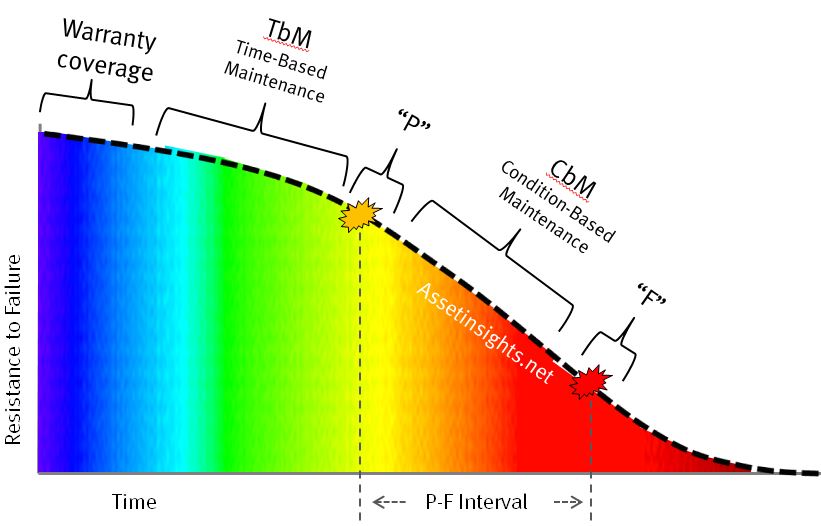 Fig. The risk spectrum extending along the P-F interval to illustrate the varying strategies in the Pre-P and Pre-F periods. For example, a shift from Time-Based Maintenance (TbM) to Condition-Based Maintenance (CbM).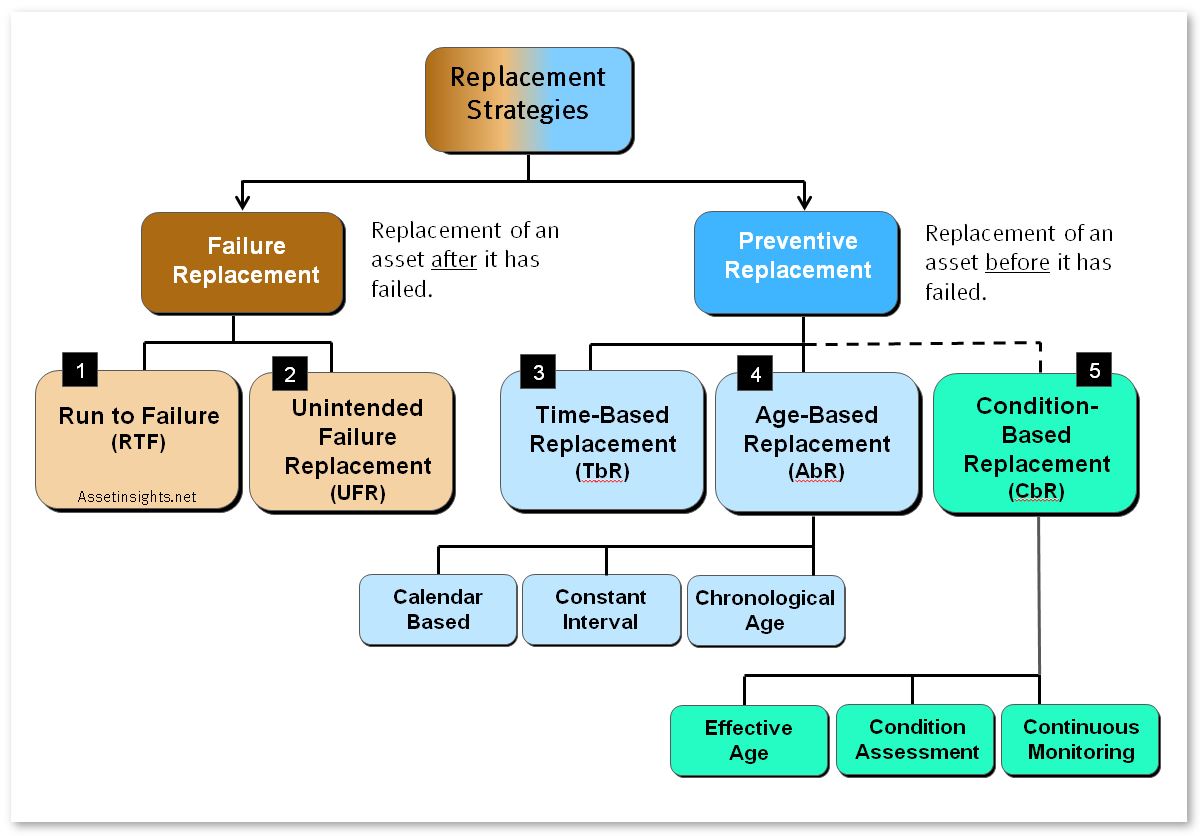 Fig. Network diagram of alternative asset replacement strategies based on the owners tolerance for risk relative to "prevention" and "recovery".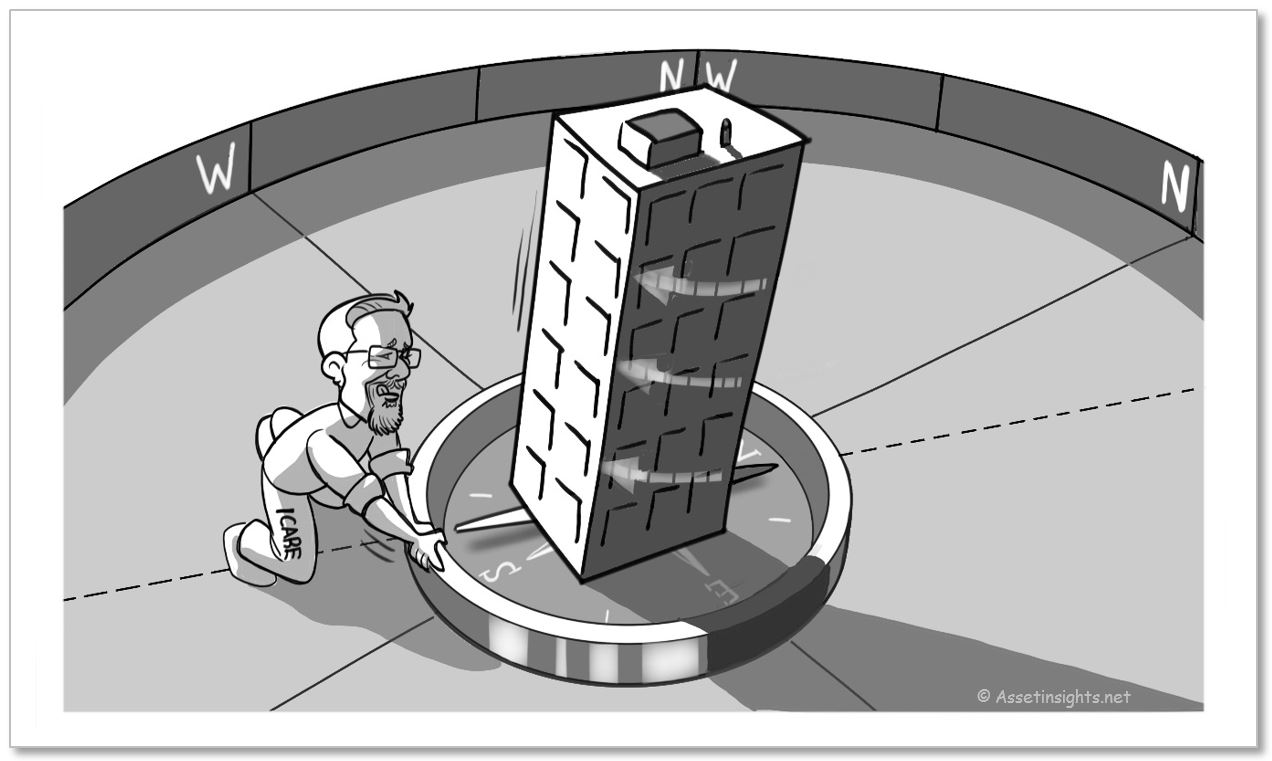 Fig. I. Care is trying to re-align his building's magnetic north to geodetic true north and thereby use his building as a sundial to cast the right shadow and identify all the critical assets

.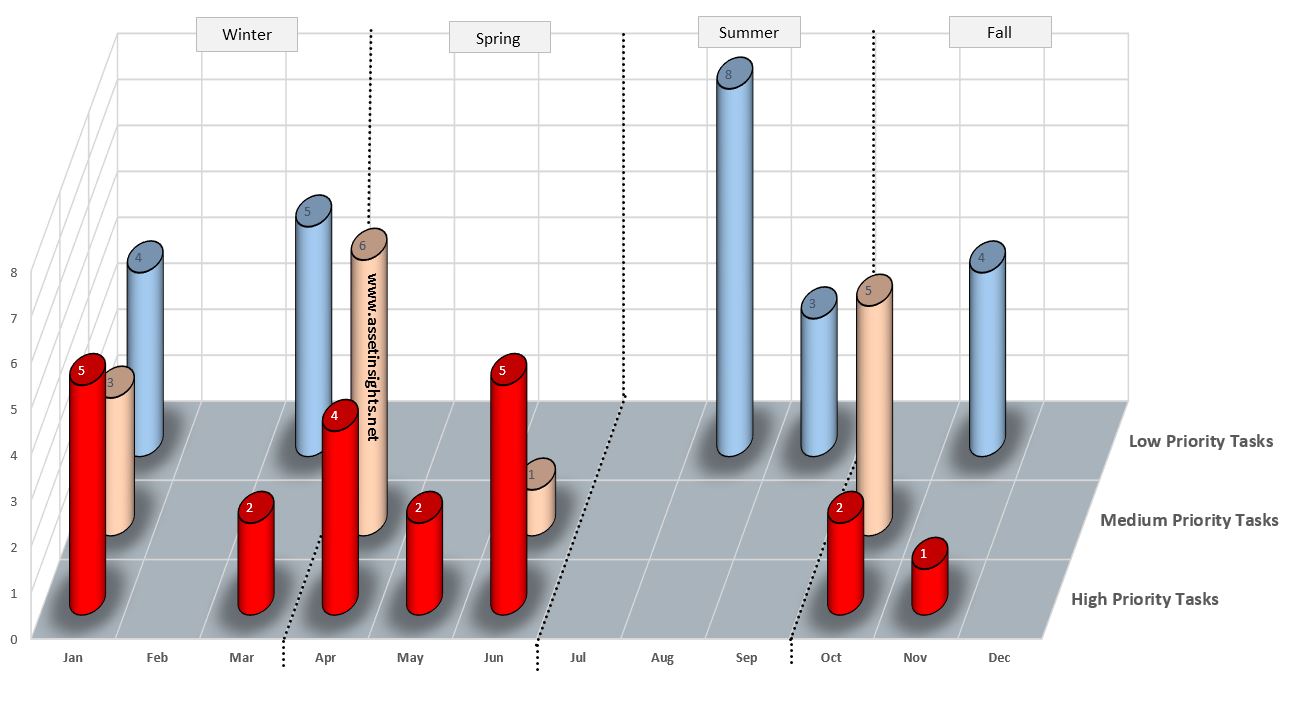 Fig. The maintenance plan organized by task prioritization.
Fig. Prioritization organized by coloured location tags where "red" indicates high priority, "orange" is medium priority and "green" is relatively low priority.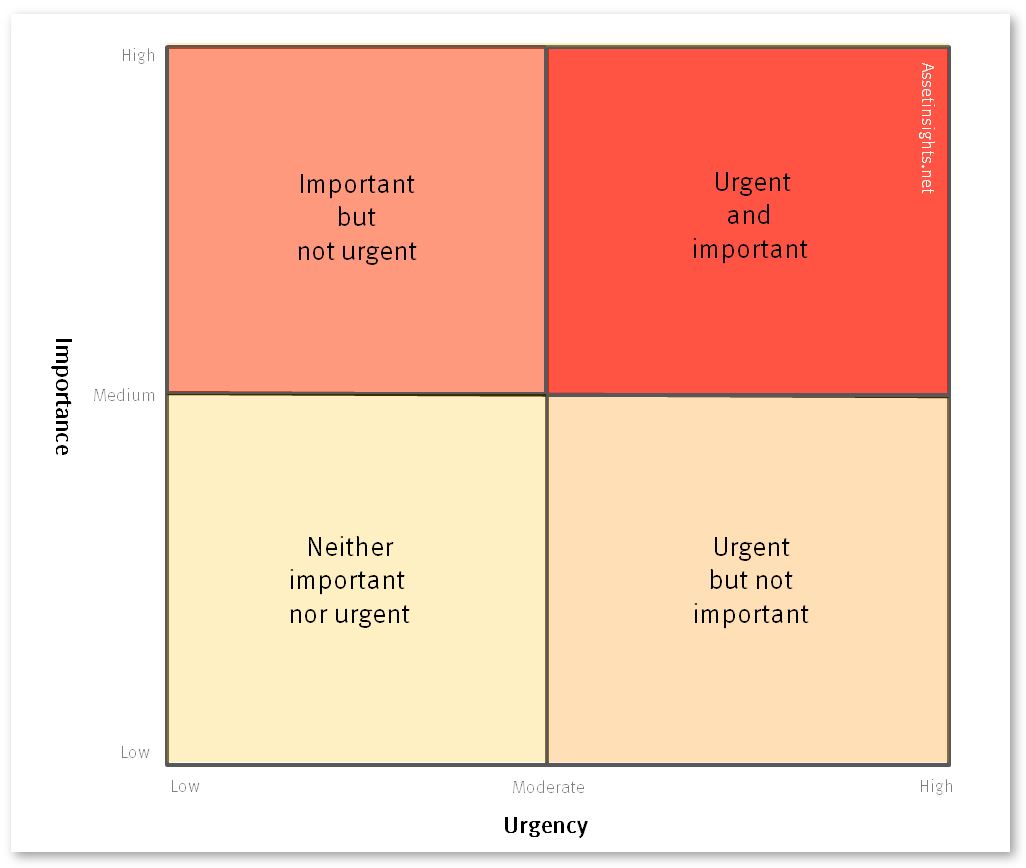 Fig. Criticality matrix with four quadrants to help prioritize action.