A maintenance strategy is based on monitoring and
measuring the condition of the assets to determine whether
they will fail during some future period and then taking
appropriate action to avoid the consequences of that failure.

Essentially, a means of continually improving the confidence interval in our estimations of the probability of failure (PoF) of an asset and identification of appropriate steps to preserve the asset, if so desired.



---
Methodology


Listed below are some of the key steps in a predictive maintenance methodology:

Sampling

- The process begins with the identification of a sample for monitoring of physical data over time, such as vibrations or particulate matter in oil.

Monitoring

- The condition of an asset is either condition monitored continuously or at specified periods.

Measuring

- Measurements detect the onset of a degradation mechanism, thereby allowing causal stresses to be eliminated or controlled prior to any significant deterioration in the asset. Analysis is then performed on the collected data to develop an appropriate maintenance schedule that is tailored to the assets and its condition.

Trending

-


Benchmarking

-

The asset's performance is compared to an appropriate standard to determine if it can continue in service. These appropriate standards may relate to, but are not limited to, cleanliness, cracks, deformation, corrosion, wear, pressure or temperature limits, looseness or even missing parts.

When the condition gets to a predetermined unacceptable level, the equipment is shut down to repair or replace damaged components so as to prevent a more costly failure from occurring.

Correcting

- This philosophy consists of scheduling maintenance activities only if and when conditions warrant and if so desired in accordance with the owners maintenance standards.
Predictive Maintenance (PdM) differs from Preventative Maintenance (PM) in that it bases maintenance needs on the actual condition of the assets rather than on some preset schedule. This approach offers cost savings over time-based preventative maintenance because tasks are performed only when warranted.



---
Monitoring & Testing Concepts & Thresholds


Listed below are some of distress-based metrics used to ascertain means and needs for predictive maintenance tasks.

---
Monitoring & Diagnostic Technologies


Condition monitoring can be done in a variety of ways.


A variety of technologies are used to help diagnose the condition of assets using non-destructive techniques such as:
---
Attributes
Listed below are some of the key attributes of predictive maintenance:
---
Candidate Assets/Application

The Predictive Maintenance (PdM) maintenance strategy lends itself well to some electrical and mechanical systems and assets with the following attributes:

Critical Assets

- Assets with high consequences of failure (CoF) such as significant impact to the owners' operations if there is any downtime.

Unpredictable Assets

- Assets with random failure patterns. Assets that are not subject to straight-line wear.

Measurable Assets

- Assets with quantifiable performance thresholds. In other words, empirical data can be collected on the distress metrics.
The alignment of maintenance styles to individual assets is discussed under maintenance mix.



---
Evaluation
Some of the advantages of the predictive maintenance approach are as follows:
Empirical Data

- The process helps to determine the in situ condition of in-service assets in order to predict when maintenance should be performed.

Asset Reliability

- Improved reliability of the assets can result in a decrease in equipment downtime.


Cost Efficiency

- Offers cost savings over routine or time-based preventative maintenance because tasks are performed only when warranted.
Some of the disadvantages of the predictive maintenance approach are listed below:
Capital Cost

- An upfront capital cost associated with an increased investment in diagnostic equipment.

Resource Training

- Increased investment in staff training to be able to navigate the P-F interval.

Non-Measurable

- Some assets do not exhibit measurable distress metrics or ones that cannot be discerned through available diagnostic technologies.

Concealed Conditions

- Some conditions are concealed conditions and cannot be observed without destructive testing.

Lagging Indicators

- Some distress metrics do not exhibit leading indicators and therefore the diagnostic process will not be able to detect and avert these types of failures.
---
Management Principles


Listed below are some of the asset management principles that can be applied to this form of maintenance in pursuit of a maintenance optimization model.

Usually best suited during the P-F Interval on some assets.
The maintenance mix will include an appropriate balance of assets on a predictive maintenance program.

Text article on maintenance can be found here.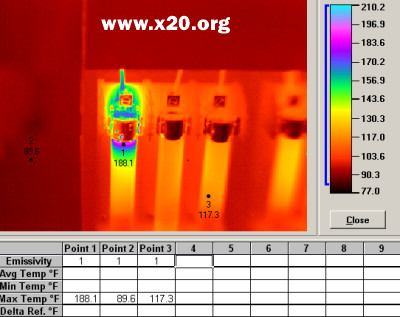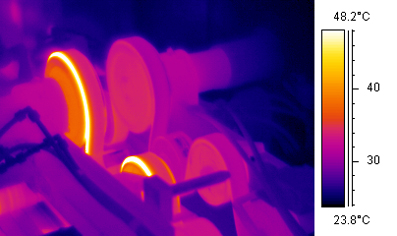 Fig. Left - thermographic scan of electrical equipment. Right - Thermographic scan of mechanical equipment.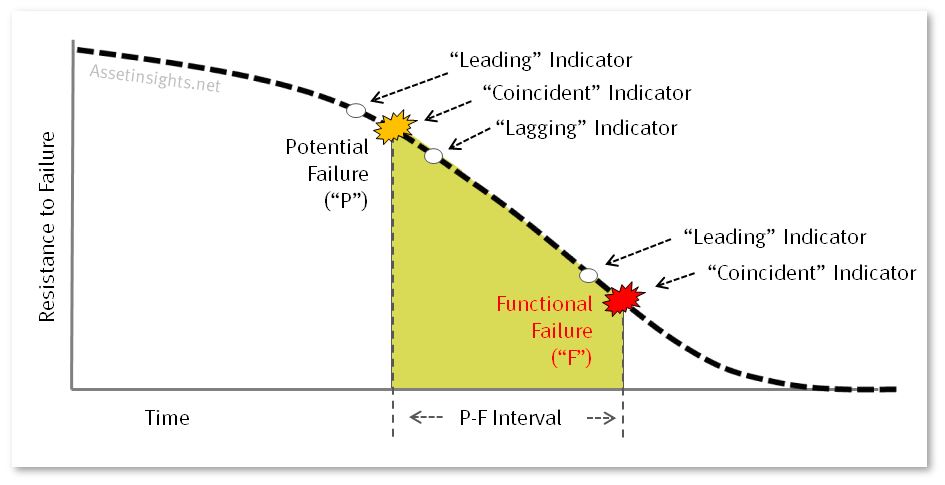 Fig. Predictive maintenance detects leading indicators and lagging indicators along a PF Curve.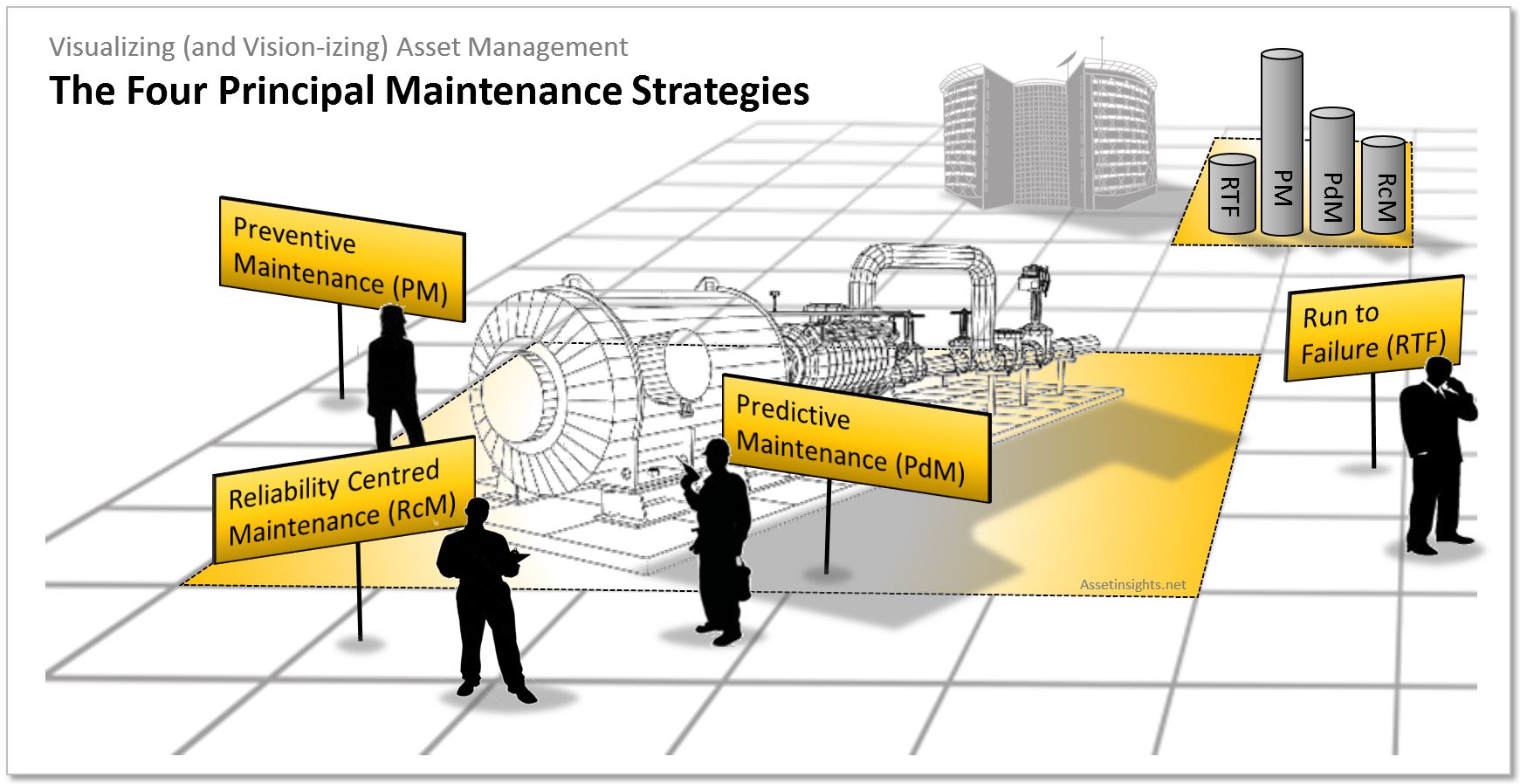 Fig. Alignment of the four different types of maintenance strategies across the asset portfolio on decisions that are risk-based and consider the whole-life of assets will result in a maintenance mix that is in conformity with ISO 55001 standards

.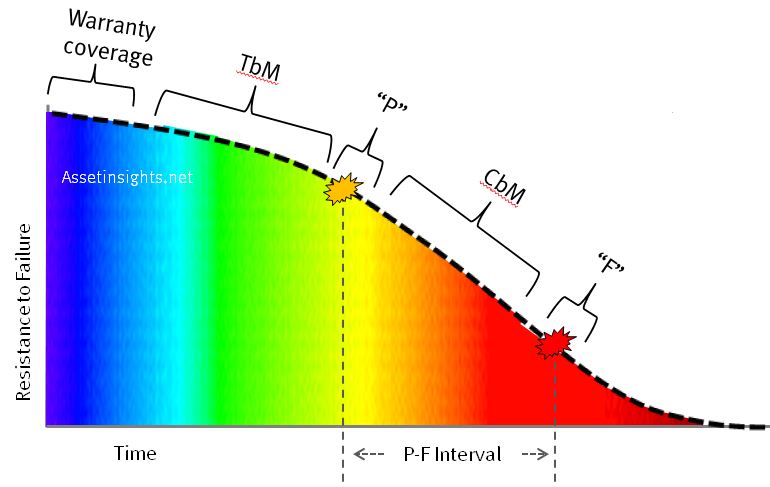 Fig. The risk spectrum extending along the P-F interval.




Fig. Predictive maintenance technologies along the P-F Curve in relations to Potential Failure (P) and Functional Failure (F).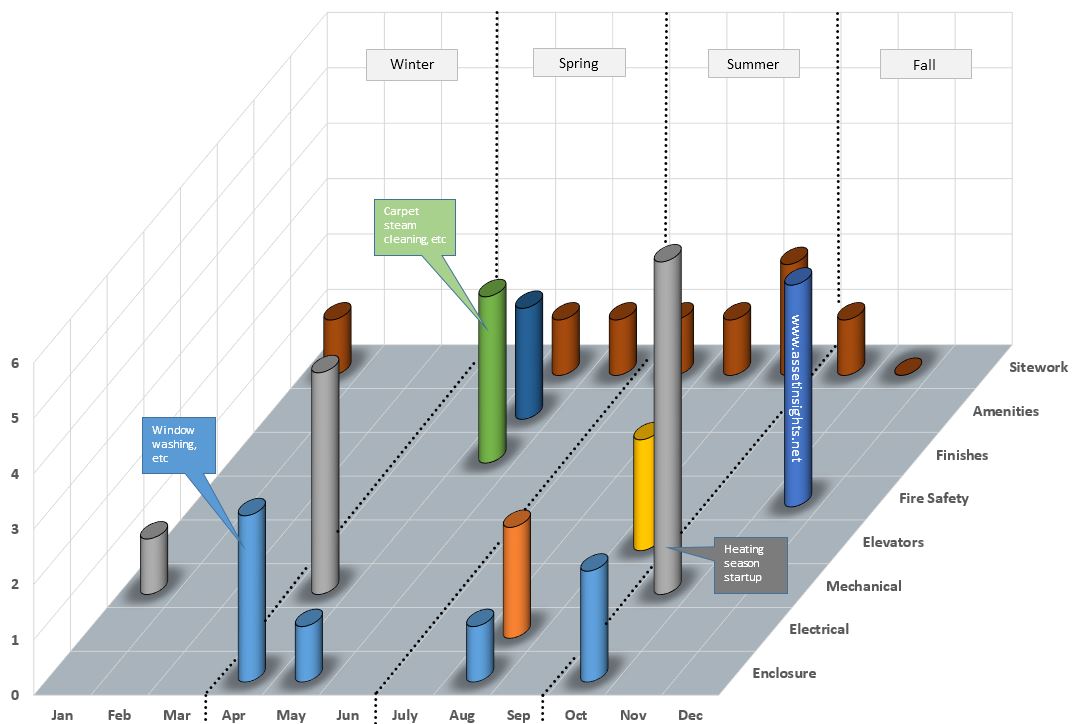 Fig. The maintenance plan organized into seasonal maintenance tasks.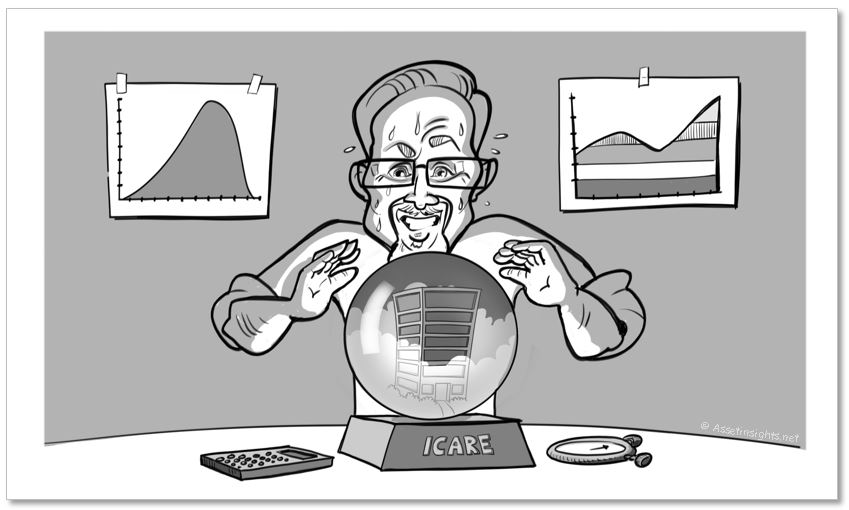 Fig. I. Care is trying to use a crystal ball to make forecasts about his assets rather than rely upon the scientific method behind predictive maintenance (PdM) technologies..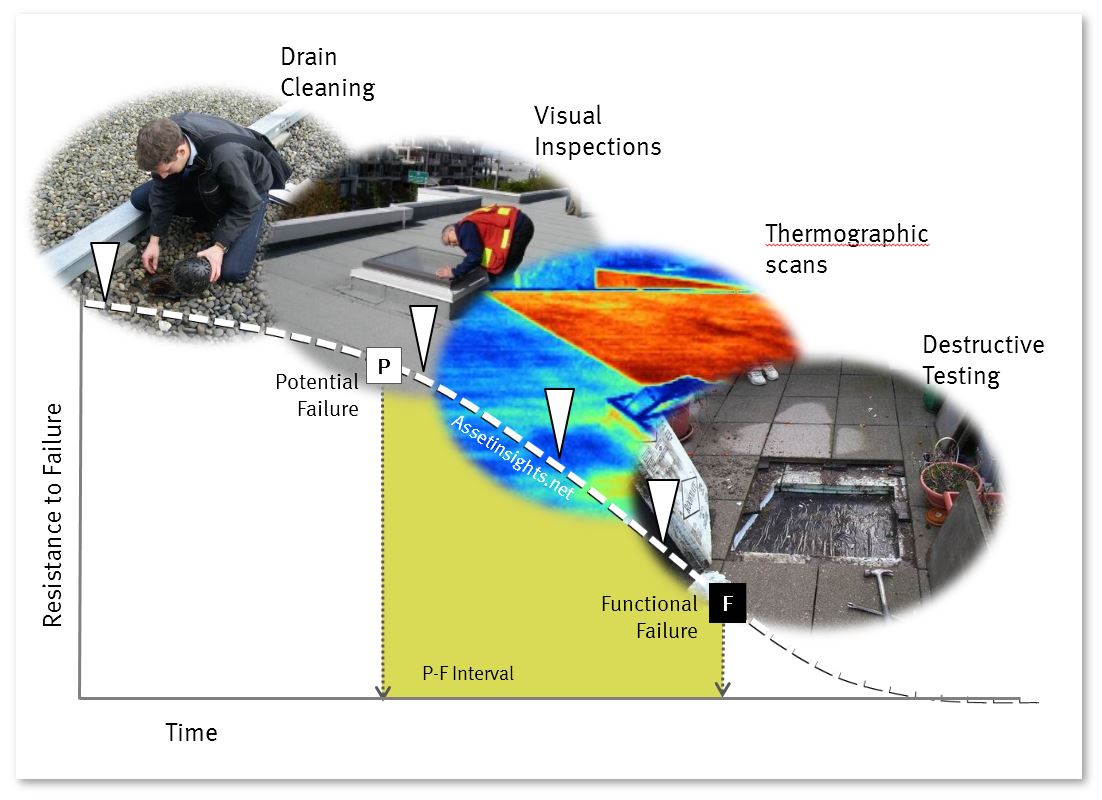 Fig. Major maintenance tasks mapped to the P-F Curve

.






Fig. Different types of maintenance tasks distributed across the four seasons of an annual maintenance program.

Fig. Some of the different applications of thermographic scans to various assets.