Also referenced as: >F.

The period of time after an asset has reached functional failure ("F") along the P-F curve.

The post-F period represents the final phase in a three-phase life cycle model and deterioration model of assets:

---
Attributes:


The post-F period is characterized by the following general attributes:

The maintenance mix has a heavier emphasis on corrective maintenance.
Maintenance events, if any, are typically carried out floating intervals since the work is reactionary and no longer based on predictive cycles.
High risk associated with collateral damage.

---
Duration:


The length of the post-F period varies dramatically across different assets. Listed below are some examples:

Wood siding is sometimes difficult to predict in the post-F period and protective re-coatings can hide, albeit temporarily, the condition of the substrate.
---
Analysis:


The following factors will have a bearing on the length and attributes of the post-F period for assets:

---
Management:


This is a very difficult stage to manage in the life of an asset. Listed below are some management principles to guide owners:

Determine if the asset qualifies as a statistical outlier (ie., heavy positive skewness)
Ensure that funds are available for replacement of the asset.
Obtains competitive bids for replacement of the asset.
Determine the other projects that may be competing for funding resources.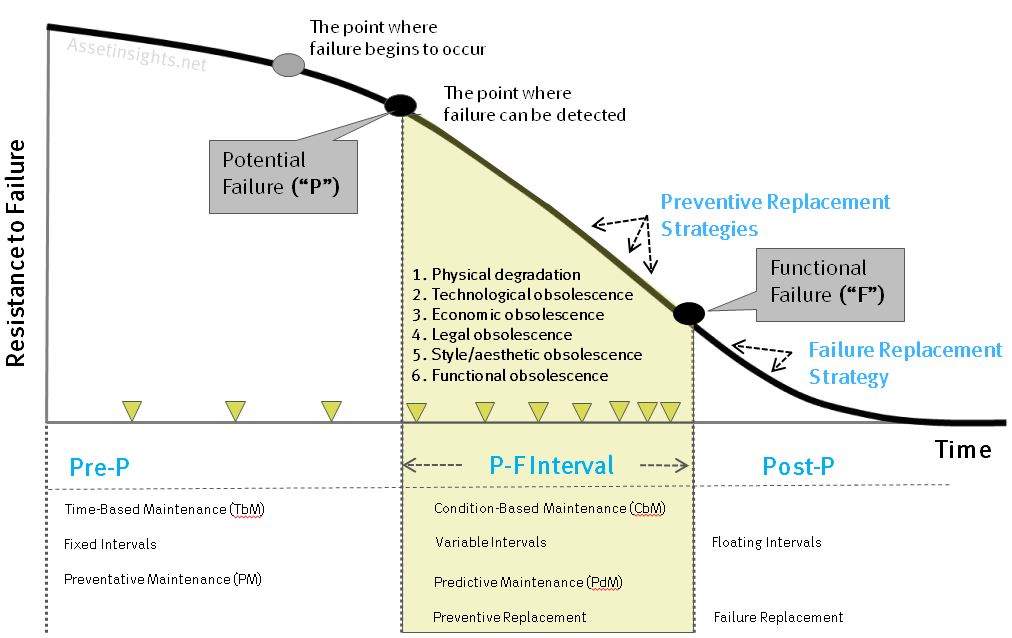 Fig. P-F curve indicating the pre-P, P-F and post-F intervals associated with the lifecycle of an asset.