A form of deterioration model also referred to sometimes as a "degradation curve".
A performance curve is a graphical representation of the deterioration of an asset, where:
The slope of the curve indicates the anticipated rate of deterioration of the asset

The length of the curve represents the service life of the asset until functional failure ("F").

The points (thresholds) along the curve indicate necessary changes in the maintenance mix to ensure optimal intervals for long-range stewardship of the asset.
---
Purpose
Peformance curves have the following applications in asset management
A tool to anticipate the Probability of Failure (PoF) of an asset.
A tool for illustration of the relationship between the Initial capital outlay during construction or renewal and the rate of degradation of the asset, which is controlled somewhat by intervening maintenance activities until the next renewal is required.
---
Variations
Listed below are some of the variations of performance curves for assets:
---
Evaluation
Performance curves are abstracts used to model reality. They are conceptual in nature.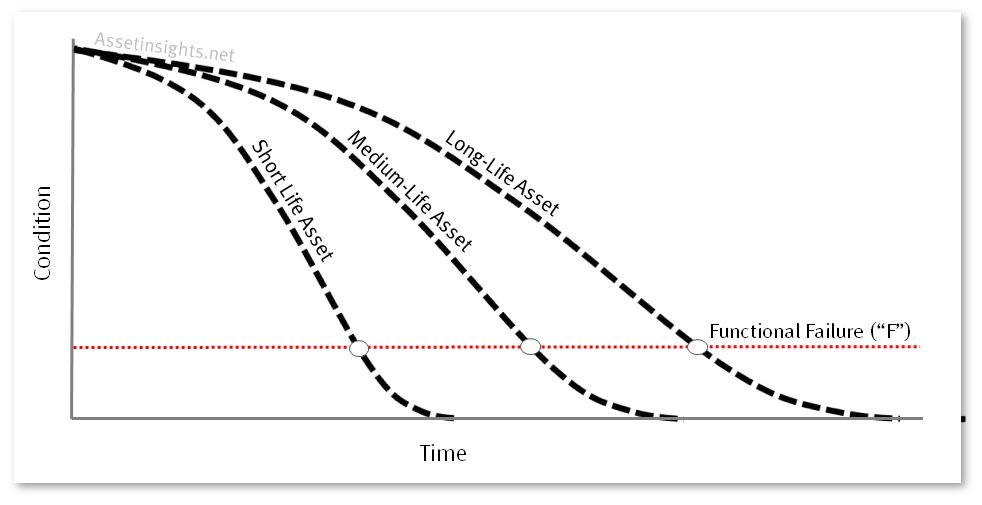 Fig. Conceptual representation of short-life assets, medium-life assets and long-life assets relative to their respective points of functional failure.