The means, methods and techniques for identifying, quantifying, and mitigating against the effects of different types of obsolescence through adaptive renewals.
---
Nuanced Concepts - Revitalize vs. Modernize?
obsolescence vs,
modernization vs.
revitalization
upgrade
Qualitative vs. quantitative
"Times are changing"
"We need to push our facility to the next level"
---
Types of Obsolescence
Separate from physical deterioration, the five primary type of obsolescence are identified as follows:


Obsolescence can also be classified in a variety of other ways, including:
External obsolescence vs. internal obsolescence
Curable obsolescence vs. incurable obsolescence.
---
Causes of Obsolescence

Obsolescence can arises as a result of a variety of factors impacting upon individual assets and facilities. Some common forces of retirement are listed below:

Physical aging
New codes and standards (legal obsolescence)
Changing demographics

Changing needs of the space users (functional obsolescence)

New products introduced to the market (technological obsolescence and economic obsolescence)
Changing cultural norms and values

Planned obsolescence
---
Impacts on Different Sectors
Included below is a brief outline of some of the ways obsolescence impacts the different sectors.

Residential Sector - legal obsolescence
Care Sector - legal obsolescence
Commercial Sector
Hospitality Sector - style obsolescence
Civic Sector

Some sectors are more susceptible than others. The following chart lists the sectors, starting with those that are most susceptible:



---
Methodology

Renewal Analysis
Replacement Policy
---
Measuring

Obsolescence

-

FPAs, etc


Included below are some of the primary method for establishing:


---
Assessing Obsolescence - KPIs, etc


Listed below are some of the Key Performance Indicators that can be used to establish different degrees of obsolescence:

---
Obsolescence Management by System





---
Obsolescence Management by Lifecycle

The five general lifecycle stages of facilities can be identified as follows:
---
Techniques

for Mitigation


Listed below are some of the techniques for mitigation of obsolescence on a facility

Adaptation - Adaptive renewals
Retrofits

Modernization

-

Revitalization

- to make a facility active, healthy, or energetic again. Revitalization" is an exercise that extends far beyond facility renewal measures
including the principles and concepts of:
---
Principles

Short life, medium life and long-life assets
---
Adaptive Renewal (Retrofit) Projects
Listed below are some examples of retrofits (Adaptive Renewals) that form part of the obsolescence management program:

Seismic Retrofit
Boiler-and-Tank Retrofit
T12-to-T8-to-T5 Lighting Retrofit
CFL-to-LED Lighting Retrofit

PVC Encapsulated Cylinder Retrofit
Sprinkler Head Retrofit
Emergency Telephone Retrofit
Pneumatic-to-DDC Retrofit
Faceseal-to-Rainscreen Retrofit
---
Replacement Policies


Listed below are some of the primary replacement strategies that can be applied to different types of assets.



Group 1: Preventive Replacement

Group 2: Failure Replacement:





---
Major Strategies
Included below are some of the asset management principles to consider.
"Push the facility to the next level". Times are changing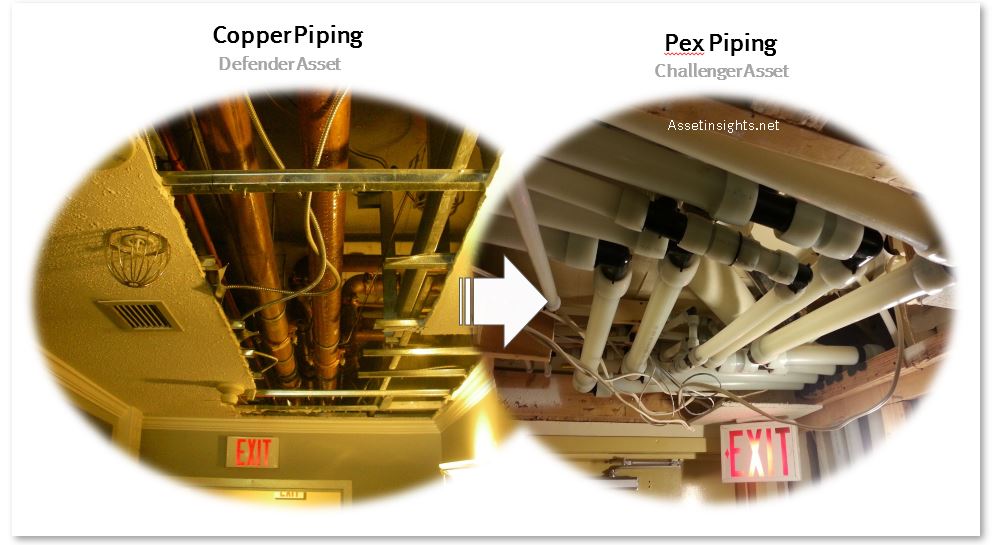 Fig. Replacing copper piping (the "defender") with pex piping (the "challenger")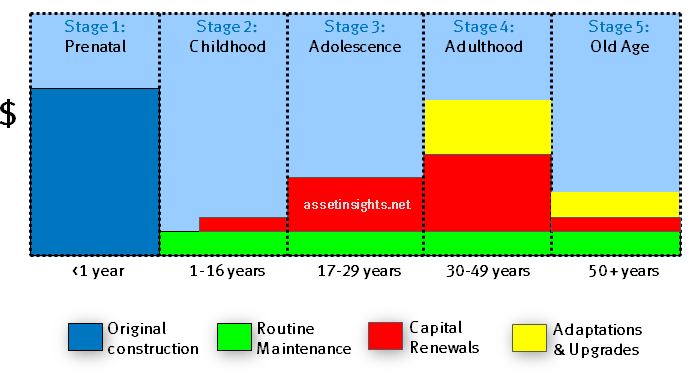 Fig. Lifecycle model to indicate the stage at which functional obsolescence ("yellow") is most prevalent.

Functional obsolescence is perhaps one of the most systemic forms of obsolescence that can affect groups of assets.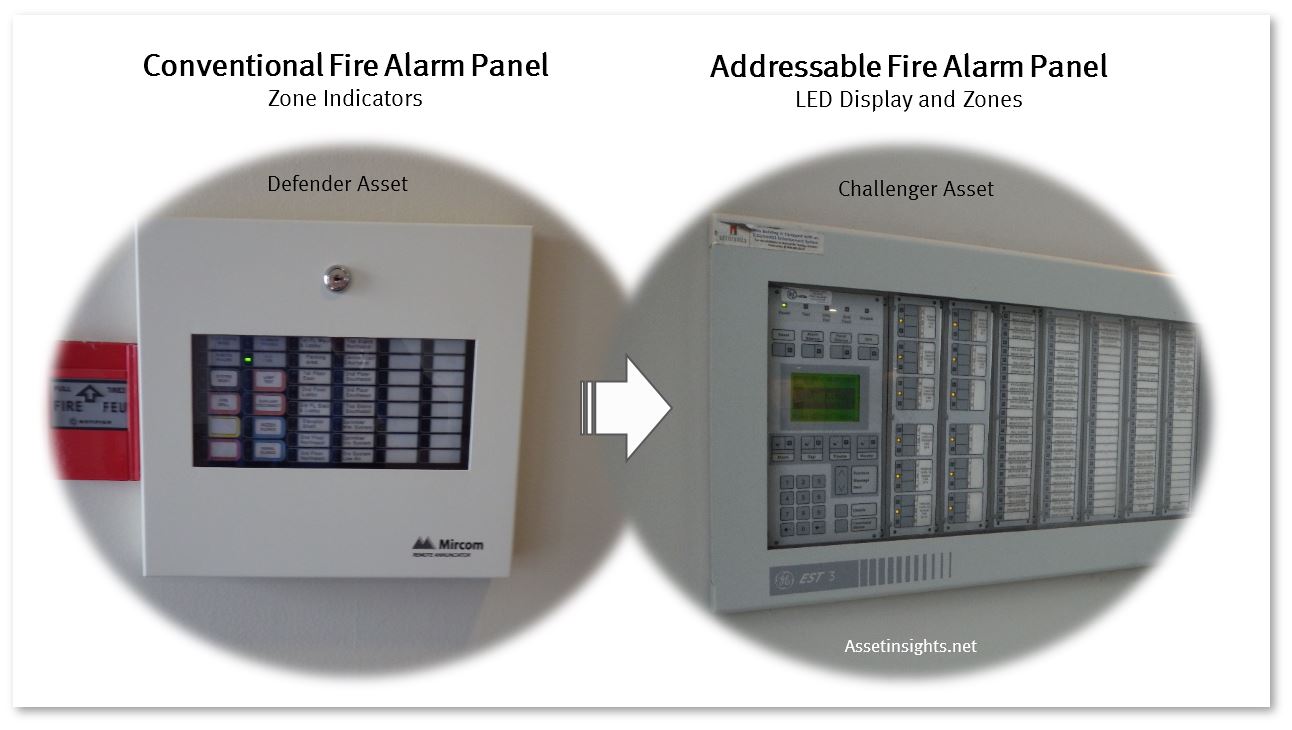 Fig. Retrofit of a conventional fire alarm control panel (FACP) to an addressable system is one example of an adaptive renewal to address technological obsolescence. It forms part of a larger strategy of obsolescence management.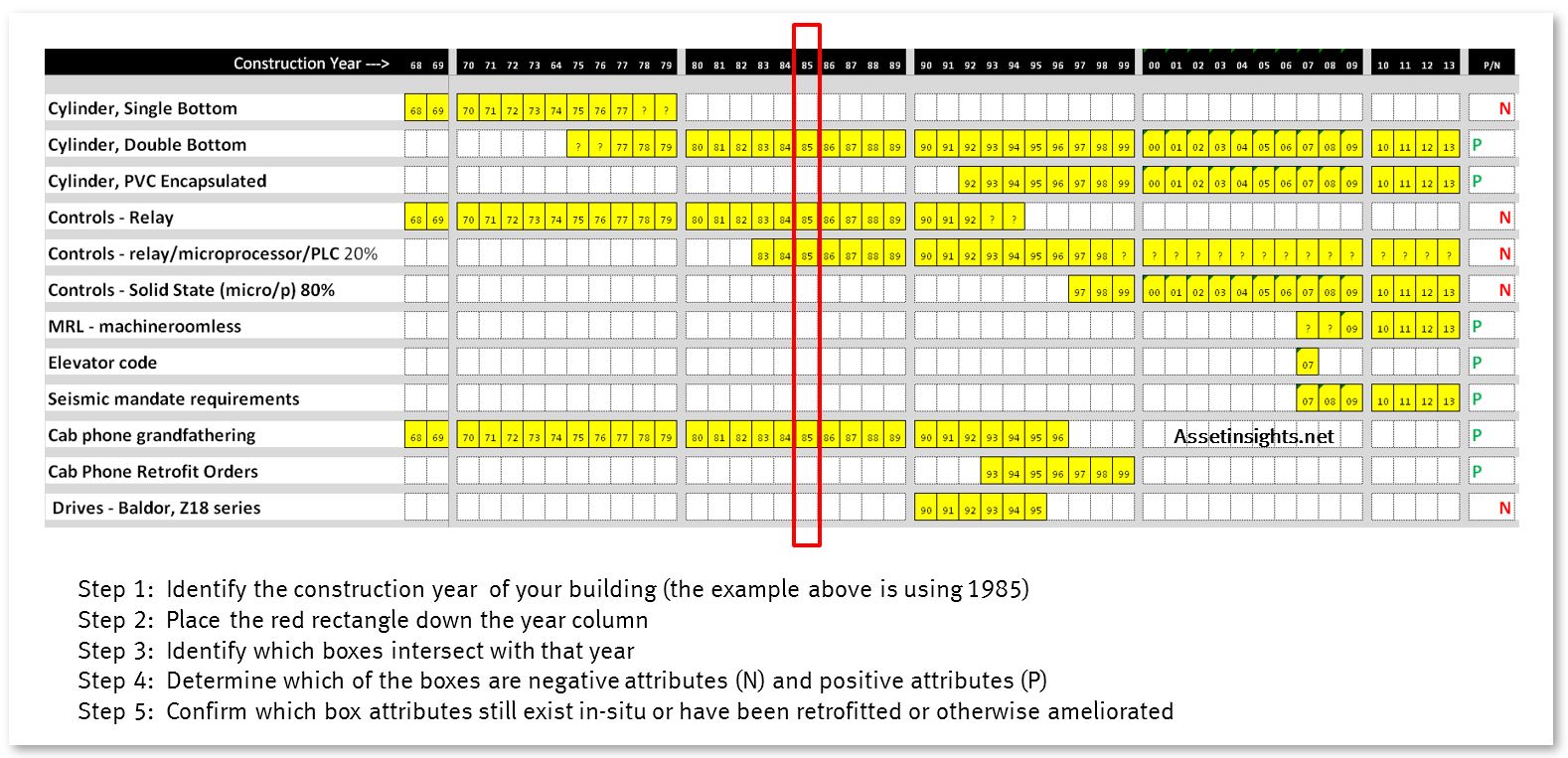 Fig. Expert system by cohort to identify obsolescence of elevator components.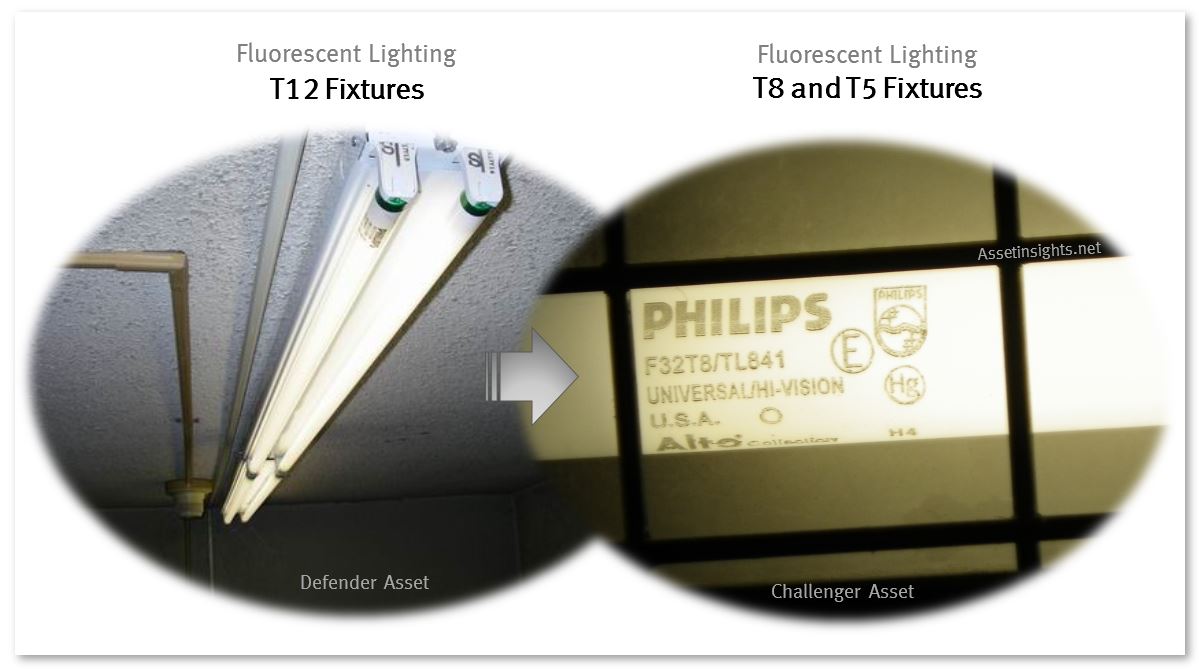 Fig. Retrofit of fluorescent strip lighting from T12 to T8 and T5 fixtures for improved energy efficiency.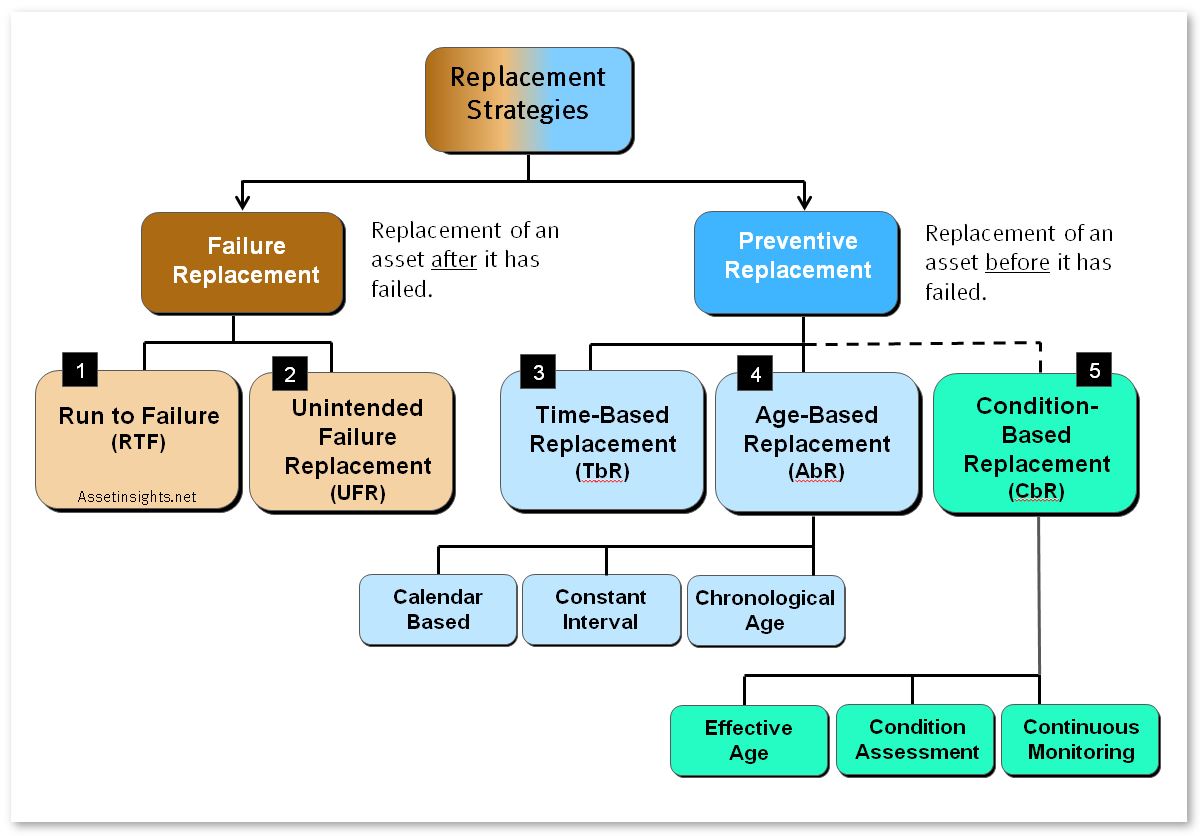 Fig. Network diagram of alternative asset replacement strategies.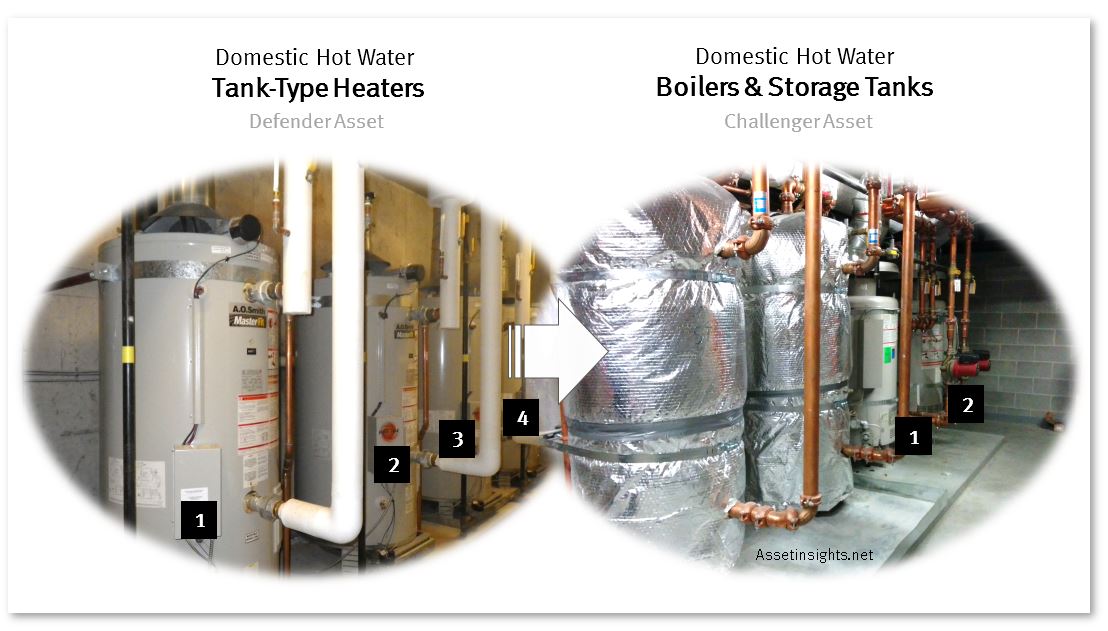 Fig. Retrofit conversion of tank-type domestic wat

er.




.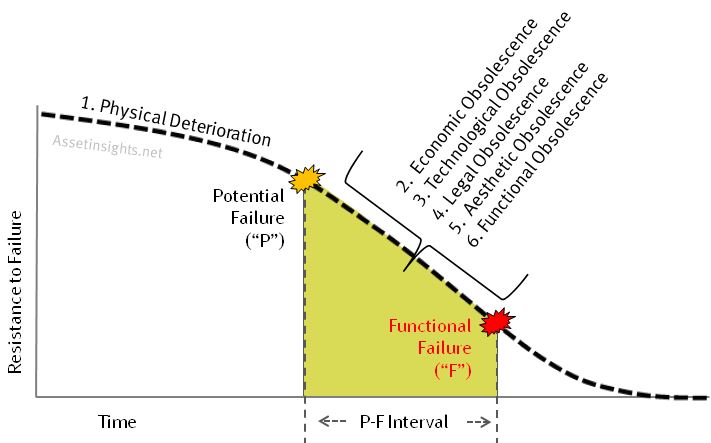 Fig. The forces of retirement mapped on the P-F curve.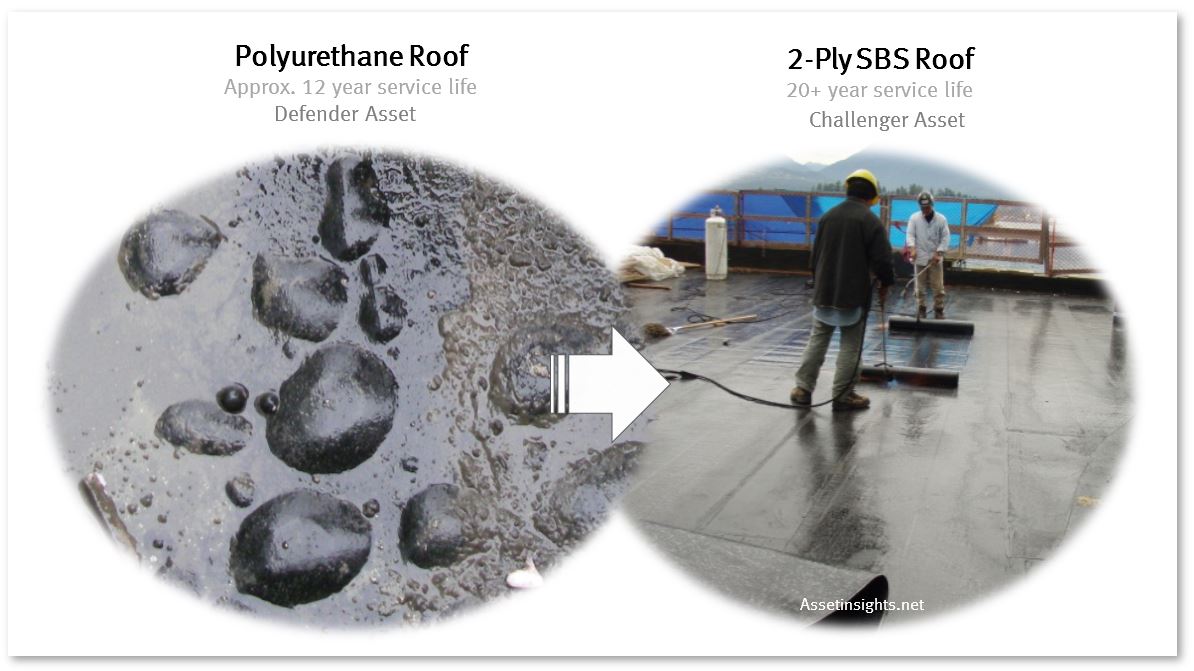 Fig. Polyurethane roof (12 year life) replaced with upgraded SBS roof (20 year life).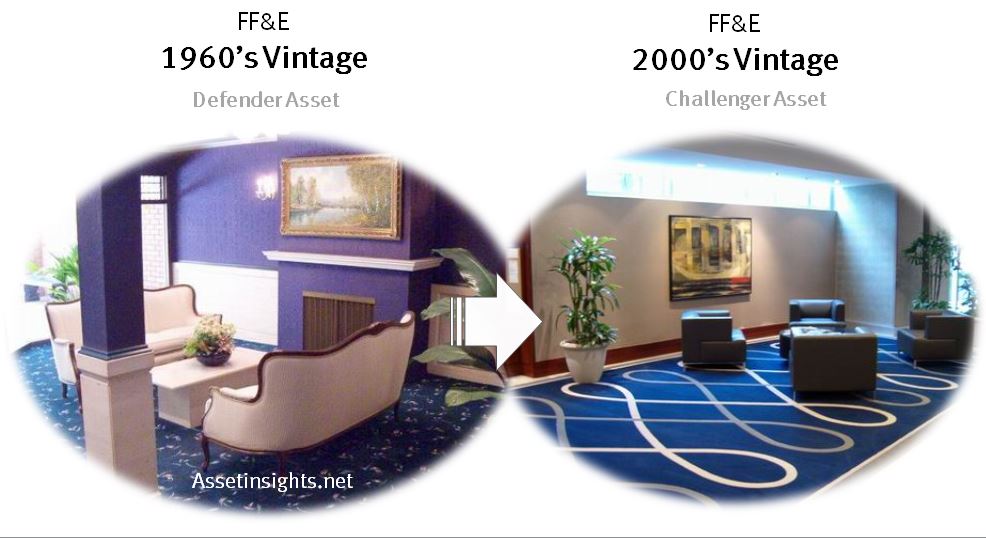 Fig. 1970's style furnishings in the lobby of a building upgraded is an example of style obsolescence.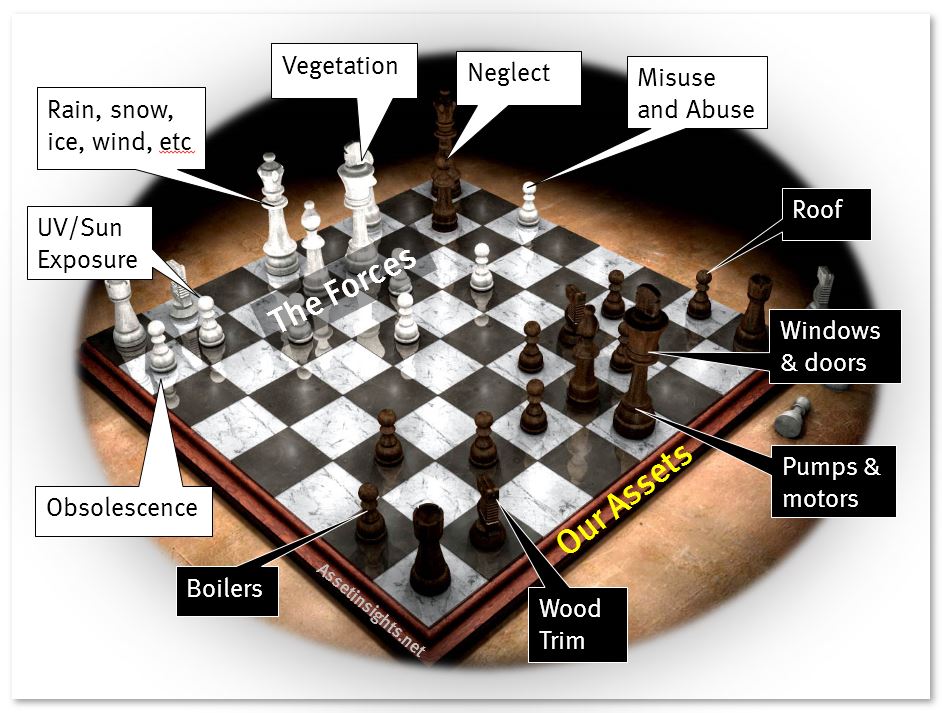 Fig. Chessboard analogy to illustrate obsolescence as one of the forces of retirement impacting upon the assets in a building

.