One of nine primary reinvestment formulas. Also sometimes referred to as a "Continuous Model" .

This formula looks to the longest life asset within the subject building and is not constrained by a planning horizon. Some assets are durable, long-life assets reaching up to 75 years in some case. Depending on the age of the building at the time of the reserve study, the funding calculations in a continuous model can sometimes be higher or lower than a termed model.

The second formula determines funding requirements for a building by calculating each renewal activity divided by its frequency.


---
Example


For example, a boiler replacement every 10 years (Frequency) at $10,000 (Current Value) must be funded at $1,000 per year.


---
Formulas


The following equation is a summation notation collected for each Renewal Activity.



∑ Costo / F



Where,

Costo Current Value (CV) of Renewal Activity
F Frequency of the Renewal Activity

In order to determine the unfunded liability, it is necessary to calculate the total funds that should be contained in the reserve account at the base year. For example, if the boiler, noted above is in its 5th year, then the reserve account should contain $5,000. The difference between the amount calculated and the amount that has accumulated in the reserve account is considered the unfunded liability. The following equation is required to determine the amount that should be in the reserve account at the base year.



∑ (Costo / F) x (F – (EY – BY))



Where,

Costo Current Value (CV) of Renewal Activity
F Frequency of Renewal Activity.
EY Event Year, year of Renewal Occurrence
BY Base Year, year when the QTO was taken

This formula is not impacted by the planning horizon or the time value of money. The summary of funding attributes for this formula is provided in the table below.

Variables or Parameters Formula

1 Termed vs. Continuous Continuous
2 Inflated vs. Non-inflated Current Values
3 Proximity v. Non-proximity Non-Proximity
4 Linear vs. Lumpy Linear
5 Funding vs. Funded Funding ($ per year)
6 Catch-up Costs vs.
Keep-up Costs Keep-up and Catch-up
(two formulas)
This second method is generally considered inadequate for the benchmark analysis as it does not recognize the passage of time.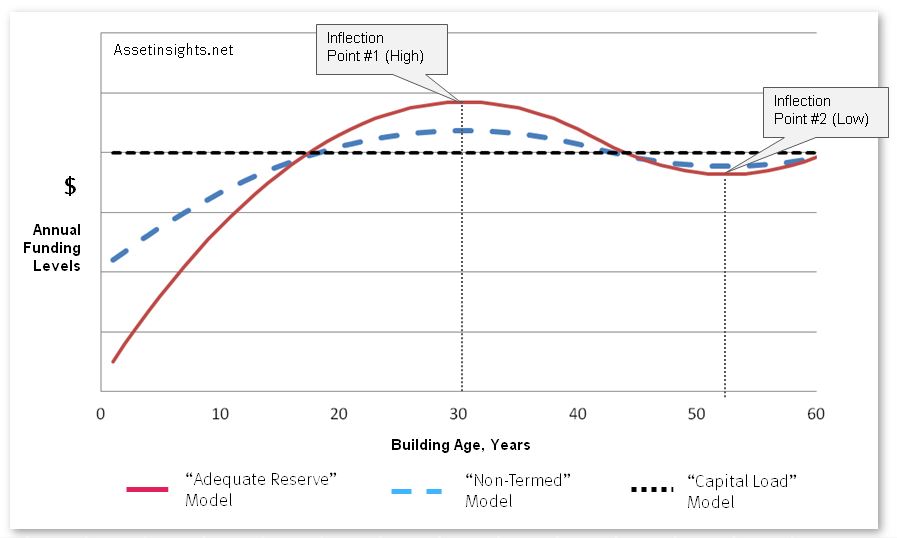 Fig. Funding trajectories and inflection points resulting from three alternative funding methods - "Adequate Reserve", "Capital Load" and "Non-Termed.