Facilities that are governed/operated in the public good rather than motivated by profit.


---
Asset Classes


The municipal sector is comprised of the following nine asset classes:


| | | |
| --- | --- | --- |
| ID | Asset Class | Sample assets |
| 1 | Water | Dams, treatment plants, pump stations, PRVs, hydrants, water meters, etc. |
| 2 | Waste water | Treatment plants, wet wells and pump stations, mains, manholes, cleanouts, etc |
| 3 | Storm water | Retaining walls, dykes, storm mains, catch basins, outfalls, water quality control devices, oil and grit separators, etc. |
| 4 | Transportation | Roads, sidewalks, bridges, culverts, noise walls, street lights, traffic signalling, etc. |
| 5 | Solid Waste | Landfill, transfer stations, recycling stations, etc. |
| 6 | Parks & Rec | Parks, trails, sports fields, etc. |
| 7 | Facilities | Fire, police, recreation, libraries, museums, culture, works yard, etc. |
| 8 | IT | Power systems, storage systems, security systems, servers, telephony, etc. |
| 9 | Fleet & equipment | Vehicles, machinery, etc |
---
Attributes


Municipalities form part of the MUSH Sector (municipalities, universities, school and hospitals)

The MUSH sector operates in the public interest rather than shareholder interest. Cost-benefit analyses are therefore quite different.
LVP Ratios - Linear assets (such as roadways, sewers, etc) are generally treated with higher priority than vertical assets (such as buildings). The former are administered from the engineering department and the latter from the facilities department.
Since the introduction of PSAB 3150 (public sector accounting board of Canada) a few years ago, many municipalities across BC have endeavoured to improve upon their reporting on tangible capital assets. This led to a wave of RFPs across BC starting about six years ago and is still continuing to this day.
PSAB 3150 was driven by the City finance departments and not by the facility management departments. The focus was, therefore, principally on funding trajectories at the facility-level rather than the system-level or major element-level
Municipalities operate with serious budget constraints and each department (parks & recreation, fire, police, etc) compete for these resources based on tactical needs (short-term) rather than strategic needs (long-range)
Many municipalities contain buildings of an older vintage with hazardous materials and grandfathered non-conforming uses.
Deferred maintenance is rampant in many municipal portfolios and condition drift is a perennial headache
The local press and research literature contain many estimations of the huge infrastructure deficit in municipalities across Canada, which is in the order of billions of Dollars
One could argue that responsible stewardship of a civic portfolio would focus on "catch-up" to retire the backlog of deferred maintenance before entertaining the luxury of "get ahead" energy upgrades.
However, energy is real sexy stuff and City councils sometimes get caught up in the buzz. As a result, they sometimes makes decisions on political merit rather than technical merit. For example, I have observed councils approve millions in ECMs when their backlog FCI is in the critical range.
There is always a chasm between the needs of city staff operating in the trenches (who are maintaining the buildings) and the policy/decision makers who approve the budgets.
Many cities have commissioned energy studies only to put the results on hold pending a facility condition assessment (example: DNV and Squamish). Similarly many municipalities have commissioned FCAs and then immediately embarked upon on an energy audit (example: City of New West, Granville Island)
Generally, municipalities do not have a replacement reserve for their facilities, except perhaps in a very limited way for their flagship buildings.
City staff in the facilities departments are generally not sophisticated and only rarely have a CMMS or FMS to assist them. On the other hand, the engineering departments have SCADA for supervision and control of their linear assets across the GIS.
The quality of maintenance varies dramatically across municipal facilities – for example, the animal welfare shelter is operated at a lower standard than the municipal hall
Some municipalities, depending on their union structures, are more autonomous in their maintenance and utilize in house forces with contractors reserved for the bounded assets, such as elevators and fire safety equipment
It is important to recognize the varying degrees of mission critically for the various facilities across the municipal portfolio
Fire halls, police services and municipal hall and the public works yard are always deemed mission critical (level 1)
Recreation centres (particularly natatoriums and ice arenas) and libraries are generally considered mission-dependent (level 2)
Animal welfare, storage sheds, etc are often deemed mission independent (level 3)
Municipalities need help with the prioritization of the deficient conditions on their facilities so that they can make resource allocation decisions. This is particularly challenging since they have an accumulated backlog that requires a major infusion of capital.
City staff in the facilities department always express appreciation for the empirical evidence gathered by an FCA, which provides them with a compelling business case to request additional funding from council and executive.
Municipalities need a holistic understanding of their short-range, mid-range and long-range needs.
They need impartial an unbiased prioritization of deficient conditions and upgrade opportunities based on defensible merits.
They needs a means to reconcile and optimize the balance between their three reinvestment categories of: catch-up, keep-up and get ahead.
They need realistic, pragmatic solutions.
They need key performance indicators (KPIs) to help them benchmark facilities and to track and monitor the changing condition of individual facilities. They need to be able to report on the results of their reinvestment efforts. As they say: "if you cannot measure it you cannot manage it."
Municipalities generally take 18 months to absorb the plethora of data (mostly deficient conditions) articulated in our FCAs. They need this time to align our KPIs to their facility governance and to prepare for the next budget cycle.
Our FCAs have been very helpful in securing additional funding for the facility groups. Unfortunately, the incremental funding increases are generally not sufficient to offset the condition drift in the portfolio.
It is imperative that energy efficiency measures recognizes the realities of civic governance. In my opinion, statements of deemed NPV, NPV*, IRR, etc should include the opportunity cost of keeping the defender asset in service for as long as practicable before upgrading.
The "challenger" asset must justify why it is to replace the "defender" and why that replacement must occur now.
The most common question we get from our civic clients: "Should we build a new facility or continue to reinvest in the current facility?". "What KPIs can inform us to this end?"
---
Management Principles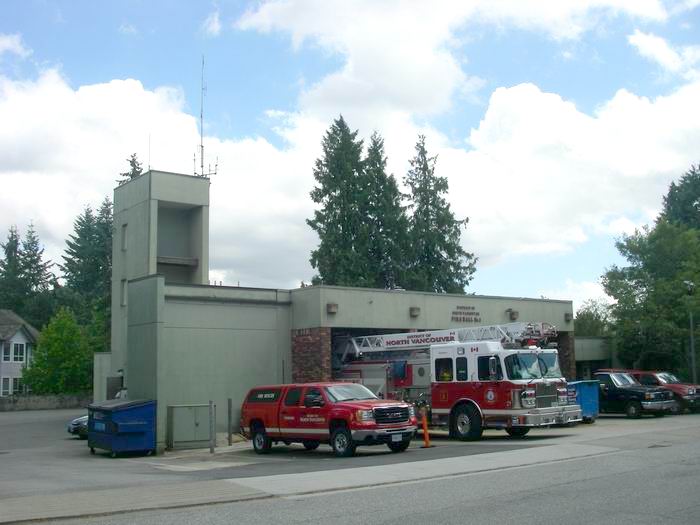 Fig. A fire hall is an example of a municipal facility operating within the MUSH sector.



Fig. Comparison of the L-V-P Ratios across different real estate sectors.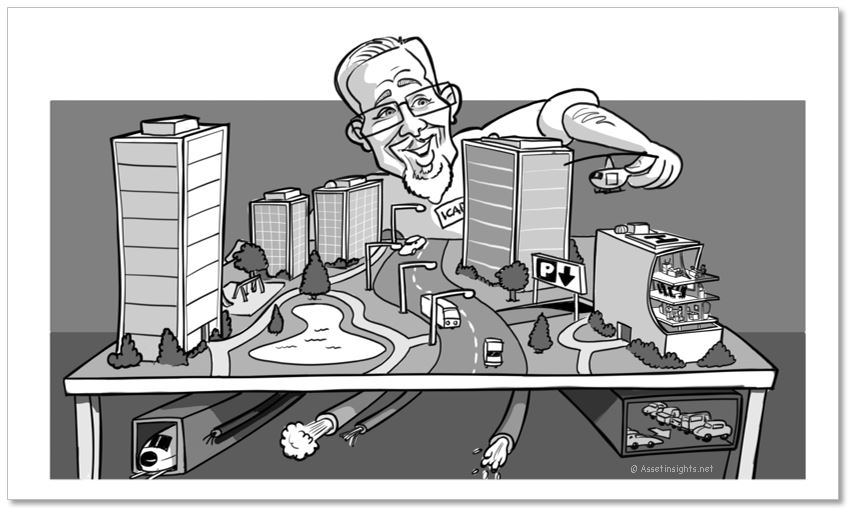 Fig. I. Care trying to integrate the linear assets, vertical assets and portable assets in his portfolio.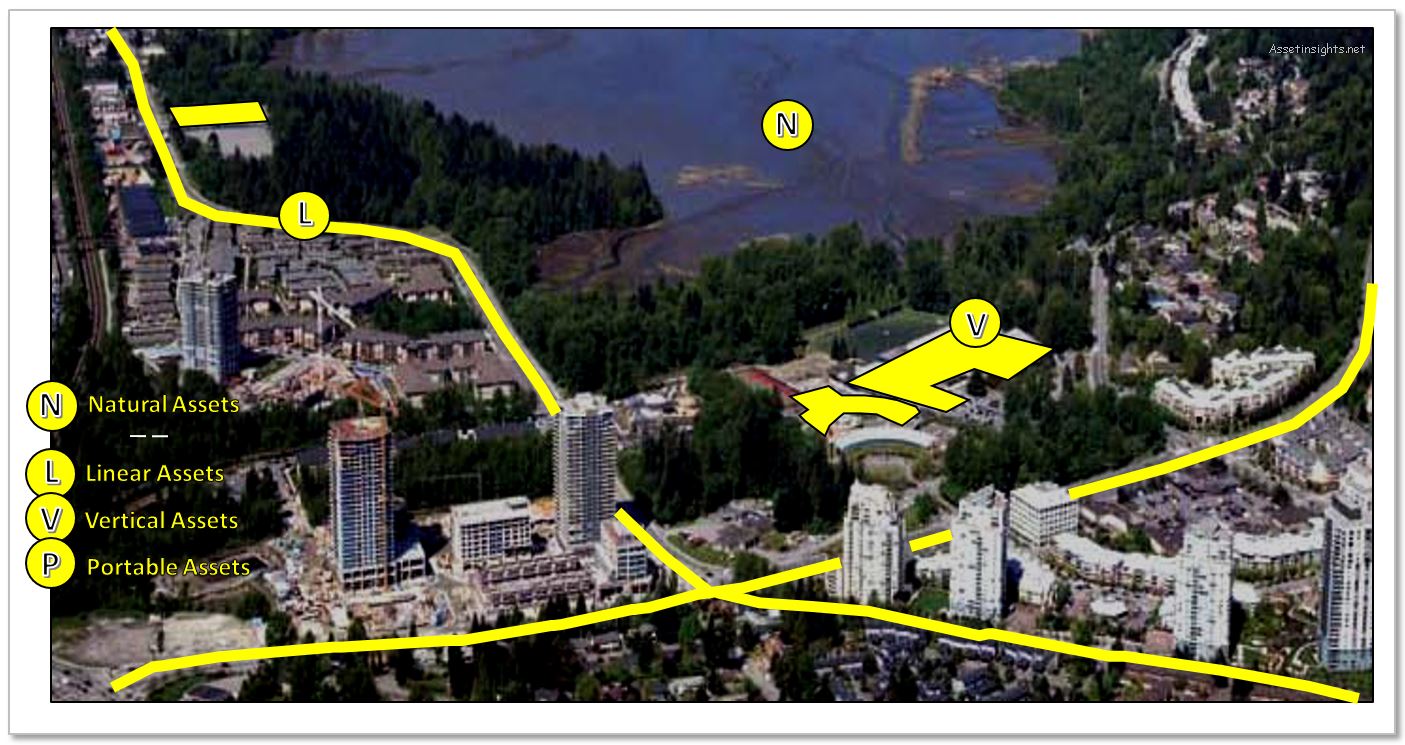 Fig. Natural assets (N) as part of the N-L-V-P asset classification scheme in a municipal setting.