Average FCI

. 16-29%

Customer Service & Response Time

.


Customer Satisfaction.



Maintenance Mix. Reactive maintenance predominates due to systems failing to perform, especially during harsh seasonal peaks. An effort still made at PM: priority to schedule as time and manpower permit. The high number of emergencies (e.g., pump failures, heating and cooling system failures) causes reports to upper administration.

Service Efficiency.

Maintenance activities appear to be somewhat organized, but remain people dependent. Equipment and building components are mostly functional, but suffer occasional breakdowns. Service and maintenance call response times are variable and sporadic, without apparent cause. Buildings and equipment are periodically upgraded to current standards and use, but not enough to control the effects of normal usage and deterioration.

Building Systems Reliability.




Housekeeping.

Casual Inattention: Floors and base moldings shine and/or are bright and clean. There is no buildup in corners or along walls, but there can be up to two days worth of dust, dirt, stains, or streaks. All vertical and horizontal surfaces are clean, but marks, dust, smudges, and fingerprints are noticeable upon close observation. Light all work and fixtures are clean. Washroom and shower fixtures and tile gleam and are odor-free. Supplies are adequate. Trash containers hold only daily waste, are clean and odor-free.
Maintenance Budget as % of CRV.

Fig. Relationship between FCI, funding levels and facility operating standards.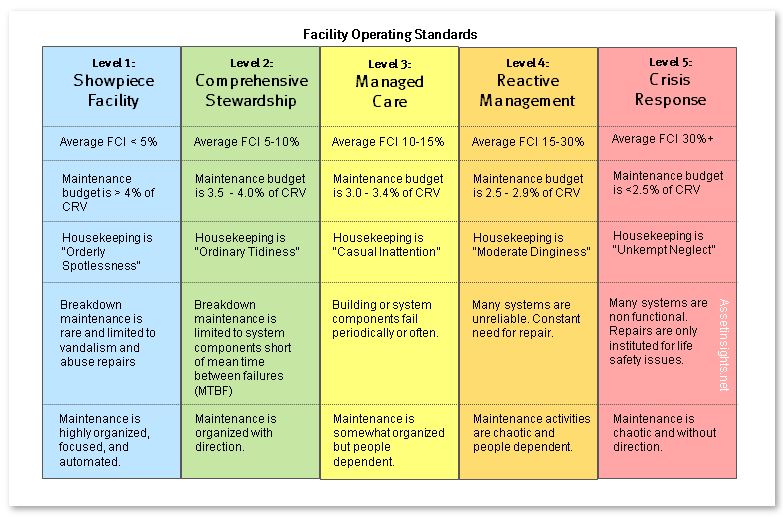 Fig. Summary of the key attributes attached to each of the 5-tiers of the operating standard.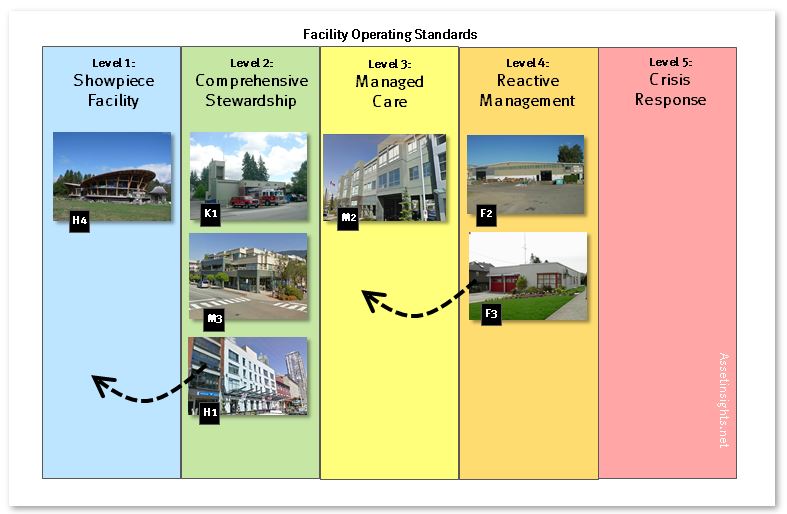 Fig. A sample portfolio of facilities being governed at different levels of the 5-tiered operating standard with plans to move some facilities to a different tier.