Quadrant 1 of the condition-priority matrix that plots the relationship between the condition and priority of assets or facilities.
The horizontal axis is represented by the Facility Condition Index (FCI) and the vertical axis by the Mission Dependency Index (MDI).


---
Attributes


Listed below are some of the key attributes of deemed low-priority facilities that are confirmed, typically through a Facility Condition Asssessment (FCA), to be in relatively good condition.

The FCI is below 5% and the MDI is below 50%.
This is a sub-optimal position for a facility.
Due to the low levels of deferred maintenance, the primary focus of the owners and operators is on the "keep-up" costs associated with normal lifecycle renewal projects rather than catch-up costs. However, there may be no political will to continue to invest in a low priority facility, particularly if there are other more important needs elsewhere.
---
Management Principles


Listed below are some of the asset management principles that can be applied to the ongoing operations of deemed high-priority facilities in relatively poor condition:

These facilities are sometimes considered candidates for transfer or re-designation to other parties.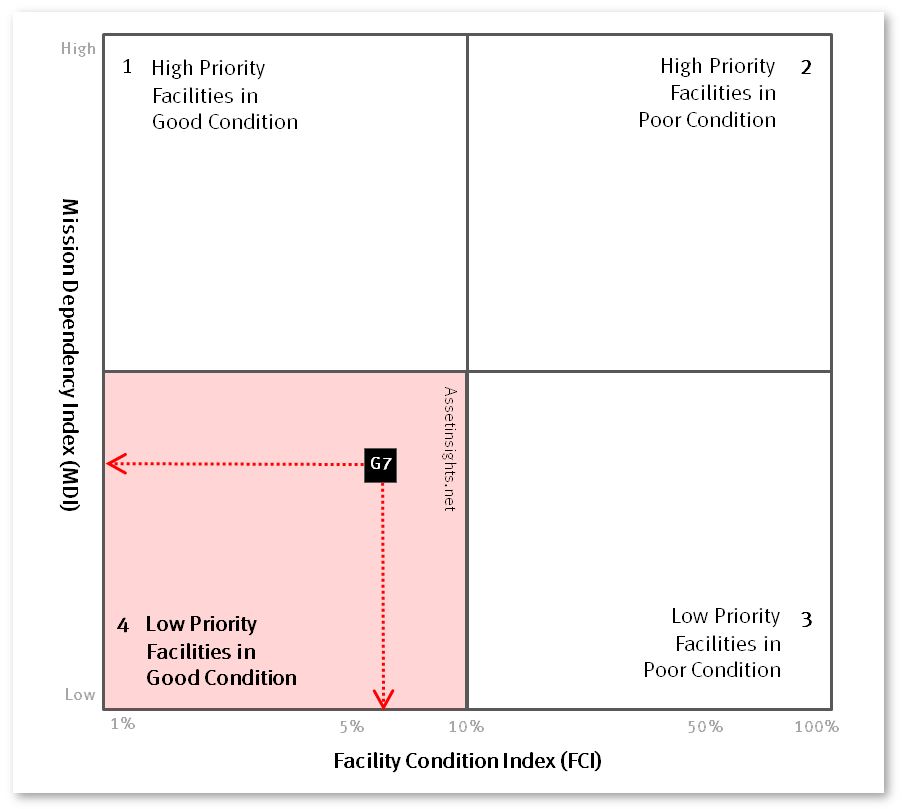 Fig. Condition-Priority matrix indicating the quadrant with low priority facilities in relatively "good" condition.