One of the three types of models to calculate reinvestment rates for maintenance and renewal costs (ie., Keep-up Costs) at different stages in a building's lifecycle.
The life cycle estimation methods depend on breaking down the facility into its various sub-systems in order to establish preventative maintenance or repair frequencies for each sub-system. Common sub-systems include HVAC, roofing and exterior cladding. Through the independent determination of the life cycle of each sub-system, their maintenance requirements can be derived.
---
Examples
Listed below are some examples of life cycle (actuarial) models for establishing facility reinvestment levels:
For example, the industry standards are well established for the useful service life of particular types a low slope roofs in different climate zones. These methods are based on statistical averages for other buildings of similar type and can therefore be considered an actuarial study.
---
Evaluation
The life cycle model requires large amounts of detailed data for each facility. It is therefore facility-dependent and universal simulation applications are not practical.
The method assumes that a detailed facility inventory already exists.

It does not provide a detailed evaluation of the building so it is not useful as a basis for specific project initiation or approval.

It requires knowledge of construction estimating techniques.

It does not account for non life cycle based factors that may accelerate failure of a sub-system, such as neglect through inadequate maintenance, poor installation or extraordinary exposure conditions.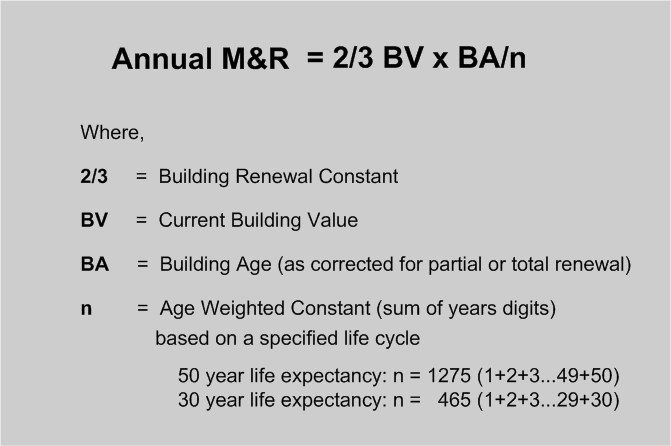 Fig. The Sherman Dergis (1981) formula for estimating facility reinvestment requirements.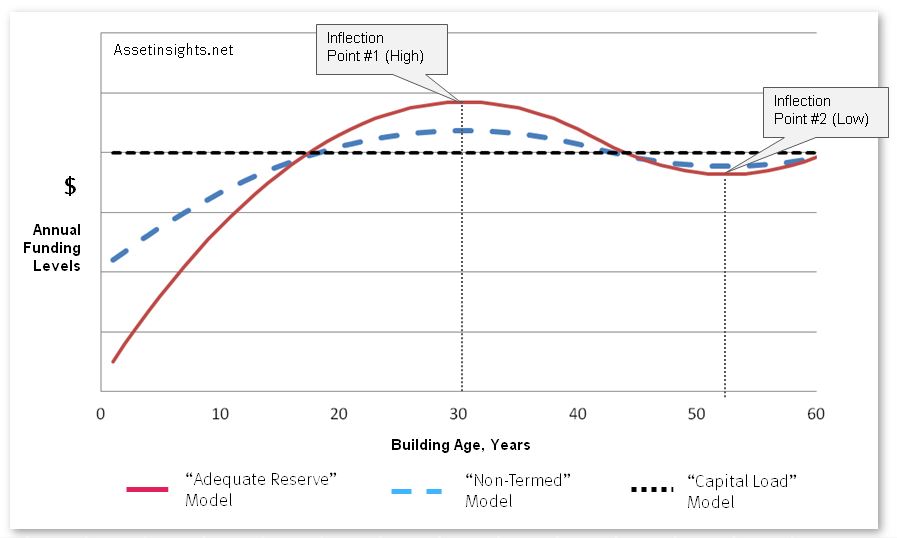 Fig. Lifecycle funding trajectories and inflection points resulting from three alternative funding methods - "Adequate Reserve", "Capital Load" and "Non-Termed.