One of the facets in the context of the organization

Every organization must navigate its unique context, which will vary depending on several factors, including:

The type of organization (eg. services and/or products)
The sector in which the organization operates (eg. MUSH sector, industrial, residential, etc)
The geographical location in which the organization is situated
The jurisdiction in which the organization is located

---
Purpose


An understanding of the legal context is necessary for the organization to determine value and establish appropriate:


---
Elements of the Legal Context
External Political Factor
Labour/Employment laws
Discrimination laws
Environmental laws
Health & safety laws
Consumer Protection laws
etcetera…
Internal Politicial Factors
Contracts with 3rd parties
Lease agreements
Right of way agreements
Easement agreements
Bylaws, rules and regulations
Active warranties on assets
etcetera…
---
Examples of "Knots" in the Legal Context


Listed below are some examples of problems in the legal context of an organization:

Unsafe site conditions
Unidentified risks
Unfavourable contract terms
Escalating lawsuits
Misaligned policies

---
Process and Analysis of the Legal Context


An understanding of the legal context of an organization is derived from:

Amiable Housing Society (AHS)

Strengths

Weaknesses

Opportunities

Threats

Political

· AHS has a poor reputation in the community from an incident that occurred a few years ago

· Four new developments under construction on neighbouring properties

Economic

· The AHS team is well educated and trained



· The reserve fund is low and not adequate for some upcoming projects

· High energy consumption of some assets



· Staff efficiencies/ productivity can be improved

· New energy efficient equipment can be installed to lower gas and electricity costs

· Large capital projects need to be funded over the next few years

· Increased fuel costs are hard on the operating budget

Social

· AHS has well defined job descriptions

· Low motivation of some staff

· Hire a 2nd maintenance manager

· Ageing workforce

Technological

· High speed internet access



· Not all staff is computer savvy

· Direct digital controls on HVAC equipment can be enhanced to reduce operating costs

Legal

· Not all assets covered under service contracts

Environmental





· On site streams and catch basins are not protected

· Neighbouring industry is causing pollutants

3

7

4

4
In the preceding table, the organization has identified three (3) strengths, seven (7) weaknesses, four (4) opportunities and four (4) threats. These need to be converted into a series of goals and policies. The following table provides an example of the relationships between certain goals and policies.
Amiable Housing Society (AHS)

Goals

Policies

Political

To enhance the organization's reputation in the local community.

All contracts shall be reviewed by senior management staff

Economic

To maximize interest income in the organization's reserve fund and to ensure adequate cash flow by purchasing the appropriate investment vehicles

All savings shall be deposited into Guaranteed Investment Certificates (GICs) with maturity timeframes that match the remaining useful life of the assets identified in the capital plan.

Social

To develop a succession plan for senior members of staff who may retire over the next five years."

All new hires shall undergo the safety training program

Technological

To equip all staff with appropriate technology supported by a central database of all the organization's asset records

Legal

To ensure that the organization is not exposed to undue risk and complies with all regulatory authorities

The organization shall only hire suitably qualified maintenance contractors who have been pre-qualified to demonstrate their competence

Environmental

To protect all onsite water sources from pollution from resident's vehicles.

All catch basins shall be inspected annually
---
Legal Goals
These types of goals relate to external factors, such as labour laws and internal factors such as active warranties on some of the assets (eg. new roof with 5-year labour warranty).
---
Tools for the Legal Context


Listed below are some of the tools to assist the asset management team with the management of the legal context: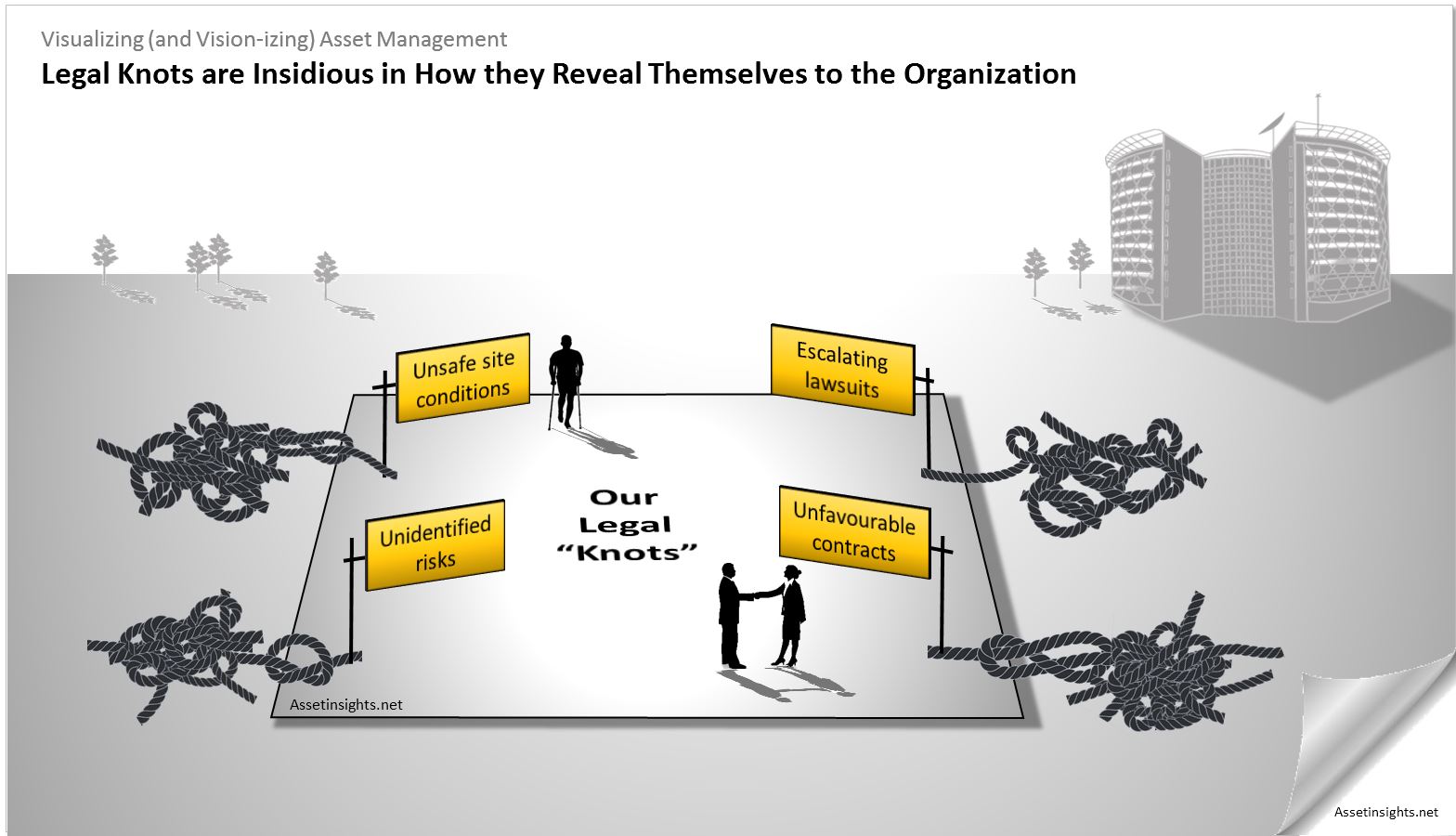 Fig. Some examples of insidious legal "knots" in the context of the organization.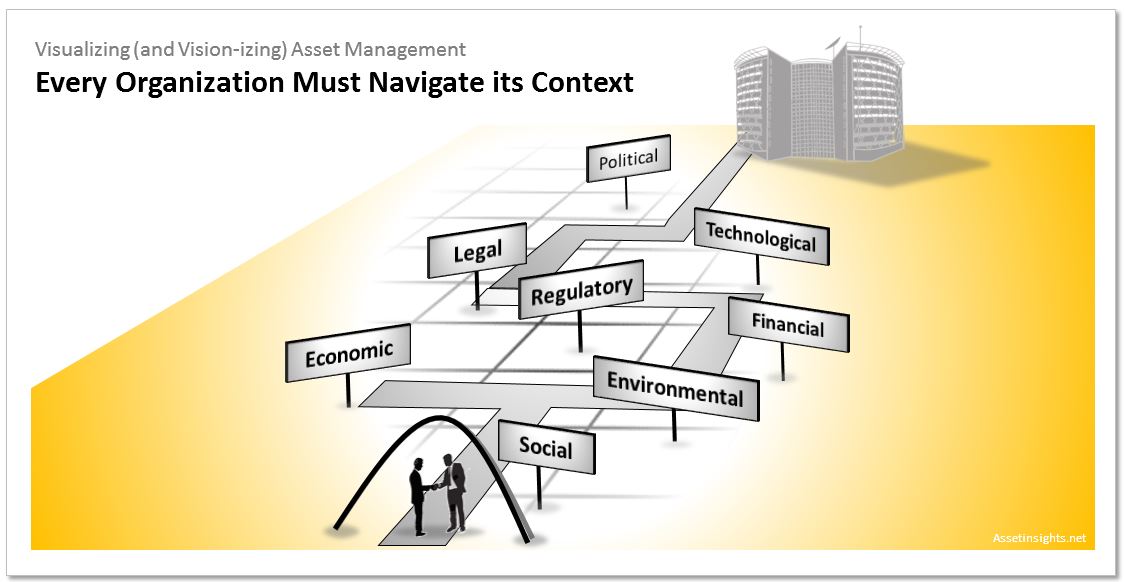 Fig. Every organization is influenced by a multi-faceted context. These facets should be recognized as landmarks that will orient the organization ast it navigates a path along the asset management journey.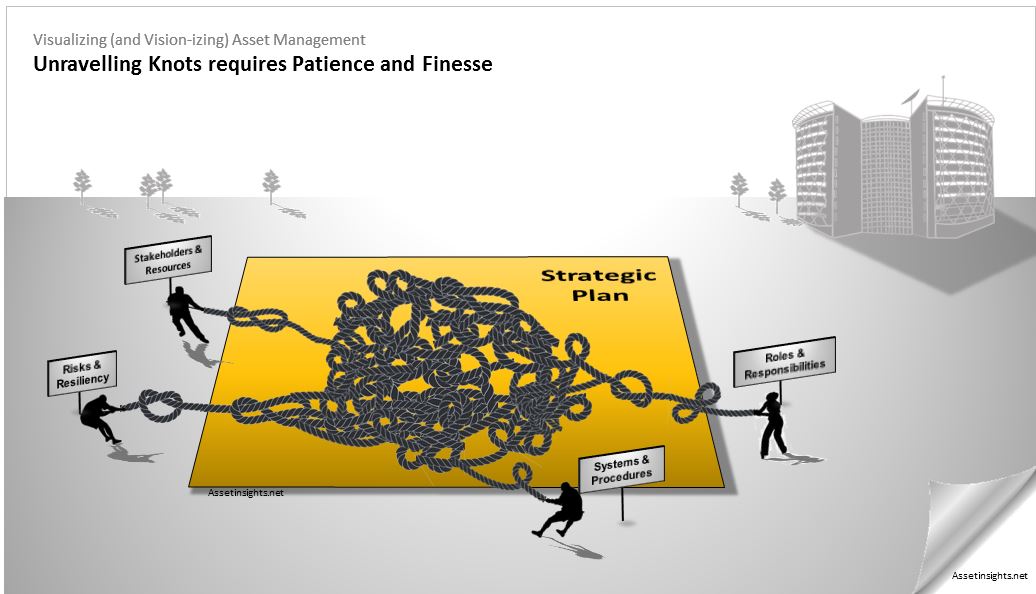 Fig. Organizational "knots" (problems) require patience and finesse to untangle them -- or they will get even tighter.
Do you know how to untangle the knots in your organization?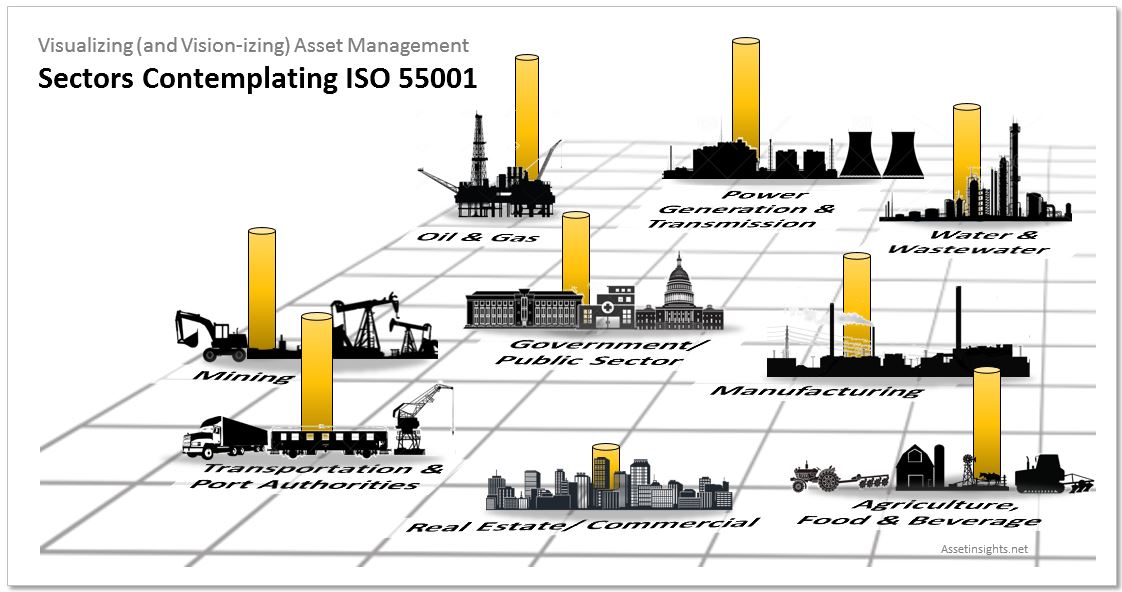 Fig. All sectors of the economy present varied contexts in which organizations operate.
The
primary sector (extraction), secondary sector (production), tertiary sector (service-based) and the quaternary sector (knowledge-based).