A telltale sign that indicates a future condition or financial trends or potential failure ("P") or functional failure ("F") of:
---
Asset Failures

Legend has it that miners would bring a caged canary into the coal mines. Canaries are especially sensitive to certain types of gases, which made them ideal for detecting dangerous gas build-ups. As long as the birds kept singing, the miners knew their air supply was safe. A dead canary signaled an immediate evacuation. Another example of a resourceful practice is the

Bellwether

, which refers to the placement of a bell around the neck of a ram while he leads his flock of sheep over the rolling hills in the misty English countryside. The movements of the flock could be established by hearing the bell from a distance before the flock was in sight. While the "miner's canary" serves to warn of danger, the "shepherd's bellwether" provides a leading indicator of something coming up ahead that we cannot see from our current position.

The singing canary and the ringing bell serve as simple metaphors for a variety of techniques that have been developed by different professions to assist in managing the uncertainties and risks associated with future events.


---
Detection, Monitoring and Measuring of Leading Indicators
Leading indicators are detected through a variety of means, including:

A. Assets

B. Services


Principles for monitoring and measuring

---
Use of Leading indicators
Leading indicators are necessary for the following asset management activities:
A. Assets
B. Services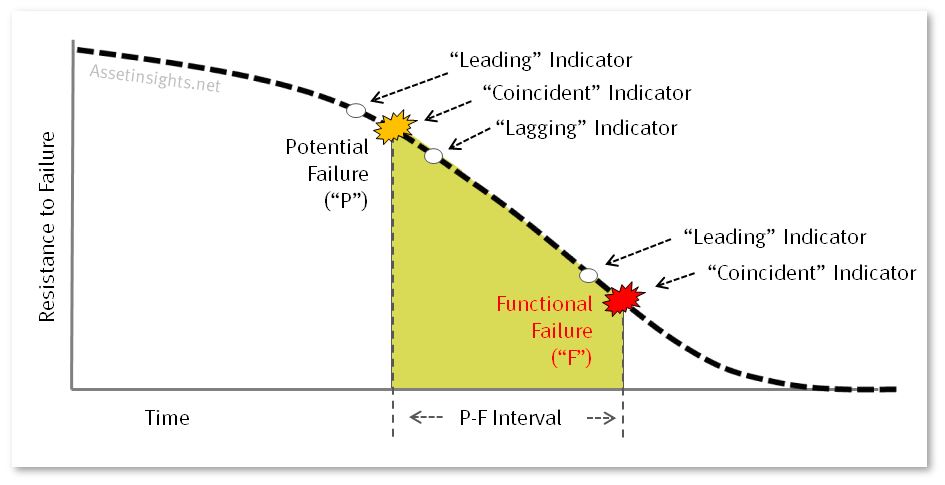 Fig. Leading indicators, lagging indicators and coincident indicators on a PF Curve.



Fig. Predictive maintenance (PdM) technologies to detect leading indicators along the P-F Curve in relation to Potential Failure (P) and Functional Failure (F).