Also referred to as "strong" funding level.
One of three broad funding levels on a spectrum ranging from 0-100%. It is a relative measure the financial strength of the reserve fund when compared to the capital load funding requirements over the planning horizon.
---
Attributes

Generally a good funding level is considered when the percent funded balance is between

71% and 100%

. While 100% is ideal, a reserve fund above the 70% level should be considered strong because cash flow problems are rare.

At this high-end level the owners can enjoy the following benefits:

This funding level is typically represented in a threshold funding model.



---
Management Principles


The owners and their asset management team should ensure that the good funding level is maintained over the life of the building.


Fig. Funding spectrum indicating good/strong funding in the green portion of the spectrum.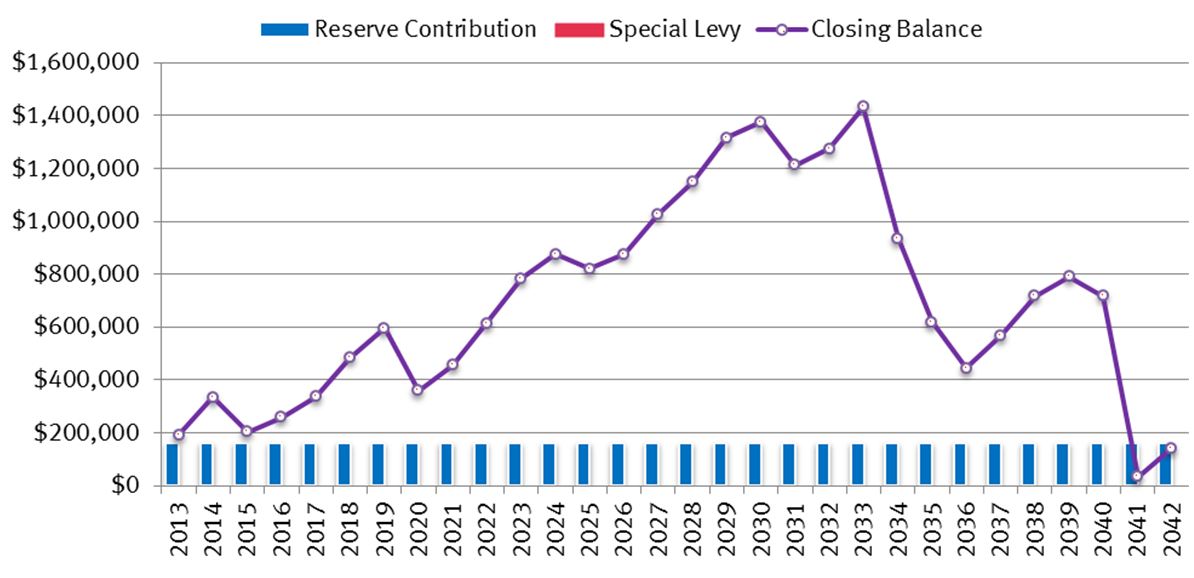 Fig. Positive cashflow maintained over 30 years as a result of a good/strong funding level.




Fig. Comparison of funding levels at four alternative buildings, labeled A through D, where Building "C" is considered to be in the good range.

---
See also:




Compare with

:

Related Concepts:



---

Fig. I. Care is trying to ensure that inflows match outflows, but this requires agreement on long-range stewardship, cooperation and teamwork.



Fig. Is "I. Care" is trying to raise funding levels, but this may be faster than the owners can sustain.