Also sometimes called "Complete Failure" but this is not ideal as a functional failure can sometimes precede complete failure.

When the density of deficiencies has exceeded a reasonably acceptable level and the assembly as a whole is now Beyond Economic Repair (BER).

The failure of an asset at some point after potential failure ("P") has occurred.

Functional failure is sometimes also referred to as end-of-life year.


---
Attributes and Consequences:


Listed below are some of the attributes of functional failure of an asset necessitates renewal.
Irrepairable

- At this point, it is not practical or legal or cost effective to attempt maintenance or repairs.

Unmaintainable

- The asset can no longer be maintained - is it unmaintainable.


Collateral Damage

- Collateral damage may have occurred to other assets.
The owner is in a reactive management mode.

---
Examples of "F" Relative to the Forces of Retirement:
Expiration of funding thorough a product incentive product ("F" relative to economic obsolescence).
The deadline included in a safety order from an authority having jurisdiction ("F" in a case of legal obsolescence).
The loss of insurance coverage due to the degradation or recall of an asset. See also: risk management.

---
Examples and Defined Points:


Listed below are the functional failure milestone points under each of the six primary replacement driver scenarios, which are ranked in order of precedence:
In some cases, when safety is a concern, the functional failure may not be the actual failure point but a predetermined point that should not be exceeded due to the risk involved.


---
Anticipating and Measuring "F"

:
Listed below are some of the tools and techniques available to the asset manager in anticipating and preparing for functional failure of assets: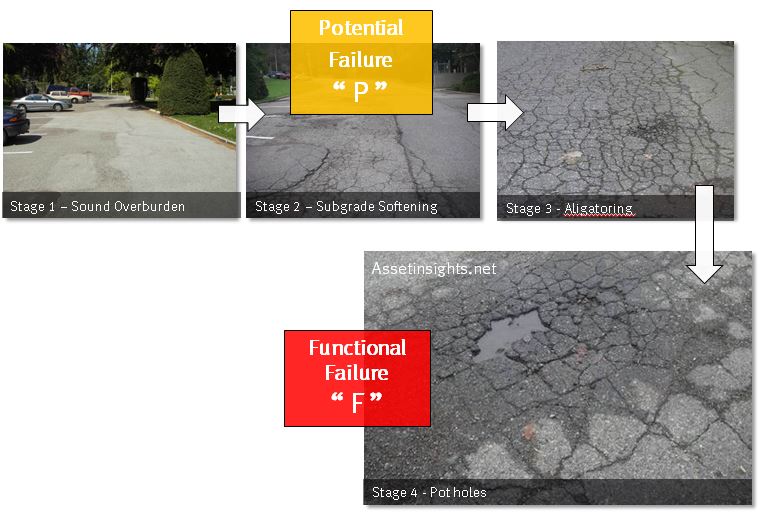 Fig. An example of the progression from potential failure ("P") to functional failure ("F") along the P-F interval.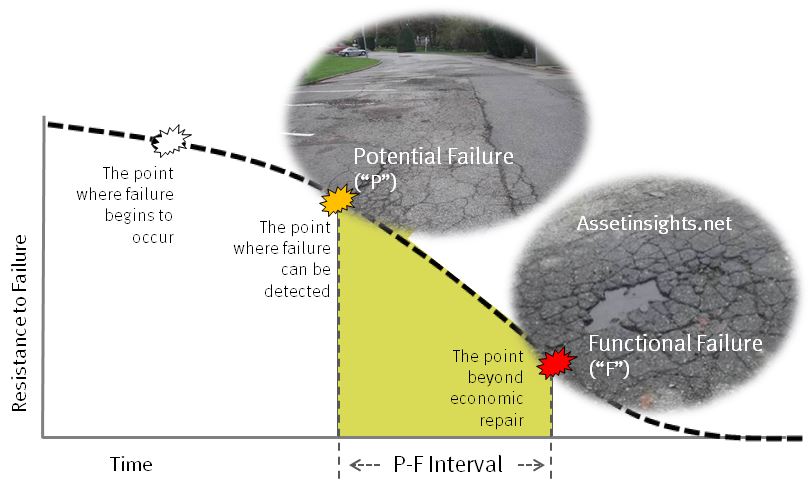 Fig. The P-F interval illustrated with asphalt paving along the curve.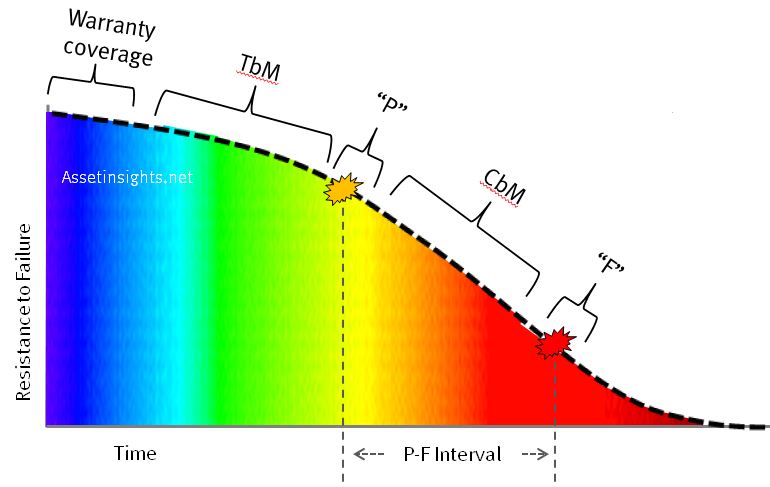 Fig. The risk spectrum extending along the P-F interval.



Fig. Decisions should consider the whole life of assets, including the I-P interval and the P-F interval.
Fig. Predictive maintenance (PdM) technologies along the P-F Curve in relation to Potential Failure (P) and Functional Failure (F).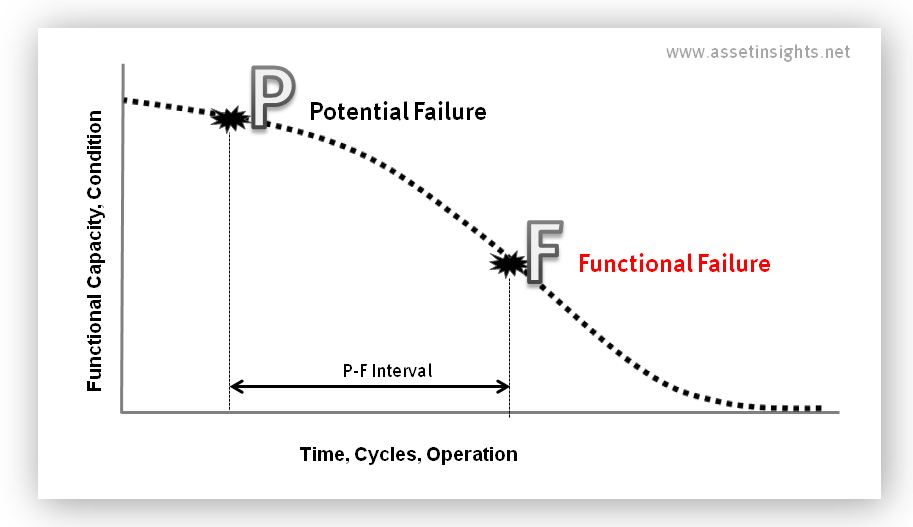 Fig. The conceptual relationship between Functional Failure (F) and Potential Failure (P) on a P-F curve.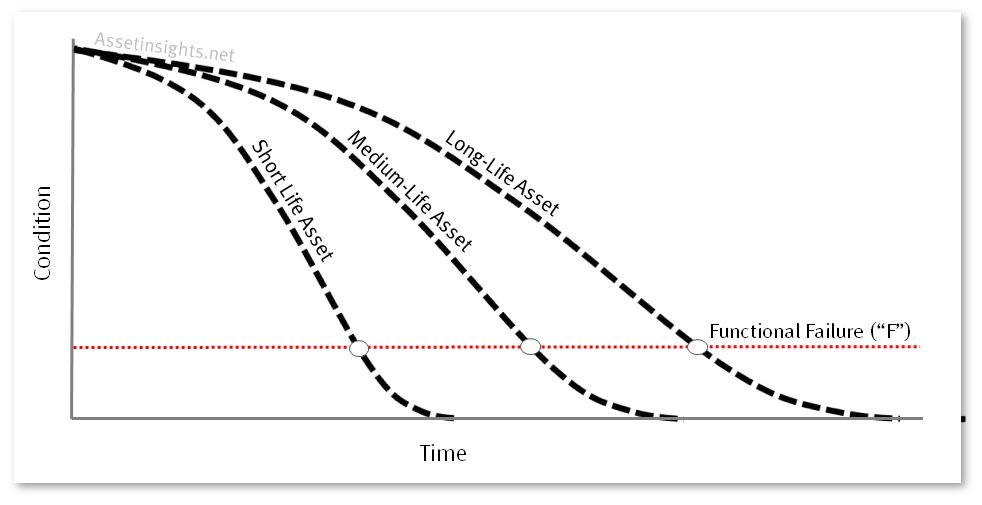 Fig. Conceptual representation of short-life assets, medium-life assets and long-life assets relative to their respective points of functional failure.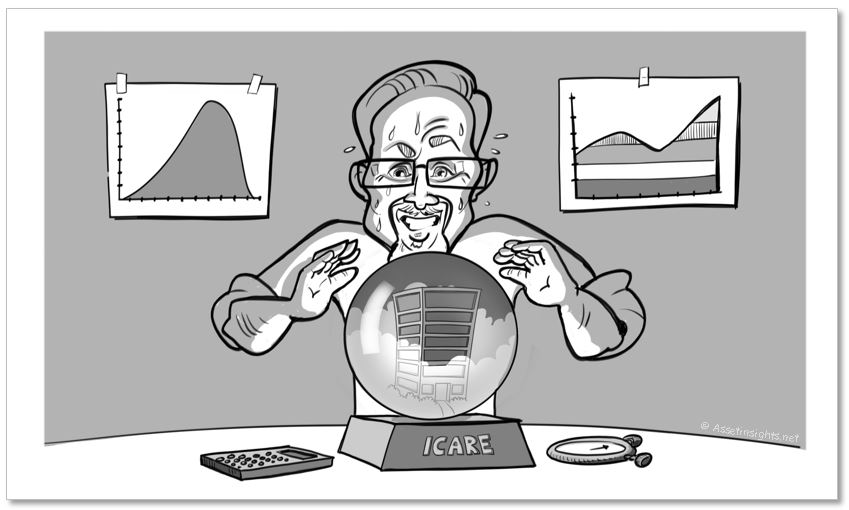 Fig. I. Care is trying to use a crystal ball to make forecasts about the deterioration of his assets.