Typically, all facilities of a facility class, follow a similar pattern whereby operating costs and the need for significant capital renewals and adaptations changes as the facility ages.



---
Life Stages


In this model, five broad facility life cycle stages have been identified.
condition of each facility will vary.

Various models have been developed to estimate maintenance and renewal costs at different stages in the lifecycle of a building:

---
Funding Over the 5 Life Stages


The five life-stages together represent one life-cycle of a building. The team expects that most buildings will continue to operate through multiple life-cycles. The necessary and sufficient maintenance during the first life-cycle (years 1-50) will prepare the owners for the 2nd life-cycle (years 51-100).

Each 50-year life-cycle of a building is represented by a pattern of funding over that life-cycle which increases to a high point (inflection year #1) and then decreases to a low point (inflection year #2). The first high-point inflection on the curve indicates the increasing funding requirements to enable the owners to effectively complete the most significant projects, within life-stage 4 (years 31-50). As the owners move beyond life-stage 4, funding requirements are lower and the 2nd life-cycle commences (years 51-100), albeit at a higher level that includes escalation.




Introduction

In this bulleting we look at what happens to buildings during different stages in their lifecycle, which sets the stage for the long-range planning and budgeting process Every building is unique. The need for maintenance, repairs and asset renewals varies depending on many factors, including: the quality of construction, design details, exposure conditions and the standard of care given by the owners and their property management team.

Notwithstanding the differences between individual buildings, it has been determined that many buildings follow a similar pattern as they pass through different stages in their respective lifecycles. In this regard, five general lifecycle stages have been identified and, using the analogy of the human body, they are summarized conceptually in the figure below.

Although these lifecycle stages are generalizations they enable owners to anticipate future capital renewal requirements and to make informed decisions about budgeting and other resources for maintenance, repairs and asset renewals.

From the figure we see that maintenance costs are generally consistent over the life a building; however, asset renewal expenditures vary dramatically at different times, particularly during lifecycles stage 3 and 4. The requirements for effective stewardship of the building are similar for all types of property, whether it is a high-rise building, low-rise building or townhouse complex. We can categorize the life cycle stages as follows:
---
Managing the Lifecycle Stages
There are two tools that are most valuable to help the owners manage the asset during each of the five life cycle stages. These are: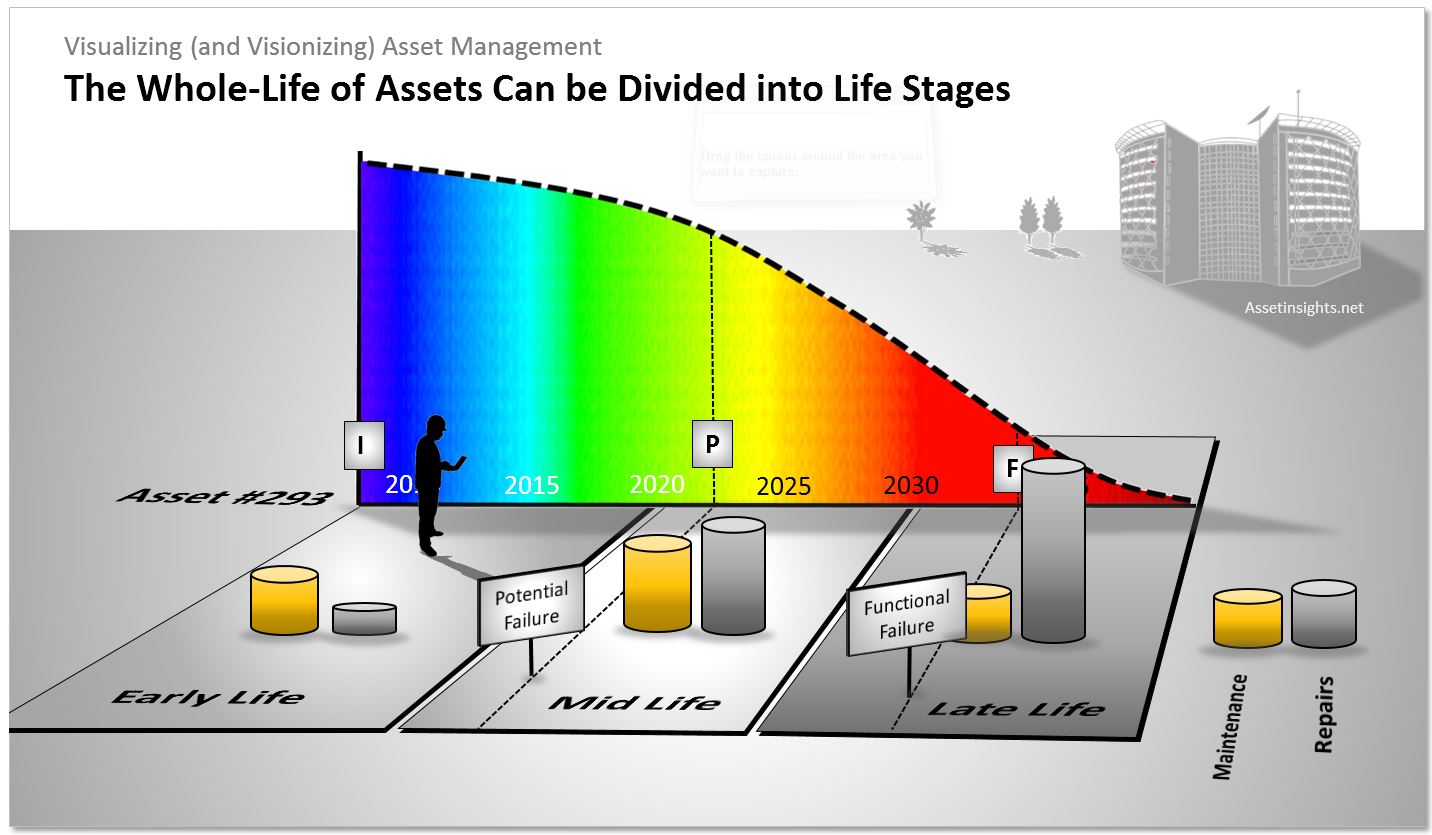 Fig. The whole life of assets can be divided into life stages.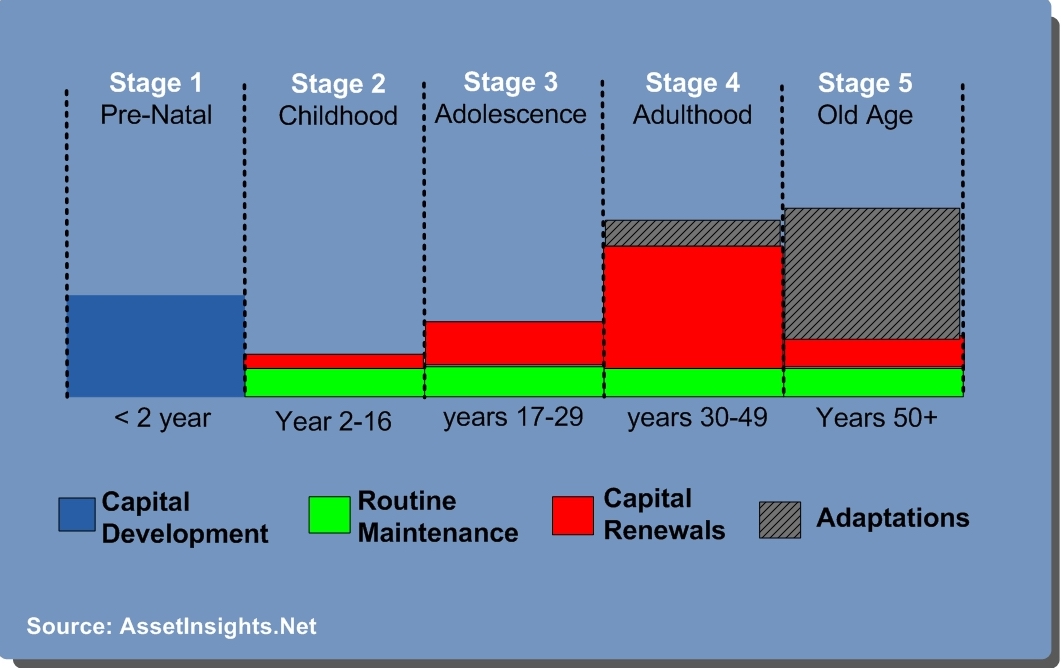 Fig. Model indicating five life-cycle stages.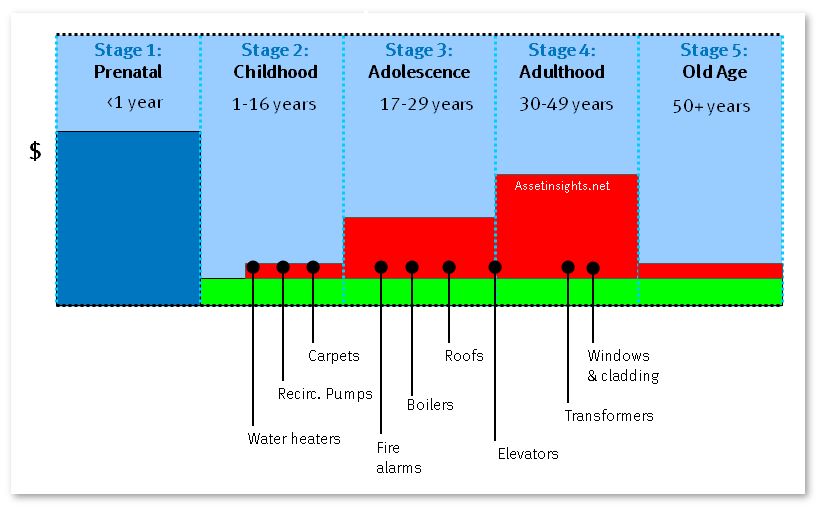 Fig. Examples of some types of projects that are considered normal during each of the lifecycle stages.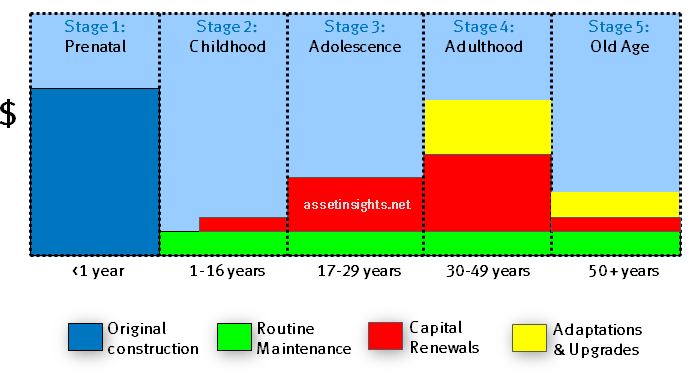 Fig. Lifecycle model to indicate the stage at which functional obsolescence ("yellow") is most prevalent.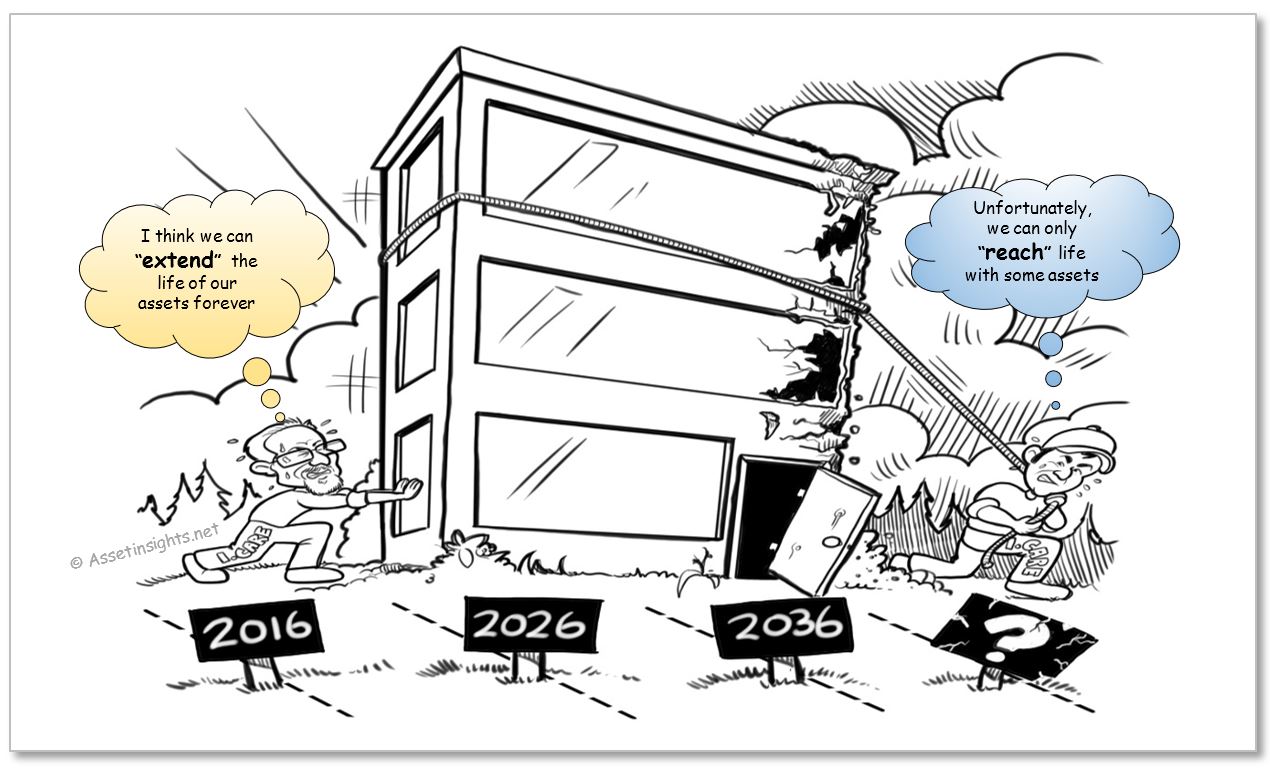 Fig. Our cartoon character ("I. Care") is debating whether we can only "reach" life or, in some cases, "extend" the service life of assets and facilities.

Fig. The impact of premature failure on the facility lifecycle model. A project that should normally occur in the adulthood life stage occurs in the childhood or adolescence life stage.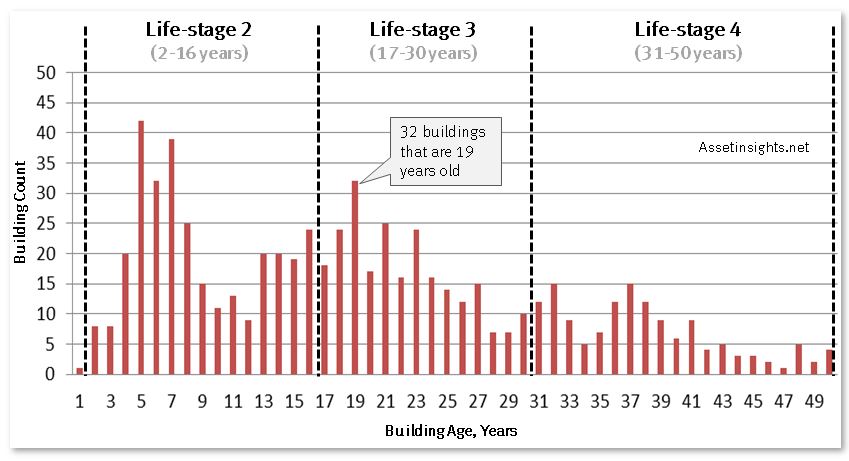 Fig. Age cohorts across four life stages.


Fig. YouTube Video



Fig. BS-7543 Life Standard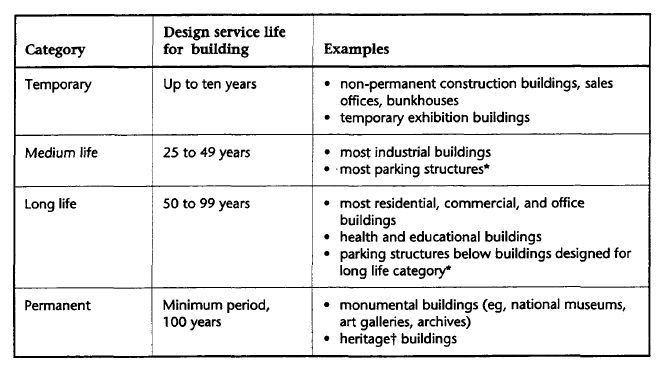 Fig. CSA-1986 Life Standard.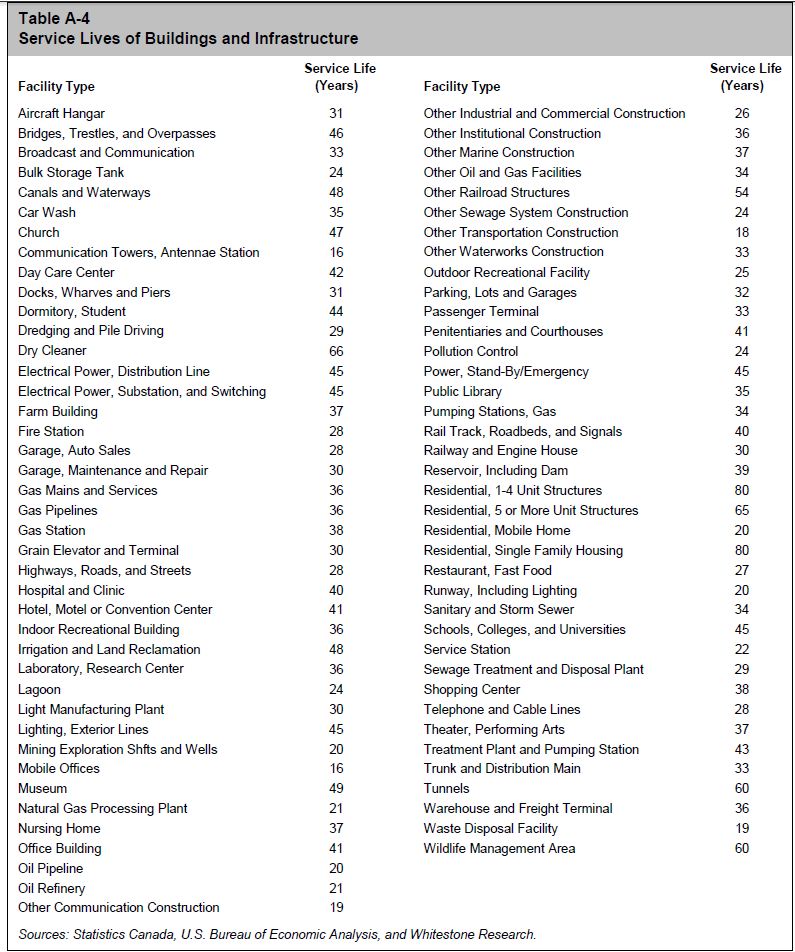 Fig. Life by facility class.