Culture of the Organization is identified as one of the 39 subject areas (facets) of Asset Management as defined by the IAM and GFMAM.
---
Definition

A system of shared assumptions, values, and beliefs, which governs (have a strong influence) on how people behave in the organization. It expressed itself in how people dress, act, and perform their jobs.



---
Elements of Culture


Listed below are some of the key artefacts of the culture of an organization:
Beliefs
Attitutudes
Habits
Perceptions
---
Type of Cultures


Listed below are some examples of different types of organizational cultures

Formal vs. informal
Transparent vs. opaque
Short-sighted vs. long-sighted
Optimistic vs. pessmistic

Risk averse vs. risk tolerant
The trade-offs between the opposing forces.
Culture manifests in how the organization perceives:

---
Challenges with Culture


Listed below are some of the key challenges emerging from or facing the culture:

Resistance to change
Lack of staff/team motivation
Perceptions
Subjectivity
Favouratism
Power struggles

etcetera

---
Artefacts of Culture
Listed below are some of the key artefacts of the culture of an organization:
Corporate branding (logo, slogan, etc)
Dress code
Communication style
Mission, vision and values statement

---
Quotations
Included below are some quotes on culture to illustrate the nuance at play:
"Culture eats strategy for breakfast" - Peter Drucker
"A good strategy invites culture for breakfast" - Judie Phillips
---
Management Principles


Listed below are some of the management principles associated with organizational structure


Just as organizational structures contain a variety of vertical and horizontal elements, so too do organizational cultures contain many mixtures and compounds. Several studies have been conducted by psychologists, sociologists and management consultants to develop methods that classify different types of cultures. We are familiar with the difficulties associated with personality tests that attempt to capture the many nuances of human personality, such as extroverted. vs. introverted, arrogant vs. shy.

Listed below are seven cultural dimensions that can be used to develop a cultural profile of an organization. Each of these dimensions represents a spectrum extending between two polar opposite positions.
Formal vs. Informal

– Formality in organizations manifests in many ways. For example, a formal culture may require staff to wear suit and tie, whereas an informal one may deem it appropriate for staff to wear jeans to the office. With regards to O&M, a formal culture may require staff to fill out rigorous maintenance logbooks whereas an informal culture may not require staff to document any of their activities.

Proactive vs. Reactive

– A proactive culture is one in which the organization endeavours to anticipate and act before problems arise.

A reactive culture may simply wait for problems to arise because the organization is either ignorant or apathetic.

With regards to O&M a proactive culture will be willing to spend money on maintenance in order to avoid certain repair costs [Refer to FOAM 103 for a discussion on the MRR Ratio.)

Short-sighted vs. Long-sighted

– A short-sighted organizational culture is focused on the immediate needs of a building without due consideration for long-range issues and future events over the strategic planning horizon. On the other hand, a long-sighted culture tends to think strategically about issues facing the organization but may do so without adequate attention to current issues.

Transparent (Extroverted) vs. Opaque (Introverted)

– A transparent culture places high value on communication and openness between the different levels (vertical) and divisions (horizontal) of the organization. An opaque culture is exhibited when different functional units are unwilling to share information with one another. With regards to O&M, opacity can result is some members of the organization refusing to share their knowledge with one another.

Optimistic vs. Pessimistic

– An optimistic culture assumes that the best possible outcomes of any event or course of action will occur. This dimension of culture can be considered similar to the "glass is half full or half empty" syndrome. With regards to O&M, it is important for the team to be realistic about the future.

Risk Tolerant vs. Risk Averse

– A risk-tolerant culture does not concern itself with the negative consequences of its actions. On the other hand, a risk averse culture may be too cautious about making decisions. This dimension of culture may be best understood by the trade-off between "look before you leap" or "paralysis through analysis".

Strong vs. Weak

- Strong culture is said to exist where staff consider themselves to be aligned to organizational values.

Conversely, there is weak culture where there is little alignment with organizational values and control must be exercised through extensive procedures and bureaucracy.
Every organization will occupy a position along each of these spectrums and that position will change over time depending on factors such as the people within the organization and the challenges facing the organization.
The following figure provides a conceptual illustration of the leadership team considering the different dimensions that make up the culture of their organization.
---
Culture vs. Structure
Sometimes the structure dominates the culture and sometimes the culture dominates the structure. Ideally, both culture and structure should be managed holistically.
There is a well known quote from Peter Drucker that says "Culture eats strategy for breakfast". What this means is that some of the best O&M plans can be defeated if the organization is not ready to adopt the plan. It is a waste of time to attempt to force a plan onto an organization if the organization has strong cultural values that are at odds with the plan.
The O&M team needs to understand the difference between the structure and culture as these aspects of the organization can have a major influence on success or failure.
There are ptions for making changes to structures and cultures of an organization and reveal how O&M strategy should always invite culture to sit down for breakfast.
---
Self Assessment
Ask yourself the following questions:
Do I align with my organization's culture or does it feel foreign to me?

Has my organization's culture changed over the years?

Does my organization have a structure that matches the culture?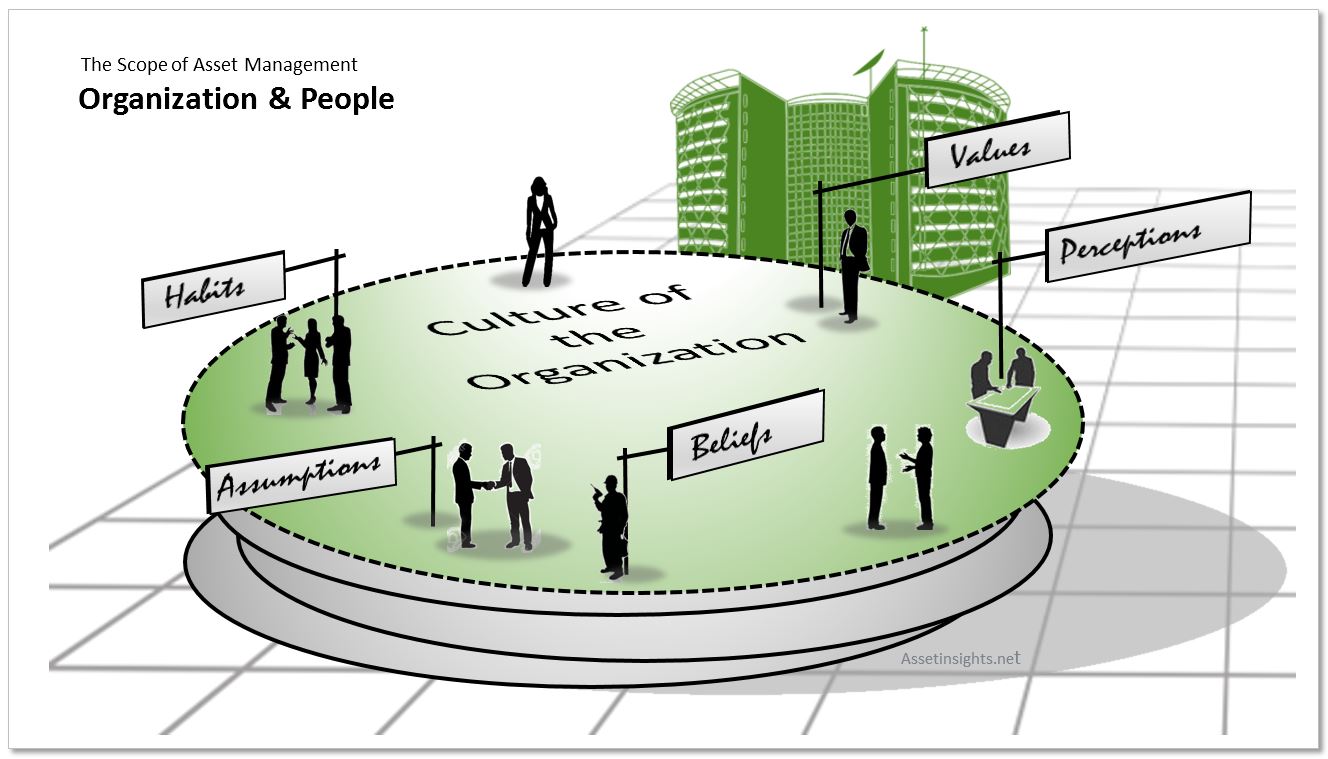 Fig. Some of the key elements that underpin the culture of an organization

.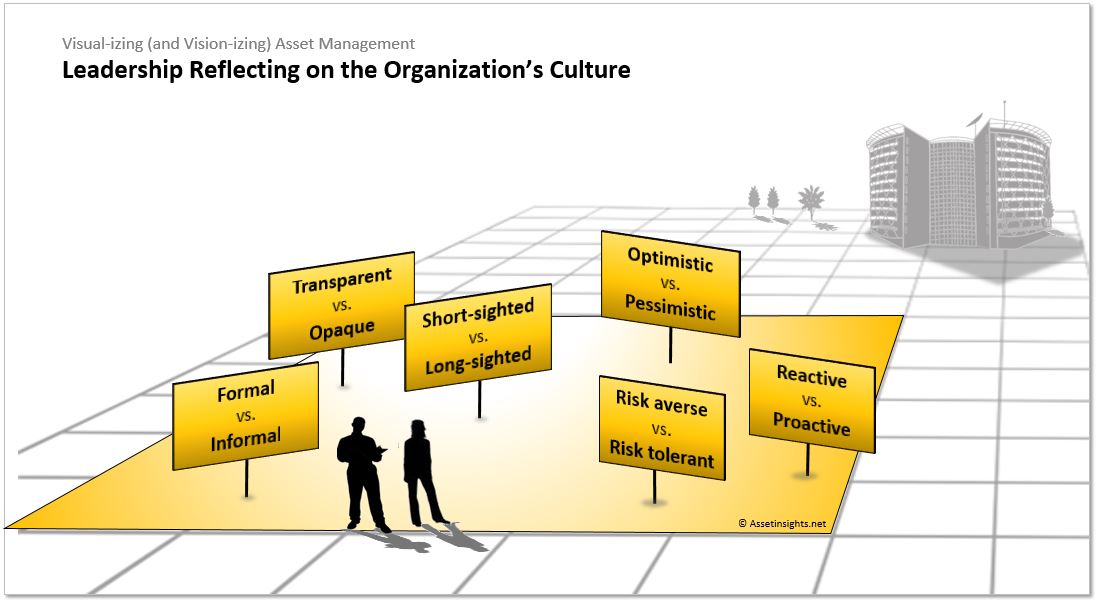 Fig. Leadership reflecting on the different manifestations of the organization's culture.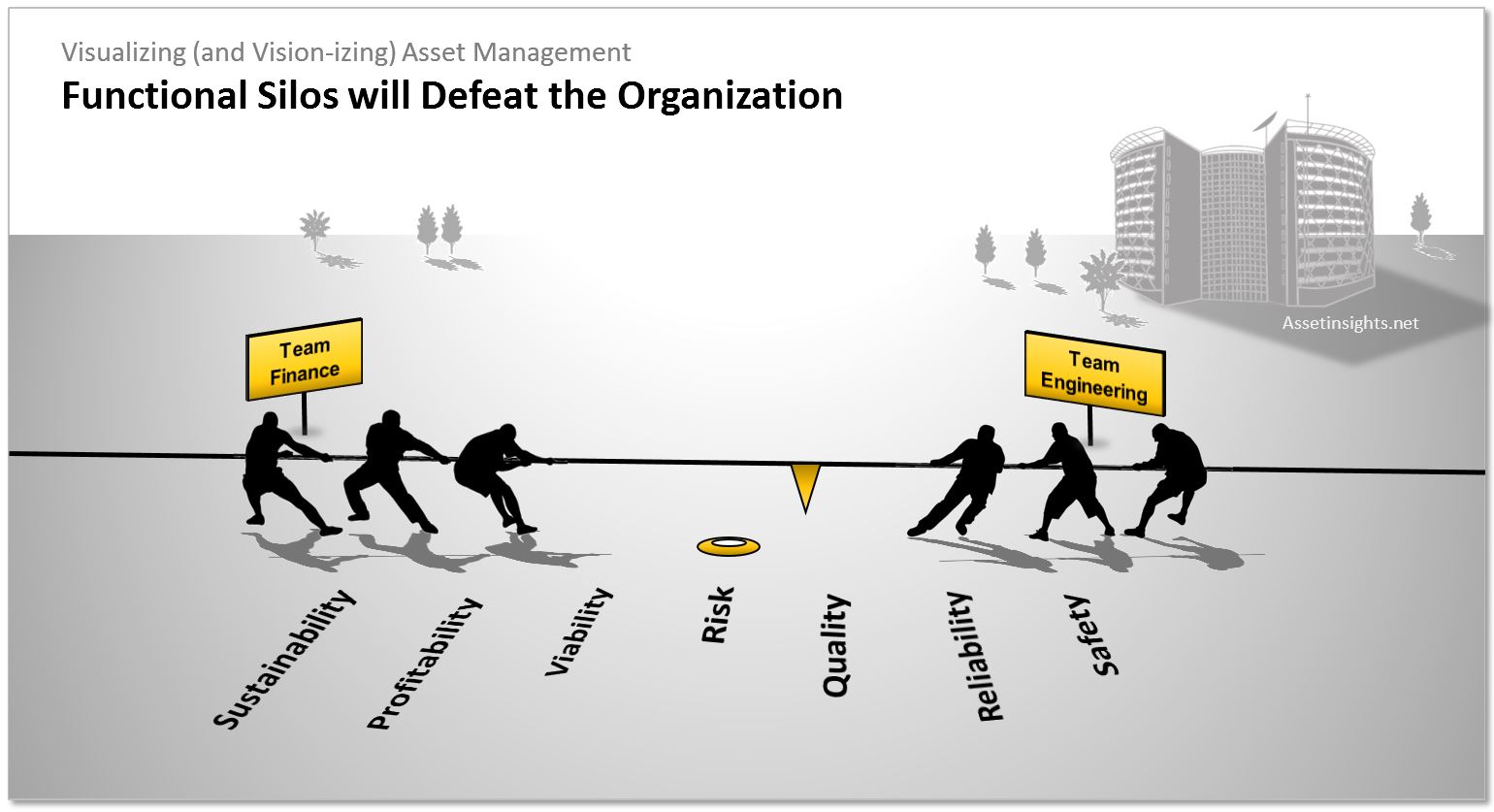 Fig. Functional silos will defeat the organization. Instead: integration, collaboration and alignment are some of the critical success factors.
Fig. Subjectivity and bias always play a role when people are involved in decision-making.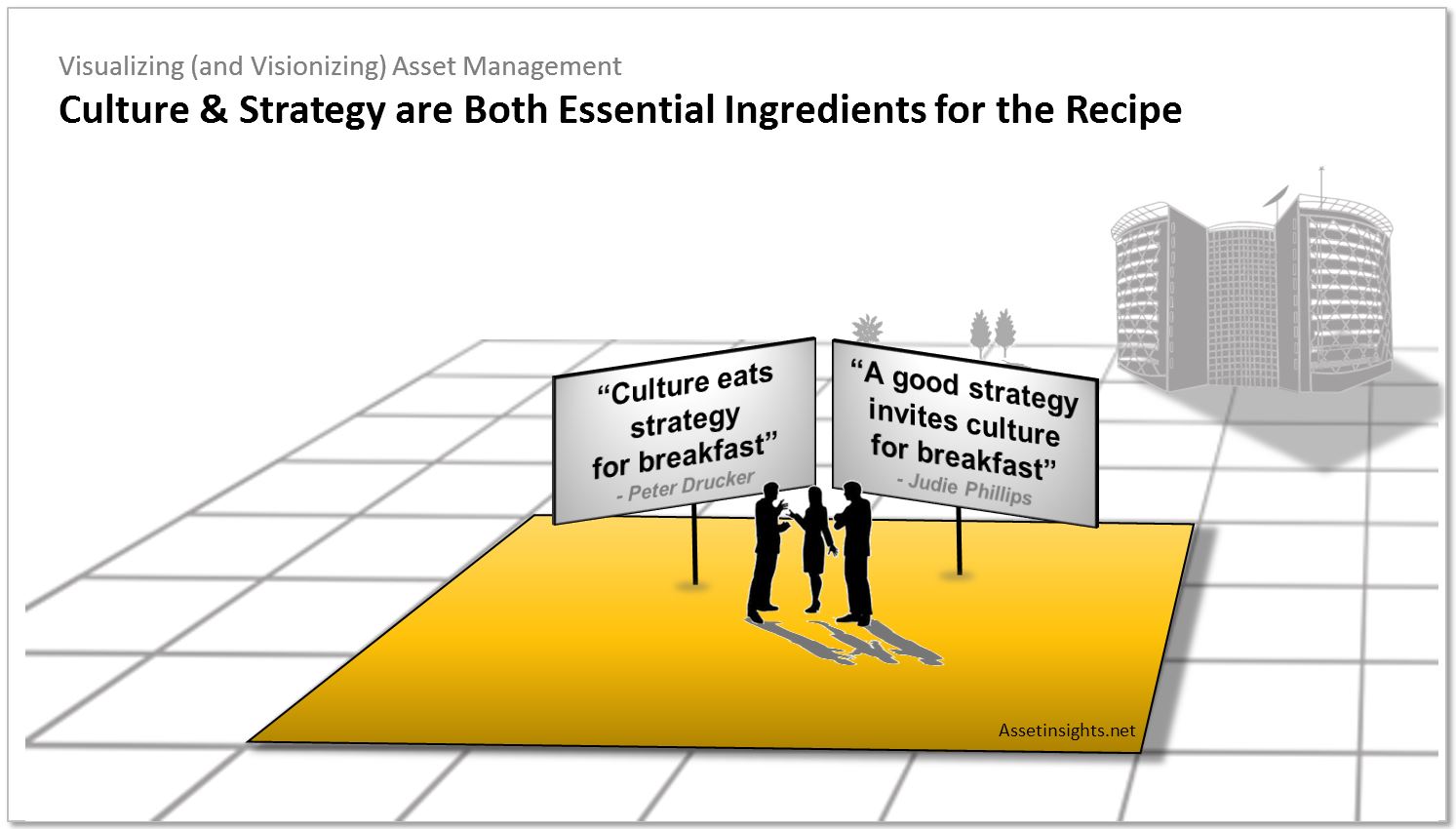 Fig. Asset management is hard work and requires sustenance.
Culture and strategy are two essential ingredients of the asset management recipe.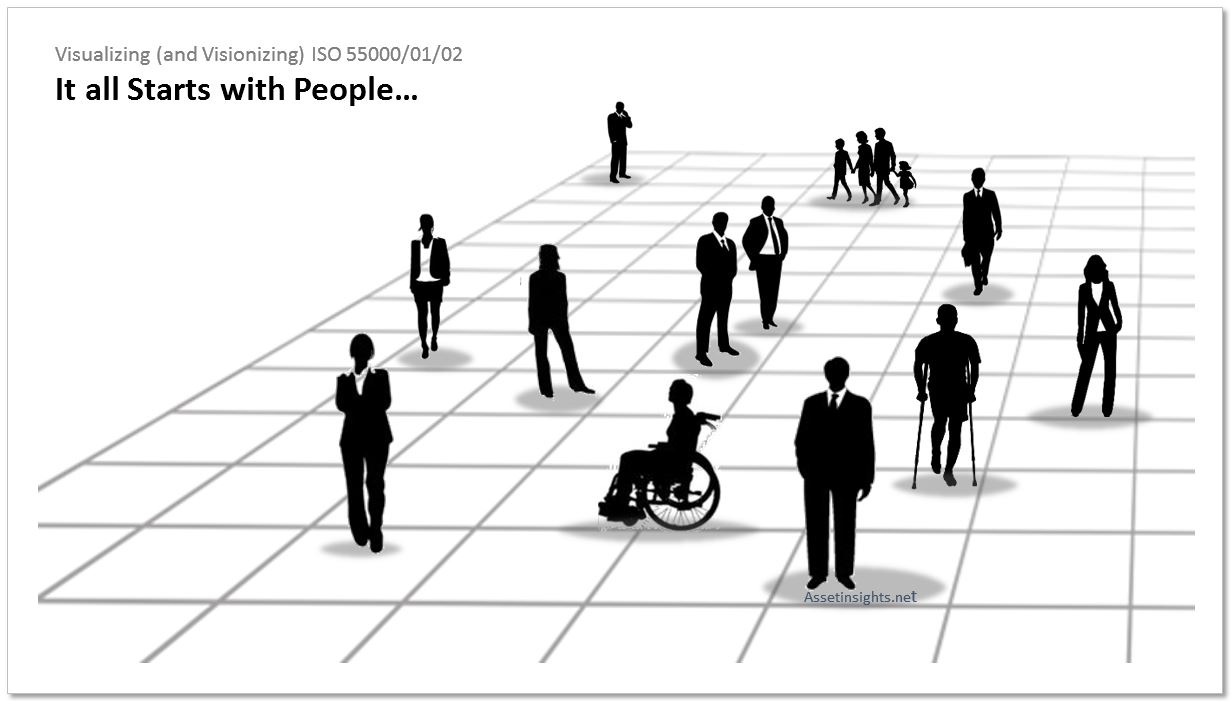 Fig. It all starts with people.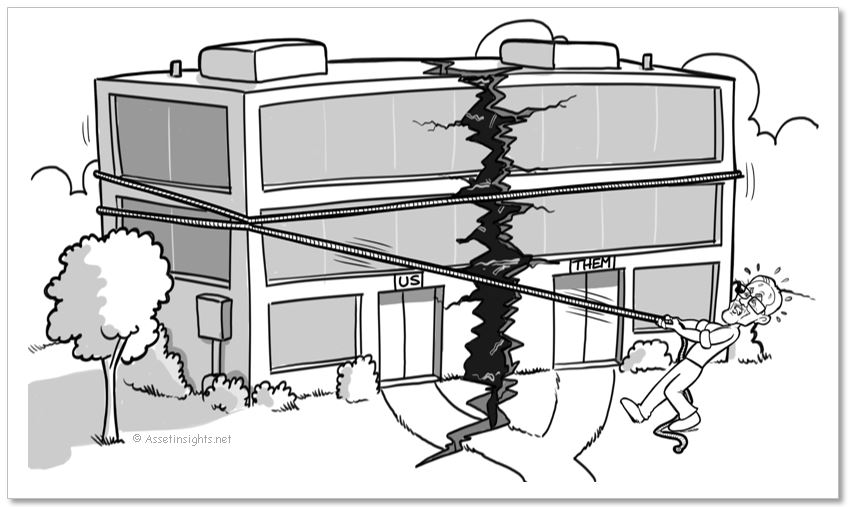 Fig. I. Care is reconciling the conflicting opinions and interests of the different owners and stakeholders, including positions that are dichotomized as: reactive vs. proactive; optimistic vs. pessimistic; short-sighted vs. long-sighted; etc.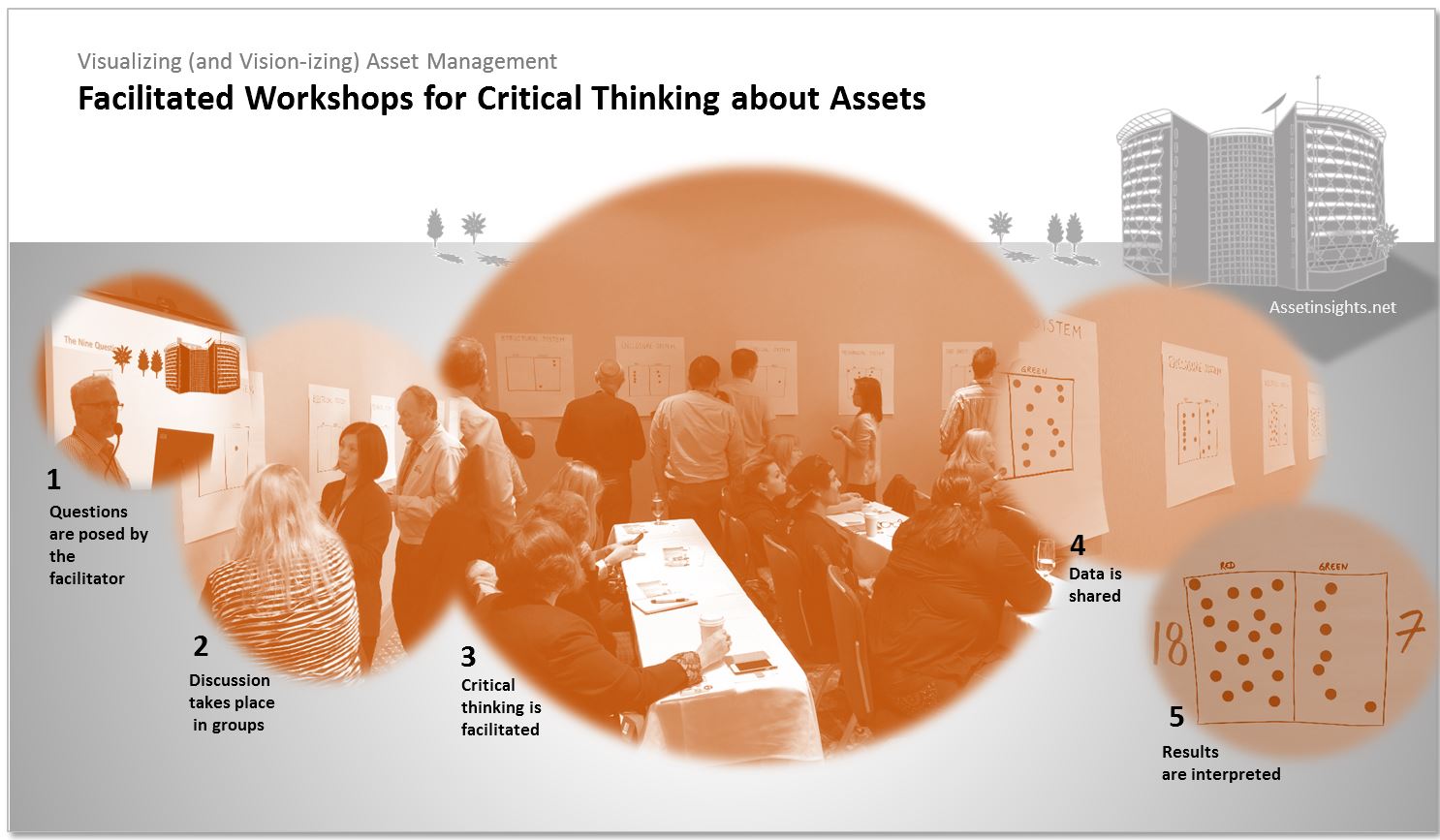 Fig. A facilitated workshop of asset owners, managers and operators intended to generate critical thinking around asset monitoring, performance and continual improvement.