A form of maintenance whereby no routine maintenance tasks are performed. The only "planned" maintenance on the asset is restoration after a problem necessitates some action.



---
Attributes


Listed below are some of the variations on corrective maintenance:
Listed below are some of the key attributes of a corrective maintenance program:
In young buildings with new assets, we can expect lower incidents of failure. During this stage in the life cycle of a
building, corrective maintenance may appear (on the surface) to be a prudent and reasonable approach. However, this is false economy and owners will find that attempts to defer costs until something breaks will often result in additional costs.



---
Candidate Assets


Included below is a list of the criteria to be used in determining which assets may be acceptable candidates for a corrective maintenance program

Assets that are not maintainable.
Assets that are disposable and cheaper to replace than to fix.
Small assets without significant financial value.
Assets whose downtime is non-critical - that is, the consequence of failure (CoF) are not significant.
Assets that are not subject to wear and tear.
Assets that are unlikely to fail during the life of the building.
Assets that are prone to technological obsolescence.
---
Evaluation





A. Merits


Listed below are some of the merits and advantages of the corrective maintenance approach.

Costs

- Lower short-term costs.

Staffing

- Requires less staff since less work is being done.
B. Limitations


Listed below are some of the disadvantages of the corrective maintenance approach.

Costs

- Increased long-term costs due to unplanned equipment downtime

Collateral Damage

- Possible secondary equipment or process damage.

Decreased Reliabilility

- Neglect of assets may lead to decreased reliability reflected in downtime.
Risk - greater risk

The advantages of corrective maintenance can be viewed as a double-edged sword and therefore skill and care is required when determining which assets should be allowed to run to failure.



---
Management Principles


Corrective maintenance has a legitimate role to play in the overall maintenance program, albeit a limited one.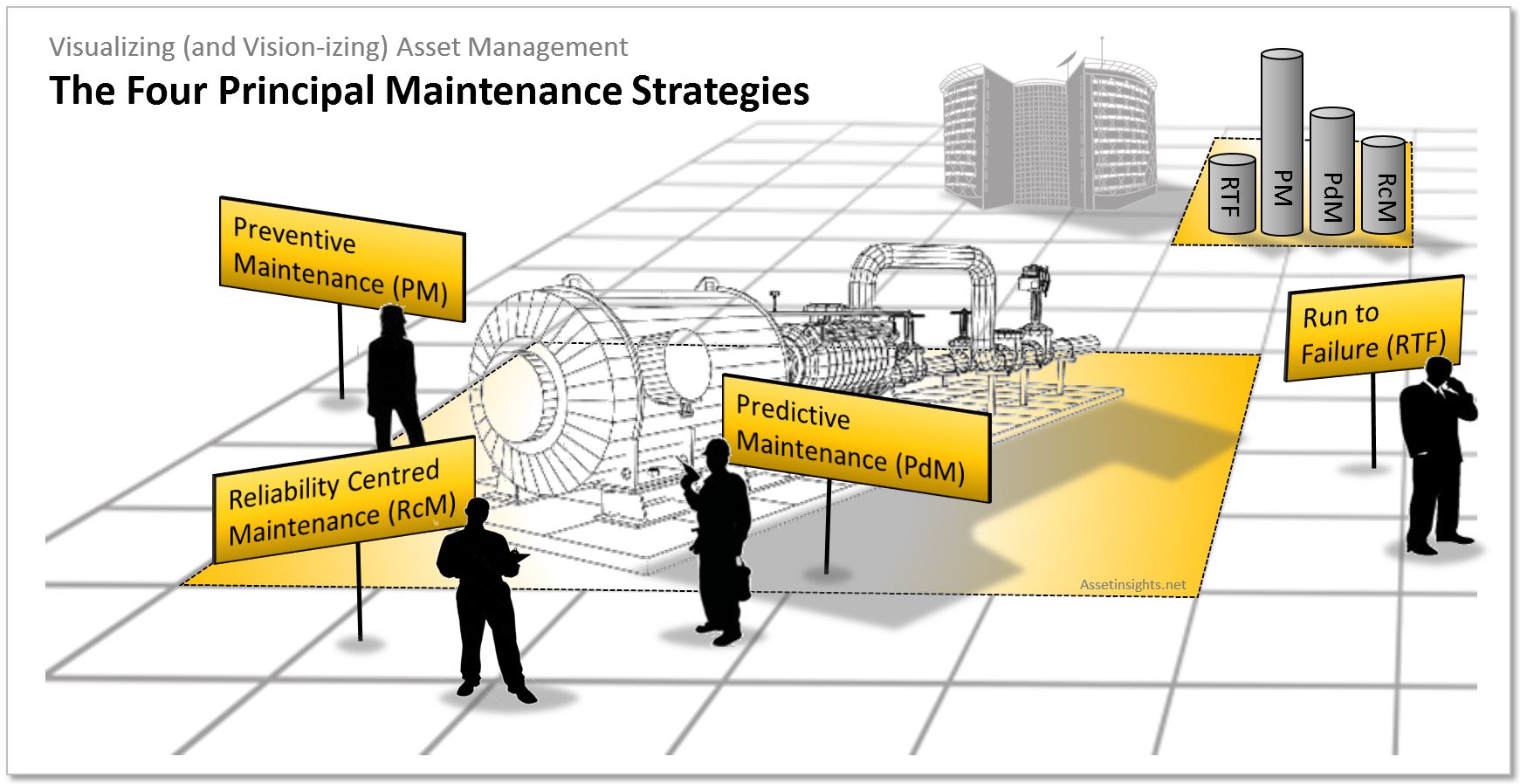 Fig. Alignment of the four different types of maintenance strategies across the asset portfolio on decisions that are risk-based and consider the whole-life of assets will result in a maintenance mix that is in conformity with ISO 55001 standards

.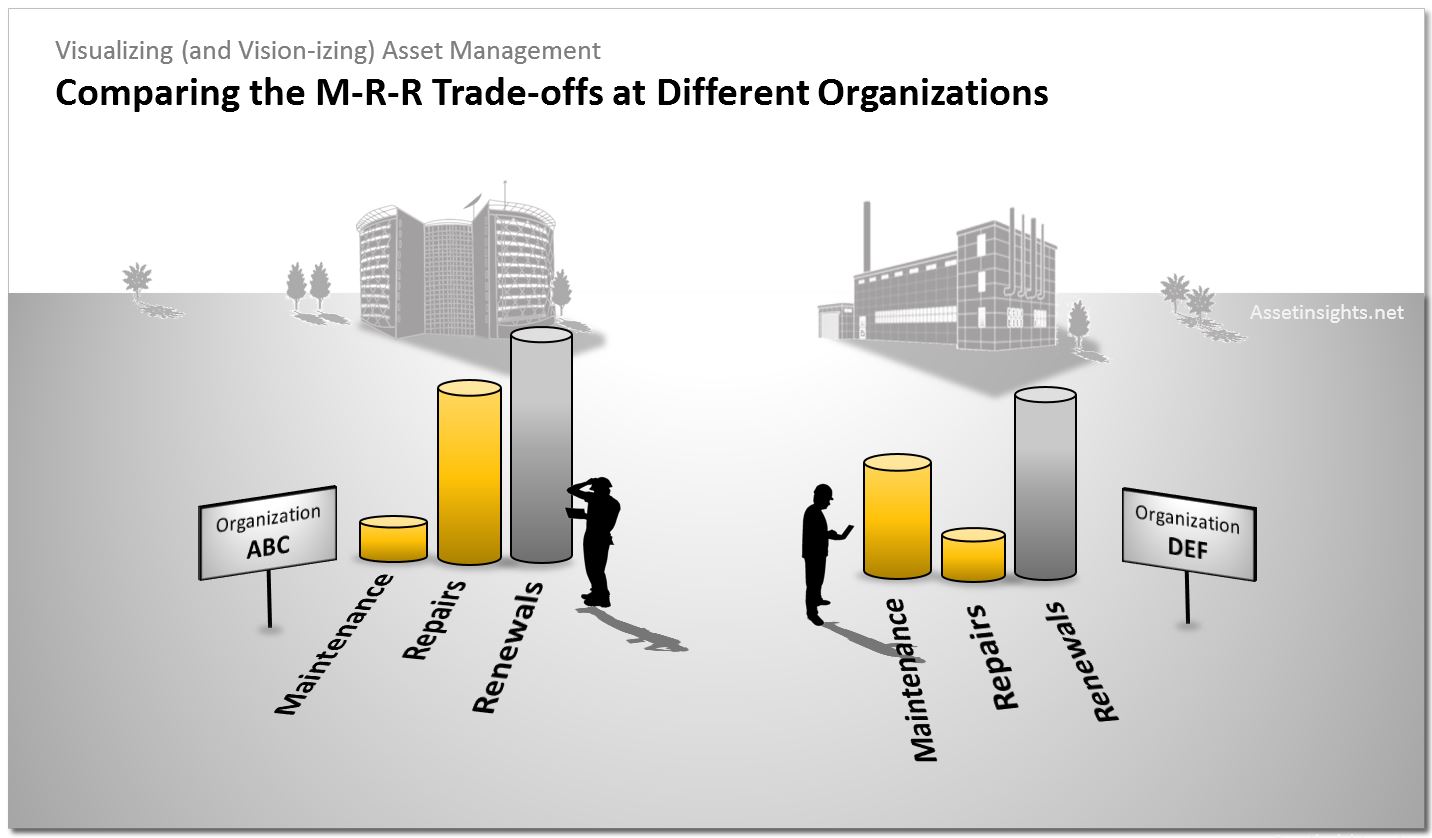 Fig. Comparing the Maintenance-Repair-Renewal (MRR) trade-offs at different organizations.
As maintenance quality and effort increases so too does the frequency and scope of repairs decrease - however, there is a point of diminishing returns. Do you know where your balance is?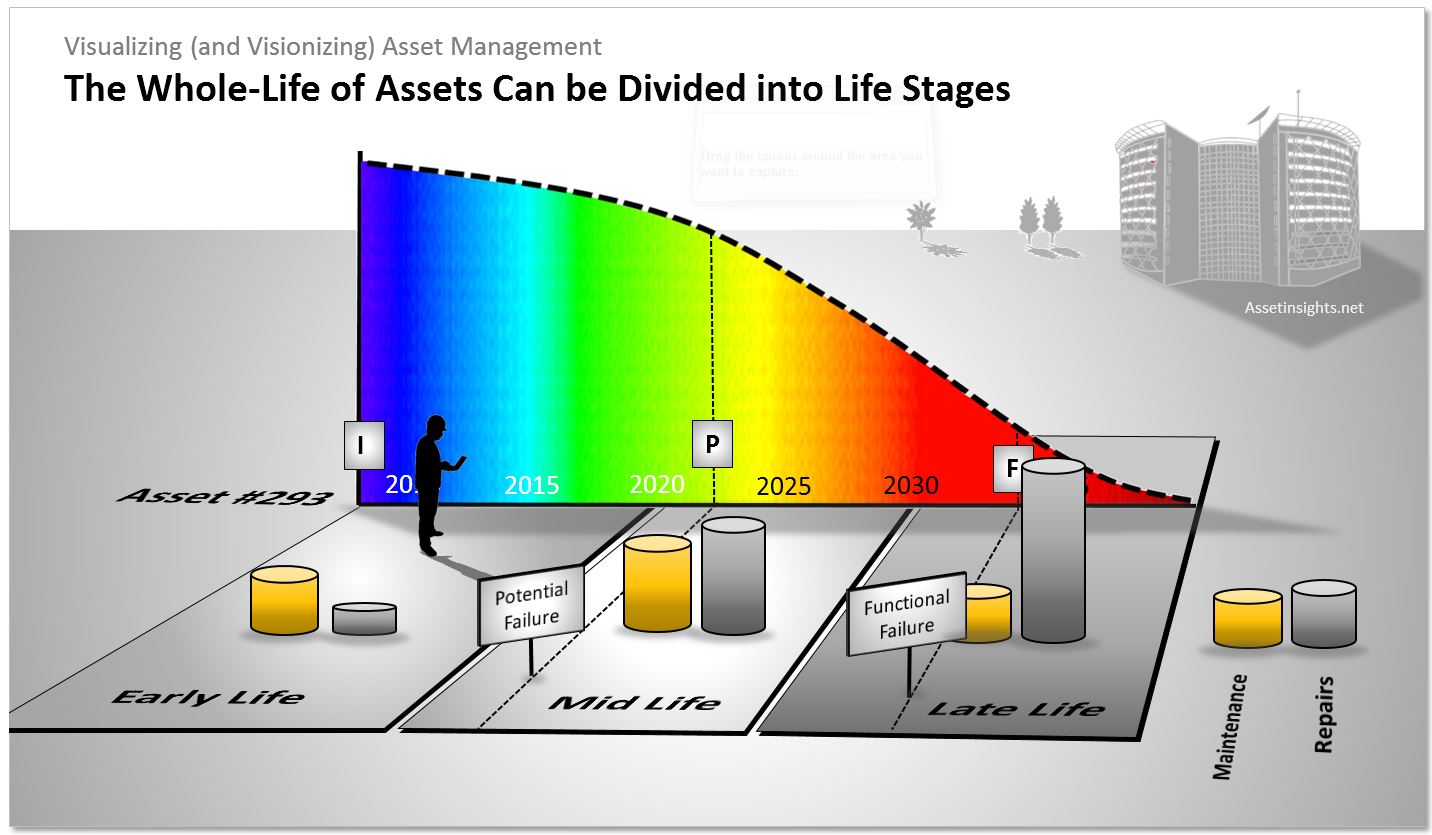 Fig. The whole life of assets can be divided into life stages - early life, mid-life and late-life, with different maintenance strategies at each life stage.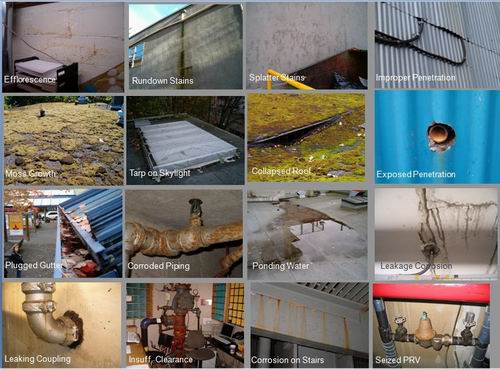 Fig. Various samples of the result of deferred maintenance.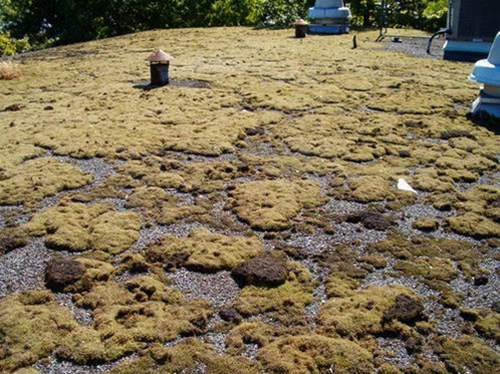 Fig. Excessive vegetation growth on roof.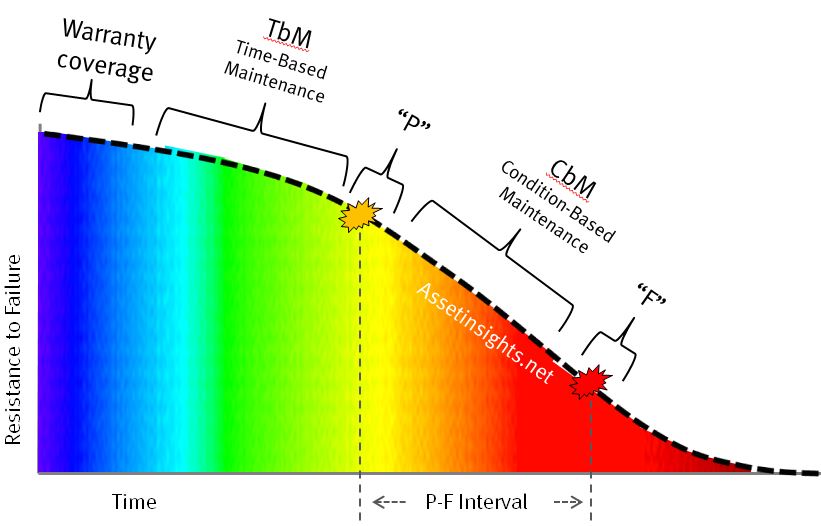 Fig. The risk spectrum extending along the P-F interval.



Fig. A table comparing how the different
maintenance strategies may approach the same maintenance objective of cleaning roof drains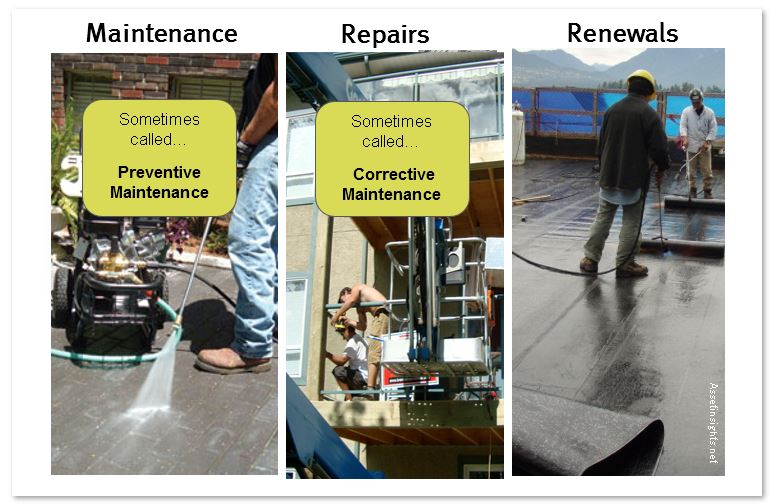 Fig. Correlation of corrective maintenance to preventive maintenance.




Fig. I. Care is attempting to slow down or reserve the sands of time so that he can undo the deferred maintenance. A futile but valiant attempt.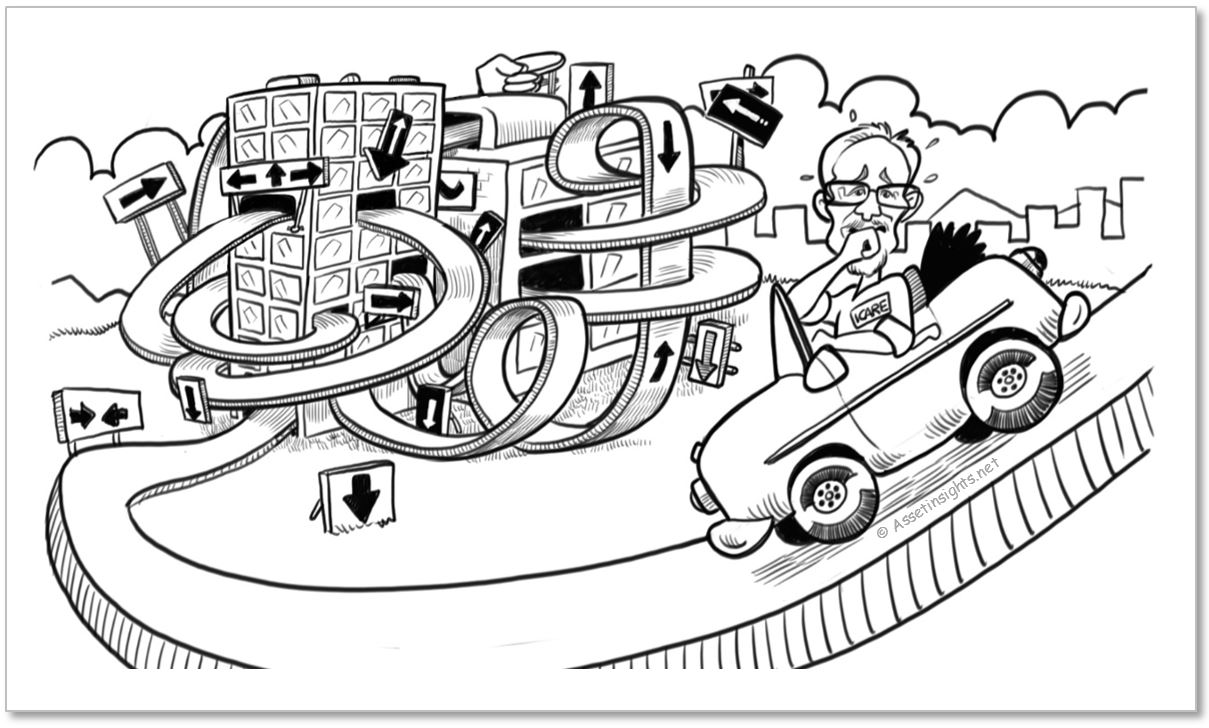 Fig. I. Care is nervous because he knows that there are surprises (in the form of a roller coaster ride) if the owners become reactive in their planning.