One of a number of different types of asset replacement policies. that falls into the preventive replacement class.
---
Attributes:
CBP should be based on a complete history of measured condition observations to identify trends and patterns in the data.


---
Variations


Listed below are some of the key variants of the Inspection-Based Replacement Policy:

There are three types of condition-based replacement policies

Effective Age

Just-in-Time Replacement
CBP utilizes a variety of techniques, including the following:

Site inspection
Visual review to determine surface conditions.
Destructive testing to determine concealed conditions

Predictive Maintenance (PdM) technologies
Re-assessment cycles

---
Candidate assets and examples

CBR is best suited to assets with the following attributes:

Listed below are examples of some projects implemented to a condition based replacement policy.



---
Evaluation


Some of the merits of this form of replacement policy are listed below:

Low Risk

- Ensures that assets are not replaced before it is necessary.
Some of the limitations and drawbacks of this policy are identified as:

Expensive

- Requires an expensive and sophisticated monitoring program.

Onerous

- It requires a labour intensive and capital intensive approach to asset management.

Inspection Timing

- The condition of the asset may have already reached functional failure by the time the asset is being monitored.

Non-Continuous

- The asset may fail between condition assessment cycles.

The approach requires a complete history of measured condition observations to identify trends and patterns in the data



---
Management


Listed below are some of the concepts to incorporate some of the principles of condition-based replacement into the overall replacement strategy.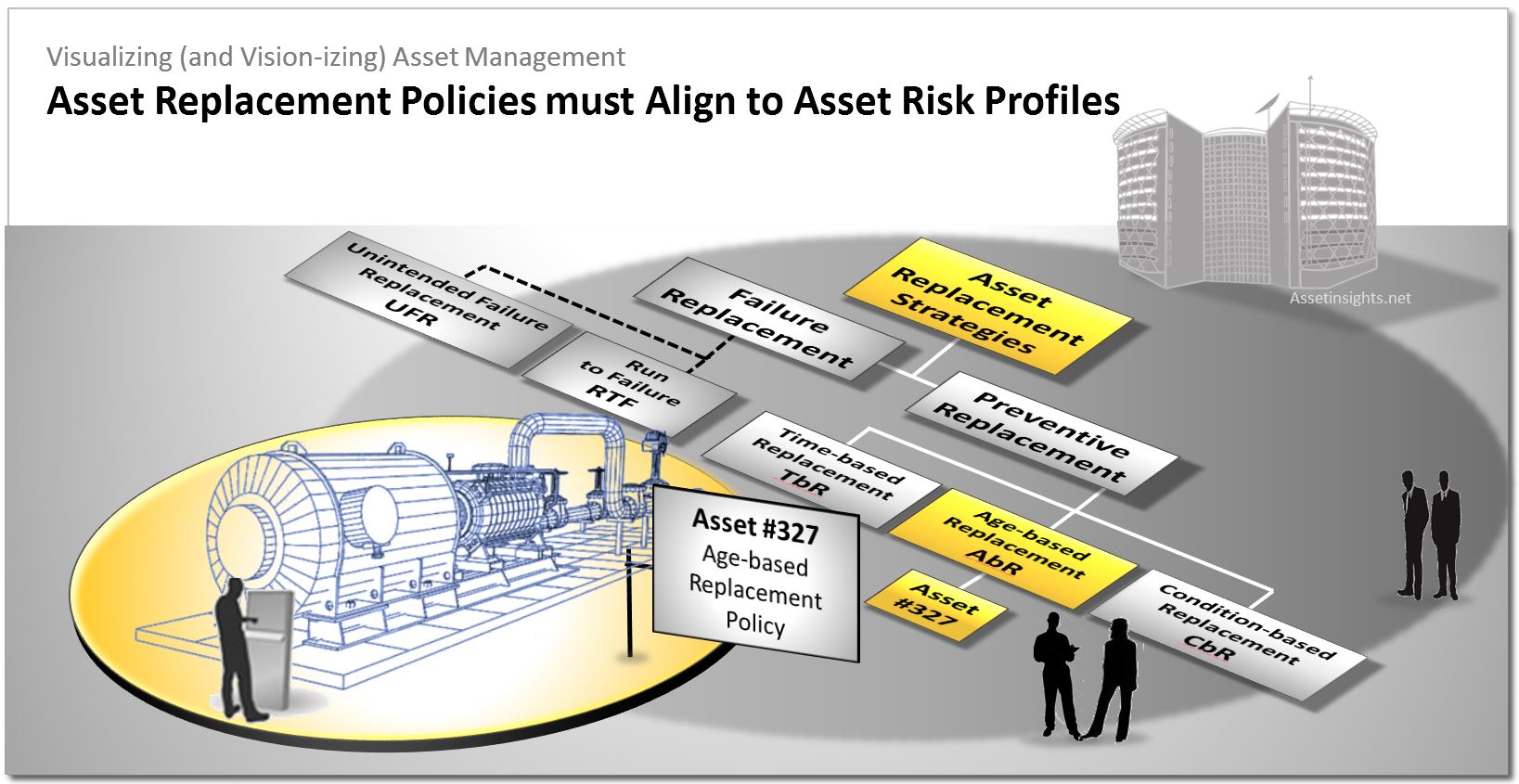 Fig. Asset replacement policies must align to asset risk profiles in order to achieve optimization and satisfy ISO 55001 requirements.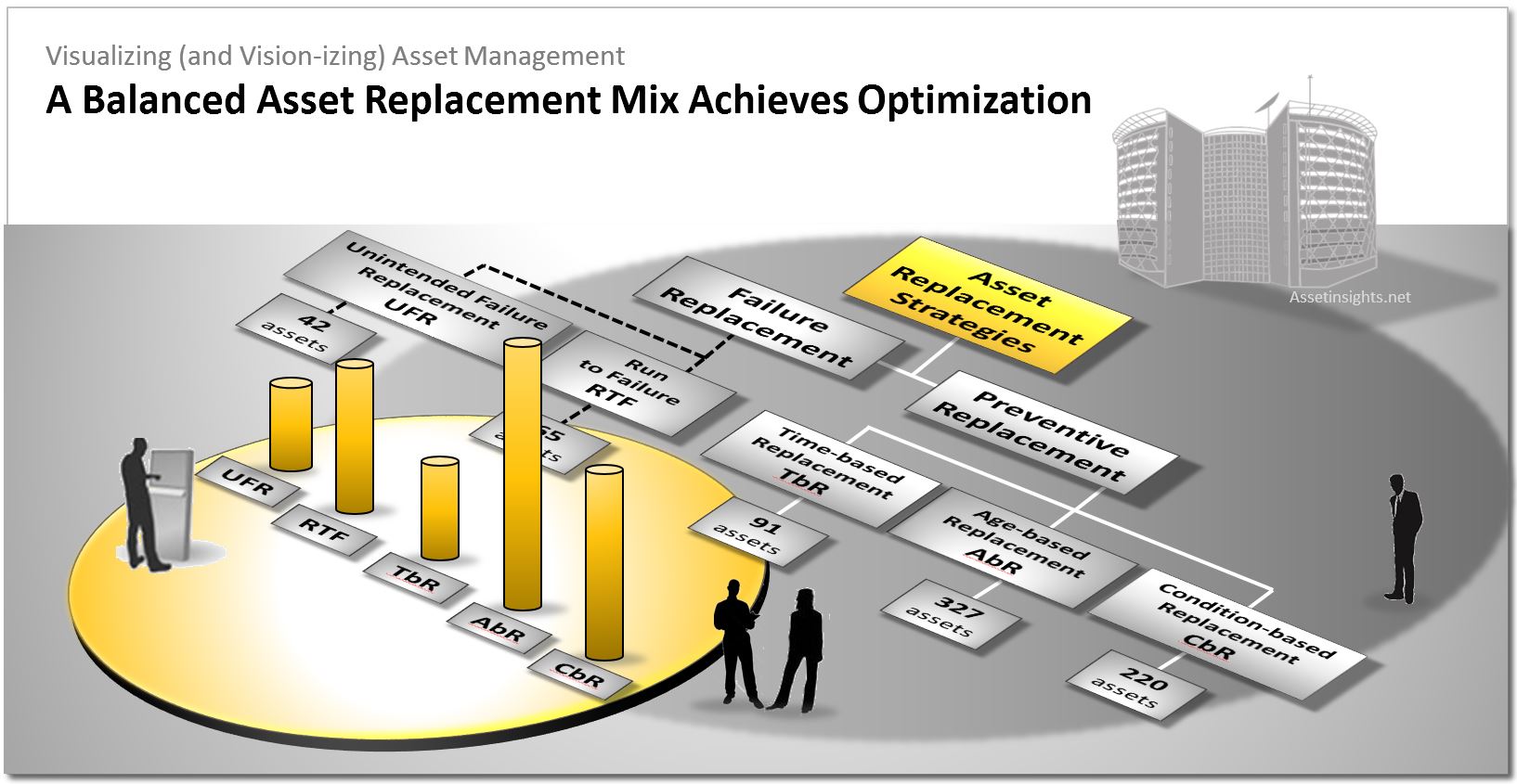 Fig. A balanced asset replacement mix helps the organization to achieve optimization in conformity with ISO 55001 principles.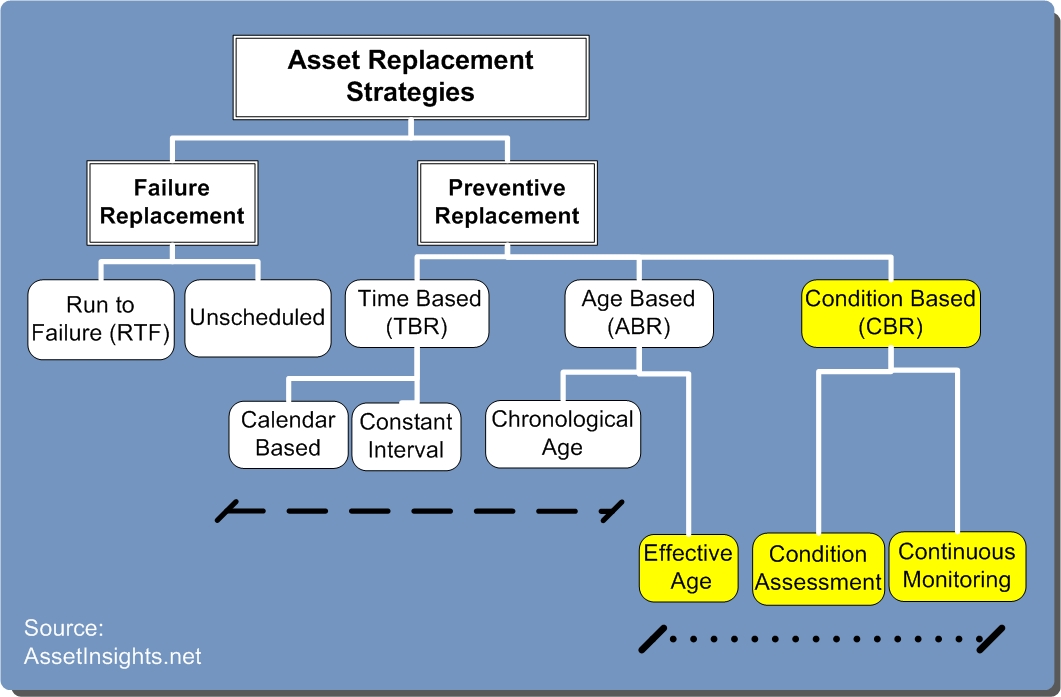 Fig. A summary network diagram of the different asset replacement strategies with Condition-Based Replacement (CBP) being one of the options under the preventive replacement group.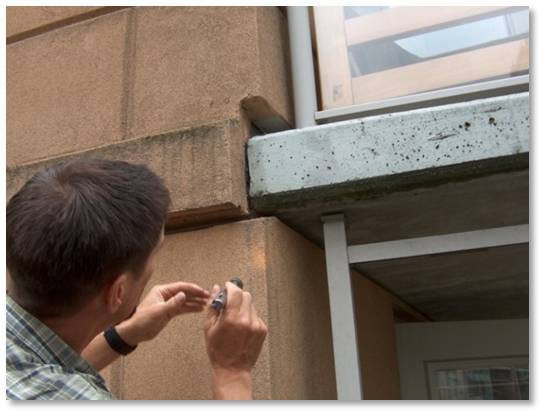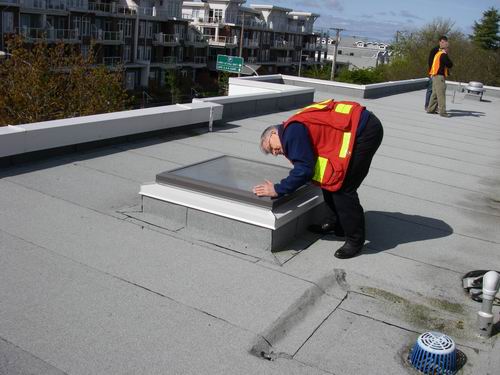 Fig. Field Inspections to gather data on the condition of the assets to determine replacement timetable

.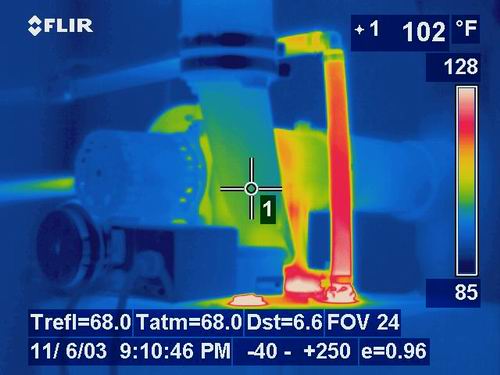 Fig. Diagnostic testing and destructive testing to determine the condition of the assets to determine appropriate replacement timetable.

Fig. I. Care and his fellow owner/manager are debating whether the life of assets are candidates for "extending life" or only "reaching life"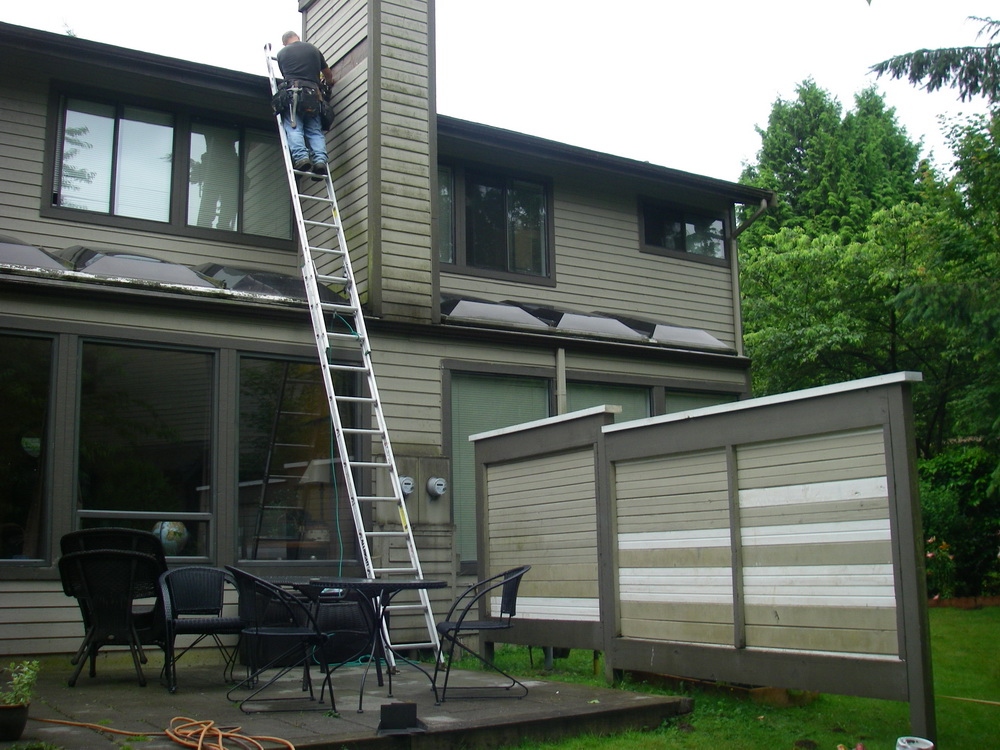 Fig. Localized replacement of exterior wood siding and wood fencing where condition investigation and empirical evidence has justified such work.




Fig. I. Care is attempting to slow down or reserve the sands of time so that he can undo the deferred maintenance. A futile but valiant attempt.