The new asset that will replace the existing asset (the "defender") at the time of renewal.

There may be several options, each of which is a challenger asset for the single defender asset. Selection of the preferred challenger asset is usually the result of:

---
Options


There are two general courses of action that may be followed:

Like-for-Like - the challenger matches the defender.
Upgrade - the challenger is an improvement on the defender.
---
Examples


Listed below are some examples of challengers replacing defender assets:

Low-to-High-Efficiency: A low efficiency boiler may be replaced with a high-efficiency boiler to secure energy payback savings.

BUR-to-SBS: An existing built-up roof (BUR) may be replaced with a roof of a different type, such as 2-ply SBS in order to achieve a more favourable life cycle cost.

Relay elevator controls modernized with solid state elevator controls.

Polyurethane-to-SBS:
Faceseal-to-Rainscreen:

---
Analysis
Analysis will include a benchmark comparison with one or more of the following financial metrics associated with the defender asset:
Since the challenger will not entail a like-for-like swap-out and will return a longer renewal interval than the challenger, remember to modify the renewal description to alert the reader. This description will also support the unit rate which will now include the incremental cost associated with the enhancements of the challenger.
---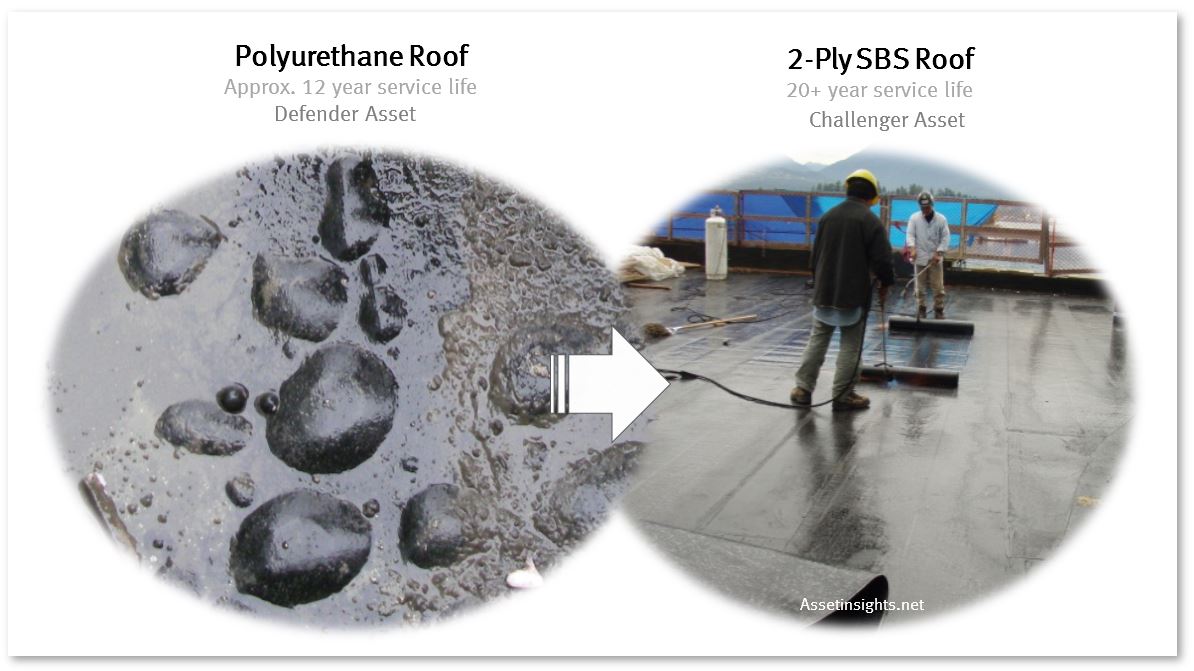 Fig. Polyurethane roof (12 year life) replaced with upgraded SBS roof (20 year life).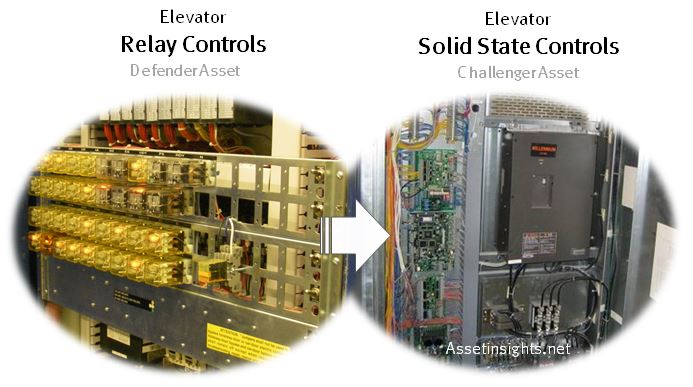 Fig. Elevator relay controls replaced with elevator solid state controls.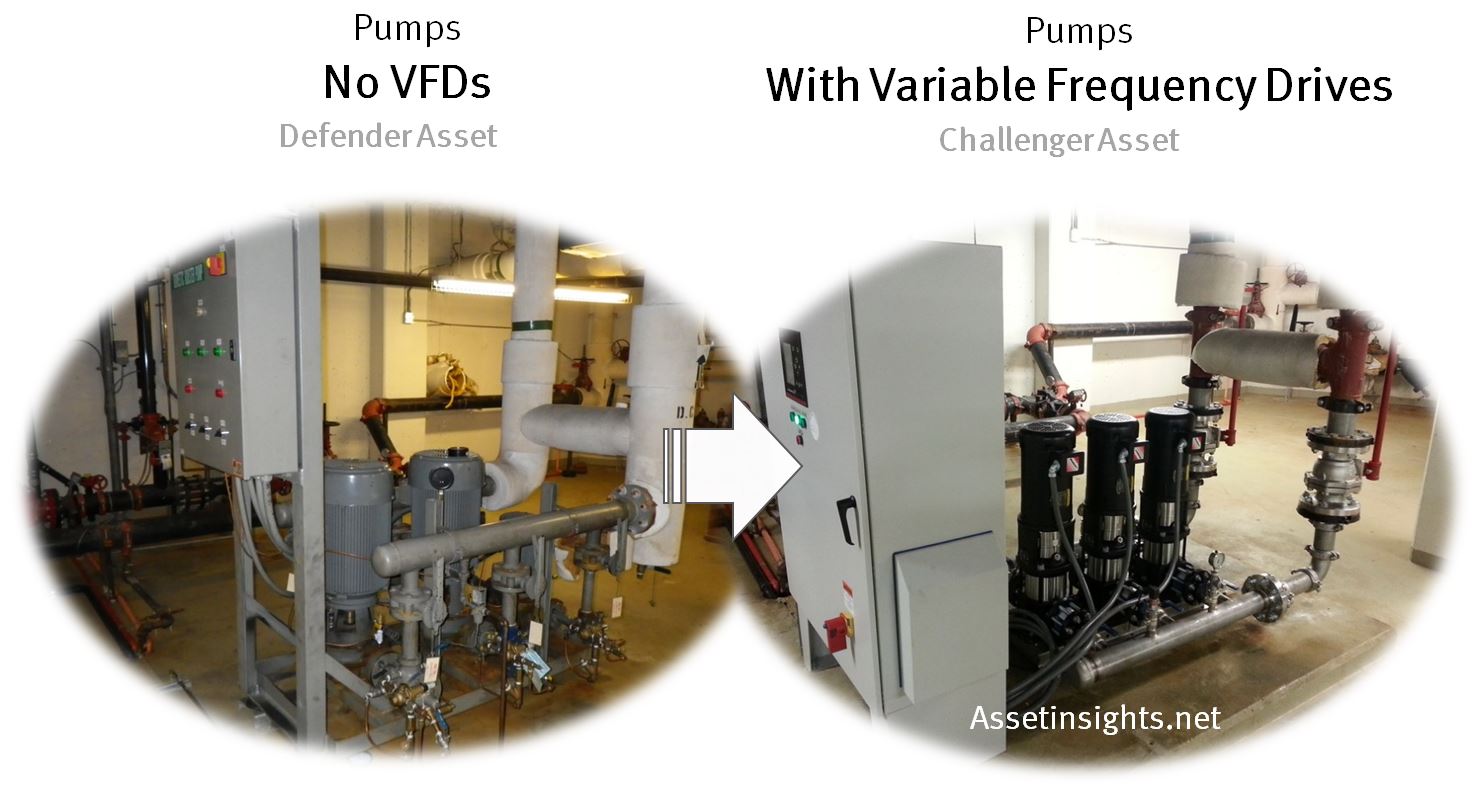 Fig. Triplex booster pump package replaced with package that includes VFDs.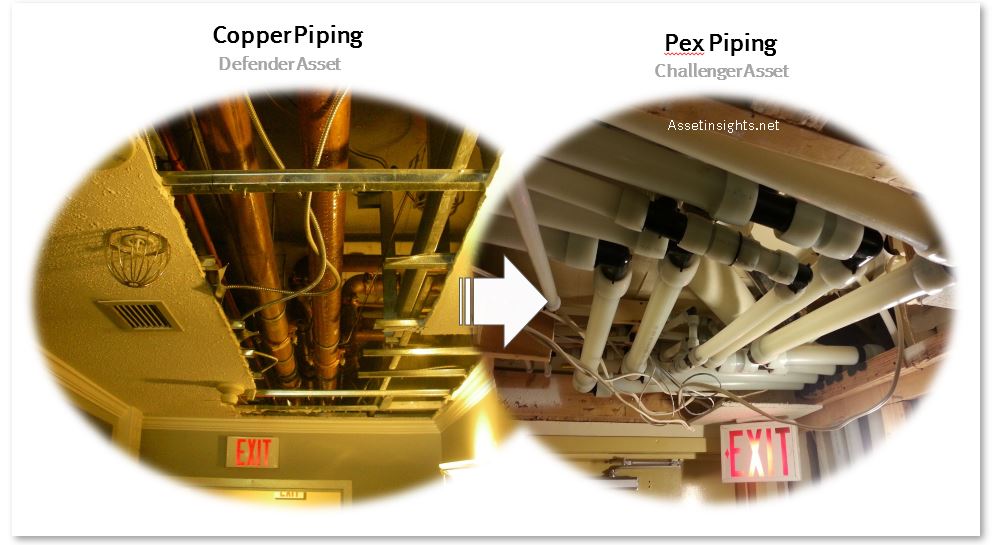 Fig. Replacing copper piping (the "defender") with pex piping (the "challenger")