Pursuant to ISO 55001-2011: "Systematic and coordinated activities and practices through which an organization optimally and sustainably manages its assets and asset systems, their associated performance, risks and expenditures over their life cycles for the purpose of achieving its organizational strategic plan".
---
Benefits

The total program for control, administration and financing of the service life of the assets under a portfolio, whose mandate (or goals) are varied, but typically include the following:

Capital asset management refers to the standards and processes applied through an asset's full life cycle.
---
Principles
The four core principles of asset management are:
---
Maturity Levels


The specturm of maturity levels have been identified as

---
Standards
Listed below are standards for optimization of the management of physical assets:
---
Scope


Listed below are the 39 subject areas of asset management as identifed by the IAM (in its Asset Management Anatomy) and the GFMAM.(in its Asset Management Landscape).



Strategy and Planning




Decision Making



Capital Investment Decision making (6)
Operations & Maintenance Decision-Making (7)
LIfecycle Value Realization (8)

Shutdown and Outage Strategy (10)

Life cycle Activities
Technical Standards & Legislation (11)
Creation and Acquisition (12)
Systems Engineering (13)
Configuration Management 14)
Maintenance Delivery (15)
Asset Operations (17)

Resource Management (18)
Shutdown and Outage Management (19)
Fault and Incident Response (20)
Decommissioning and Disposal (21)

Asset Information
Information Strategy (22)
Information Standards (23)
Information Systems (24)
Data & Information Management (25)
People & Organization
Risk & Review


---
Artefacts


Listed below are some of the principal artefacts of asset management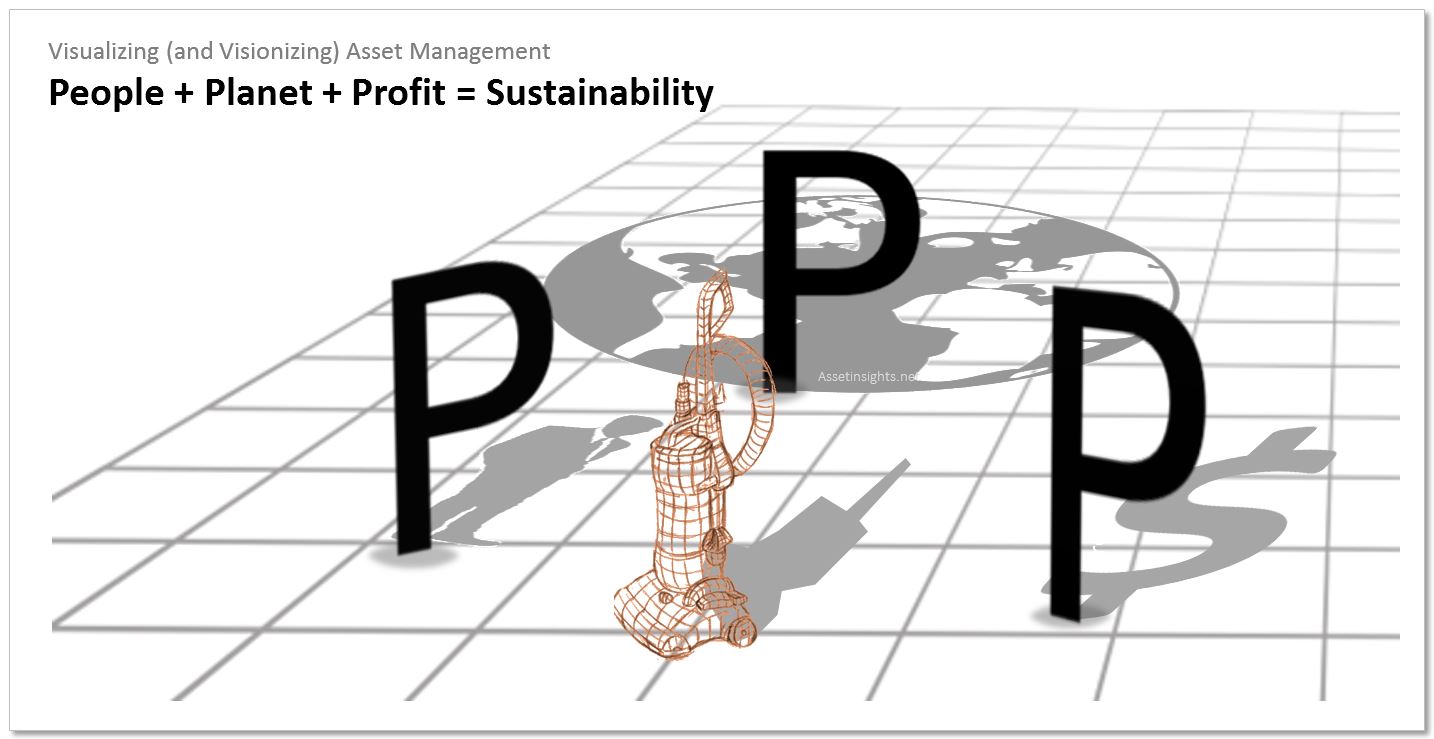 Fig. People + Planet + Profit is the triple bottom line of sustainability.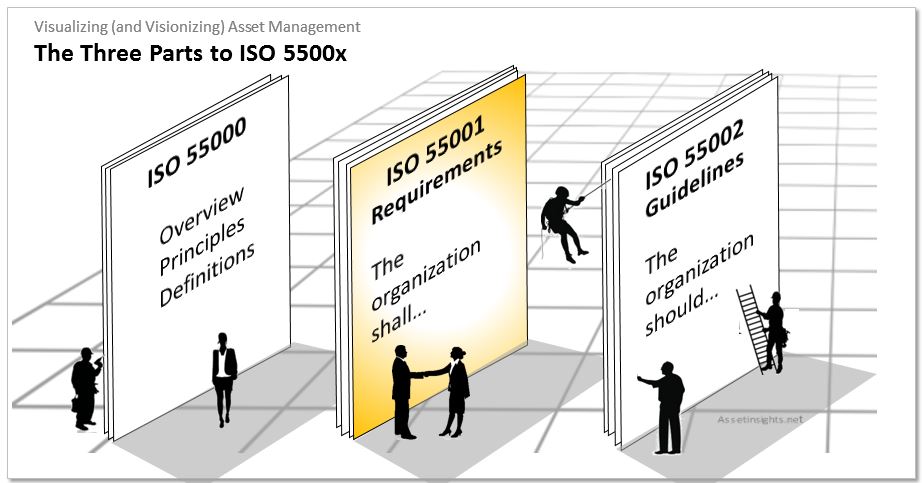 Fig. The three parts to ISO 55000, 55001 and 55002 - the international standard for asset managment.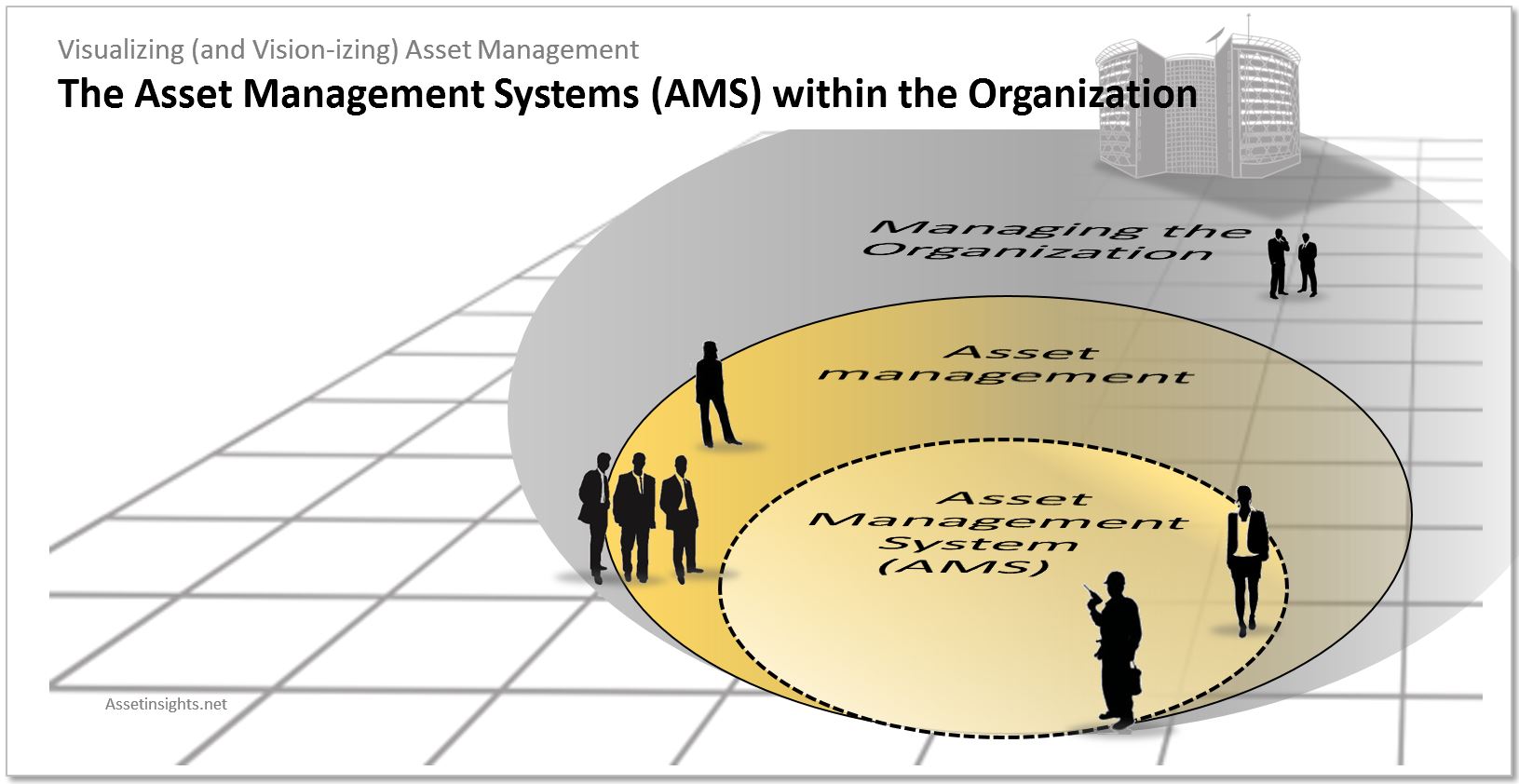 Fig. The relationship between Asset Management (AM) and the Asset Management System (AMS) within the organization.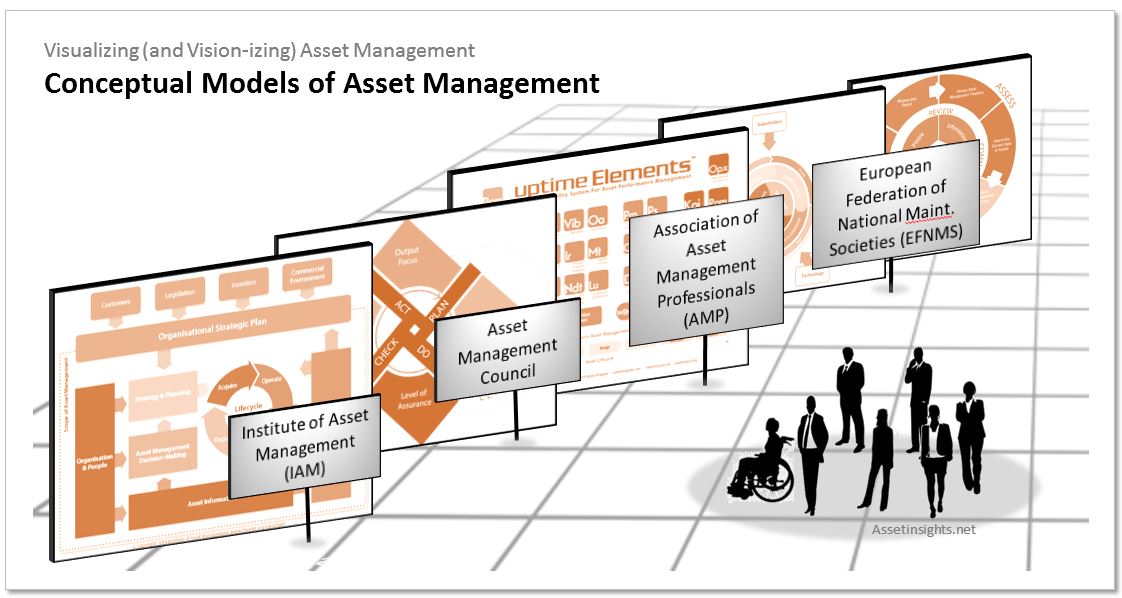 Fig. Conceptual models provide a high-level framework for sense-making of the numerous elements of asset management and how these elements interact over asset life cycles. Some insightful models have been developed by learned societies and organizations around the world

.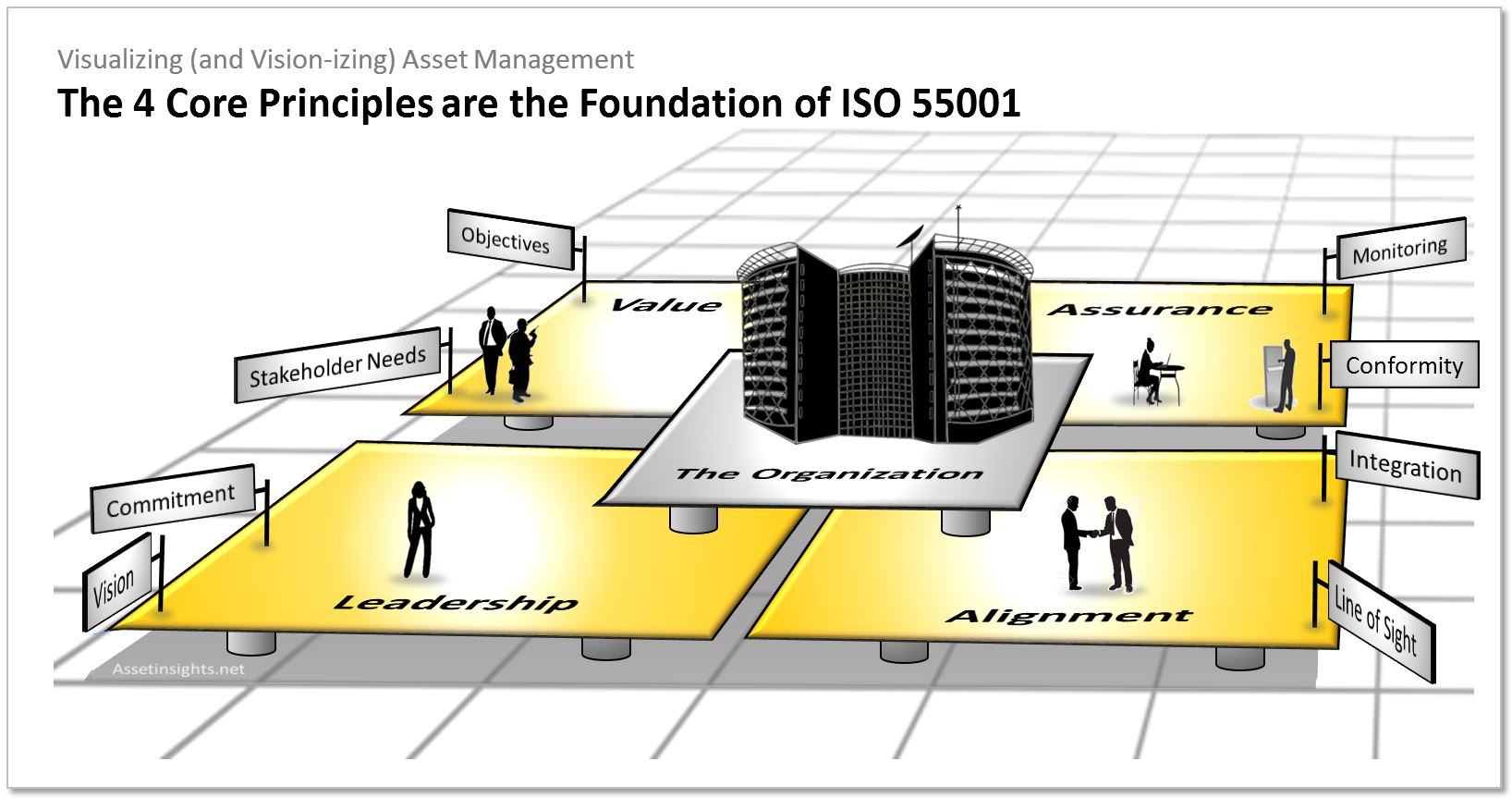 Fig. 39 subject areas in the asset management body of knowledge and 7 chapters in ISO 55001. All of which rests on 4 core principles.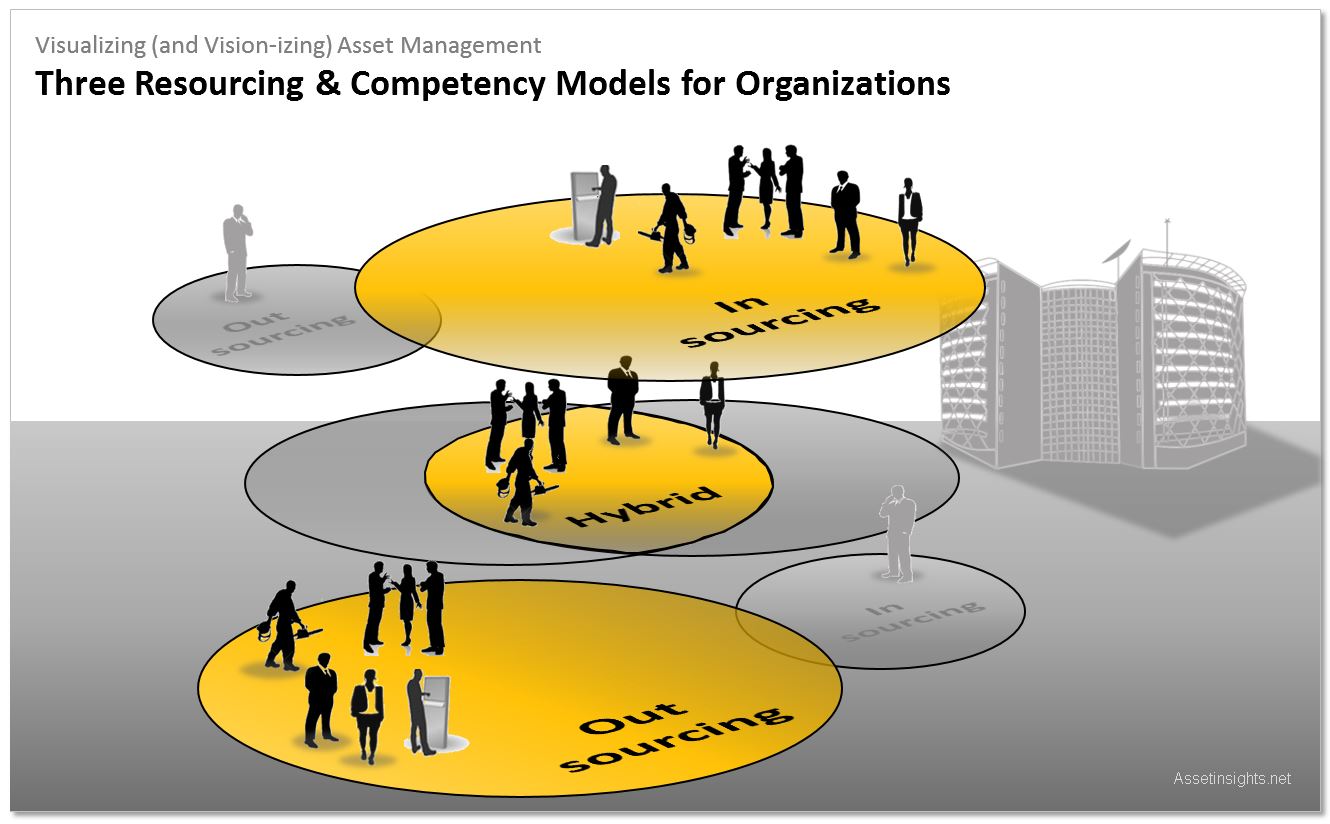 Fig. Each organization must find its optimal resource mix, which is the appropriate balance between internal competency development of its staff and contracting with external 3rd parties.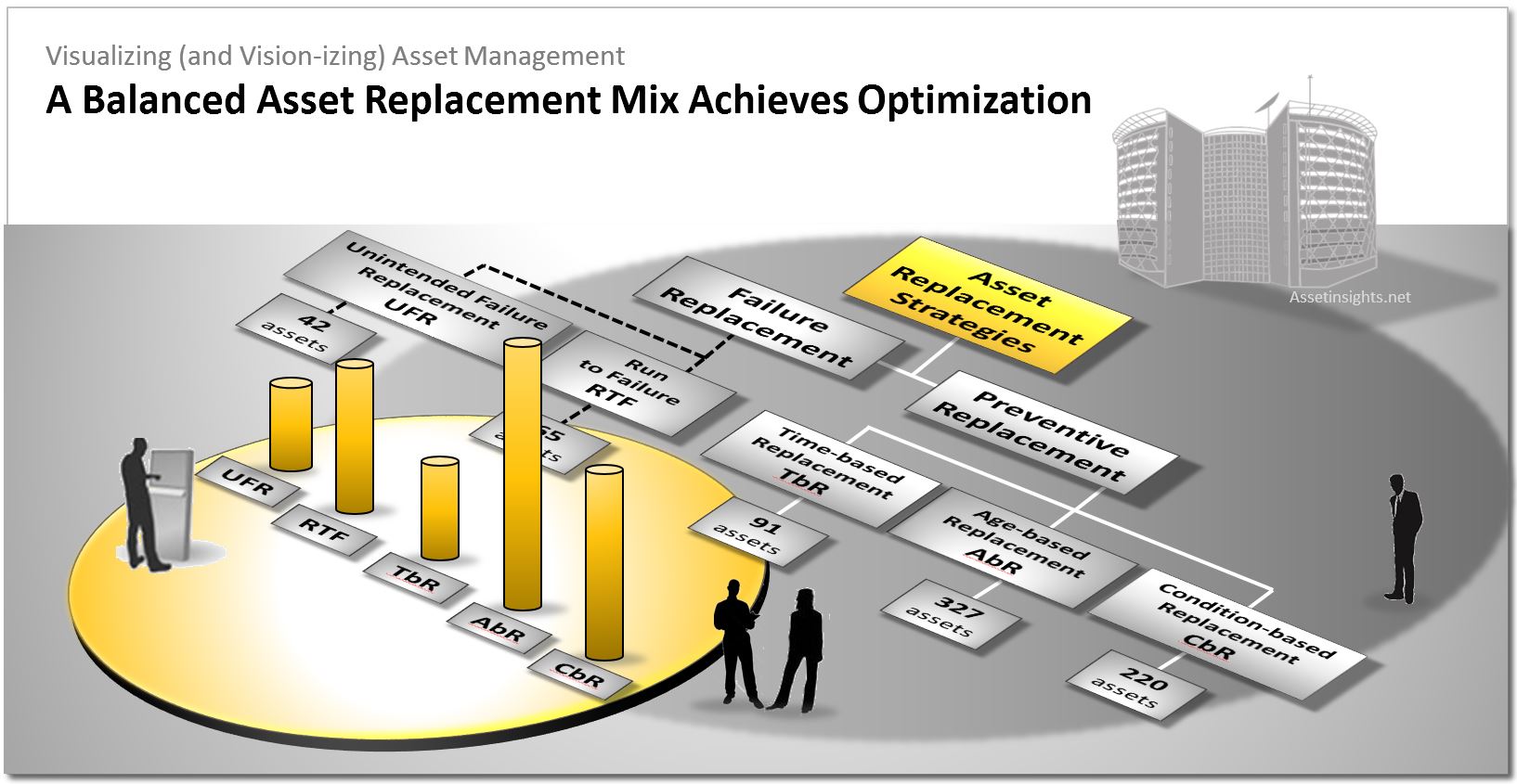 Fig. A balanced asset replacement mix helps the organization to achieve optimization in conformity with ISO 55001 principles.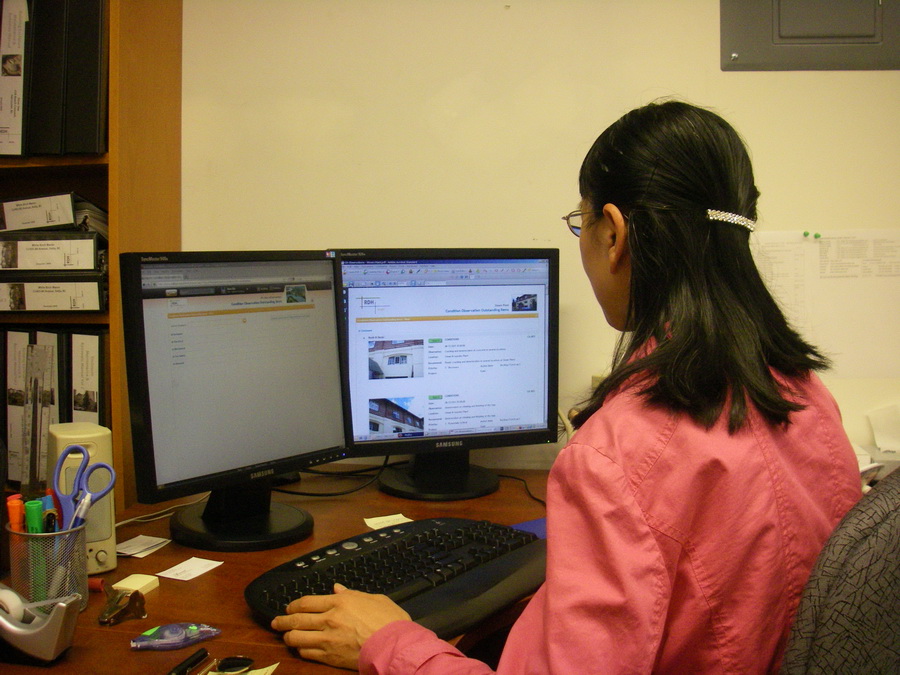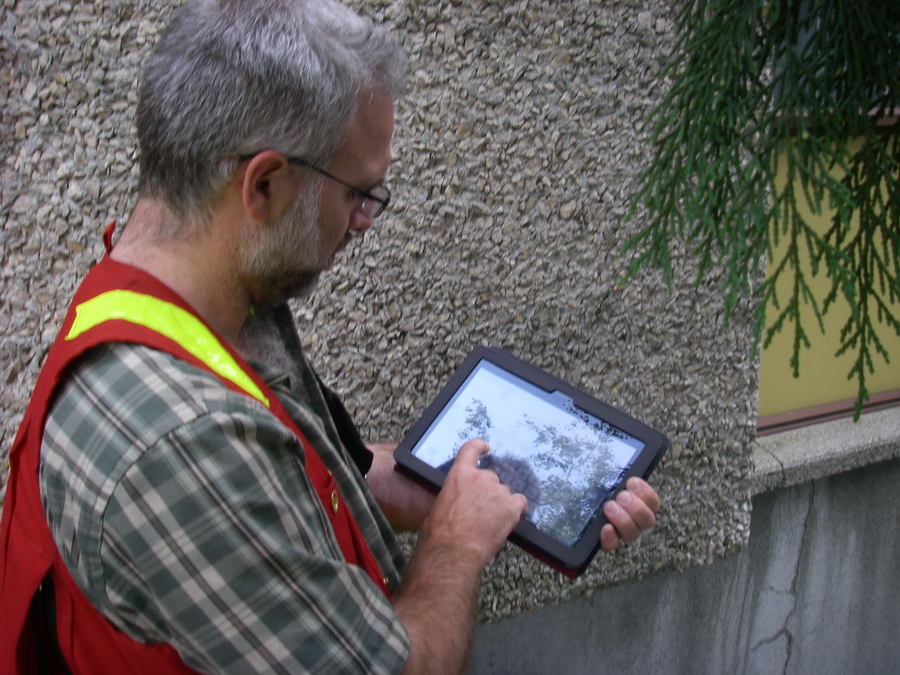 Fig. Left: Software application to support asset management.

Right:

Field data collection for asset management system.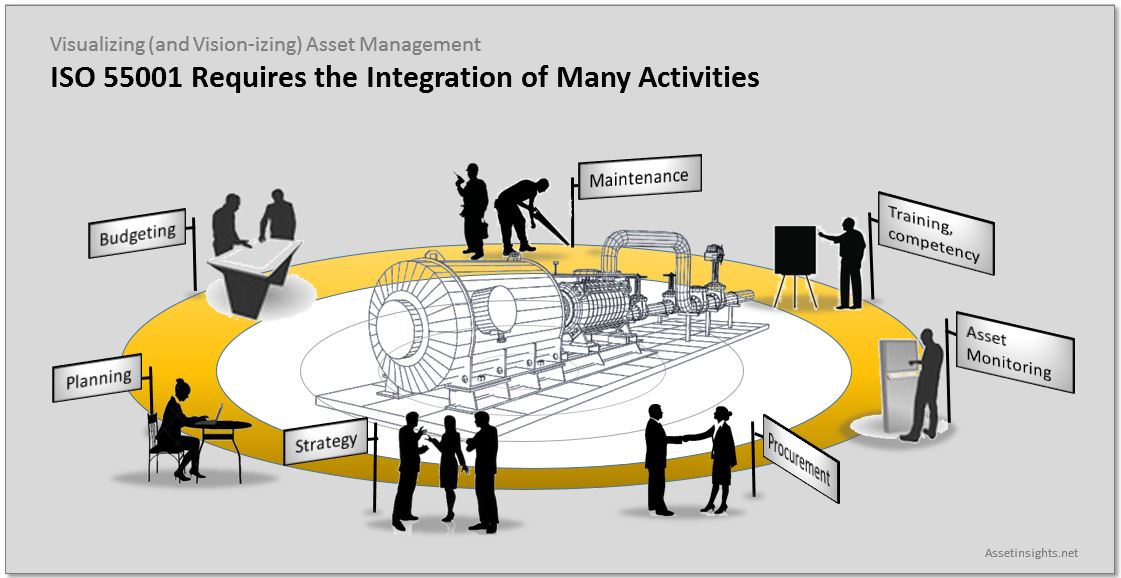 Fig. Asset management requires the integration of several activities to realize value from assets. ISO 55001 helps with the alignment.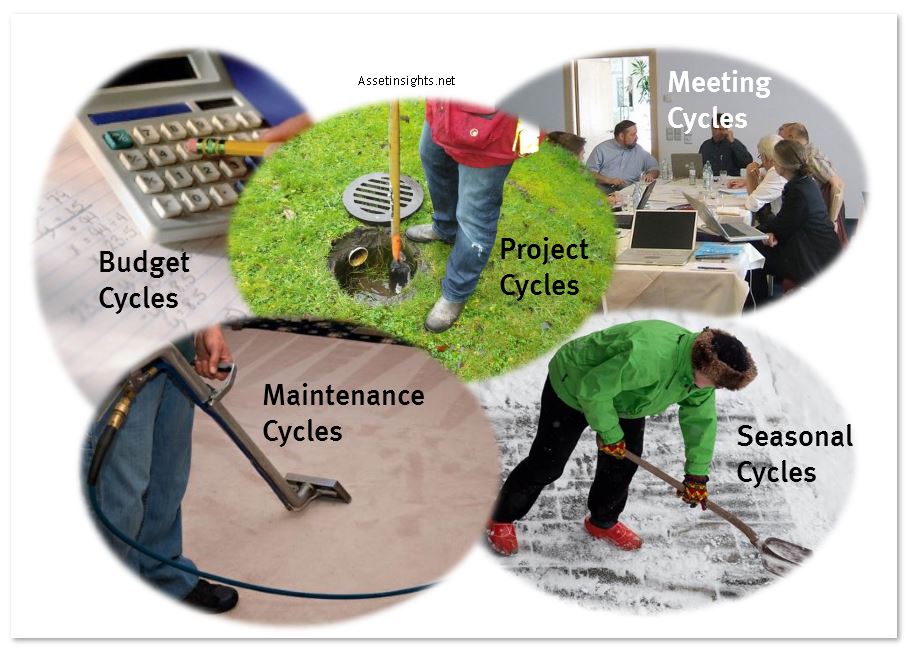 Fig. Some of the cycles associated with asset management.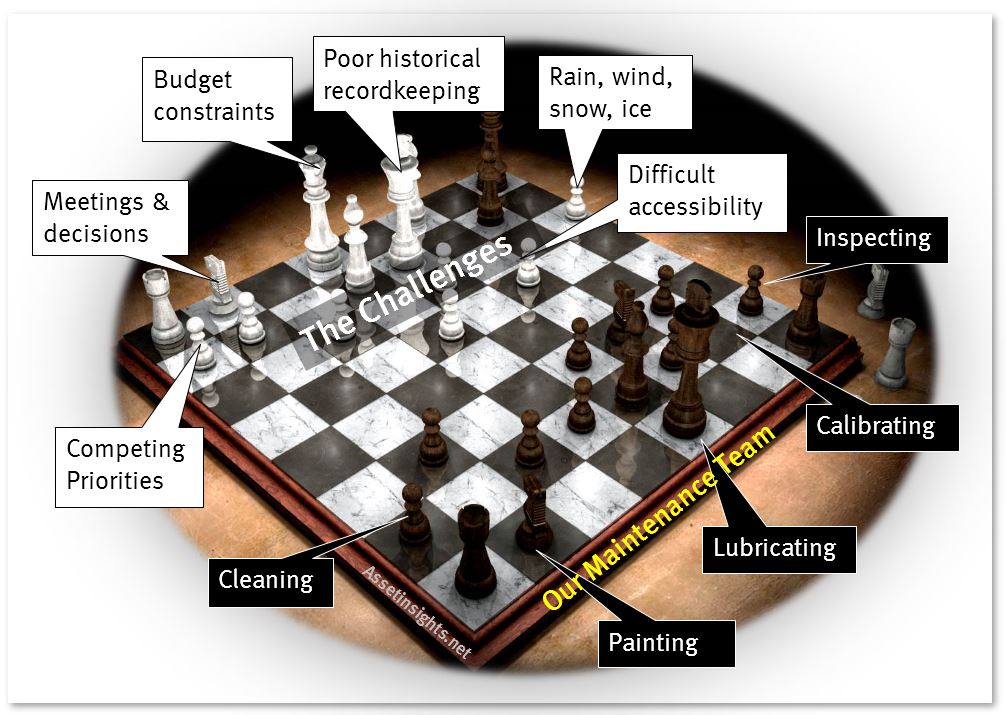 Fig. Chessboard analogy to illustrate some of the operational challenges in asset management.

---
Read Articles:

See also:
Compare with:
---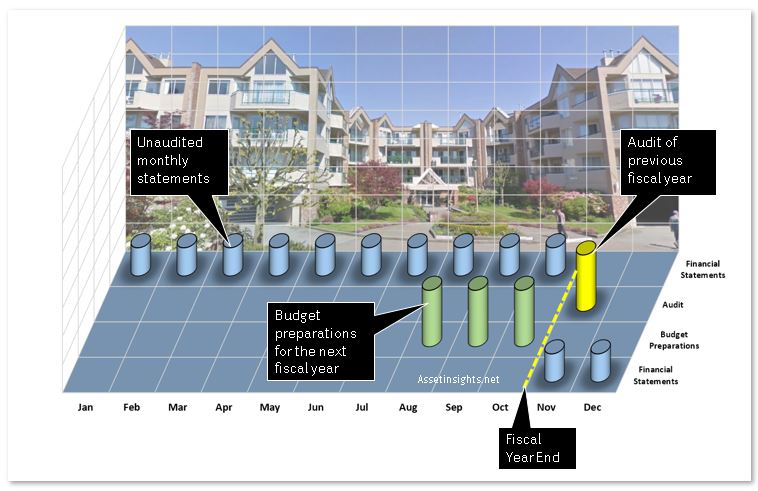 Fig. The interaction of the budgeting and financial cycles represented graphically on an annual timeline.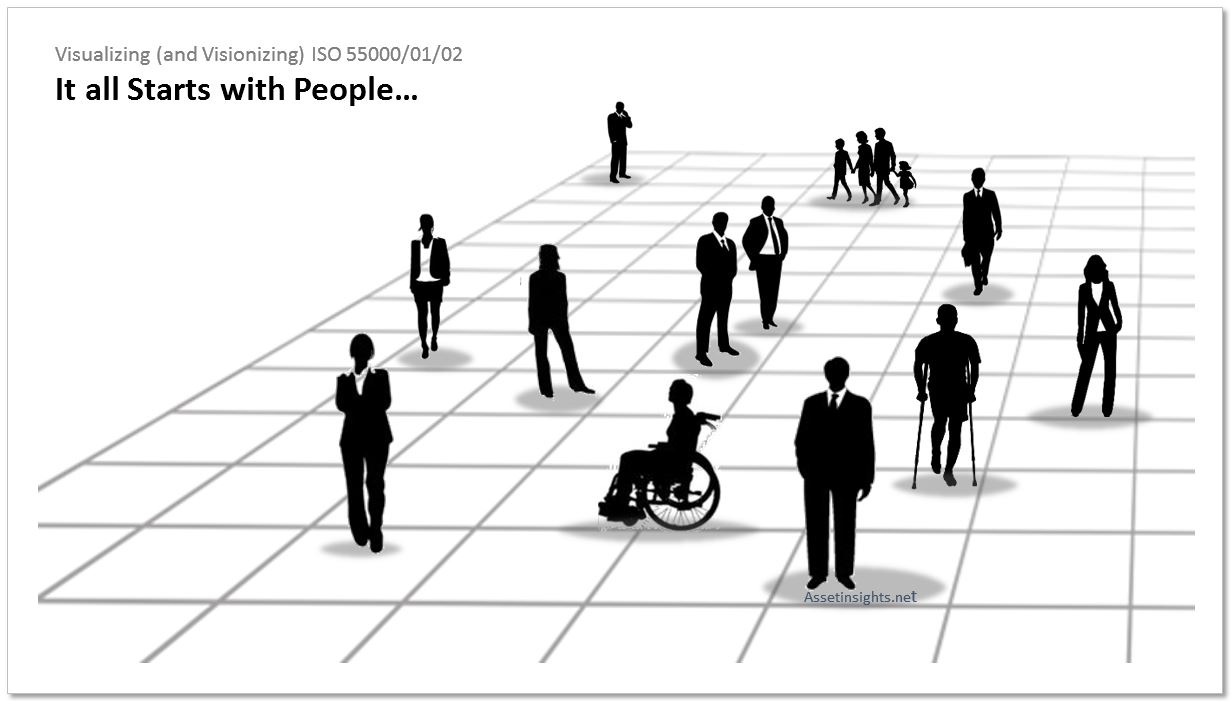 Fig. Asset management starts with people and ISO 55000/55001 aligns people and their assets.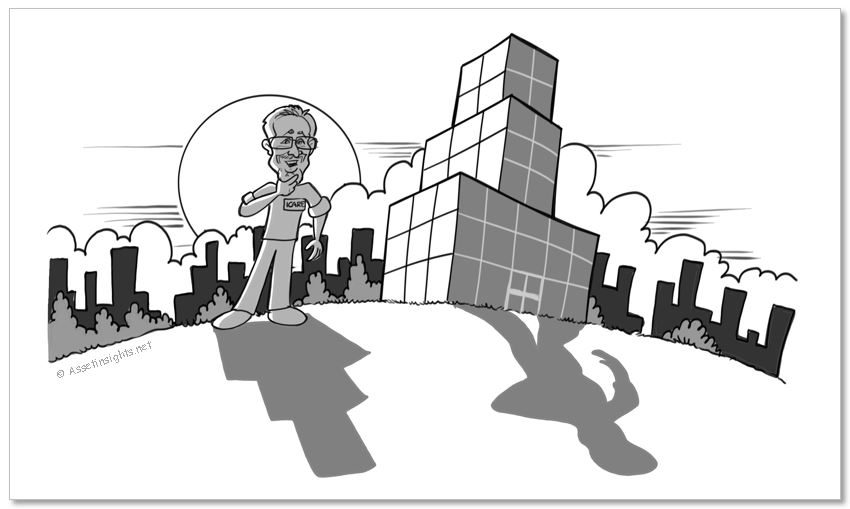 Fig. After years of careful planning and stewardship, I. Care and his facility are now aligned.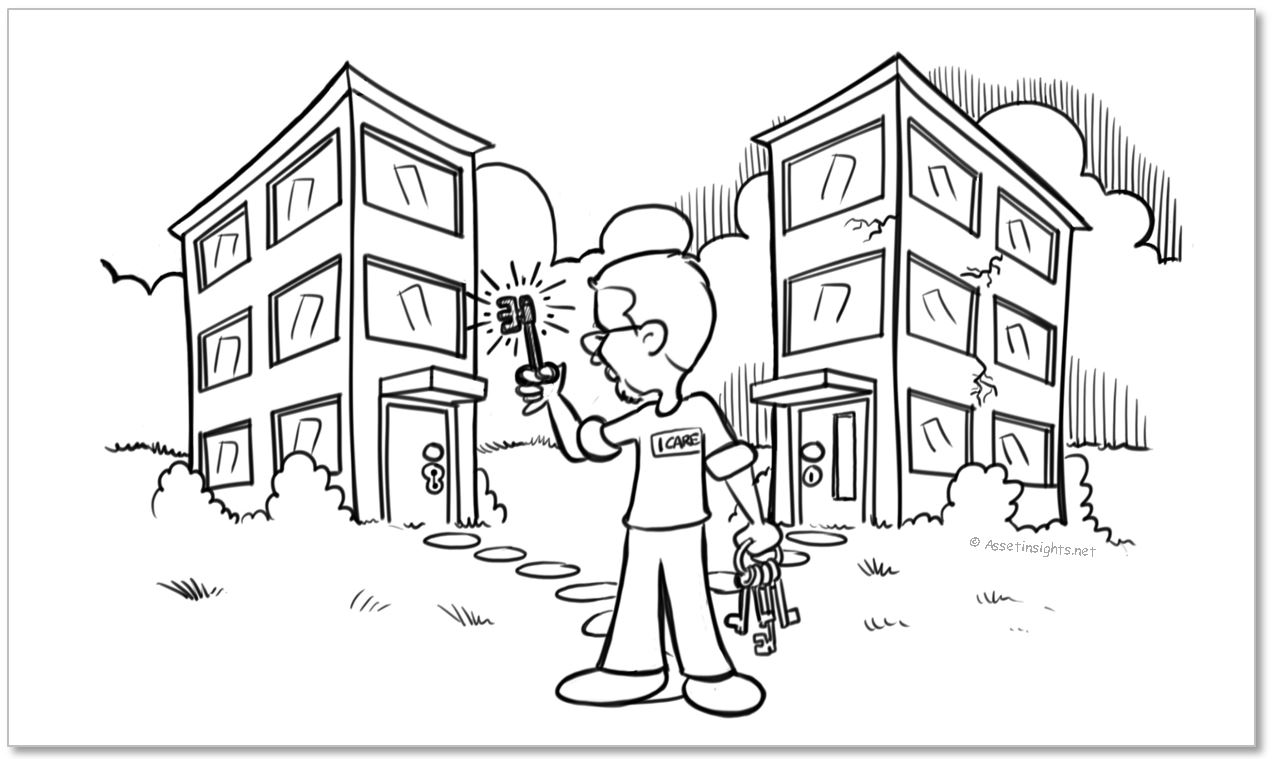 Fig. I. Care has effectively utilized the asset management toolbox to his porfolio of
buildings and now has the keys to success.