An organized list of the assets in a building.

Sometimes also referred to as an "Asset Register" or "Component Inventory".



---
Components of the Inventory


The inventory includes useful reference information about the basic attributes of each asset, such as:

Their type (ie., technical description)
Installation cost
Warranty expiration date
Estimated useful service life
Location within the building.
A typical building is made up of many hundreds of different types of assets, which are organized into the primary systems, such as:


---
Example of an Inventory



The following table contains and example of a high level inventory for a liquid waste (wastewater) asset portfolio

Hierarchy
ID
Assets
Vertical assets
V1
Waste Water Treatment Plants

V2
Wet wells and Pumps stations
V3
Odour & corrosion control
V4
Other
Linear Assets
L1
Building sewers/
Property service connections
L2
Lateral & branch sewers
L3
Main sewers


Sanitary mains
Combined mains
Force mains

L4
Trunk sewers
L5
Interceptor sewer
L6
Sewer connections
L7
Cleanouts
L8
Manholes
L9
Easements/ROWs
L10
Other
Portable assets
P1
Vehicles - Pumper trucks. etc
P2
Equipment - CCTV, etc
P3
Other
---
Inventory by Asset Class



Included elow are examples of asset inventories for different asset classes.
Fleet
Hospitality
Information Technology
Natural Assets
Parks & Recreation
Ports & Harbours
Public Safety
Residential
Roads & Bridges
Hierarchy
ID
Assets
Roads
1
Roads, arterial
2
Roads, collector
3
Roads, local
4
Sidewalks
5
Other
Bridges
6
Substructure
7
Superstructure
8
Deck
9
Wearing surface
10
Culverts
Communications
11
Traffic signalling
12
Traffic signs
13
Street lights
14
Road markings
15
Other
Traffic calming
16
17
Other
Edge treatmenets
18
Acoustic/noise walls
19
Guiderails
20
retaining walls
21
Fencing
Solid Waste
Transit
Hierarchy
ID
Assets
Portable
1
Buses
2
Support vehicles
3
Portable data systems
4
Bike lockers
5
Other
Linear
6
Transit shelters
7
8
Other
Vertical
9
Stations
10
Garages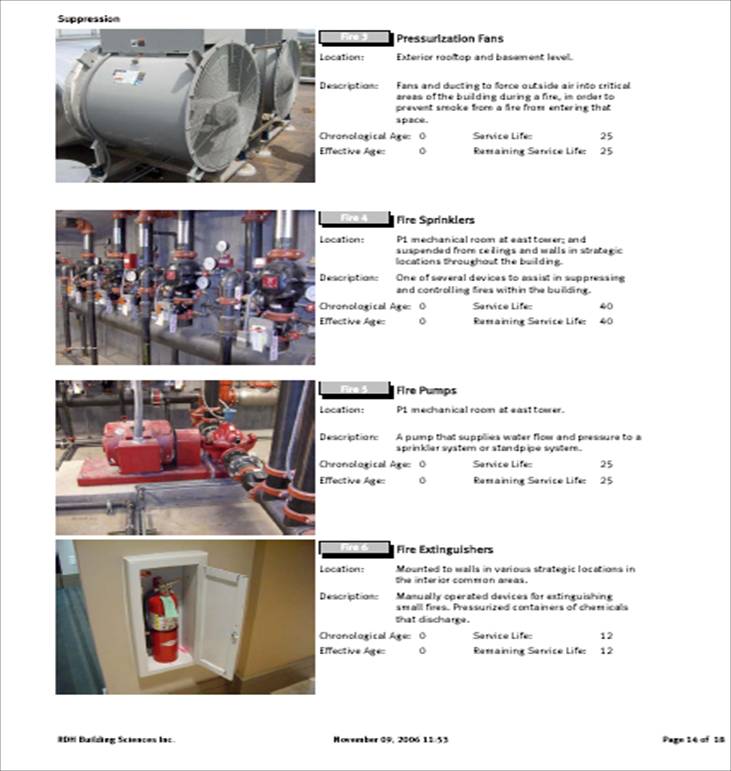 Fig. Excerpt from an asset inventory

Fig. The hierarchy of assets as contemplated in the ISO 55001 standard for asset management. The detailed asset classification scheme and granularity is determined by the organization's objectives and nature of the assets.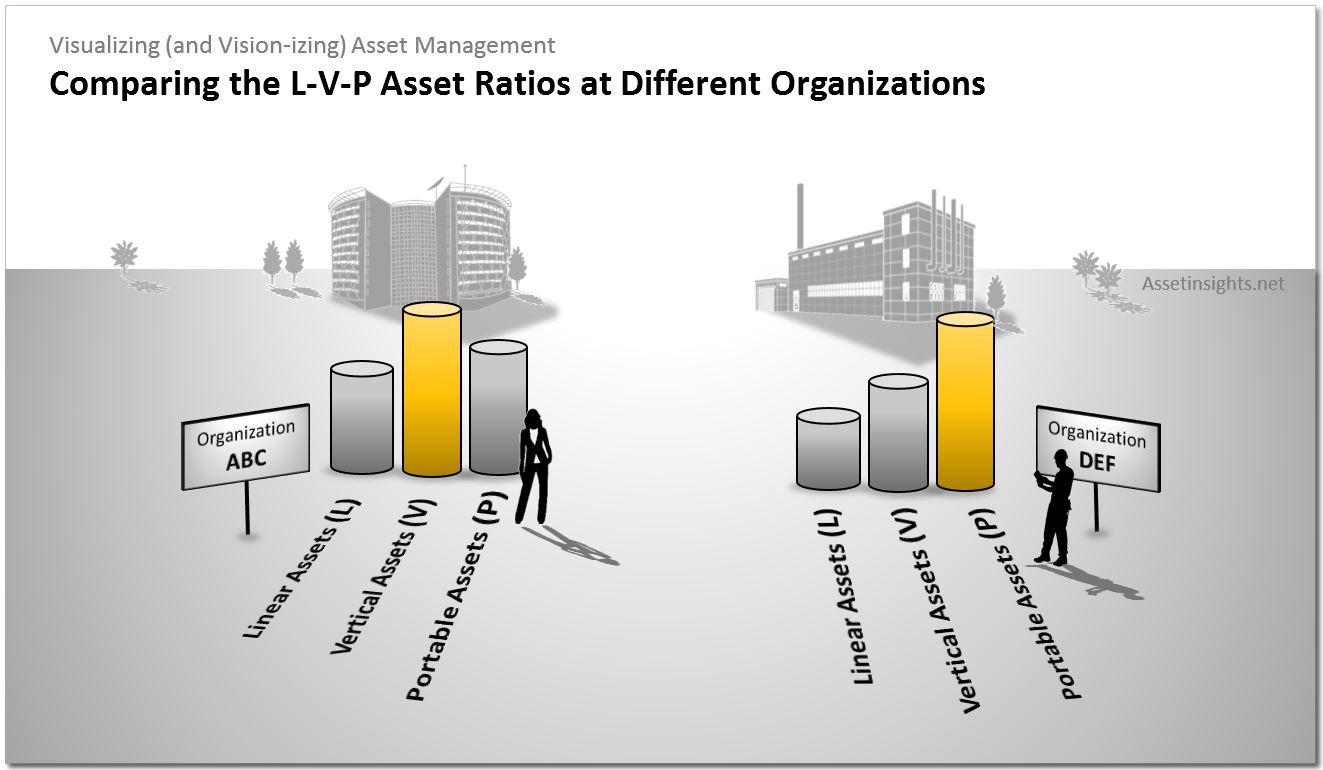 Fig. Comparison of the ratios of linear assets (L), vertical assets (V) and portable assets (P) at different organizations, resulting in the L-V-P mix.

Fig. The size of the asset inventory in different types of residential buildings.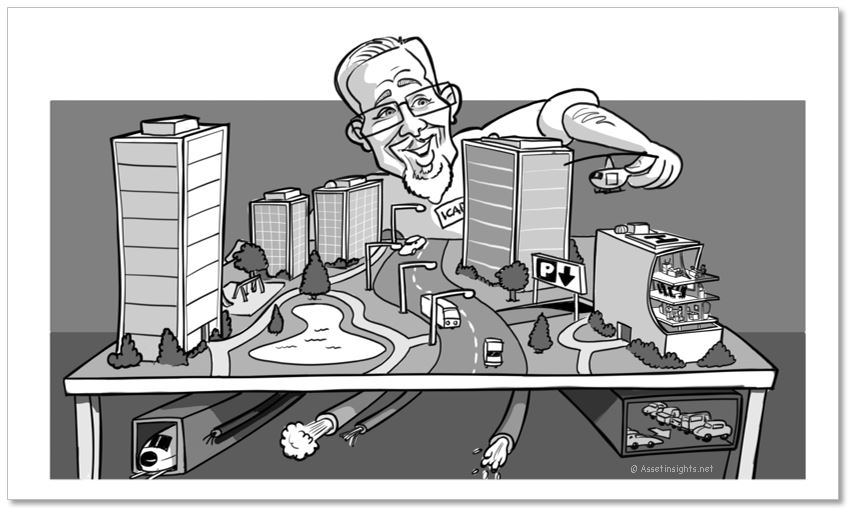 Fig. I. Care trying to integrate the linear assets, vertical assets and portable assets in his portfolio.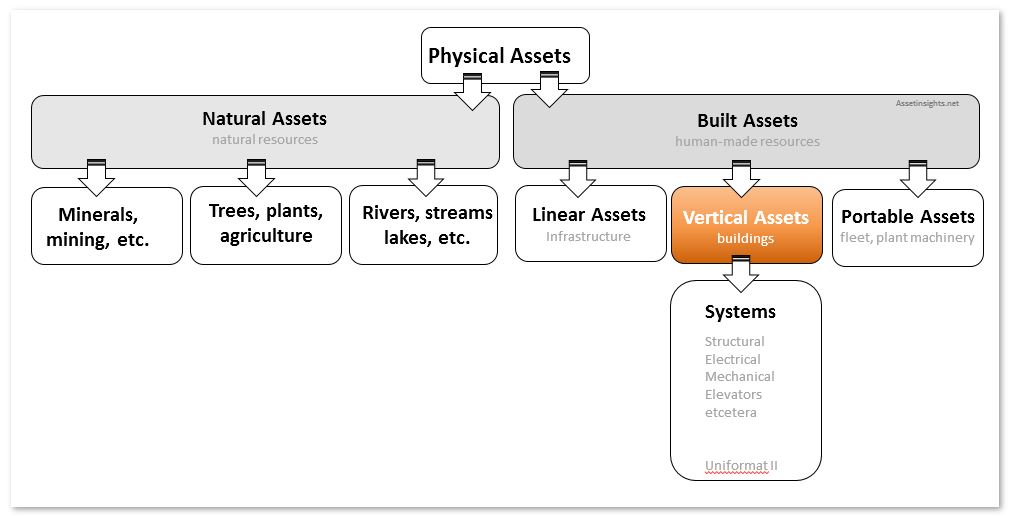 Fig. Asset hierarchy extending across all asset classes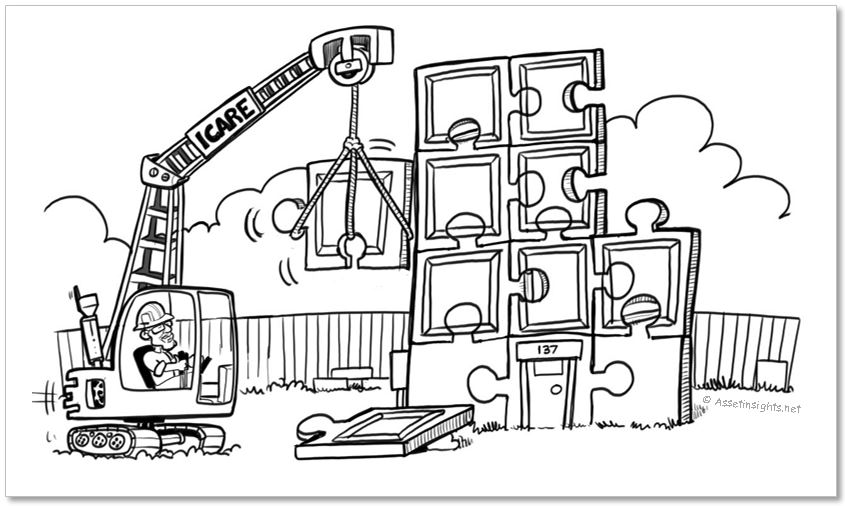 Fig. I. Care is piecing together the different interconnected systems, assets and components of his building.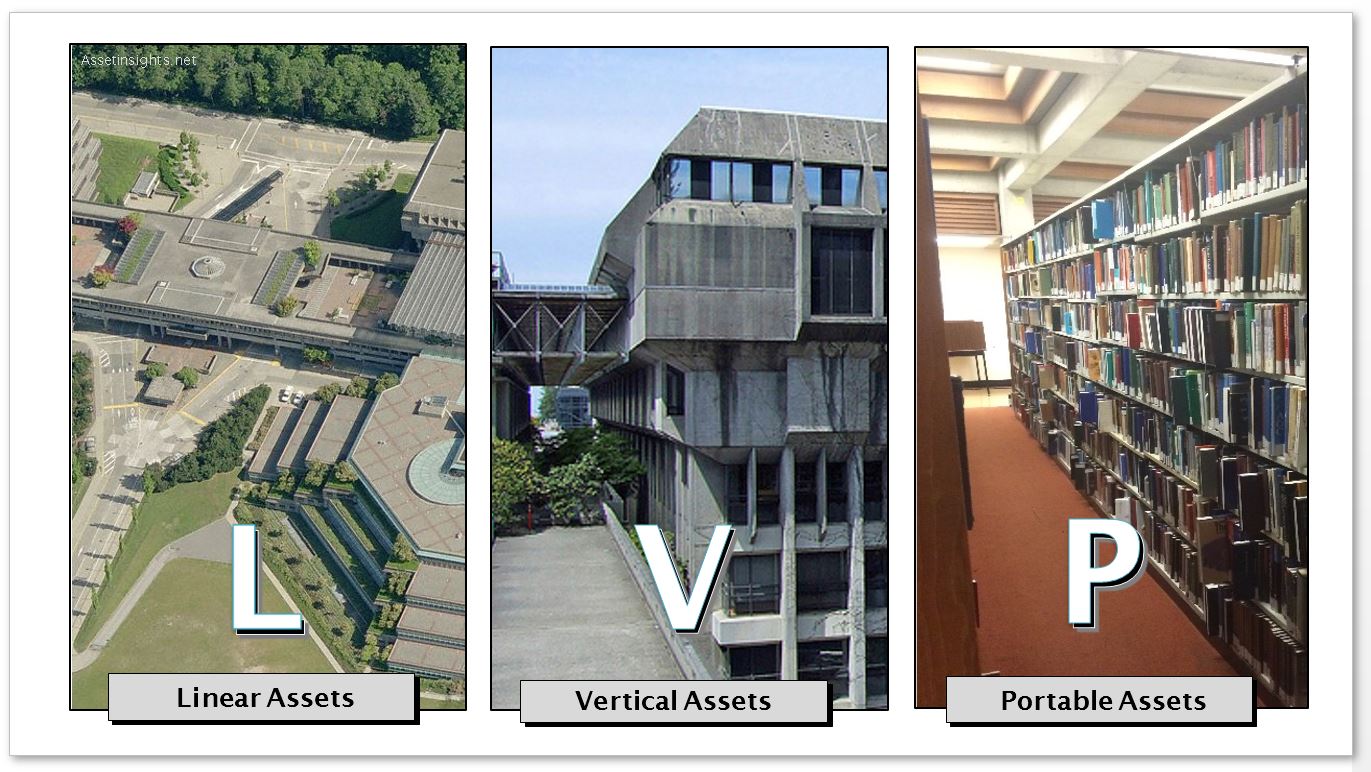 Fig. The triad of L-V-P asset: Linear (L), Vertical (V) and Portable (P).