One of a number of different types of asset replacement policies. which falls into the preventive replacement class (see figure).
A conscious decision by the Owner Group to replace certain assets at failure, or at a specified age, whichever comes first.
A preventive replacement of the asset is carried out once the age of the asset has reached a specific/critical operational age. If the asset fails prior to that year, a failure replacement is performed and the next preventive replacement is rescheduled.
Two types of age-based replacement policies:
---
Attributes:
Assumes continuous time and loadings on the asset. In failure studies, the time to failure is often measured in cycles to failure and therefore discrete time failure distributions may be more appropriate.
---
Candidate assets and examples
Listed below are some common examples of assets that can be addressed under this type of replacement program:
Batteries
Fire extinguishers
Let's start our exploration with life safety assets, such as fire alarm equipment. Here we have equipment that is highly regulated and the owners are mandated to maintain on rigid schedules. For example, we must test and recertify the extinguishers and smoke detectors every year. Also, we must eventually replace these items on pre-established age-based schedules that are written into local statutes. For example, all fire extinguishers must be replaced after 12 years in service. Here we have assets where their life can never be "extended" but only "reached" through maintenance. There is no value in trying optimize maintenance to buy more life from these types of assets. While the maintenance of life safety equipment is not "sexy" like washing of the windows, the Return on Investment (ROI) and Time-to-Value (TTV) is crystal clear.



---
Examples


Listed below are some typical examples of age based renewals:

Hydrostatic testing or replacement of ABC fire extinguishers
Replacement of fire alarm initiating devices
Replacement of batteries in emergency lighting packs
Sample testing of dry sprinkler heads to NFPA standards with renewal as required

Replacement of gaskets on dry sprinkler valves.

Replacement of oil and check valve in dry sprinkler compressor.
---
Evaluation
Some of the merits or advantages of this approach to asset replacement are summarized as follows:
The approach is simple and is therefore widely used.
It is well suited to some bounded assets where fixed intervals time are mandated by local statutes.

Some of the limitations and cons of this approach are listed below:
May result in wasteful replacement.
Neglects cycles and discrete time.
Assets may fail before the predicted time period.
Relies too heavily on absolute time.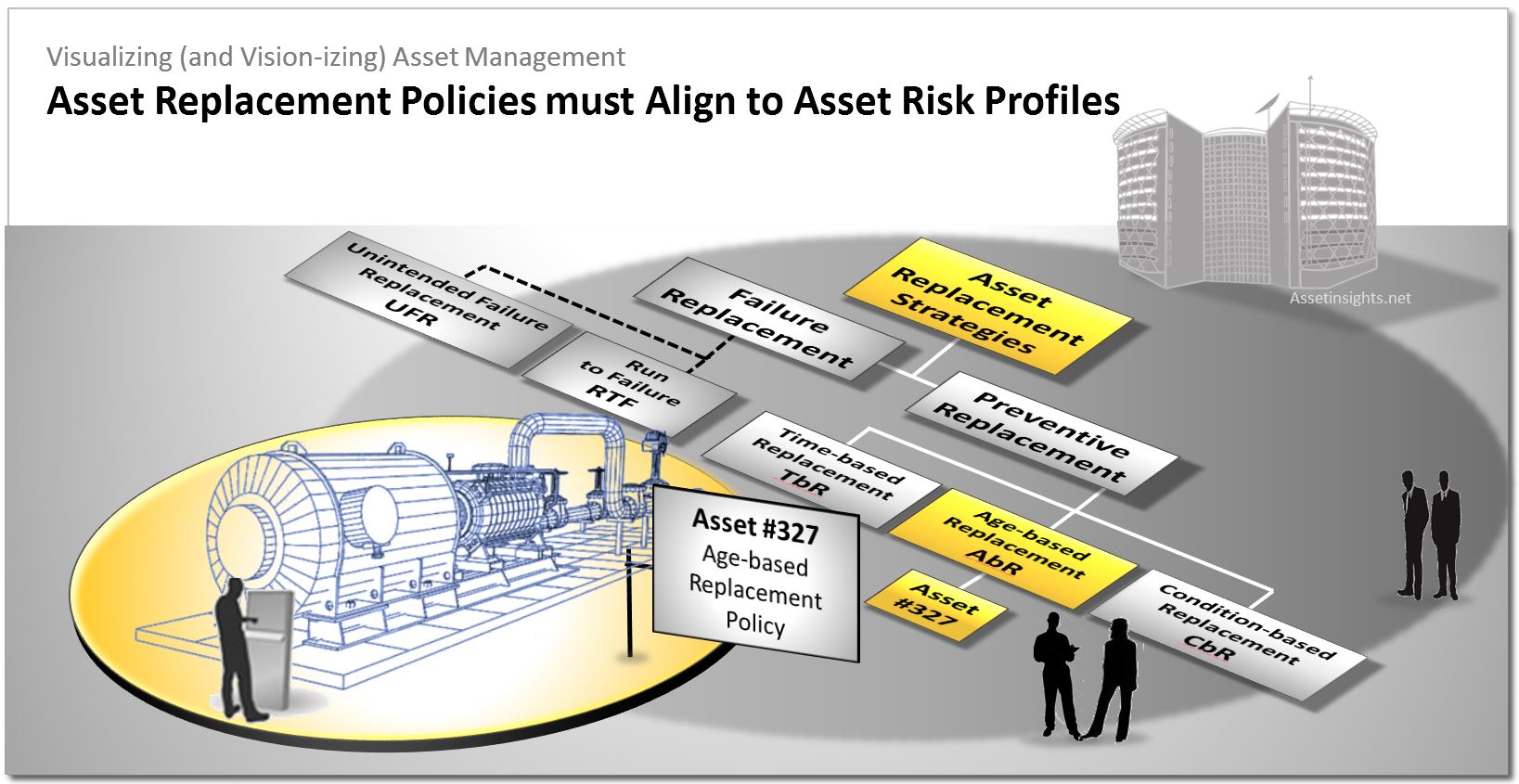 Fig. Asset replacement policies must align to asset risk profiles in order to achieve optimization and satisfy ISO 55001 requirements.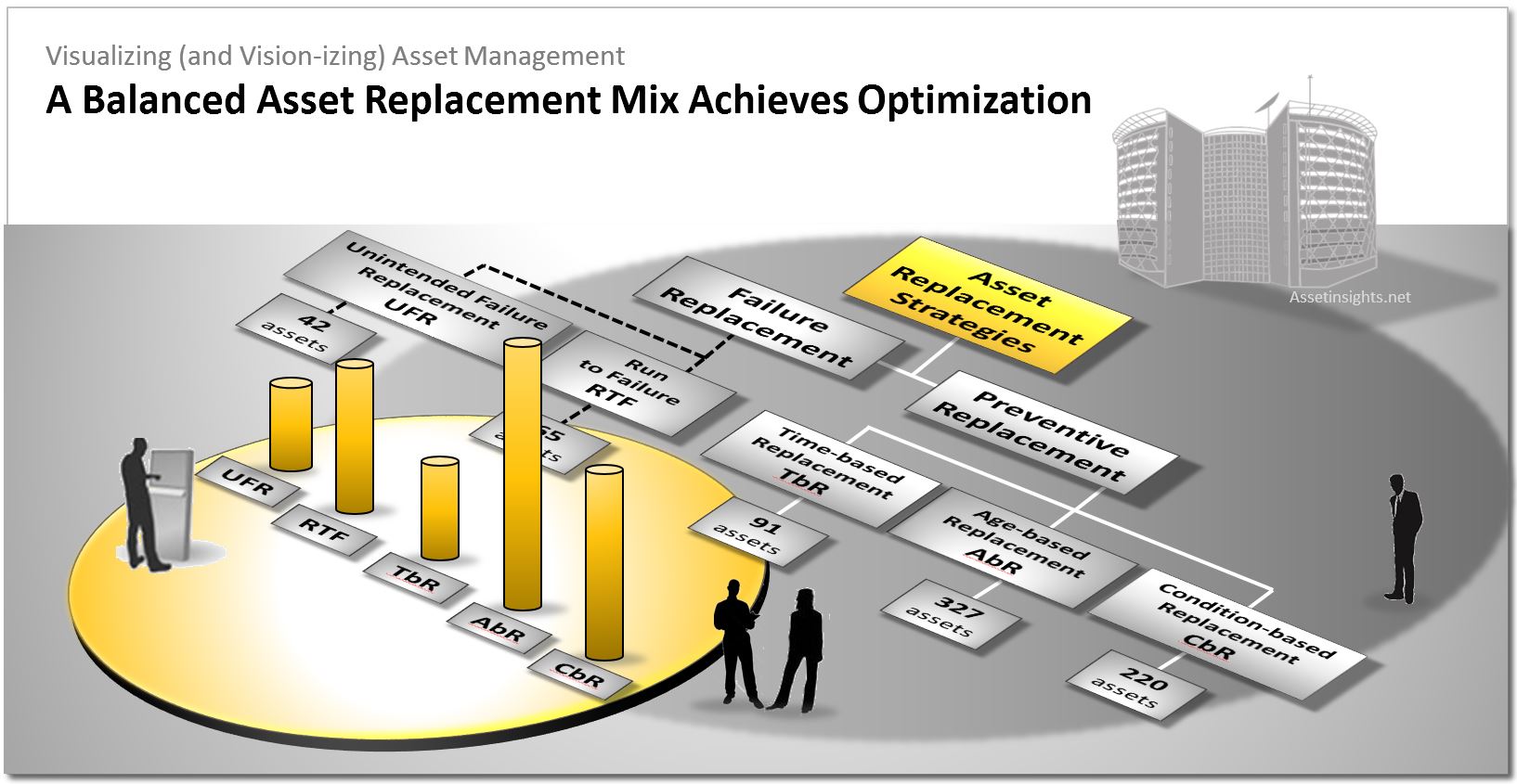 Fig. A balanced asset replacement mix helps the organization to achieve optimization in conformity with ISO 55001 principles.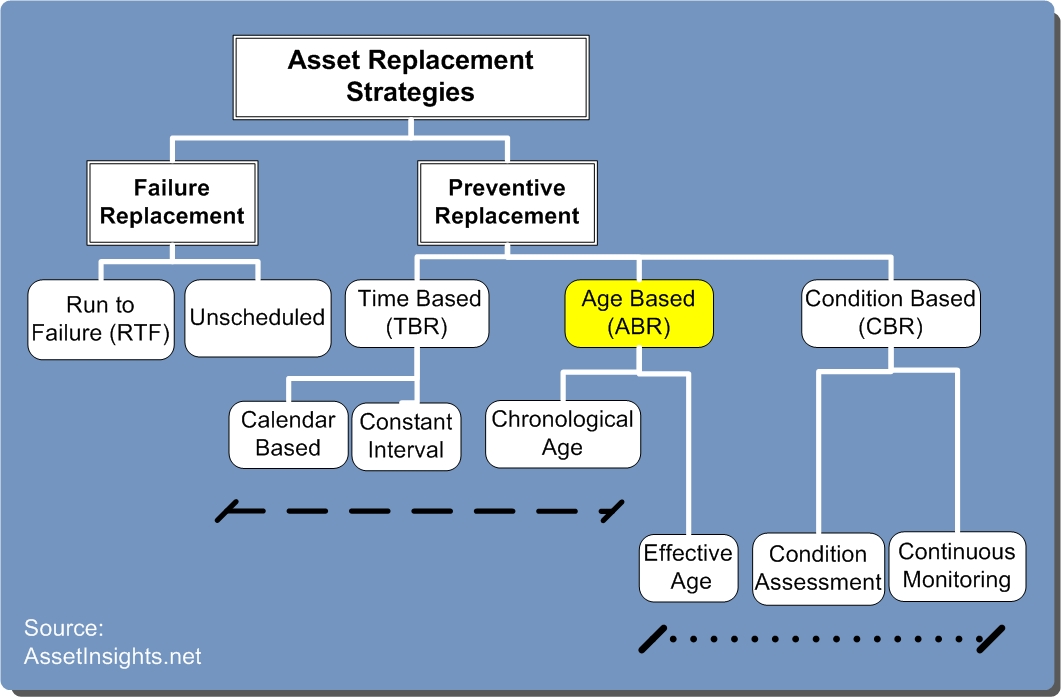 Fig. A summary network diagram of the different asset replacement strategies with Age-Based Replacement (ARP) being one of the options under the preventive replacement group.




Fig. I. Care is attempting to slow down or reserve the sands of time so that he can undo the deferred maintenance. A futile but valiant attempt.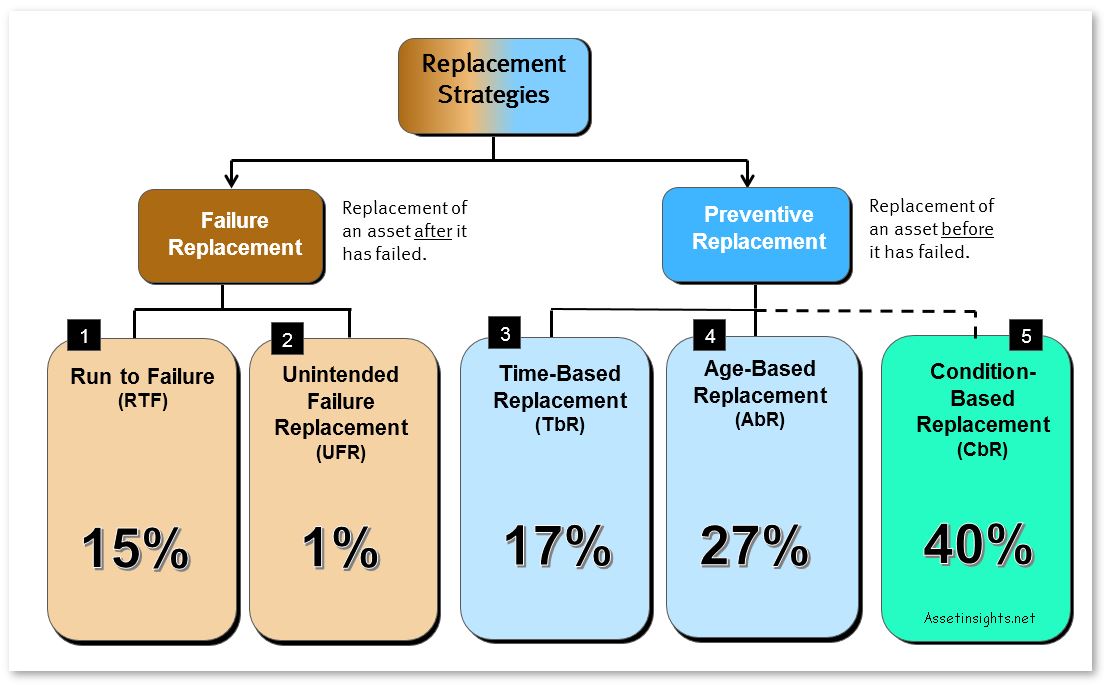 Fig. Sample distribution of the percentage of assets under each of the five replacement strategies - ie., the replacement mix.

Fig. I. Care and his fellow owner/manager are debating whether the life of assets are candidates for "extending life" or only "reaching life"